It's Columbus Day again and that means whiner groups from sea to shining sea and assorted other places are castigating Italy's favorite sailor by exaggerating the things he did and pinning the blame on him for things that happened long after he departed center stage. It's Columbus Day and Italians, along with many Italian Wannabes and Italians-For-a-Day, celebrate a larger than life Columbus because - and they probably won't admit it - Columbus (along with a map making Italian named Amerigo Vespucci) gave Italy the first thing to brag about since the Roman Empire collapsed into chaos. It's Columbus Day, a day that gives multicultural mutants a perfect excuse to castigate Western Culture and blame all of the worlds ills on it.
According to the legions of Columbus Day whiners, Columbus is the poster punk for a host of noxious notions that he perpetrated personally, or was responsible for introducing into the pristine Eden of a Pre-Columbian new world: slavery, species extinctions, genocide, warfare, oppressing a weaker people/culture, robbing original inhabitants of their land. This view is exemplified by this prose from the American Indian Movement's Russell Means: "the Western Hemisphere [was] a virtual ecological and health paradise prior to 1492". Yeah, right, like you were there, Russell?
PIG thinks its time to put a few facts on the table.
Contrary to Italian propaganda, Columbus was, all things considered, something of a lucky bungler. For starters, he egregiously miscalculated the size of the Earth. He estimated its circumference at about 25,000 kilometers when in fact it's twice that (about 40,000 kilometers). He based his core notion - sailing west to get to China, Japan and the Indies - on his calculation that the distance from the Canary Islands to Japan as 3,700 km when the actual distance is 19,600 km. Finally, he assumed that all that lay between the Canary Islands and Japan was this pesky stretch of ocean. The final irony is that, to the day he died, Columbus thought he had explored some uncharted regions on the east coast of Asia.
Contrary to popular myth, Columbus wasn't the first European to set foot on the new world. Around the year 1000 some Vikings landed here and set up a small colony in Newfoundland, but they abandoned it a few years later. Like Columbus, they were never quite sure where they landed.
Native Americans - "indigenous" people - did not originate here. The new world was colonized by nomads from Siberia who crossed the Bering Strait land bridge between 13,000 and 40,000 years ago. Therefore, contrary to all this "indigenous" people hot air, so-called native peoples are, in fact, the first immigrants.
Did Columbus enslave some of the natives? Yes. Did he introduce the vile practice to the new world? Hardly, "slave traders were among the most prosperous people in the Aztec empire" (Thomas Sowell 'Conquests and Cultures').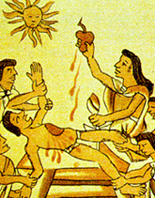 Did Columbus bring ritual human sacrifice and cannibalism to the new world? No, that practice was already here. "Captured enemy warriors were led back to the [Aztec] capital to be sacrificed by having their hearts cut out of their living bodies". "The particular Aztec warrior who had captured an enemy...was also awarded an arm or a thigh to take home and cook for a ceremonial meal for his family" ('Conquests and Cultures').
Did Columbus usher in a new form of warfare where the strong preyed upon the weak? No. There's a good reason why the Aztec and Inca's neighboring tribes were so eager to help the conquistadors. "Mayan civilization could hardly be considered humanitarian. One of its central priorities was war and one of its chief priorities in war was the capture, torture, and slaughter of enemy soldiers and leaders". "Many conquered peoples were reduced to being serfs tied to land controlled by their Aztec overlords. An even worse fate could await conquered areas that later rebelled, which could lead to a wholesale slaughter of the population". ('Conquests and Cultures')
It's time to get real about Columbus Day. It's time to take off the blinders and face some bitter facts. We can start by admitting that the Spanish conquistadors were some serious asshats who looted the land, imposed their supernaturalism by force of arms and introduced new diseases that ravaged the locals. We should continue by noting that this "virtual Eden populated by noble peoples" whopper is a load of crap. The Aztecs and Incas perpetrated some of the vilest practices known to man. Does that mean they deserved killing? Not necessarily, but we shouldn't get weepy because ritual human sacrifice, cannibalism and assorted other atrocities were eradicated. The most important facts we must confront are about Columbus himself.

Christopher Columbus was a directionally challenged Italian who blundered into a continent, without understanding where he really was. He was no Boy Scout, but his fatal personal flaws miss the essential point. When we celebrated Columbus Day, we celebrate a core component of human nature. We celebrate our need to know what's around that next bend in the road, the need to discover what we'll find on the far side of that next hill. When we celebrate Columbus Day, we honor the courage it takes to cross a dangerous stretch of ocean in some barely seaworthy ships in the hope that we'll find something worthwhile on the far side. Finally, we celebrate Columbus Day because, without him, America, a nation conceived in liberty would not exist. Make no mistake PIGsters, it's that last tidbit that has multicultural mutants and indigenous people in a lather. What they hate about Columbus Day is the fact that this directionally challenged Italian made America, a land where inalienable individual liberty took root and ultimately flourished, possible.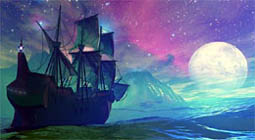 You don't have to be a garlic smelling, Chianti swilling, pasta slinging Paisan PIGster to participate in the festivities. Just grab a fellow Native/Indiginious American (PIG defines Native American as ANYONEborn in the United States of America, regardless of race, color, creed, religion, or tribe) and celebrate...
You can cry, whine, protest, stomp your feet and snivel 'til you turn red, but PIG is willing to bet that you won't complain about those Columbus Day Sales, paid holiday, and a day off from school will you?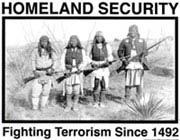 Speaking of whining, there are disturbing indications that the I-talians are doing some of that, too. The source of their angst is a t-shirt bearing this image that was a popular item that the Colorado History Museum was selling.
Was selling? That's right, was. One of their top selling t-shirts, it flew off the shelves so fast that the museum shop had to reorder it every week. But, somebody whined about it, so the shirt has been pulled. Why? Suffice it to say that Siberian-Americans and their multiculturalist cohorts don't have a monopoly on complaining.
Complaining about the shirt is asinine. Calling it 'offensive' is asinine. It's classic, take no prisoners American humor and I think it's damn funny. In fact, I'd wear one in a heartbeat, given the chance because its message is PIGish to the core.
Oh, by the way, all Columbus Day protesters are cordially invited to New York's Little Italy as Extra Special Guests of Honor by the Sons of Columbus Historical Society, Legitimate Businessmen, and Olive Oil Importer Cooperatives*
They're a fun bunch and some real Good Fellas.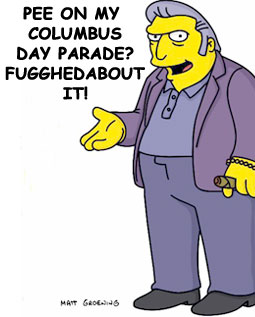 • • • • • • • • • • • • • • • • • • •
*Cement shoes required.
• • • • • • • • • • • • • • • • • • •
New York City's Insult To Italians
Rosario Iaconis - Chairman of the Italic Institute of America.
In killing Columbus Day and replacing it with the hastily contrived Italian Heritage Day/Indigenous Peoples' Day, the New York City Department of Education sent a message to the scions of Italy: Drop dead.
Imagine the howls of indignation if the DOE similarly demeaned St. Patrick's Day, Puerto Rican festivities, Greek Independence Day or the Salute to Israel. In addition to denigrating Italian-Americans, the nation's largest school district has diminished the educational process.
Columbus Day is not a feast day celebrating a happy-go-lucky sausage-and-pepper proletariat. No, the federal holiday honoring the Admiral of the Ocean Sea commemorates a journey of epic historical significance.
By sailing across the wine-dark Atlantic — toward an undiscovered country — Cristoforo Colombo bettered the fate of this pale blue dot.
At the signing ceremony for the Columbus Day proclamation on Oct. 3, 1988, President Ronald Reagan lauded Cristoforo Colombo as "the inventor of the American Dream."
Yes, Columbus served the venal Spanish Crown. No, he did not engage in hemispheric genocide. Nor did he initiate the African slave trade. Moreover, Columbus never personally owned slaves.
While no historian will ever equate him with St. Francis of Assisi, Cristoforo Colombo is neither Hernán Cortés nor Andrew Jackson. And he is no Robert E. Lee.