They're everyplace you go, and their numbers keep growing. They get on our last raw nerve, with their cacophony of caterwauling. We feel like grabbing them by the scruff of the neck, then bitch-slap some spine into them. We feel like screaming "Grow the f**k up", but we know it's a waste of time, because they never felt the need to take responsibility for their own lives.
Who are they? They're tragically familiar.
They're pablum-swilling parasites who refuse to make the hard decisions about their own lives.
They're the chronically-needy cretins who never outgrew that mommy's pride and joy phase of an individual's life. Age notwithstanding, they share a mindset with that tantrum-throwing tyke who won't stop screaming until the screeching urchin gets whatever it wants.
They're the ageless tykes who still eat their broccoli, because somehow - according to mom - it put food on the plates of starving children in China. It didn't make sense THEN and makes even less sense, now, with Uncle Sam in hock up to his eyeballs to those far from starving Chinese.
They're the obedient to a fault perpetual kids who always put on clean underwear, before venturing out of their playpen. We can't shame 'mom' by getting caught in dirty underwear, when we're in that accident which never seems to happen.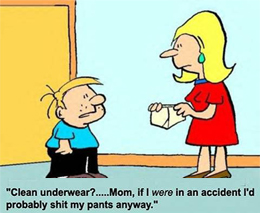 They're the Bozo living in mom's basement whose guilt-inducing wanking is so out of control, that he has a WEEKLY appointment with an optometrist.
They're the feckless fools who base all of their decisions on America's sanctified sob sister, Oprah, and/or America's demented 'daddy', Dr. Phil. Think for themselves? Perish the thought.
They're faux individuals who, for one reason or another, never accepted full, unconditional, responsibility for their own lives. It's quite likely that they're aware of the link between an individual's actions and the ensuing consequences. They're up to speed on the actions - consequences link. If they understand that consequences are the way life (that persistent pest objective reality) grades our actions/decisions, they don't want any part of it. When it comes to this school of hard knocks, their fondest dream is an incomplete.
They're so besieged by consequence phobia, that they, unquestioningly, follow the lunatic ravings of anyone who acts authoritative. They believe it, when a writer of bad science fiction, L. Ron Hubbard, blame all human problems on the room temperature spirits of long dead E.T.'s who were roasted in Earth's volcanos. They're eager to eat tasteless swill, when Food Nazis sell them a steaming load of transfats bashing crap. They willingly risk mercury poisoning, when some Globally Warmed Greeniac tells them Thomas Edison's incandescent light bulb is killing polar bears.
They're nothing but sheep who are frantically seeking a shepherd. If that's what they want, they came to the right place. Shepherd Porcus and that rabid mutt, Hambo are up to the challenge. We can do 'authoritative' in our sleep, when it comes to giving free advice to the relentlessly clueless.
So, you've hit rock bOklahoma school hires drag queen that was allegedly charged for child pornography.
Oklahoma's education official is investigating a school district for employing a principal who faced charges related to alleged child pornography crimes two decades ago. Notably, the principal was never convicted of these charges.
"According to news reports at the time, those charges were dismissed by the court, and the record of the charges has been expunged," Western Heights Superintendent Brayden Savage said in a statement to the press.
Shane Murnan was hired by the Western Heights School District (WHSD) in June to be the principal of John Glenn Elementary School, at which time district leadership noted on its Facebook page that it had become aware of his past charges.
Oklahoma state Superintendent Ryan Murphy addressed his concerns on X (Twitter):
"The State Department of Education would have conducted another felony background check upon renewing his certification. Please know we are aware of the situation and handling this matter with the utmost attention and care. The greatest priority of Western Heights Public Schools is providing a safe learning environment for our students. They are our #1 focus."
Murnan was a classroom teacher at Little Axe Elementary School, a site of approximately 550 students within a small, rural district in central Oklahoma serving primarily economically disadvantaged children. From there, Muran moved to the much larger (approx. 32,000 enrolled), more urban, increasingly progressive and failing Oklahoma City Public Schools (OKCPS) district as a teacher, teacher trainer/instructional coach, and eventually assistant principal at Prairie Queen Elementary School.
ottom and find yourself between a rock and a hard place and life for you just sucks, huh?
Don't know where to turn for guidance, support, or a shoulder to cry on? Normally, The Free State Of PIG is the one, last outpost you DO NOT want to dump your personal baggage on, because, frankly, we don't care. But this week since you've found yourself here, we're willing enough and generous enough to dole out our pearls of wisdom for the sake of the PIGdom.
Mind you, this is not your Mommy's or Dear Abbey's advice column for the lovelorn.
What qualifies us to give out advice? First off, you came here looking for easy answers to life's consequence-riddled persistent questions. If that's not enough to seal the deal, there's the fun fact that our PIGish advice is FREE.
If you're here, never fear, the F.S.O.P. has a crack staff of dedicated professionals eager to help you overcome whatever obstacle life has tossed your way.
Our pioneering techniques go way above and beyond "tough love for the clueless."
We're not passing out hankies to those that cry on our shirts, nor are we prescribing anti-depressants for those that need a "Mother's Little Helper." Oh, you can forget us recommending daily doses of Oprah or Dr, Phil.
Actually, we hope to reach out and provide solutions for those everyday problems that seem to pester some people, like finances, kids, romance, the usual advice column questions with some not so usual approaches.
Your feckless flock of sheep needs your guidance, shepard Porcus: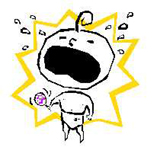 Topic: Whining Kids
Symptoms: Stomping feet, loud mouth and all around crappy attitude with an "I want!, I want!" attitude? We've all seen them. They're wannbe Kim Kardashian's with the illusion that because they were born on third base, they thought they hit a triple...and dammit, life owes me.
Cure: A round trip ticket for an exclusive stay at Club Gitmo. That's right, parents. Watch in awe as all amenities (cell phones, vid-yo games and high top tennis shoes) and luxuries deprived, and little Biff and Muff are forced to...GASP...work for their keep. Talk about life's little boot camp.
You'll be amazed at the transformation of your once spoiled brat that actually had nothing but contempt for you as you paid his/her cell phone bill, into a much humbler, quieter model of a child.
Topic: Bad Drivers
Symptoms: We've all been down this road before, so no need to profile any Blue Hair Granny, Mascara Applying Working Girl or slant eye Sunday drivers.
They, without realizing what a road hazard they are, make everyone's day and daily commute THAT MUCH MORE MISERABLE by their mere presence on the road.
Cure: We realize that there really is no cure for the terminally, inconsiderate hinderances that clog our highways, but we may have the next best thing. We're proud to introduce as a substitute for that annoying middle finger in Kung Pao's rear view mirror...
Take a gander at this equalizer. It makes Mad Max look like a pussy. It's capable of keeping your sanity, and a safe commute by simply eliminating the four wheeled obstacle in front of you (note the guns) and making evryone's commute a little more tolerable.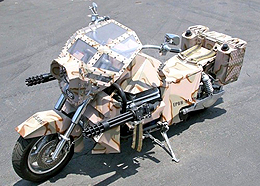 Topic: Relations
Who says you need a social networking website like e-harmony, or I'm a desperate slut dot com to find the love of your life?
We have several levels of social interaction techniques, so you, too, can meet your soulmate.
For Men: Are you as attractive as a sun dried toad, wider than a wide load and a social outcast that just can't seem to find a way to break the ice to attractive ladies at social gatherings?
We have a sure-fire idiot proof method of getting you connected to the love of your life, at least for one night.
Simply walk into that party with a brand new crisp one hundred dollar bill taped to your forehead. When the cutie in the corner whose had her eyes on you and your Benjamin approaches, and asks, "What's the $100 bill doing taped to your forehead?"
After wiping the drool from your chin, do your best Cary Grant imitation and reply, "Well my dear, that, and many others are all yours if you take me home."
Works like the tried and true charm it is.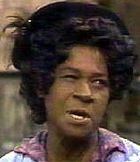 For Women: Find yourself aiming too high for Mr. Right and always coming up disappointed? Do you have a list of unrealistic qualities your future Prince Charming must have to be your perfect package? Do you eliminate certain prospective mates because they fail to meet all of your prima donna demands and, alas, you find yourself all alone, again on a Saturday night eating frozen cookie dough and playing with your pussy...cat?
Wake the hell up!!! Quit squawking, bellyaching and simply take a stroll down Reality Street. There, you won't find Mr. Perfect Income, Mr. Blazing Blue Eyes, Mr. Total Package and Daddy's Little Princess will find out she's not the goddess she thought she was.