WHAT'S INSIDE...
ET RETURNS!

PAGE TWO EXCLUSIVE!
We recently phoned ET with some alarming news. We informed him that some unearthly elements have infested our way of life, and need to be transported back to the galaxies they came from and could he please U-Haul them out of this world and our misery?
The following are scheduled to be rounded up and catapulted to a galaxy far, far away, where they belong:
All members of The View
Chris Matthews
BLM
'Lil Kim - The Korean
Keith Olberman
George Soros
Michael Moore
Jada Pinko Smith
Alec Baldwin
More to Come...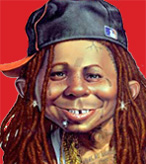 Gangsta Rapper Busted!
Or, Gunned Down! Was He Wearing A Hoodie?
Doesn't Matter. This Is Page Two PIG!
What! You're Not Surprised?
• POOP POLL •

WHICH 'CELEBRITY' HAS THE MOST TOXIC NADS?
• • • • • • • • • • • • • • • • • • • •

LiLo
• • • • • • • • •
Charlie Sheen
• • • • • • • • •
Tommy Lee
• • • • • • • • •
Any Karda$hian
• • • • • • • • •

Oinks Advice: Don't Approach Any Of Them Without A Double Insulated HazMat Suit - Condom Included
• EYE SORES •
WARNING! AND PASS THE BARF BAG!
OCTO-UTERUS & ULTRA-UGLO-TARD NADIA SULEMAN DECIDED TO EXPOSE MORE OF HERSELF IN A BRIT FISHWRAP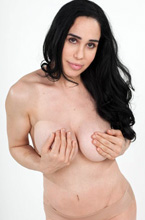 • BAAAAD HAIR •
Some people are born with bad hair, others have no clue what a mirror is for.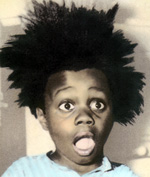 Buckwheat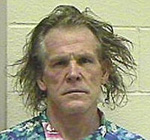 Nick Nolte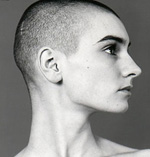 Sinead O'Conner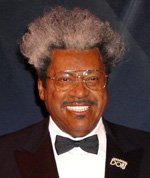 Don King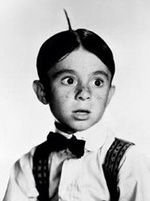 Alfalfa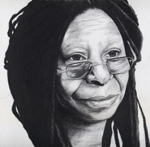 Mad Dog Goldberg
---
PAGE TWO PIG | THE OINK OBSERVER
• • • • • • • • • • • • • • • • • • • •
---
HOLLYWOOD ACTORS AND THEIR STUNT DOUBLES
---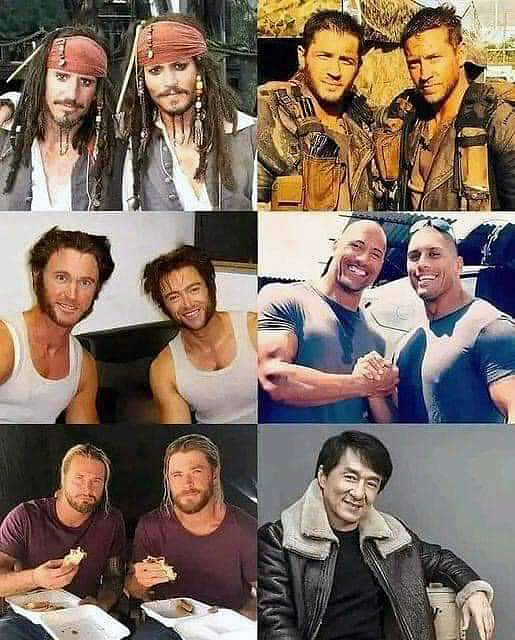 • • • • • • • • • • • • • • • • • • • •

Stolen From: The Hollywood Reporter
Golden Globes: Read Ricky Gervais' Scathing Opening Monologue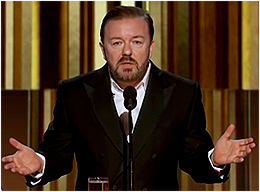 The comedian took shots at everything from 'Cats' and Jeffrey Epstein to
Netflix's dominance and Leonardo DiCaprio's dating history during his fifth
time hosting the awards show.Ricky Gervais stuck to his signature awkward and intentionally discomforting hosting style for the 2020 Golden Globes, delivering a speech dedicated to roasting the worst of Hollywood.
The 58-year-old British comedian and Golden Globe winner opened his monologue with a roast of the awards themselves before singling out various nominees for their dating habits, production company choices and racism within the industry.
The jokes were in tune with how the five-time Golden Globes host told The
Hollywood Reporter he sees his duties.
"That first time I did it, [I thought], 'Do I pander to the 200 privileged egos
in the room, or do I try and entertain a global audience of 200 million people
sitting at home who aren't winning awards?'" Gervais said. "Well, no contest.
I try and make it a spectator sport. I try and play the outsider. It would be
nauseating for me to come out and go, 'Hey, George, how you doing, thanks for
letting me use your villa. Hey, Brad, see you tonight, yeah?' It's horrible.
I've got to be the bloke sitting at home who shouldn't have been invited.
That's who I've got to be."
Monologue in Entirety
Hello and welcome to the 77th annual Golden Globe Awards, live from the Beverly Hilton Hotel here in Los Angeles.
I'm Ricky Gervais, thank you.
You'll be pleased to know this is the last time I'm hosting these awards, so I don't care anymore. I'm joking. I never did. I'm joking, I never did. NBC clearly don't care either — fifth time. I mean, Kevin Hart was fired from the Oscars for some offensive tweets — hello?
Lucky for me, the Hollywood Foreign Press can barely speak English and they've no idea what Twitter is, so I got offered this gig by fax. Let's go out with a bang, let's have a laugh at your expense. Remember, they're just jokes. We're all gonna die soon and there's no sequel, so remember that.
But you all look lovely all dolled up. You came here in your limos. I came here in a limo tonight and the license plate was made by Felicity Huffman. No, shush. It's her daughter I feel sorry for. OK? That must be the most embarrassing thing that's ever happened to her. And her dad was in Wild Hogs.
Lots of big celebrities here tonight. Legends. Icons. This table alone — Al Pacino, Robert DeNiro … Baby Yoda. Oh, that's Joe Pesci, sorry. I love you man. Don't have me whacked. But tonight isn't just about the people in front of the camera. In this room are some of the most important TV and film executives in the world. People from every background. They all have one thing in common: They're all terrified of Ronan Farrow. He's coming for ya. Talking of all you perverts, it was a big year for pedophile movies. Surviving R. Kelly, Leaving Neverland, Two Popes. Shut up. Shut up. I don't care. I don't care.
Many talented people of color were snubbed in major categories. Unfortunately, there's nothing we can do about that. Hollywood Foreign Press are all very racist. Fifth time. So. We were going to do an In Memoriam this year, but when I saw the list of people who died, it wasn't diverse enough. No, it was mostly white people and I thought, nah, not on my watch. Maybe next year. Let's see what happens.
No one cares about movies anymore. No one goes to cinema, no one really watches network TV. Everyone is watching Netflix. This show should just be me coming out, going, "Well done Netflix. You win everything. Good night." But no, we got to drag it out for three hours. You could binge-watch the entire first season of Afterlife instead of watching this show. That's a show about a man who wants to kill himself 'cause his wife dies of cancer and it's still more fun than this. Spoiler alert, season two is on the way so in the end he obviously didn't kill himself. Just like Jeffrey Epstein. Shut up. I know he's your friend but I don't care.
Seriously, most films are awful. Lazy. Remakes, sequels. I've heard a rumor there might be a sequel to Sophie's Choice. I mean, that would just be Meryl just going, "Well, it's gotta be this one then." All the best actors have jumped to Netflix, HBO. And the actors who just do Hollywood movies now do fantasy-adventure nonsense. They wear masks and capes and really tight costumes. Their job isn't acting anymore. It's going to the gym twice a day and taking steroids, really. Have we got an award for most ripped junky? No point, we'd know who'd win that.
Martin Scorsese made the news for his controversial comments about the Marvel franchise. He said they're not real cinema and they remind him about theme parks. I agree. Although I don't know what he's doing hanging around theme parks. He's not big enough to go on the rides. He's tiny. The Irishman was amazing. It was amazing. It was great. Long, but amazing. It wasn't the only epic movie. Once Upon a Time in Hollywood, nearly three hours long. Leonardo DiCaprio attended the premiere and by the end his date was too old for him. Even Prince Andrew was like, "Come on, Leo, mate.You're nearly 50-something."
The world got to see James Corden as a fat pussy. He was also in the movie Cats. No one saw that movie. And the reviews, shocking. I saw one that said, "This is the worst thing to happen to cats since dogs." But Dame Judi Dench defended the film saying it was the film she was born to play because she loves nothing better than plunking herself down on the carpet, lifting her leg and licking her own minge. (Coughs.) Hairball. She's old-school.
It's the last time, who cares? Apple roared into the TV game with The Morning Show, a superb drama about the importance of dignity and doing the right thing, made by a company that runs sweatshops in China. Well, you say you're woke but the companies you work for in China — unbelievable. Apple, Amazon, Disney. If ISIS started a streaming service you'd call your agent, wouldn't you?
So if you do win an award tonight, don't use it as a platform to make a political speech. You're in no position to lecture the public about anything. You know nothing about the real world. Most of you spent less time in school than Greta Thunberg.
So if you win, come up, accept your little award, thank your agent, and your God and fuck off, OK? It's already three hours long. Right, let's do the first award.

• • • • • • • • • • • • • • • • • • • •
Page Two PIG was not in the least bit shocked with the latest of Hollywood's and Progessive Politico's going unhinged at anything Trump. From his hairdo, to his wife and family, to his administration and supporters, Trump seems to be fair game.
What these Libtards, Korrectniks, Progessives and Elected A-Wipes are doing with their personal insults and threats to the President demonstrate is not just low class, low rent statements, but out-and-out- threats, that should be taken seriously and even investigated and eventually prosecuted for.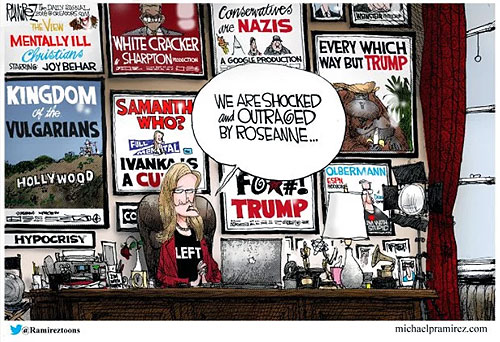 Seems as if the Little Bobby DeNiro's, Madonna's, Kathy Gritffin's, Ashley Judd's, Samantha Bee's, Whoopi and The View, Peter Fonda, CNN, NSNBC, "Low IQ" Maxine Waters have immunity due to their MSM collaberators who turn a blind eye to their Libtard Commrades and outspoken,vile opinions and public statements are definitely protected by silent hypocrisy and beneficiaries of those nasty set of double (or no) standards.
Not really in order of self-importance we'll showcase the most shrill, vocal, loudmouth liberal lip-flappers and pampered, progressive flame throwers:
The most recent outbursts came in the aftermath of Roseanne Barr's comments about Valerie Jarrett, former advisor to Barry Sotero:
Roseanne Tweeted:

"Muslim brotherhood & planet of the apes had a baby=vj,"
As a result, Roseanne was fired by ABC, even though her show was topping the ratings. On the surface ABC said their decision to terminate Roseanne was based on her Tweets, but the reality just might be, she lost her show due to her support of Trump.
Are Blacks pissed? Some, probably.
Are Muslims pissed? Of course. The Muslim Brotherhood is pissed at everything.
Page Two PIG's question is, where the hell is PETA in all of this?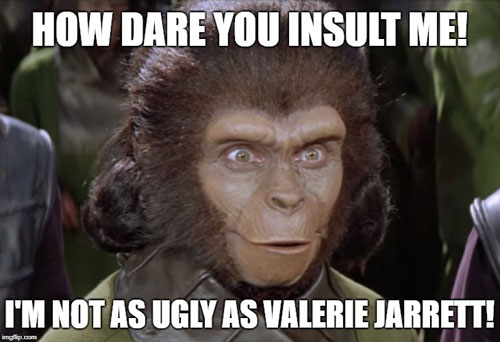 Roseanne followed up with this apology:
"I apologize to Valerie Jarrett and to all Americans. I am truly sorry for making a bad joke about her politics and her looks. I should have known better. Forgive me-my joke was in bad taste."
In all seriousness, the only rational person in this mess is Valeria Jarrett herself. She very maturely stated:
"I think we have to turn it into a teaching moment. I'm fine," Jarrett said during a town hall on "everyday racism," hosted by MSNBC Tuesday night.
As a result of everything being Trump's fault, Roseanne's Tweet included, some of Hollywood's "elites" used this as an excuse to get highly personal and a little too close to home, when their temper tantrum induced Tweets made vulgar and even threatening statements toward Trump, his family, his administration and even supporters.
Next stop on this action packed Poop Page posting, a sub-human who somebody thought was funny, once, maybe. Samantha Bee.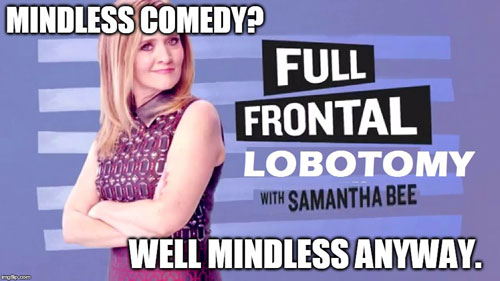 TBS comedian Samantha Bee called presidential adviser Ivanka Trump a "feckless c**t" in a "Full Frontal" monologue, the night before she is set to receive an award from the Television Academy for "advancing social change."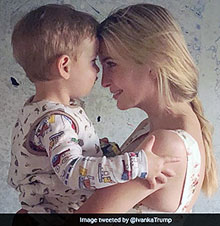 Bee, a liberal activist, was piggybacking on a CNN story about how some liberals were upset with Ivanka Trump for posting a picture of herself and her 2-year-old son on social media while illegal immigrant children were being separated from their parents at the border, in accordance with US law.
"You know, Ivanka, that's a beautiful photo of you and your child, " Bee said, "but let me just say, one mother to another, do something about your dad's immigration practices you feckless cunt!"
The crowd then screamed and cheered.
"He listens to you," Bee continued.
"Put on something tight and low-cut and tell your father to fucking stop it," she said.
The aftermath for Bee? She lost Auto Trader and State Farm sponsorships.
In yo' face, Bee-otch!!!
We all remember alleged comedienne Kathy Griffin with a photo of her holding a decapitated head of Donald Trump.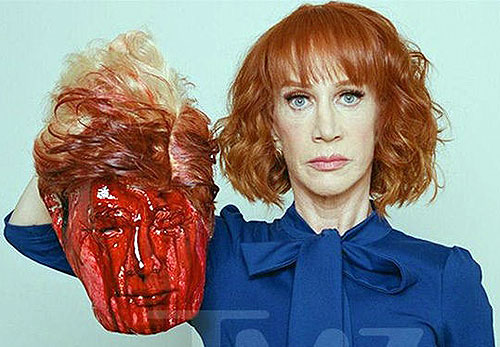 That move, probably for shock value probably back fired and temporarily set back Griffin but she's back at it again.
Liberal Lip-Flapper Kathy Griffin took a vicious new swing at the first lady over the immigration controversy on Sunday.
The first lady had weighed in earlier in the day. "Mrs. Trump hates to see children separated from their families & hopes both sides of the aisle can finally come together to achieve successful immigration reform. She believes we need to be a country that follows all laws but also a country that governs w/heart," her office told Fox News.

Griffin then tweeted: "F--- you, Melanie. You know damn well your husband can end this immediately...you feckless complicit piece of s---."
Here's the Tweet, from the Twat, or Gash, herself: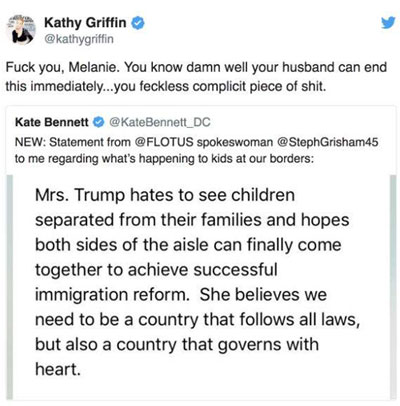 Now there's the ongoing, years long lovefest between Bobby DeNiro and Donald Trump.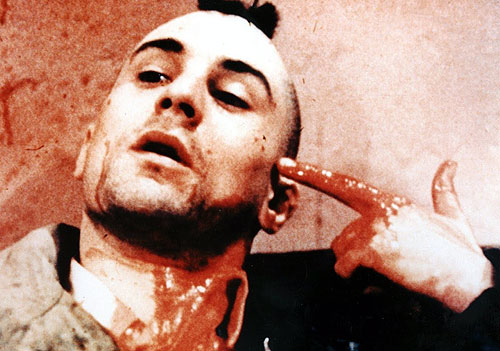 As recently as this years Tony Award Show,an unhinged Deniro launched some F-Bombs Trumps way during his televised tirade,AND got a standing ovation:
"I'm gonna say one thing: F--- Trump!" he stated, as he clenched his two fists in the air, leaving panic-stricken broadcast censors trying bleep out the remarks.
"It's no longer down with Trump, it's f--- Trump!"
In March, the actor reportedly bashed Trump at the Fulfillment Fund fundraiser.
"A college education is important, but education without humanity is ignorance. Look at our president. He made it through the University of Pennsylvania, so he was exposed to a quality education, but he's still an idiot. And he lacks any sense of humanity or compassion," he said, according to the Hollywood Reporter.
De Niro again criticized Trump in April during the opening night of the 2018 Tribeca Film Festival. "America's being run by a madman who wouldn't recognize the truth if it came inside a bucket of his beloved Colonel Sanders Fried Chicken," he said.
Not one to ever back down from a public war of words, Trump responded with this:
"Robert De Niro, a very Low IQ individual, has received to many shots to the head by real boxers in movies. I watched him last night and truly believe he may be "punch-drunk." I guess he doesn't...
...realize the economy is the best it's ever been with employment being at an all time high, and many companies pouring back into our country. Wake up Punchy!," POTUS said in two tweets.
And now, the moment you've all been waiting for. Peter "The Gash" Fonda. This washed up POS crossed the line big time with his cheap shots at Trump's family and staff member, Kristjen Nielsen.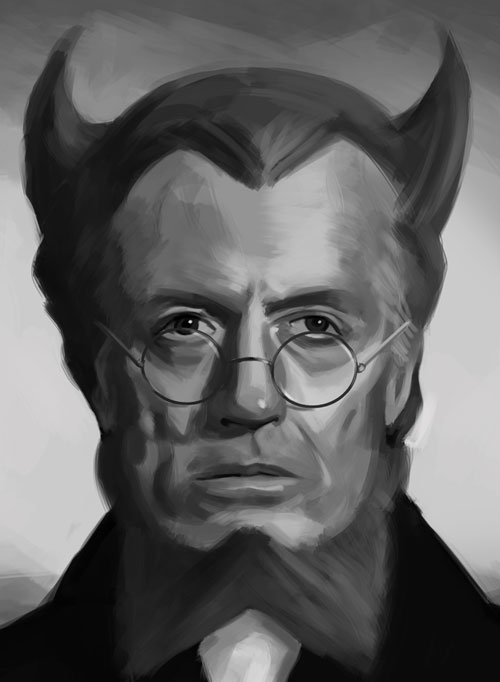 Here are his low-rent rants. Wanna guess which one caught attention of Melania Trump, who in turn, reported Fonda to the Secret Service?
This one...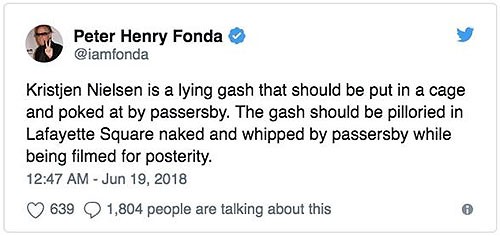 Maybe, probably this one...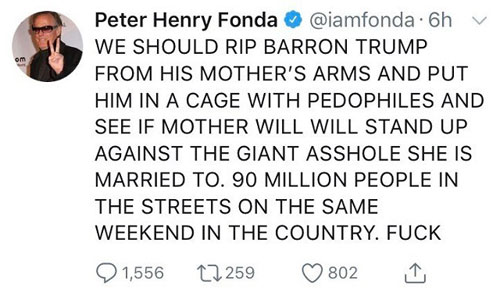 How about his?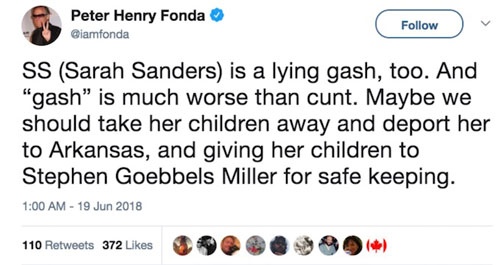 He seems to like the idea of terrorizing American children.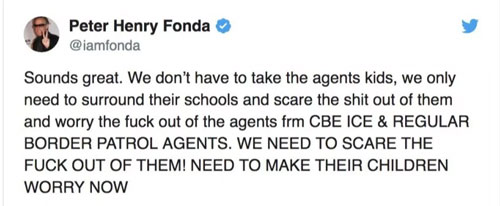 Now, Melania Trump did call the Secret Service and for some reason, the tough tweeting twerp Fonda immediately issued an apology.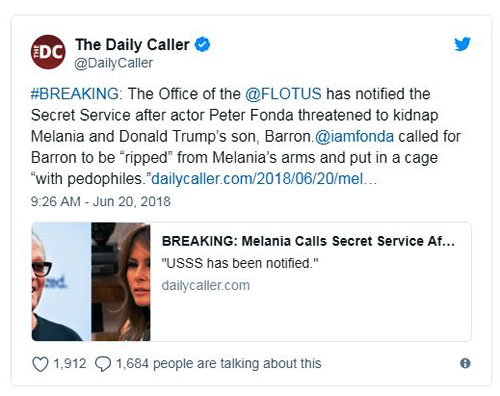 We would love nothing more than to take these Cyber-Bully Celebrities down a few more notches, but they seem to be doing quite well digging their own holes.
Stay tuned as we watch as these worms try to wiggle out of their own words.
• • • • • • • • • • • • • • • • • • • •


• • • • • • • • • • • • • • • • • • • •
The Royal Wedding has thankfully come and gone. A usually boring affair to many of us Yanks who remember how we royally crowned the Brits in two wars, some Americans actually get into obsession mode when it comes what 'she' was wearing, who showed up and all the other 'girly' stuff that makes us proud to not be them but even prouder that we are Americans.
I suppose the only element to the entire affair was Meghan's (Yeah, sure. We know her well enough to be on a first name basis) choice of pastor who seemed to add a ghetto touch to the royal proceedings.
Outside of that, click the image below to see how we really feel.
Ta-ta for now from the Free State of PIG.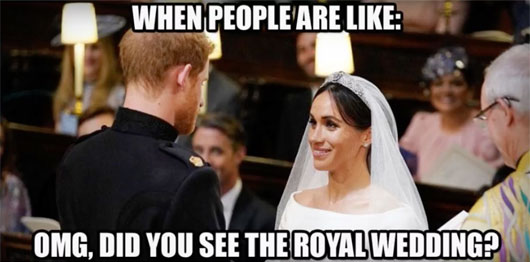 • • • • • • • • • • • • • • • • • • • •

From our Breaking News Dept.
Pope, whatever his name and roman numeral is, declared it's Catholic Orgy time in Vatican Square with the news that Sinead O'Conner was reported missing.
The one hit wonder, cue ball looking Pope hater was reported missing today in Chicago..
Really? Who noticed and better yet, who even cares?
The Pope declared free wine fish and all the wafers you can eat, but adhering to Vatican law, no condom giveaways.
Party on, Pope, whomever.
In other news...
George Clooney and Michael Moore still have all the answers and really do, "know it all"
Beyonce's shit was found to really do stink as bad as what she passes off as music.
Sadly, Kim Kardashian and Kanye West really are alive.
Kelly Ripa is still suffering from Drama Queen syndrome.
Howard Stern is still funny.
Girls are girls...and so are some men.
Caitlyn Jenner is...?
Bruce Sprindsteen, Pearl Jam, Ringo Starr need to learn what a men's room is in North Carolina.
I'm still a PIG and so is Hambo.
• • • • • • • • • • • • • • • • • • • •

I take no pleasure in posting this and there is no easy way to break it to anyone, but when this crushing bit of news hit me, all I could say was, "Damn and double damn!"
I had my moment of grief, collected myself and phoned Hambo and Staff and broke the news very gently, needless to say, Hambo had to be talked off the ledge. Staff consoled him and after all the tear drops were wiped off, we came to grips with the following tragedy:
Kanye West has threatened to leave the country due to racism. That's right, his feelings got hurt, and yes, we feel his pain. Wow! That's a hell of a bomb to drop on people that care about him and his talent for...WTF is he famous for, anyway? No one ever told me, but it doesn't matter. He, Kim and North may hit the road and we'll have to make the adjustment of living without him and his Caboose of a wife and in-laws.
How will America even begin to pick up the pieces and recover after he leaves? I think Kanye would want us to be strong, and carry on and keep our chins up and checkbooks out for their assitance in whatever aid they may need. Bentleys, Ferrari's, Prada and Bling are basic living essentials are a necessity to help maintain their way of life.
Kanye did say this:
"We've got enough money to buy our own island or some sh*t. I'll be damned if I raise my daughter around ignorance and flat-out blatant racism."
Wow! What a great attitude! We would like to report some upside but we have more bad news. Sorry but here it is: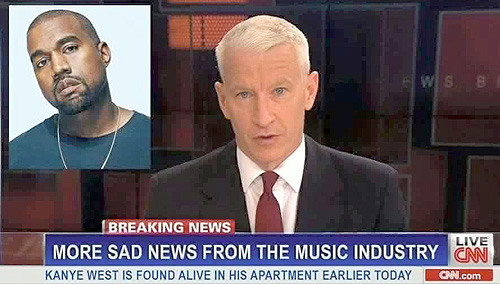 Can the news get any worse than that?
• • • • • • • • • • • • • • • • • • • •

• • • • • • • • • • • • • • • • • • • •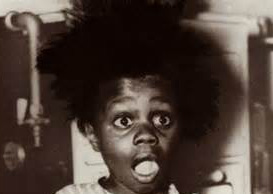 Wow! The Oscars have come and gone. All the glitter, gloss, fanfare and paparazzi are way out of town. Oh, boy. What a loss, but we'll get over it, somehow
Porcus will now play objective, (yeah, right) observer.
Page Two PIG has some stinky fishwrap style comments. So Here goes:
One: Red Carpet Coverage Of Who's Wearing What. Earth shattering shit. WTF does it matter what she's wearing and by what faggot fashion designer?
Two: The lack of Eskimo or Vietnamese nominees. Wait! No Polar bears or penguins were nominated either. Did they squawk? Nope. Who did? Al $harpton, Spike Lee, Will Smith & Co. demanding special consideration for black actors. My Brothas, if you couldn't do it this year, try, try again, or better yet, form your own film studio, make your own movies, and be sure to exclude any actors of the non-black persuasion.
I would like to thank The Academy for acknowledging the cinematic talent offered up this year, and hey, if certain people of certain persuasions didn't make the cut, go cry on past "Gimmee A Token Award" winners, Whoopi Goldberg and Halle Berry's shoulders.
Three: Chris Rock sucked with his #BLM diatribe. Punk. Whitey writes the checks that puts clothes on your back and a roof over your head so quit whining.
Good news! The F.S.O.P. has a solution. We've come up with some extra special catagories for those of the demanding persuasion:
Race Wrangler Award: Hands down. Al Sharpton
The Ferguson, MO. Award: That goes to the best pyromaniac and brick throwers,
The Nike Award:Who ever can lift and loot the latest pair of Air Jordan's during a full blown riot.
The Chicago Award: No brainer. Rahm Emmanuel.He really, maybe, kind of cares of the rampant murder rate in the city he claims to be mayor of.
The America Sucks Award:Hmmmmm. Barak Obama comes to mind, for some odd reason.
Sorry Blacksters of the Brotha and Sista persuasion, but for this year, that's all we've got.
Better luck next year.
• • • • • • • • • • • • • • • • • • • •

• • • • • • • • • • • • • • • • • • • •
In a most shocking revelation The Free State Of PIG has caught it's self-proclaimed choir boy and Boy Scout Porcus discovering his true identity.
Porcus was caught posting the following lonely hearts ad:
Trans-species

After being trapped in the body of a human male for more than 40 years, I had my moment of clarity.

It happened during a whale watching trip, when I accidentally fell overboard. The moment I hit the water, I knew I was finally home. When the boat crew pulled me out of the water, I proudly proclaimed: "I am an Orca!"

I probably should learn how to swim.

Would you like to share this journey of discovery with me.

Please call me Splash.
PIG's staff was beyond shock with this discovery and confronted Porcus and asked "Why?"
Porcus, in a gut spilling moment confessed his new and true "identity", a whale watcher and lover. He did say, that when he "identified" as a man, he had an eye for pretty women "with some meat on their bones, had some buoyant qualities but I needed more, lots more, especially in the blow hole department."
During his intervention, Porcus also tearfully explained that he felt the weight of the world lifted from his shoulders and said he had his eye and intentions of "A most sleek example of my future beholden and also said, "The connection is there. I just wanted to be her Moby Dick."
All efforts on the PIG crew could not change his mind towards his new "identiry" crisis, and upon further questioning, Porcus said, "I just wanted to share my harpoon with her."
When offered professional help for his new "identity" Porcus said, "I'll give it a try and maybe I'll discover another, new "identity" as a ballerina, ET, or even a trained circus seal. Hey, maybe I've always been an Olympic Gold Medal athlete that can't drive worth a shit, trapped in an identity crisis and married to a sharped toothed gold digger."
Porcus did ask if rehab facilities include swimming lessons.
• • • • • • • • • • • • • • • • • • • •

• • • • • • • • • • • • • • • • • • • •
Those Cantankerous, Cackling Crones over at "The View" recently gave Republican candidate Carly Fiorina a malicious makeover by being a bit too personal and critical of Fiorina's appearance.
That's right. Those Cess-Pool Monthly centerfold rejects were critiquing and judging another woman - Republican woman - on her looks during one of the Republican debates on a recent airing of "The View." Talk about the pot calling the kettle black, right Whoopi?
HOLY HORDES OF OVER-THE-HILL, HYPOCRITICAL HEIFERS!!!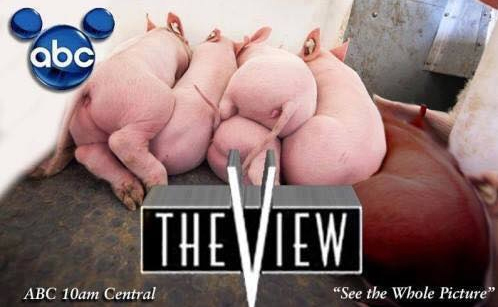 PIG PILE OF...
Cast Of "The View" L-R: Whoopi Goldberg, Joy Behar, Raven Simoné, Michelle Collins...
Host Michelle "Casting Couch" Collins spewed: "Fiorina looked demented!… A smiling Fiorina, could you imagine? It'd give me nightmares."
Host From Hell Joy "Beaten Big Time With An Ugly Stick" Behar in all of her ghastly grotesqueness said: "I wish it was a Halloween mask, I'd love that!"
Well, since THEY said it, I guess that settles it, huh?
Not really and not even. Fiorina is scheduled to appear on The View Friday, November 6, 2015 and had this to say:
"It will not stop me, it will not scare me, and maybe the ladies of 'The View' — if I come on again — let's see if they have the guts to say that to my face," Fiorina told host John Roberts, according to Conservative Times.

Fiorina went on to say that "The View" wouldn't even dream of attacking the way Democratic frontrunner Hillary Clinton looks.

"I think what these women represent is a set of liberal feminists who believe that if you do not agree with them on their liberal orthodoxy, that you don't count," she continued.

"I'm tired of being insulted by liberal feminists who talk about women's issues when the reality is, every issue is a women's issue, from the economy to ISIS to Russia to health care to education to the national debt," Fiorina concluded. "Women care about all of that."
My enquiring mind wants to know. Who or what died and left the Uglo-Tards at "The View" the standard keepers when it comes to good looks? Must have been Mr. Magoo.
Again. Fiorina vs. "The View" Friday, November 6, ABC-TV 10:00 AM and it's not pay-per-view.
• • • • • • • • • • • • • • • • • • • •

• • • • • • • • • • • • • • • • • • • •
Lamar Odoms recent meltdown with drugs and hookers at a Nevada brothel that landed him in a temporary coma may be in his past, but a certain Kar-Sasquatchian named Khloe vowed to be by his side during his recovery. That's sweet of her, in-between book signings, jet-setting, partying and flings with other dudes, but did or does Lamar have any say in acting on his behalf, legally?
You bet. Lamar used these two very powerful words to Khloe while she was "caring" for her investment, oops, her husband in the hospital: "GET OUT."
That's a polite way of saying "Go back to the untamed wilderness you came from you money grubbing, attention craving whore, and take your greedy, f**ked up family with you."
All of this Lamar/Khloe crap will be played out, but what I want to know is why, if Khloe is such a loving, but estranged wife, was her husband out dropping $75,000 to party with hookers and not her?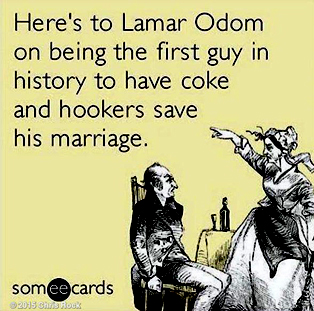 • • • • • • • • • • • • • • • • • • • •

• • • • • • • • • • • • • • • • • • • •
From Our 'What A Drag' Department: This is just soooo precious. Jose Canseco says he will live as a woman for one week in support of Caitlyn Jenner's decision to live as a woman full-time.
We've heard rumblings that the former Bruce Jenner may have been under direct orders from Kardashian matriarch/dominatrix/pimp, Kris to undergo a gender transformation for the Benjamin$ and a new reality show, along with the Benjamin$ and is beyond repair.
Jenner, in essence, is a lost cause and crossed over a line that he/she can't recross.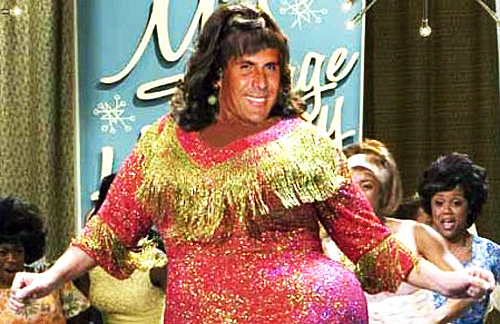 Jose Canseco, on the other hand, is no stranger to strangeness. His performance enhancing drug laced Major League Baseball career was filled with antics and other publicity stunts.
One game in particular, Jose was playing center field and a deep fly ball is heading his way. The ball bounced off his head and into the stands for a home run.
His post MLB career was filled with Canseco-esque antics.
• Writes a book on steroid use in MLB and outs many high profile players.
• Tries professional boxing and an MMA career. Both epic fails.
• Recently shot off part of a finger, had it re-attached and in a publicity stunt, claimed the finger fell off during a poker game.
And now...this.
Page Two PIG thinks he is still suffering from that bounced ball when he made the decision to live as a woman, complete with make up, dresses, heels, the whole nine inches, yards.
From The Inquisitr:
While some may think Canseco vowing to dress like a woman in support of Jenner is just a feel good story about one elite athlete supporting another, there is, however, more to the story. Apparently, Jose Canseco will be filming his week long womanly journey for his new internet reality show, Spend A Day With Jose.

Jose said cameras will follow him as he dresses as she and plays golf, poker, softball, and bowls, leading some to wonder if Canseco is just trying to cash in on Jenner's I am Cait success for his own benefit rather than offering true support to Jenner.
So Jose wants to play Girlieman for a week. That is so bold. So powerful. So sweet. So f**king sick is more like it.
What are they going to do? Swap recipes? Teach each other the finer points of accessorizing? Reminisce about the days when they both wore jockstraps?
Just wondering. Is/was Jose a closet 'Switch Hitter?"
• • • • • • • • • • • • • • • • • • • •

• • • • • • • • • • • • • • • • • • • •
From The 'Out of the Mouth Of A Newsbabe' Files.: KTTV (FOX 11, Los Angeles) Once again, L.A.'s one and only early morning entertainment hottie, Julie Chang had another keen insight/observation and question:
"Will this be Bruce Jenner's first Mother's Day as a mother?"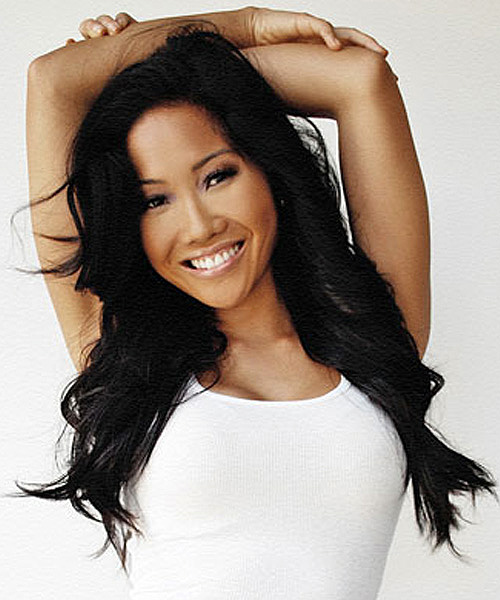 • • • • • • • • • • • • • • • • • • • •

• • • • • • • • • • • • • • • • • • • •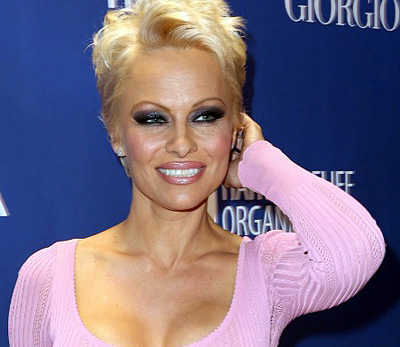 Former Baywatch Babe and subject of many womens envy and even more mens wet dreams, Pam Anderson recently shed her long golden locks in favor of what is being called the 'Pixie' look.
We think her new look actually reflects a more mature look and really enhances her beauty. She looks like she shed the bimbo image and looks more like a PTA, soccer mom type and we say "You go girl."
We do, having enquiring minds, want to know what she was doing visiting sheriff Joe Apriao in one of his corectional facities trying to promote her vegan lifestyle within Arizona's prison menus.
Vegan lifestle? Coming from a woman that demonstrated her love of tube steak? Is she hypocritical? No. Everyone needs a source of protien in their diets, she just liked what Tommy Lee's manly menu had to offer.
Sorry for that digression, but we like images gracing the pages of PIG and forward to showcasing her in the future.
• • • • • • • • • • • • • • • • • • • •

• • • • • • • • • • • • • • • • • • • •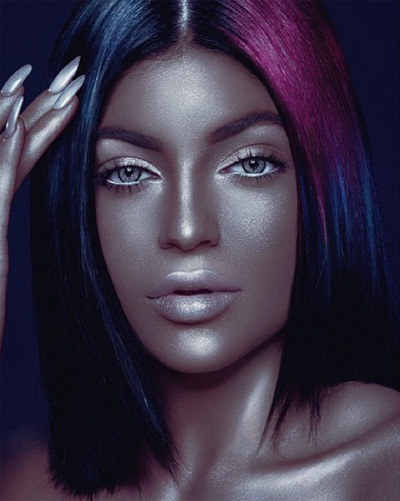 We'd like to formally welcome Kylie Jenner to PIG's Page Two Poop page. We knew it was only a matter of time before she joined her Family Circus Freak Show on these pages and this time, she may have out done her entire family with one smoove move.
WTF! How can any one top the ongoing antics of her DadMomDad, Bruce(?) Jenner, Real "Mother," Kri$ Jenner, $isters Kim, Khloe, Kourtney and let's not forget our pal, Kanye and the rest of the Kardashian Klan?
Kylie can and here's how! Seems as if Kylie had herself all made up in semi-minstrel style and posed in what she considers "artistic" photos of her in blackface makeup and posted them on Instagram.
"Artistic?" More like a Retarded-Avatar-looking Jailbait-Drama-Queen stunt, but then she's a Kardashian, so just another day at the office for the Kardashians, right?
In what Kylie claims is "creative lighting and makeup" others are crying racist as her new look harkens to a more racist episode in American entertainment when white performers covered their faces and mimicked and exaggerated black folks on stage. Not too cool these days, and shame on Kylie for being so insensitive, considering her siblings have a propensity to date or marry black men.
Kylie, on the defensive, Tweeted in her own, most articulate way:
"Making MAGiC w/ KYLiZZLE. PEEPS BE GETTING TURNT UP ON THIS SKIN SITCH. BLACK LIGHTS & NEON. Does no body know about lighting ??" "What I wish I looked like all the time thank you."

"This is a black light and neon lights people lets all calm down," she wrote on one of them.
Page Two Poop's crack race-relations experts, Aunt Jemima and Uncle Ben could not be reached for comment at posting time, but you can bet the entire Kardashian Plantaion Al Jolsen is laughing in his grave.
Blackface? Racist? Based on the content of her Tweet, she already uses black-youth/MTV vernacular, but considering her age and who she's related to, we'll give her a pass and chalk this dumb-ass stunt to just another mega-rich teenage white chick with identity issues crying out for a "15 MORE minutes" moment.
Page Two has further proof that this isn't racist based on the silence and lack of reaction from Al $harpton, Je$$e Jackson and Kanye West, so we guess that makes Kylie made up in blackface Okey-Dokey, and immune from an "apology" tour, right?
We just wonder. Would Imus, Al Campanis or Michael Richards get the same silent treatment if they pulled a similar stunt?
• • • • • • • • • • • • • • • • • • • •

• • • • • • • • • • • • • • • • • • • •
THE F.S.O.P. PRESENTS: A NIGHT AT THE OSCARS
• • • • • • • • • • • • • • • • • • • •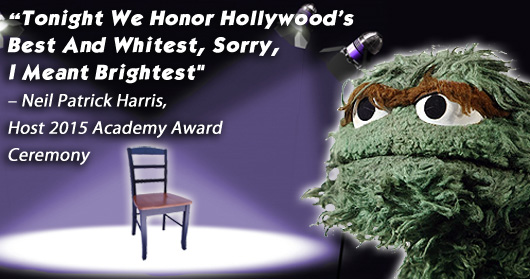 • • • • • • • • • • • • • • • • • • • •
It's Red Carpet ramblings time here on PIG's Poop Page and we had our roving reporter – no names, just initials (P.O.R.C.U.S.) camp out on his couch in his boxer shorts and cigars with ample supplies of vital provisions and necessities – grease-dipped, trans-fat and calorie laden goodies, complete with Big Gulps to wash it all down with. We also provided him with some bricks to toss at the TV – and unfortunately for him, the mute button on his remote took a dump.
While slumped in his couch, our reporter noted that every year it starts off with the same old steaming load. "The Red Carpet and Look At What They're Wearing" segment. Well, it was noted that what they are wearing on Oscar night is not the same outfit they were wearing when they got their big break.
Examples: Can you imagine Sean "Spicoli" Penn answering the phone in his pizza delivery outfit when the hand of fate calls and tells him to quit his day job? (No offense to the PIG Staff's lifelines - pizza delivery dudes and dudettes).
The look on Whoopi Goldberg's "face(?)" would have been priceless when her agent/pimp told her to trade in her normal burlap sack for a more trendy, stylish Glad-Bag. She would make a great spokesthing for Hefty's new line of disposables.
The topic and question this post-Oscar morning is if "American Sniper" got snubbed. For those who think "American Sniper" and Clint Eastwood in particular were snubbed, the American movie going public spoke loud and clear at the box office, even louder than the voting members of "The Academy" who may or may not have overtly and conveniently overlooked the merits, subject matter (war, military, killing misunderstood, out of work Jihadists without initiating meaningful dialogue first) and people involved, (Clint Eastwood talking to an empty chair at the RNC) with the making of the film.
I suppose the cold shoulder Hollywood bared towards "American Sniper" is their way of claiming a very shallow victory. If that's the case, Clint Eastwood should take that as a compliment, and better yet, free advertising which equates to even more box office Benjamins. Beside that, Eastwood doesn't need a Hollywood elitist film voting bloc "snubbing" to validate his movie.
Again, the moviegoers did that for him and his film.
Page Two Sidenote: "American Sniper" may have had a chance if it showcased a dyslexic, formerly drug addicted black bi-sexual woman, victimized by years of abuse and domestic violence by her ex-husband (who either played in the NFL or drove for NASCAR) who, after saving the rain forest, had the ability to summon her "inner-Oprah" and overcome all obstacles – physical, racial, gender/orientation, cultural and socio-economic – and emerge as a victorious "survivor" by going Old Betsy and Bell Tower on HIM. The proposed title, "American Sniperess" would have sealed the deal, for sure.
Unlike Major League Baseball's All-Start Game balloting, the Academy Awards, on paper anyway, is not a popularity contest, at least as far as film making goes this year. It is a popularity contest when it comes to which high-profile performer can out-pontificate, and one-up each other on politically (correct) charged hot potato issues. Example: "My rainbow-clored awareness ribbon, and ME is brighter and more important than yours. So there!" Translated: "I have a bigger mouth, a bigger ego, I'm more important, have an emptier head and I'm more sensitive than you."
Now, for the Awards that you won't see, but should have. There's the Oscars for mainstream film making. The Razzies for sub-par acting and motion pictures. Even The Free State Of PIG has it's own Steaming Loads Awards. Well Page Two PIG will not be snubbed and has created our very own POOP Awards, specifically designated for those A-List A-Holes who step in some stinky loads and are famous for their Red Carpet Activism.
Our first Poop Award goes to host Neil Patrick Harris who from the opening said: "Tonight we honor Hollywood's best and whitest, sorry, I mean brightest." I guess that was The Academy's way of throwing Al Sharpton and Oprah a bone for her movie "Selma" and Hollywood's perceived lack of diversity.
Patricia Arquette whined: "To every woman who gave birth, to every taxpayer and citizen of this nation, we have fought for everybody else's equals right. It's out time to have wage equality once and for all and equal rights for women in the United States of America,"
What underpaid women was she referring to? Her similarly highly paid collegues? Geez, I always thought women have "empowered" themselves enough already, especially at the expense of men or through their own efforts, aka, the hard way. Or is she shilling for the easy way, affirmative action?
Actually, it wasn't so much what she said, it was the pathetic, whiney "The sky is falling" way she said it. As if that were the world's biggest problem facing humanity today.
Sean "Spicoli" Penn, as usual, really stepped in it, but due to his politics and Hollywood homeboys got away with saying the following when presenting Mexican born director Alejandro González Iñárritu for his film, "Birdman": "Who gave this son of a bitch a green card?"
Iñárritu followed that with his own pile in his acceptance speech: "…Maybe next year, the government might impose some immigration rules on the academy. Two Mexicans in a row, that's suspicious... I want to take one second. I want to dedicate this award for my fellow Mexicans, the ones who are leaving Mexico. I pray that we can find and build a government that we deserve. And the ones... who are part of the latest generation of immigrants in this country, I just pray that they can be treated with the same dignity and respect of the ones who came before and built this incredible, immigrant nation."
WTF! Was he talking about LEGAL IMMIGRANTS? F**k no! he was speaking directly of open borders and amnesty for all south of the border, complete with disease, crime, unemployment, lack of skills and education, language barriers, the downtrodden, etc.
On a more positive note, J.K.Simmons who won Best Supporting Actor gave major props to his family: "Wow, thank you. Thank you to the Academy. Thank you to everyone involved in the making of Whiplash . And I am grateful everyday for the most remarkable person I know: my wife, the wonderful Michelle Schumacher. I'm grateful for your love, your kindness, your wisdom, your sacrifice and your patience. Which brings me to the above-average children—even though I may try their patience more. Joe and Olivia, you are extraordinary human beings. Smart, funny, kind, loving people and that's because you are a reflection of your mother. And if I may, call your mom, everybody. I've told this [to], like, a billion people, or so. Call your mom, call your dad. If you're lucky enough to have a parent or two alive on this planet, call 'em. Don't text. Don't email. Call them on the phone. Tell 'em you love 'em, and thank them, and listen to them for as long as they want to talk to you. Thank you. Thank you, Mom and Dad."
With all of the political sideshow bullshit and distractions, enquiring minds want to know…Where was the wardrobe malfunction, or better yet, where the hell was Kanye West when we needed him the most?
As they say in "The Industry" this years Red Carpet Monday morning quarterbacking, reporting and commenting for PIG's 2015 Academy Awards Poop Report is a "Wrap" and "In the can." I'm be spending the next year waiting for a sequel to Monty Python's "Life Of Brian" which could be called "Second Comings: The Wrath and Resurrection of Brian"
• • • • • • • • • • • • • • • • • • • •

"The movie industry is like the Rocky Mountains – the higher you get, the whiter it gets." — Al Sharpton
• • • • • • • • • • • • • • • • • • • •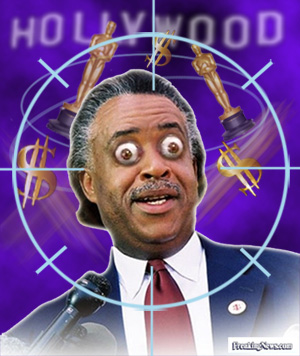 From Our Who Gives A Shit Department: Al "Shakedown" Sharpton and his race card wielding posse are taking their sad act on the road and plan to do an "emergency" drive-by in Hollywood regarding the lack of black actors being nominated for an Academy Award this year.
Sharpton, 60, a critic of the lack of diversity in the US movie industry, added: 'I have called an emergency meeting early next week in Hollywood … to discuss possible action around the Academy Awards.'
"Action?" What action? Bitch, whine and complain while at the same time try to pick Hollywood's pockets? Strongarm affirmative action policies down the movie industries throat? Insist on lowering the bar talent wise for the sake of 'diversity?' Hold your breath until big baby gets his bottle?
Sharpton is a big, narcissistic baby and here's some of what he said:
'The lack of diversity in the Oscar nominations is appalling and while it is good that Selma was nominated for best picture, it's ironic that they nominated a story about the racial shut-out around voting while there is a racial shut-out around the Oscar nominations.

'With all of the talent in Selma and other black movies this year, it is hard to believe that we have less diversity in the nominations today than in recent history.'

The lack of ethnic variety prompted campaigners to take to social networking site Twitter and create the online trend #OscarsSoWhite.
If going gangsta on Hollywood for a percieved black out of diversity is Sharpton's beef, he's wrong. There seemed to be lots of diversity in Hollywood this past year. There were war movies, romance movies, comedies, animated flicks, political thrillers, chick flicks, crash and burn action movies. Something for everyone, Al.
On top of that, there were movies for every demographic. From Tweens, to Vets, the College Crowd, the Lonely Hearted, History Buffs, you name it, there was something for eveyone.
Funny, I don't hear Morgan Freeman, Will Smith, Denzel Washington, Don Cheadle or Samuel Jackson whining about this, yet.
AL $HARPTON ON THE SET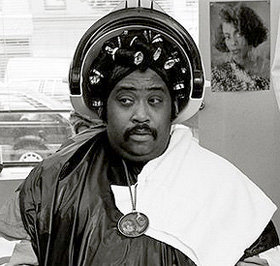 Al once had a budding career as a thespian. Here he is in a scene that was cut from one of Ice Cube's "Barbershop" movies getting his 'Do done.
We're sure there was loads of great black talent out there this year, but they simply didn't make the cut. Same goes for non-black movies. Here are some examples:
Cake's Jennifer Aniston and Big Eyes star Amy Adams both snubbed
Angelina Jolie's Unbroken overlooked and The Lego Movie left out of best animated feature film category.
But hey, Al. You might be right. There were no Race Hustling movies this year. It's a shame, too. Ferguson would have been an ideal setting for the world to witness your tactics. Years ago, however, there was a movie which featured a character loosely based on you. Remember "Bonfire of the Vanities?" Remember that fat, loud mouthed black dude with all the bling? That was a caricacture of Al.
Page Two PIG can be about viable solutions from time to time. Here's what we propose. Al starts his own production company and the first film he produces can be about Boko Haram, shot on location in Nigeria. Plenty of blacks there and not all are actors. There in Nigeria Al can document brutal, black on black crime.
Al Sharpton: Director, producer and lead actor. Remember, SHOT on location and with enough lobbying, shucking and jiving and greased palms, may persuade the Academy to give you some Oscar consideration.
Can Al do comedy? Well, he and Je$$e can team up in a 'buddy' film called Step and Fetchit about two hapless race baiters who lose their ill-gotten gains and go cross country in search of...wait. Whitey already did "Dumb and Dumber."
Here's another consideration for Al. Produce a movie about Blackploitation starring Al Sharpton as a dedicated, tireless civil rights leader to march on blacks commiting crimes against whites while simultaneously exposing so-called civil rights leaders who are nothing more than self serving charlatans who feed off of their own communities. The role would be a stretch and completely out of character for Al, but I can almost see Al accepting the award and...
We all know that will NEVER happen in Al's world.
One last film consideration. Al, Je$$e, Eric Holder, New Black Panthers and Michael Moore and Seth Rogan as the token whites, produce, direct and star in what should be a blackbuster of a movie. Let's call it "SHUT THE F**K UP AND GO AWAY.
On a brighter, oops, whiter Hollywood note, Clint Eastwood (white) and "American Sniper" landed six nominations including Best Actor, Bradley Cooper, also white, portraying Chris Kyle. White again. Ho-hum.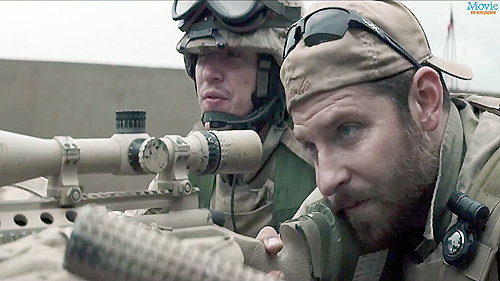 Al, don't go away mad if things don't go your way. Just go away knowing this. YOU are a true American sniper. You wait in the shadows until Whitey stubs his toe and has the misfortune of falling your way.
Porcus Prediction: Sadly, Hollywood and "The Academy" will throw Sharpton (and potential rioters) a bone and have "Selma" voted Best Film.
See you at the movies, Al. Preferably in Aurora, Colorado.
If anyone has any ideas or suggestions of any nature and want to direct them towards Al, here's how to contact him and his posse:
National Action Network
106 W. 145th Street
Harlem, New York 10039
(212) 690-3070
(877) NAN-HOJ1
• • • • • • • • • • • • • • • • • • • •

CHUCKY'S NEW SET OF BALL & CHAINS
• • • • • • • • • • • • • • • • • • • •
THE HAPPY COUPLE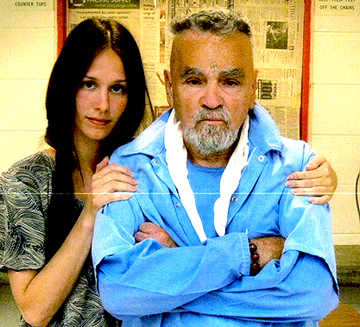 How sweet. He already has that "Married, Hen Pecked, Al Bundy, Yes, Dear" look..
Wedding bells will be ringing for the mastermind and manipulator of mass murder Charles Manson and his fiancée Afton Burton, aka "Star" behind the walls of California's Corcoran State Prison and will soon be fitted for a marital set of Ball & Chains.
Manson, 80 and "Star" 26 will tie the knot at a later date at the prison's luxurious Solitary Suite at a later date.
Rules of the nuptials are pretty simple.10 outside guests, 1 kiss, 1 hug, honeymoon over. No conjugals, no nothing as far as intimate contact goes.

What compells a young woman to marry a lifetime resident of Hotel Graybar? Either "Star" is very disturbed, dedicated or one shrewd calculating woman, probably both.
PIG's resident psychic, Porcellina predicts it's all about a sick way to a healthy pay day for "Star." "Star," if she plays her cards right as wife of Manson, will probably have power of attorney over Chuck's affairs, whether he's alive or dead.
Porcellina predicts the money train may roll her way upon his death, when publishers and Hollywood come knocking on her door for the rights to his life story. At that point, "Star" gets to call the $hots, money-wise. With that money, "Star" can either marry a 9-5 type, live in the suburbs complete with 2.5 kids or use that money to start her own "Family." Probably the latter.
Burning Question Time: Of those 10 outside guests, we wonder how many will be surviving family members of his Helter Skelter massacres?
Answer: Unless it's a 'sawed-off, double barrel shotgun' wedding, none.
Watch out, Chuck! She's crazier than you are.
• • • • • • • • • • • • • • • • • • • •

From The 'Out of the Mouth Of A Newsbabe' Files.: KTTV (FOX 11, Los Angeles) early morning eye candy and entertainment News Hottie came up with the best summary and observation, EVER of the plague known as the Kardashians:
"More people have married Kardashians than have contracted the Ebola virus" - Julie Chang, KTTV Los Angeles Entertainment News Babe
Make all the jokes you want about California News Babes being bubbleheaded, but Ms. Chang nailed it.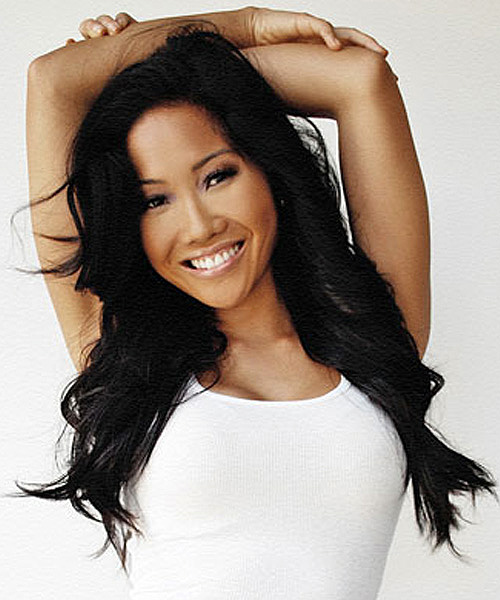 • • • • • • • • • • • • • • • • • • • •

• • • • • • • • • • • • • • • • • • • •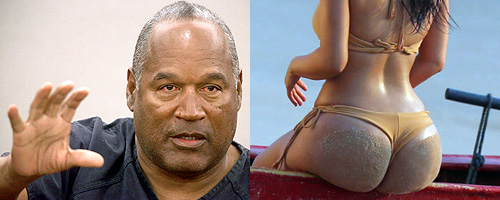 "WHEN I GET OUT, SHE'S MINE"
• • • • • • • • • • • • • • • • • • • •
From Our Earth Shattering Breaking News Department:
Reports are coming in that OJ Simpson has the big time hots for Kim Kardashian in a very sick way.
RadarOnline reports that "He has several sexy pictures of Kim hanging up in his prison cell from her 2007 Playboy shot and he isn't shy about showing her picture to fellow inmates," an insider told us.
"She likes black ball players, I am a Hall of Famer — and I still have my Heisman award," a zinger of a quote aimed at Reggie Bush, one of Kim's past boyfriends who returned his Heisman Trophy due to questionable NCAA violations.
OJ, knowing Kim is married to Kanye West stated, "As long as I am in prison, I can't be with her so Kanye can have her for now. But when I get out she's mine."
WTF! So what, he's a grown man in prison fantasizing about a woman. He's not the first guy in lockdown to have those thoughts. Right, but here's the sick part. When Pre-Murderous OJ and his then wife Nichole where younger, they were friends with Bruce Jenner who is Kim's stepfather, and would go on family outings, when Kim was a child. A child he watched grow up. Has he been secretly drooling in deep dark corners waiting for his chance? Get it now? Page Two PIG doesn't have to do the math for you, but OJ is one sick fuck.
OJ is mentally masturbating over his friends step daughter and when he comes up for parole in 2017, we're hoping the paorle board gives him enough rope to hang himself with and his first few stops will be to get a pair of gloves and some Bruno Magli shoes in preparation for his first date with Kimmy-Poo. Let's assume nature takes it's course the OJ way, and the Kimster is never seen nor heard from again. Well, the parole board ought to give him community service points, then immediatly revoke them and make lifelong arrangements behind bars.
More to come as it slides by our desks.
Publisher's Note: Annoying as they are, we wish no harm come to Kim Kardashian and Kanye West.
• • • • • • • • • • • • • • • • • • • •

• • • • • • • • • • • • • • • • • • • •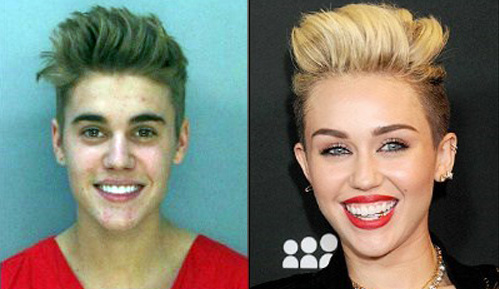 • • • • • • • • • • • • • • • • • • • •
Has anyone ever seen Justin Bieber and Miley Cyrus (No strangers to Page Two PIG) in the same place at the same time? Let's hope like hell not.
Are they genetically related? Let's hope not, but they could possibly be spawned from the same strain of genetic mutant mush commonly known as Spoiledus Braticus To The Maximus.
The Twerp and The Twerk DO have several things in common.
1.) Their 'music' sucks.
2.) Their fanbase - who also suck - consist of teenie boppers and tweens.
3.) They are both on parallel paths to self destruction due to their own suckage.
4.) They are both of the "All sizzle, no steak" School of Talentless Twerps & Twerks.
5.) They still suck.
6.) They are both highly promoted, talentless 'entertainment' novelties and commodities. Basically, Flavor-Of-The-Month Fluff.
7.) They both find negative ways to get much need attention and facetime from assorted News Nit Wits and Media Meatheads through a lot of trash talking and decadent behavior.
8.) Separetly, The Twerp has the 'Street Creds' to qualify as being 'Hard' when his posse has his back, but a spineless Milquetoast of a talentless pussy that feels misunderstood as a "serious artist" when his 'Boyz' aren't there to bail his lily white ass out of trouble.
The Twerk on the other hand, went from being Disney's clean cut Hannah Montana with the girl next door image to a trashy slut that no doubt has 'Daddy' issues, among other things.
9.) Now matter how you slice 'em, they will always SUCK!
• • • • • • • • • • • • • • • • • • • •

• • • • • • • • • • • • • • • • • • • •
Some way serious news just came down The Page Two Turnpike. We really hate to be the bearers of bad tidings, but Kanye West was pictured being bummed out.
We here at PIG have already gone through our ration of tissues during our time of grief and feeling his pain upon hearing this earth shattering news.
All that being said, we have to wonder, WTF is he so upset about? Is it the fact he married a lard ass Kardashian or is it the fantastic looking woman in the foreground that he knows he ain't gonna get any trim from?
Remember, enquiring PIGish minds like ours want to know who peed in his Wheaties?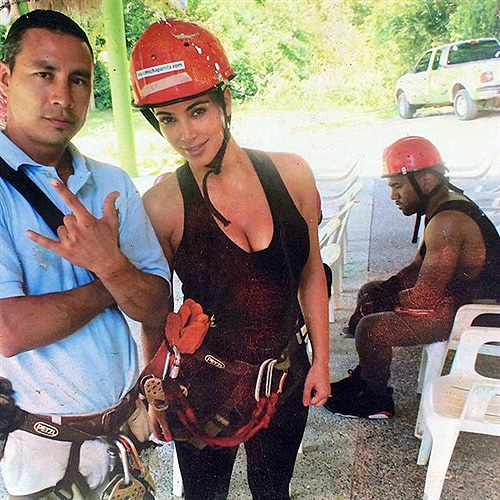 • • • • • • • • • • • • • • • • • • • •

• • • • • • • • • • • • • • • • • • • •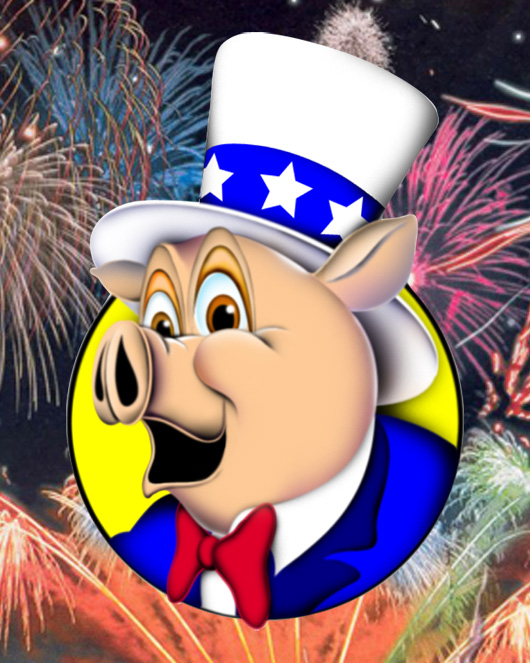 • • • • • • • • • • • • • • • • • • • •
BREAKING NEWS TIME ON PAGE TWO PIG!
• • • • • • • • • • • • • • • • • • • •

It's a Red Letter Day here in the PIGdom! This week marks the 10th anniversary of that noxious but notoriously satirical weird website called PIG: The Politically Incorrect Gazette going online.

PIG's founders, Hambo and Porcus were too busy skewering brain dead, low information Kool Aid swilling zombies to attend their own birthday bash, so our roving Page Two reporter who also doubles as PIG's ace Dumpster Diver tracked down some high profile celebs, politicians and other assorted glitterati for their comments and views on The Free State Of PIG.
Kim Kardashian – "One of those bastards is the father! I have the DNA evidence to prove it!"
Ted Nugent – "Those guys are great at killing, chilling and slow grilling Korrectniks."
Barney Frank – "Hey! I don't wear chaps. At least not in public, anyway."
Miley Cyrus – "I wouldn't twerk those jerks if they were the last so-called men on earth."
Gloria Allred – "Are we live and on camera yet?"
Justin Beiber – " Those guys are just Big Meanies picking on a serious artist like me. I'm beginning to think they're just not Beliebers."
P.J. O'Rourke – "Damn. Those guys beat me to it."
Je$$e Jackson – " Those fools can't even spell my name right. I demand reparations. Or at least a million man march on their corporate office."
Al Franken – "Whaaaaaaa! I want my diapers and teddy bear, and your vote."
Dean Wormer – " I hate those guys."
Al Bundy – "Hell, I'de give up my beloved Dodge and Big 'Uns collection to hang with those guys."
Kloe Kardashian – "Abominable, Yeti find them intriguing. Do they have lots of money?"
Lindsay Lohan – I got drunk, took some pretty pills and thought I would do society a favor and run those guys over, but they're not worth another dent in my car and probation violation."
Chris Matthews – "I just don't get that special leg tingling effect. Not even warm fuzzies from PIG."
Clint Eastwood – " They make my day. Each and every day."
Alec Baldwin – When asked about PIG all we got was a many expletives deleted rant that ended with "…fat little pigs."
Larry The Cable Guy – "Those guys really know how to Get 'er done."
Cartman – "But Mom, I want to go online and learn more from those guys at PIG."
Kim Jun Un – "If me and Dennis Rodman knew about PIG, we would have stayed in my basement in our pajamas and played some hoop."
Dick "Darth" Cheney – Hey guys. Wanna go hunting with me?"
Hillary Clinton – "And they call me a bitch!"
Joe Biden – Unintelligible gibberish is all we got from that lip flapper.
Twisted Sister – "We sang 'We're not gonna take it.' PIG really doesn't take it."
Popeye – "Korrectniks?!? That's all's I can stand cuz I can't stands no more."
Obi Wan Kenobi – "Pigsters, may the force be with you."
Al Gore – "I don't know why they're celebrating. After all, I invented The Free State Of PIG."
Jimmy Carter – "Lord, I have committed adultery in my heart by taking sneak peeks at PIG."
Captain James T. Kirk – "Beam me up Scotty, to the Free State Of PIG."
Paula Deen – "Hey, y'all. Let's all gather 'round and enjoy some southern fried PIG."
Emerile Lagasse – "Bam! And double Bam!"
Phil Robertson – "And the Lord sayeth unto the PIG faithful. Be fruitful, multiply and tell all of your friends about PIG. Quack."
George Carlin – " By all means, tune into those FCC haters at PIG. Oh, and be excellent to each other."
Benny Hinn – "Unless they send me money for my fancy coif, those guys are going to suffer eternal damnation."
Chris Berman – "Looks like PIG is going…all…the...way!"
Jimmy Swaggart – "Lord, I have sinned again. That low rent hooker I was with turned me on to The Free State Of PIG. Please forgive me, again."
Bart Simpson – "Eat my shorts, Korrectniks."
Robert DeNiro – " Are you looking at PIG? Are you looking at PIG? You better not be looking at PIG."
Sean Penn – "Dudes. Stay away from PIG. They are filled with truth, humor, facts and fun. That's like, totally taboo and cerebral overload, dudes."
Al Pacino – "Say hello to my little friends over at the Free State Of PIG."
Strother Martin – "If you're not reading PIG, it looks like we have a failure to communicate."
Rosie O'Donnell – "Are those PIG's served with gravy and dumplings?"
Janeane Garafalo – " I bet PIG is staffed by a bunch of white heterosexual, homophobic, meat eating, women and minority hating, gun toting, capitalistic, flag waving, insecure and insentive, zzzzzzzzzzzzzzz"
Mike Farrell – "In the matter of PIG, for once I am in favor of the death penalty."
Alfred E. Neuman – "What, them worry?"
Krusty The Clown – "I heartily endorse this product or event."
Bill Clinton – "I did not read the pages of PIG with that woman. Or a cigar."
O.J. Simpson – " I am absolutely 100% not guilty of reading PIG.
Rep. Maxine Waters – "No justice, no PIG!"
Kevin Bacon – "Thank you sir. May I have another?"
Porky PIG – " Be ge. Be ge. Be ge. That's all for now folks!"
• • • • • • • • • • • • • • • • • • • •

• • • • • • • • • • • • • • • • • • • •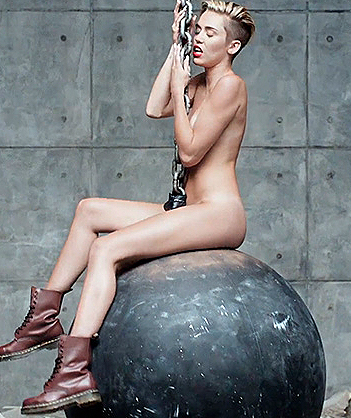 Like, OMG and WTF! Another of Di$ney$ well groomed, so-called All-American, teeny bop products went Twatney & LiLo on us by doing a most tasteless display of her lack of back door talents by 'Twerking' at a VMA awards ceremony.
Former Hannah Montana commodity, Miley Cyrus seems to have taken herself too seriously by developing a potty mouth, big head and below the waist gyrating spasm that she inflicts upon the public, (or pubic) in the form of a new craze called 'Twerking.'
Twerking, in essence, is a public display of a woman shaking her money makers and grabbing her crotch in front of the drooling pervs that get their rocks and jollies off on that, done to music in a sexually inviting way.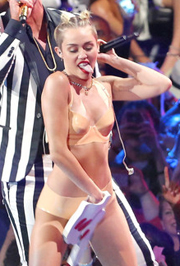 Miley took a lot of heat for that, but it seems as if the only one in her corner defending her is her dad, washed up one hit wonder, Billy Ray Cyrus.
Funny. Why would her dad defend her descencion into slutness. Could it be she didn't crush his Marlboro's during their 'private' daughter-dad trailer park moments.
What kind of father would sponser, or condone a public display of blatant white-trash, Jerry Springer like behavior?
Oops! Forgot. Her dad's name is Billy Ray. Probably rased on inbred catfish, kissin' cousins, corn cob pipes, banjos, possum pies and shotgun weddings.
Here's Dear Daddy's comments on his little girl Miley's sluttiness and 'artistic growth' as a young woman on the Piers Morgan Show:
But what it came down to, in Billy Ray's eyes, is Miley stripping herself from her Hannah Montana image and evolving as an artist.

"I'm her daddy. I come for that school of as a singer-songwriter, as a musician, that it starts with a song. And it's that magic moment when a song finds the right artist, the right singer, and it becomes a synchronicity of that moment in time," Cyrus explained.

"Miley harnessed into something very special. She's just Miley. She's an artist, she's real. I think that's what's happened over the years, Miley has been reinventing her sound. She's evolving as an artist herself. I think that it's all of what everyone is calling controversy now. That's still my Miley."

As for that performance at the MTV VMAs, Cyrus simply stated, "Miley again, you know, I think she could've went out and sang the song in a flannel shirt and a pair of jeans, and it would have still been just as strong. Would we have been here talking about it? No way."
We have our fingers crossed that Miley will take this whole Twerking thing as a learning experience and doesn't become another statistic on a road to self-destructive LiLo-like behavior.
• • • • • • • • • • • • • • • • • • • •

• • • • • • • • • • • • • • • • • • • •
It's brain teaser time here on Page Two Pig. We dug up some goofy yearbook photos of future celebrities, courtesy of TMZ. If you want to take a guess as to who is pictured, we'll provide some hints and maybe hide the answers somewhere on this page or page 12.
Good luck and have fun.
| | | | | |
| --- | --- | --- | --- | --- |
| GUESS WHO? | | GUESS WHO? | | GUESS WHO? |
| | | | | |
| Hint: My name rhymes with looney. | | Hint: I planted a wet one on Halle Berry. | | Hint: I look like a buck toothed werewolf. |
| GUESS WHO? | | GUESS WHO? | | GUESS WHO? |
| | | | | |
| Hint: I slept my way to the top with my hero. | | Hint: I like to play dirty. Real dirty. | | Hint: I sold out and left my original band in the dust. |
| GUESS WHO? | | GUESS WHO? | | GUESS WHO? |
| | | | | |
| Hint: I like rich, white women with big butts. | | Hint: I'm filthy rich and dumb as hell. | | Hint: I'm highly talented and like Corvettes |
• • • • • • • • • • • • • • • • • • • •

• • • • • • • • • • • • • • • • • • • •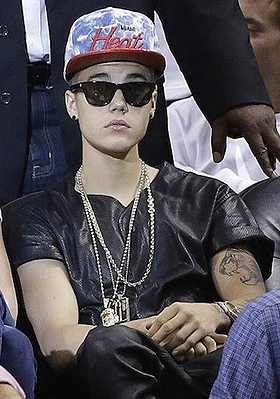 From Our Don't Dress Like This In Public Dept.:
Recently, His Bieb-Ness was captured on a Jumbotron Fan Cam wearing the pictured attire, complete with all the wannabe hard guy bling, and, and, OMG! Gasp! He was...booed!
Booed? Again?
In public at a Miami Heat basketball game on national TV?
The outrage! One can only imagine the damage done to your most sensitive and serious inner-artist psyche. (As if you've ever had one)
Never fear, Biebs. You have a tried and true pal over here on Page Two PIG and he - unlike me ...OMG...cares about you to the point that he had me post this and offer up a solution to your public fashion faux pas fiasco.
Your new pal is none other than the head of our new Douchetastic Department, of which, you are a charter member, who forwarded this most drastic and traumatic story to me.
His name is our own homegrown fashionplate, Hambo. He cares and is willing to take you under his wing. And he suggested a complete makeover for you courtesy of his good pals over at Queer Eye For The Straight Guy.
The Queer Eye Guys were willing to give you a head-to-toe fashion critique but decided in your case, the best thing to do, Biebs, is if you can't take the booing with your hideous wardrobe, don't go out in public. Ever. Again.
Fair enough, Biebs? You go away and no more boos from us and no more boo-boo's for you. Nothing but a win-win situation for everyone but Hambo, who, last seen was dusting off his Lady Gaga, Madonna and Michael Jackson CD's, screaming on his knees and looking to the Heavens "Why?!? Why?!? Not the Biebs..."
• • • • • • • • • • • • • • • • • • • •

• • • • • • • • • • • • • • • • • • • •
"I'm An Artist And I Should Be Taken Seriously"
• • • • • • • • • • • • • • • • • • • •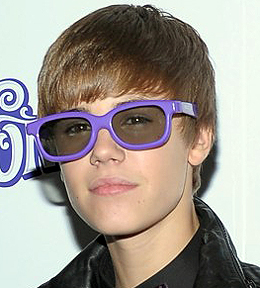 From Our Non-Belieber Department:
This is Un-F**king Belieberable and about time!
His Beeb-ness, The One, The Only Justin Bieber was greeted by a booing crowd at the Billboard Music Awards while accepting the Milestone Award.The Milestone Award is an award bestowed upon by fans, not his peers and not the music industry, either.
A Milestone Award at 19 years old? We thought one would probably have paid some hard dues, had a few more miles on them, and actually accomplished something noteworthy to be acknowledged for even realizing any milestones in life or a career.
Hopefully, that giant Booing sound he heard will take his candy-assed, blow-dried, teeny-bopping antics down a few pegs, a little closer to us mere mortals.
Looking full of himself, and IT as usual, and with his "I'm an artist..." sniveling, who in the world has now or ever will take him or his fans seriously?
Listen, Biebs, we didn't realize you were a "serious" artist. Probably hypersensitive, tempermental, spolied rotten and all of that rubbish that goes with being Justin Bieber. We just thought you were a spectacle on the nightly Hollywood report, or fluffed up fly-by-night fodder for supermarket tabloids.
We 'Haters' here manning Page Two PIG applaud those who Booed The Beeb, and we just have one question:
WTF took so long to pop The Beeb's balloon and put that sniveling little wannabe hardass in his place, the real world, and not onstage along side serious musicians?
Enquiring minds like ours want to know.
• • • • • • • • • • • • • • • • • • • •

• • • • • • • • • • • • • • • • • • • •
• • • • • • • • • • • • • • • • • • • •

• • • • • • • • • • • • • • • • • • • •
BREAKING NEWS!
• • • • • • • • • • • • • • • • • • • •

The recent announcement of Kim Kardashian
and her new and probably most temporary black boy toy, Kanye West of her pregnancy, we all know, the entire world really gives two hoots, except for those that are edging their seats, wondering what his/her name will be.

The inquiring minds here at F.S.O.P.s Page Two PIG are also wondering, will the poor kid inherit Kanye West's trademark sourpuss scowl or Kim's XXX-Tra wide caboose?

We think, no matter what, the kid will inherit both parents sense of self importance and ego for doing nothing except being known as the K-West Kid.

• • • • • • • • • • • • • • • • • • • •

• • • • • • • • • • • • • • • • • • • •

Eureka! PIG has finally uncovered photographic evidence that there is indeed, a mysterious, elusive critter that is commonly known in the PIGDOM as Hambo.

Just so you don't think we're as nuts as Hambo is, we here at PIG have known of his existence since our inception, but due to his anti-social disposition and our concern for public safety, we've kept him in a dark room where we slide his meals under the door, watching our fingers in the process.

Here, we see him in all of his covert glory, taking notes and making hit lists for future reference and making a general PIG of himself.

From time to time, Hambo does make bold escapes into the general population, where he unleashes his edicts, laws and theories, only to be carted off by the local authorities and put in a 'special, time out place'

If seen, proceed either with caution or a truckload of beer and pizza. When he seems docile enough, contact Porcus, he'll get Hambo properly medicated and back to his PIG digs, duties and dastardly deeds.

• • • • • • • • • • • • • • • • • • • •

• • • • • • • • • • • • • • • • • • • •

Our Poop Page operatives may have uncovered DNA evidence answering that burning question: Is Khloe Kardashian Sasquatch's long lost twin sibling? Hint: This is not a trick question.

Lawyers for Justin Beiber sent a cease and desist letter to RC3, a company selling 99 Cent Mobile Apps bearing the likeness of The Beib. RC3, creator of the Joustin Beiber App in turn, told Beiber's peeps to gnaw on this: The App is a parody, therefore protected by the First Amendment.

Charlie Sheen:
"Rock Star From Mars" Michael Richards:
KKKramer

Clayton Osborn:
Your Friendly, Freaked Out
JetBlue Captain


HOCUS POCUS: ASTROLOGY

No matter what your sign, whether you're looking for fame, fortune or romance, unless you tune in to PIG, somehow we predict that if your day can suck, it will.




• • • • • • • • • • • • • • • • • • • •

SNOOKI'S NOOKI: WTF CRAWLED INSIDE HER...AND LIVED?

• • • • • • • • • • • • • • • • • • • •

The ongoing train wreck commonly known as Snooki just got derailed even further with the news of her pregnancy. For those of you biting your nails on the edge of your seats and losing sleep, we'll keep you posted on the latest twists, turns and status of Snooki and her 80 proof bundle of joy.

• • • • • • • • • • • • • • • • • • • •

OPERATION: DUMBO DROP

• • • • • • • • • • • • • • • • • • • •

Since we're here manning the Poop Page on our lunch breaks, and have entirely too much time on our hands, we decided to showcase some Bloated Blowhards, Buffoons, Blabbermouths and Out-And-Out Big Mammas.

Some were born "Big-Boned." Others, once having streamlined features and figures, gradually ballooned into the behemoth blobs they present to the public. The "I'm eating for two" excuse only stretches only as far as their waistbands can withstand before the buttons start popping and the seams begin bursting.

We'll Begin With Pound Packin' Charter Members,
Sally "Little Goil" Struthers And Rob "Meathead" Reiner:

| | | | |
| --- | --- | --- | --- |
| | | | |
| | | | |

Hot-Air Heavyweight, Al Gore

WTF Did She Swallow? Kirstie Ally

| | | | |
| --- | --- | --- | --- |
| | | | |
| | | | |

Christina"Porky" Aguilera

| | | | |
| --- | --- | --- | --- |
| | | | |
| | | | |
© Copyright 1993-2021 PIG - The Politically Incorrect Gazette
---
---
SIGHTINGS
SEEN ME LATELY?
• • • • • • • • • • • • • • • • • •
Certain Celebrities Just Won't Go Away. Check Your Milk Cartons For The Following:

Elvis Presley: Last Seen Leaving The Building. Thank You Very Much.

Jimmy Hoffa: Last Seen Near The Jersey Turnpike Or Giants Stadium.

Mikey Jackson: Last Seen Applying For Job At An L. A. Public School.

The Boogie Man: Last Seen Under Your Kids Bed
HOWARD STERN
America's Got Talent judge Howard Stern had a 'Howard' moment on national TV.
After a particularly embarassing audition, Howard asked the contestant about his parents.
The contestant said his parents were dead.
Howard, being Howard, said they must have died of embarassment.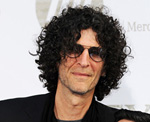 $CIENTOLOGY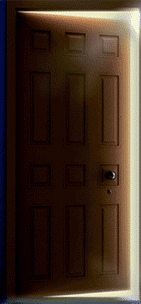 How big is $cientology's closet and who or what is behind that door?
For the answers to that question, go to page 7.
UP OINKS ALLEY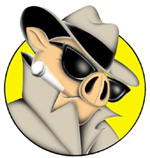 Agent Oink cares so much about the PIGdom, that he wanted to have his own advise column.
Here are his rules: don't bother writing or sniveling about your problems, he already has the answers and here they are:
• That's impossible, baby! I had a vasectomy years ago!
• But I have to go to the strip club! I'm the best man!
• Your'e not deaf and I don't stutter.
• Yes, I really have to go and a lot of it has to do with you telling me you missed your period.
• The check really is in the mail.
• I will too respect you in the morning. Honest.
• No, the dress is NOT what makes you look fat.
• Kick 'em in the nuts.
• Duct tape.
• Anti-Freeze on your A-whipe of a neighbor's lawn does wonders.
• Just deny 'IT'
• Officer, I only had 1 beer.
• No, we can't just be friends. Goodbye, and can I have your smoking hot sisters number
• Life's too short to get mad. Get yourself over to The Free State Of PIG, Hambo and Porcus will make it all better.