A: As you may suspect, PIG is comprised of a couple of loose cannons that have taken precise aim at the world of Political Correctness.

Armed with wit, wisdom and wicked contempt for those guilty of catering to, propagating and pontificating Political Correctness, PIG takes great pleasure in lampooning and bulldozing these Korrectniks with an arsenal of what is sorely lacking in their myopic world...Truth, Humor, Facts and Fun.

PIG is the brainchild of one P.K. Crowley. Stigmatized, vilified, censored, intimidated, alienated and incensed by campus Korrectniks during his college days, Mr. Crowley declared war on Political Correctness. That's the moment PIG was born.

PIG was put on hold for several years while Crowley did a stretch of time in a marital institution. In 2002, while out on "parole", he forged an alliance with fellow PIG, T.D. Treat, and resumed his war on the Cultural Marxism - Political Correctness - that threatens to smother the flickering flame of our individual liberty.

Q: WHAT THE HELL IS PIG?
---
A: An Internet publication whose unique point of view fills an unexploited niche that others can't or won't - they don't have the NADs if you want the unvarnished truth - address at the satirical level.PIG is the Cultural Marxist's worst nightmare, a wickedly wacky publication that goes beyond discussing and lampooning Political Correctness. PIG dares to be Politically Incorrect. PIG dares to cover the news, cover all elements of American culture with a demented, in your face Political Incorrectness that is guaranteed to help Korrectniks reach orbital velocity. It's a dirty job and we love doing it.

PIG invites it's readers to climb aboard this Internet-based thrill ride through banned thoughts, insensitive humor and truths deemed too real by the Korrectniks. We both know that the primary difference between PIG and you is that PIG dares to say, in writing, what you've felt guilty just for thinking. PIG is much more than a punch-drunk, Politically Incorrect publication. PIG IS AN ATTITUDE!

Q: WHY THE HELL SHOULD I READ PIG?
---
A: That depends on who, what, you are. Painfully aware of Political Correctness's alarming, geometric growth, we plot to attract the widest audience possible. College students being besieged by campus-based Korrectniks need to read PIG because their sanity depends on it. Korrectniks need to read PIG, to discover all the evil, inspired, deliciously-humorous things we're saying about them. Vast right-wing conspirators need to read PIG because it's their patriotic duty to join this battle on our side. Rational individuals need to read PIG because it's a safe haven from Amerika's egregiously-irrational, rights-infringing Nanny culture. Intellectual flat-liners who never learned to read can enjoy all the pretty pictures and scratch their heads, wondering what all those funny squiggles mean. Bottom line: PIG has something for everyone.

We willingly acknowledge that Political Correctness - especially such key elements as affirmative action, diversity, group think, group rights - are common topics at numerous web sites, but virtually all of the existing purveyors are too high brow/academic: too shrill, militant and preachy; or are entirely fictional, parody Internet outlets like the Onion, or National Lampoon. PIG presents what Paul Harvey would call 'the rest of the story', providing our readers with a rich-blend of entertaining, humor-intensive, reality-based information relating to this important subject.

Given the wide ranging issues we address, you'll soon discover that PIG is an equal opportunity offender, so, kindly check your sensitivities at the door. Part of being Politically Incorrect is not tap-dancing around topics for fear of offending anyone. How anyone reacts to the contents of PIG is their responsibility, not ours.

Q: JUST WHO IS EFFECTED BY POLITICAL CORRECTNESS?
---
A: Damn glad you asked! Big Brother, and Big Sister are watching you, too! By default, unhyphenated white males - dead white male culture and values - are at the top of the Politically Correct's Most Wanted List. However, ANYONE, regardless of race, creed, color, age, ethnicity, country of origin, gender, religious beliefs, credit rating, political affiliations, criminal background, shoe size, hair color, cholesterol count, or socioeconomic level will one day, somehow, someway, be affected, offended, censored, angered, alienated, disgusted or amused by Political Correctness. If it hasn't already happened to you, you can bet the farm that it will.

Political Correctness started in Amerika's Ivory Towers, and the college campus remains ground zero in this frantic battle to save our inalienable individual liberties. But, the Politically Correct plague reaches every element of our society. Whenever you hear the following words and phrases, you're bumping heads with Political Correctness: fairness; diversity; overrepresentation; under-representation; oppression; (fill-in-the-blank) American; sexism; racism; homophobia; protected minority group; level playing field; glass ceiling; tolerance; reparations. Needless hate crime laws, affirmative action, disabled rights laws, sensitivity training, race and gender quotas in business and schools, sexual harassment policies/laws are part and parcel of Political Correctness.

Virtually everyone in this country - from day care denizen to senior citizen is impacted by Political Correctness, whether they realize it or not. This war rages on, but it's far from lost. If you want to join the fight, arm yourself with regular visits to the Politically Incorrect bastion called PIG.

Q: WHAT ABOUT THE CHILDREN?
---
A: There is no need for parental supervision. After all, if you trust your children to the encounter group cleverly disguised as public education, MTV, graphically violent video games, the NBA, Britney Spears, the Internet, and worst of all, Network TV, then don't think for a second we will be a corrupting influence on your precious cargo. PIG is recommended for ages 6 and up, as long as they remember to say no to drugs, clean their rooms and spend at least two hours a day doing their homework.

Heck,we couldn't corrupt your children even if we wanted to. The Educrats beat us to it!

Q:HOW THE HELL DID I END UP ON THE PAGES OF THE FREE STATE OF PIG?
---
A: The mere fact that you're here means one or more of the following is true:

1) Despite the Educrats' best efforts to indoctrinate you with cultural Marxism, multiculturalism, level playing fields, sensitivity training, and diversity, your synapses are still working.

2) You work for the NSA,

3) You clicked something during a dizzy spell and when the room stopped spinning, you were here.

4) Your obsession with weird sex convinced you that 'PIG' is a porn site featuring plumpers.

Q: ARE YOU A BUNCH OF RACIST, SEXIST, LIBERAL BASHING PIGS?
---
A: According to Ethnocrats, Gendercrats, Educrats, Colonistas, Europhobes, Heterophobes, and other hypersensitive, overly enlightened types, yes.
PIG does not advocate violence or racial supremacy against any individual or group. We are not an extremist or militant organization (although Libtards would probably disagree) by mainstream standards, and have no affiliations with such groups. We do not hide behind white sheets or hoods, nor are we craven cowards seeking shelter in a gang, group or tribal identity. We do, however, satirize those so inclined by illustrating the new racism and sexism that has become so acceptable in the form of hiring, college admissions or recruitment preferences and quotas.
Each individual embodies a variety of likes, dislikes, and things that get on his last, raw nerve. PIG is no exception. That said, we proudly declare that we are up front and in your face about our biases, biases that do NOT include an advocacy for race or gender-based superiority. We do not believe that successful people of any race are "Sellouts" if they did not adhere to the Politically Correct "rules" of their race or ethnicity on their road to success. PIG bases its prejudices on individual behavior and "Content of Character", not any individual's immutable characteristics.
The opinions of contributors are their own, and do not necessarily reflect the views of PIG. Again, we provide the forum, and are backed by the First Amendment of the Constitution. So there! Neener neener neener!!!
Q: DO YOU HAVE ANY REDEEMABLE QUALITIES OR STANDARDS?
---
A: A few, but don't hold that against us. For one thing, we are neither liberals, lawyers, psychobabblers, academics, government workers or media insiders.
Unlike Hollywood and Network Television, PIG does not feel the need to insult our readers' intelligence with overtly offensive language, profanity, or gratuitous sex.
PIG will not publish or advertise pornographic, or X-rated material.
We may, from time to time, exploit the female figure as a selling point, or to piss off 'womyn' and other NO-NAD whiners. It's a guy thing, so get over it!
Q: PIG LEADS WITH ITS SNOUT AND ROOTS AROUND ON MANY TOUCHY SUBJECTS. THOSE HOT BUTTON SUBJECTS AND YOUR INFLAMMTORYRANTS ON THEM SET OFF SOME TICKING MOONBAT TIME BOMB THAT MAY COME AFTER YOU PERSONALLY. HAVE YOU TAKEN ANY MEASURES TO PROTECT YOURSELVES FROM HARM?
---
A: Yes, indeed. We have an elite security squad that can and will dispose of any persons that even think for a second that they will do harm to us.
We have personal bodyguards that are ready on a moments notice to protect not just our personal well being, but also to the preserve the Free State of PIG.
Keep in mind, this was once highly classified information, but we will disclose just who keeps us of out harms way.
Here's the dossier.
We'll begin with Hambo's personal security guard.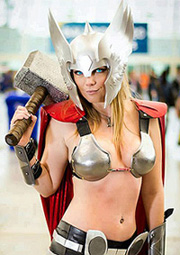 Introducing, The Hambo Hammerette. Her assignment. To protect at all costs with her own life, the well being of Hambo.
Note the heavy hammer she wields and won't think twice about using it on any Korrectnik, idiot or skidmark that even thinks about disturbing Hambo's peace.
Is she and her hammer effective?
Yes, so don't even think about approaching Hambo unless you have a great life insurance policy. She knows how to git 'er done.
Next, we'll move on to Porcus' personal protector.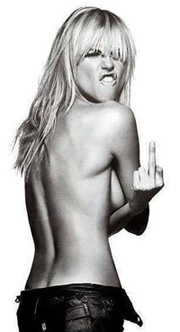 Meet Patti Pitchfork.
Qualifications: She met them all, but most especially, her attitude and a few other things.
Her specialties and unique abilities include scaring off any would be A-Wipe Zombie that that crosses Porcus' path with an in your face approach.
Don't let her good looks fool you. She'll take anyone down in a heartbeat, all in the name of PIG.
She is wholeheartedly dedicated to the well being of The Free State Of PIG at any cost.
Trust us, you don't want to be on the receiving end of Patti's pitchforking techniques.
We personally designed their uniforms, trained them and taught them how to destroy Political Correctness with Truth, Humor, Facts and Fun.
Beware Korrectniks.
Wait! Don't beware. Be afraid, and make sure you wear double-ply personal diapers if you approach us with your stupidity and our security staff is on the clock and near you.
---
Q: AWESOME! CAN I CONTRIBUTE?
---
A: Yes, and here are some points to remember when one reads or seeks publication in PIG:

(1) We maintain an irreverent, rather than an arrogant, preachy, long-winded, whiny attitude.

(2) We seek hilarious insights into today's Politically Correct issues and favorite P.C. personalities.

(3) We publish humorous, Politically Incorrect insights on a wide spectrum topics, many of which have nothing to do with Political Correctness.

(4) There are no Sacred Cows at PIG. PIG provides our contributors the opportunity to be overtly honest, opinionated, insensitive, informative and sometimes offensive. We do, however, insist that our contributors do so in an entertaining manner.

(5) Clear, insightful writing that has an 'attitude' moves to the front of the line, especially when it makes us laugh.

(6) We publish whatever strikes our fancy and offer no apologies for our selection criteria.

(7) Keep those cards, letters, e-mail's (we read our hate mail, first), cartoons, rants and horror stories coming.

Q: IS THIS THE PART WHERE YOU GET OVERLY PATRIOTIC?
---
A: Yes. Now please rise and place your hand over your heart...

PIG believes that liberty cannot exist without free speech. Our rights to free speech as Americans are enshrined in the First Amendment, which guarantees "Congress shall make no law...abridging that freedom." The threat to our rights to free speech is a very serious issue indeed. We believe Political Correctness is a real threat that compromises all of our freedoms and civil rights as Americans.

PIG's view is that all Americans, young, old, male, female, black, white, fat, ugly, dumb, dumber, conservative and, yes, even liberals, especially liberals, ought to take a hard look at the direction this country is heading. Hey, if not for yourselves, think of the children!

PIG is not the cure for cancer, nor do we claim the intellectual high ground. We just wonder, who died and left these sanctimonious, anal-retentive, neo-Marxist assholes in charge? Speech codes? Hate crimes? Protected minorities? Censorship? Sensitivity training? When did America turn into this culturally-Marxist gulag? Did somebody repeal our inalienable individual liberties when nobody was looking? Political Correctness has not only crossed the line, it has stepped on the wrong set of toes. If you value your individualism, free enterprise and personal freedom, AND like to have fun at the expense of liberals and leftist "Korrectniks", then welcome to PIG!

Q: YOU GUYS ARE TOO COOL! WHAT CAN I DO NOW?
---
A: Faking modesty to the best of our ability, we confess to rampaging coolness.

Thank you for visiting The Free State of PIG. Whether you agree with us or not, we do our utmost to justify our existence by encouraging you to defy the politically correct status quo. Don't follow the brain-dead herd'. Don't run with the intellectually flat-lining lemmings when they hurl themselves off the precipice to a living death, a zombie-like trance called political correctness.

We are not out to convert anyone to our beliefs. Instead, we strive to inspire PIG readers to think and act as an Army of One - an Individual. In addition to inspiring your Individuality, PIG invites you to join the fun. Take advantage of our on-line, op-ed style forum and ante up your two-cents worth. We eagerly await your feedback - good, bad, ugly, or indifferent.

We hope your PIG experience was as rewarding for you as it is for us to provide to you.

NOW...get out there, come out of the closet, declare your independence, defect to the incorrect, bash some p.c. liberals, and above all, visit PIG on a regular basis.

Class dismissed!