Gender, sexual orientation, skin color and ethnicity are accidents at birth, not an entitlement for lifelong victimhood.

— The PIG Doctrine
---
Hiding in their tenure protected Ivory Tower enclaves, radical feminists (NO-NAD's: National Organization of Nasty Angry Distaffs) work tirelessly to inflict a crippling sense of victimization on unsuspecting college coeds. Women...all women, need 'enlightened' NO-NAD's to tell them what to think, how to act, and what to feel. In this warped, NO-NAD universe, women are delicate flowers in constant danger of assault. Only Big Sister's protection can save them from sex-obsessed male predators.

NO-NADs brainwash women into believing they are inherently- passive, naive innocents who are utterly incapable of living their own lives, without help from 'The Sisterhood'. Without this NO-NAD guidance, women are doomed to become sexual prey for marauding males who will stalk, degrade, humiliate and defile them. Males, in this NO-NAD nightmare, are mindless brutes who are predisposed to explosive outbursts of rapacious savagery, especially when they're exposed to even mildly suggestive sexual imagery. Sex, NO-NAD's insist, is something done to women.

PIG refuses to coddle these shrieking bitches and their noxious NO-NAD crap! Unlike the cringing scum in D.C. that lets the NO-NAD's have it all their own way, PIG is fighting back. Only the truth can batter down the walls of these Ivory Tower victim factories. Nothing less that a relentless tidal wave of reality can silence the shrill din of these man-hating harpies. Arm yourself with the facts from this section of PIG, then track down the nearest NO-NAD wench and bitch-slap her with a dose of bitter reality.

– T.D. Treat

>>>>>>>>>>>>>>>>>>>>>>>>>>>>>>

CAUTION:

• • • • • • • • • • • • • • • • • • • • • • • • • • • •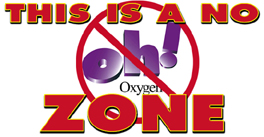 • • • • • • • • • • • • • • • • • • • • • • • • • • • •
KINDLY TAKE YOUR SHRILL COMPLAINTS ABOUT BOYFRIENDS / RELATIONSHIPS,
CRAMPS, PMS, CATS, YOUR EX, YOUR JOB, OR EVEN PIG, ELSEWHERE!
WE FLAT OUT DON'T CARE.
• • • • • • • • • • • • • • • • • • • • • • • • • • • •