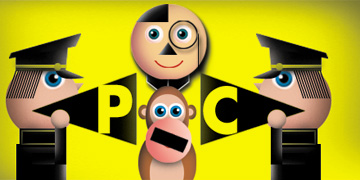 Any serious discussion of America's one size fits all education system must begin with a dose of bitter reality. Government schools exist; they have since the government seized control of education in the second half of the 19th century. It's pointless to consider what 'ought to be', before we fully assess 'what is'.
For the first century of their existence, government schools had one purpose: producing educated individuals. This goal was met, more or less, until the Educrat invasion of the 1970's. After this hostile takeover, schools were retooled for a new product: students with self-esteem. The venerable 3 R's gave way to such inane notions as outcome based education, social promotions, whole language, the 'new' math, revisionist history and bilingual education. As a direct consequence, graduates can't read, write or compute, but they've got self-esteem out the wazoo. There's a lot of 'stuff' going on in government schools...a lot of 'stuff', but tragically, imparting knowledge to students isn't part of it.
The popular term for this tidal wave of happy idiots is 'the dumbing down of America'. It doesn't matter if this is a plot by Marxist assholes, or a misguided ploy by multicultural morons. The result is the same: a critical mass of government programmed dolts who lack the intellectual tools to resist the siren song of our bloated Nanny State nitwits. The time has come for the taxpayers of this country to face up to one simple fact: this one size fits all government school scheme doesn't work.
The zealots on the left - especially here in Kalifornia - are busy indoctrinating their captive student audience with politically correct sludge about the evils of Western Civilization. The indoctrination of the young minds full of mush inmates of Kalifornia government schools with the tenets of Mecca Mania is a prime example. To Kalifornia Educrats, this Mecca Mania scam is just another 'flavor of the month'. It's further proof that the Mecca Maniacs have succeeded in defining themselves as members in good standing of the properly-hyphenated horde. This is part and parcel of multiculturalism, the foundation of Amerika's education establishment. In multicultural terms, Mecca Mania isn't really a religion; it's a 'culture'. Better still, it's a Non-Western culture, one that views all things 'Western' as inherently evil. The outcome of this load of Educrap is Amerika-hating idiots with self-esteem.
Members of the Vast Right-Wing conspiracy aren't any better. In addition to supporting prayer in schools and other attempts to impose Biblically-correct bovine excrement on government schools, they are beavering away, trying to repeal those educational elements that offend their particular flavor of supernaturalism. Case in point: evolution. These God-squad zealots on the right want to repeal centuries of scientific advances in a vain effort to slam-dunk, shoe horn, or eviscerate government school science curricula to conform with the prehistoric superstitions and mythology contained in the book of Genesis. The result, in this scenario, is righteous idiots with self-esteem.
All this politically-motivated tinkering with cess-school curricula is noxious in the extreme. Wether it's flavor of the month, Mecca Maniac bovine excrement, the true believer ploy to elevate creationionism to "science", outcome-based education, social promotions, whole language, the 'new' math, revisionist history, or bilingual education it has no place in a institution dedicated to leaning. Since I'm paying for it, I want all of this Educrap eradicated.
No matter what direction it comes from, this Educrap reeks. The only way to resolve this relentless indoctrination - no matter what the flavor - is to abolish government schools and replace them with a market-based system where the education consumer can select a school that meets their specific educational needs.
It's time for American schools to stop indoctrinating and get back to educating.
A No Bullshit Solution For Amerika's Educrap Debacle
---
The primary problem with compulsory government Educrap is that nobody has the nads to stand up and tell the truth. It only takes a second to realize that government cess-schools work perfectly, if the desired result is - as the preponderance of the evidence shows - politically-correct, idiots with self-esteem. What's wrong with simply saying it out loud? Not a damn thing, because saying it, won't change this reality. Government Educrap is what it is...It is the only thing it can be, so get over it already.
The trouble stems from the government's insane compulsion to make government cess-schools do the one thing they're incapable of doing: produce educated individuals. The No Child Left Behind Legicrap only made matters worse when it imposed mandatory testing on government cess-schools. Testing government-schooled dolts spoils everything by preventing the socially-promoted illiterates from graduating on schedule. From sea to shining sea, properly-hyphenated whiners complain that the mandatory state tests are too Draconian, and, given what passes for government Educrap, they're right. That's why Educrats favor giving every government-schooled idiot with self esteem a diploma.
Before we can impose a rational solution that fits this dilemma perfectly, we need to examine a few well-documented facts. We'll start with the Educrats, since they make you miserable with their carping if you don't cite them first. What exactly, are their complaints:
• Mandatory state tests, passage of which are a graduation
requirement, are too Draconian.
• Knowledge-based tests discriminate against the properly-
hyphenated and the economically-challenged.
• All students should be entitled to graduate, regardless of
their Educrap accomplishments.
• Schools lack the necessary funds to do their assigned task.
Fine, but what do government schooled dolts find troubling, assuming, that they can muster the rudimentary brain activity necessary to form an opinion? Good question. Among other things, government school inmates complain that:
• School is stupid, pointless, and more about social programming
than education.
• The teachers spend all day spewing their lefty politics.
• Working hard to learn is asinine, when the school will promote
you, graduate you, anyway.
Now that we have the relevant data, we are almost ready to consider the only rational solution. First we must establish our prevailing assumptions:
Imparting knowledge is not an essential Educrap function;

All students will graduate, no matter how ignorant they are;

Educrats care about head count - exclusively - because it determines how many government dollars flow into the Educrap institution.
Are we all up to speed on this, or do you need time to let it seep into your alleged brain?
The solution now becomes obvious. The first day a bright-eyed inmate arrives in a government school, he must be accompanied by a parent or guardian. That day, before any alleged Educrap is perpetrated, each student will be given a High School Diploma, because the student already fulfilled all the graduation requirements: he, she or it found the school and is, apparently, alive. To close this deal, the student's responsible adult must sign a legally binding contract that absolves the school from any blame for the 'student's' ignorance. All the student must do is arrive at school, each school day, sign in, after which the student is free to leave (the headcount is preserved that way). Those students who so desire - students with no custodial parent during the day - are free to stay at school, during school hours, and do anything they want, anything except learn. On a related note, serious students will be sent back home, permanently - without a diploma - because they have no place in Amerika's government cess-school scheme.
Everyone gets what they want, and, the results are virtually indistinguishable from what happens in government cess-schools right damn now. Without all that annoying teaching to get in their way, Educrats have more time for their politics and social engineering. Since actual teaching is banished, there's more money for all their pet projects. Students are absolved from social programming , and Neo-Marxist political tirades, plus they get their diploma, just for showing up regularly. Parents get what they really want from this Educrap scheme: 12 years of government perpetrated daycare that won't clutter the brat's mind with anything useful. So what if the outcome - student-wise - sucks? Until Educrap consumers demand meaningful Educrap reform, this no bullshit Educrap is the best possible solution, given the prevailing circumstances. Wake up and smell the politically-correct idiots with self-esteem coffee!
– T. D. Treat