ABC's...THE PIG WAY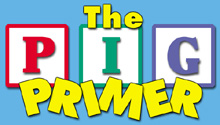 Thanks to PIG's legendary Egghead Emeritus - Professor Prattlus Incorrectus - learning the alphabet is more fun than a tyke can handle, with half his brain tied behind his back.
Imagine your pride when your snot gobbler recites this PIG Primer alphabet in front of the neighborhood Korrectnik? Picture that thrilling parental moment when your pride and joy comes home with a note from the local government cess-school demanding, "What the hell have you been teaching this child?"
Don't put it off...
Don't Delay...
The Place to Start
Is Letter 'A'
A is for AFFIRMATIVE ACTION: Legalized discrimination; Leftist, politically correct, racial profiling.
B is for BILINGUAL EDUCATION: A state supported scheme to transform immigrants into chronic malcontents.
C is for CRIMINAL JUSTICE SYSTEM: A politically correct procedure in which criminals get justice at the expense of their victims. This scheme bestows all rights on the criminal who is excused because he/she is a "victim of society". No rights are given to the victim who is blamed for the crime because he/she has oppressed the criminal into this antisocial expression of his/her victimhood.
D is for DIVERSITY: Lib speak for 'white males need not apply and you Asians move to the back of the line'.
E is for EMPOWERMENT: Granting special privileges...artificial "rights" to groups based on gender (females only), race (any non white), or sexual orientation (gays only), while abolishing the Constitutional rights of heterosexual white males...all in the name of equality, of course.
F is for FETAL POSITION: The posture properly-hyphenated victims assume the instant a rational adult says 'merit' or 'individual accountability'.
G is for GLAAD-BAGS: Gay and Lesbian Alliance of Annoying Dykes Boys And Alleged Girls*. *Alleged Girls covers, bi, tri, quadra, poly and transsexuals, plus crossdressers.
H is for HATE CRIME: When an unhyphenated oppressor commits a criminal act against any member of the properly-hyphenated. Korrectnik code for thought crime, this farce does not work the other way around. This can also be seen as a way to level the playing field in order to increase the the underrepresented white prison population. Victims will soon include cats, dogs, snails, rocks, trees.
I is for IRS: Ruthlessly-efficient, state-supported extortionists, who supervise the confiscation of our "contributions".
J is for JUNK SCIENCE: The capitalism-hating far left's favorite weapon in their relentless jihad against an individual's property rights.
K is for KORRECTNIK: Brain-dead, properly-hyphenated zombies who sacrificed their individual identity on an altar of hypersensitivity.
L is for LEVEL PLAYING FIELD: P.C. code for "equality of results". A politically correct level playing field entails making the standard impossible for white males, while giving a "free pass" to the properly-hyphenated. Sometimes called "The Dumbing Down of America"
M is for MULTICULTURALISTS: Europhobic promoters of separatism, double standards, low standards, no standards, underachievement, and self-segregation.
N is for NATIVE AMERICAN: ANYONE born in the United States, regardless of race, color, creed, religion, or tribe.
O is for OPPRESSOR: Euromaniacs. Politically Correct code for white, hetero males.
P is for PIG: The bestest, baddest interntet publication.
Q is for QUOTAS: Legalized discrimination. Another form of Leftist racial profiling.
R is for REPARATIONS: Demanding payments for events (crimes) that happened to somebody else from people who weren't even born when the events happened. Racially-motivated extortion.
S is for SOUTHWEST AIRLINES: A private business and practitioner of tough love on behalf of human heifers through the use of charging FAT humans for two seats.
T is for TAXES: A government-perpetrated mugging that uses the ill-gotten gains to buy votes from Amerikan parasites.
U is for UNITED NATIONS (United Nothings): An international encounter group in which the U.S.A. pays for the dubious honor of letting a bunch of lowlife, have-not countries abuse us in front of the rabble from all the other piss-ant countries.
V is for VICTIM: Anyone for whom "suffering" and "need" are life's highest virtues. Usually, but not exclusively, associated with the properly-hyphenated. Also, anyone who is not white, male, heterosexual, successful, connected, privileged or happy.
W is for WELFARE STATE: A government redistribution of wealth scheme that rewards the incompetent at the expense of the achievers.
X is for XCUSES: What a rational individual hears when he challenges a self-made victim's group mantra.
Y is for YOWL: The sound a parasite makes when you kick his lazy ass off the government's gravy train.
Z is for ZEE FRENCH: Spineless surrender monkeys with delusions of grandeur.