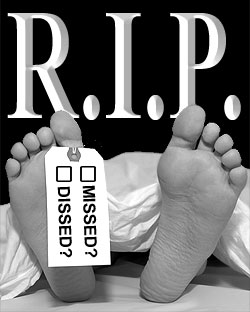 This page is dedicated to those who had led remarkable lives, one way or another, and have since passed on. To the majority that have passed on, we say, "Oh crap, it's thoughts and prayers time, bummer," especially when the individual has gone above and beyond in their life's accomplishments and registered on the PIG radar.
Most led long, productive lives, leaving their footprint on the rest of us.

Others "Pete Rose'd" or "John Belushi'ed" themselves out of existence at an early age by their own hand, personal demons or decadent, overboard behavior. There a rare few to whom we say, "What took you so long?"
Just because we're PIGsters doesn't mean we're not human (sometimes), too. We hate posting on this page, but when a person of note passes on, we thought it proper and respectful, in a PIGish context, to recognize and acknowledge their life's deeds, be it good, bad or ugly.

No matter who makes this page, we say, "Thanks for the memories. Bon Voyage."
---
---
---

Adam Rich
Oct 11, 1968 - Jan 06, 2023
Was an American actor. He was best known for his portrayal of Nicholas Bradford, the youngest son on the television series Eight Is Enough.

Jeff Beck
Jun 23, 1944 - Jan 09, 2023
WWas an internationally acclaimed English guitarist. A member of the rock band the Yardbirds, the Jeff Beck Group and many solo ventures. His releases spanned genres and styles ranging from blues rock, hard rock, jazz fusion and a blend of guitar-rock and electronica.


Lisa Marie Presley
February 1, 1968 – January 12, 2023
American singer and songwriter. She was the child of singer and actor Elvis Presley and outside of that, is really only famous for being drugged out once in a while.

David Crosby
Aug 13, 1941 - Jan 17, 2023
American musician, Libtard gasbag who happened to write and perform award winning music with The Byrds, Crosby, Stills, Nash and sometimes Young.

Bobby Hull
January 3, 1939 – January 30, 2023
Was a Canadian professional ice hockey player who is widely regarded as one of the greatest players of all time. His abilities nicknamed him "The Golden Jet".

Cindy Williams
August 22, 1947 – January 25, 2023
was an American actress and producer, known for her role as Shirley Feeney on the television sitcoms Happy Days and Laverne & Shirley She also appeared in American Graffiti.
---
---

Conrad Dobler
Sep 30, 1950 - Feb 12, 2023
Once Known as 'Dirtiest Player' in NFL, the former 10-year offensive lineman in the NFL, Dobler played most of his career with the then-St. Louis Cardinals, making three Pro Bowls and a second team All-Pro with the team.

Raquel Welch
Sep 04, 1940 - Feb 14, 2023
An American actress, model, and International Hottie Deluxe. Welch first won attention for her role in Fantastic Voyage, after which One Million Years B.C. Although Welch had only three lines of dialogue in the film, images of her in the doe-skin bikini became bestselling posters that turned her into an international sex symbol.

Tim McCarver
Oct 15, 1941 - Feb 15, 2023
American catcher in Major League Baseball (MLB) and television sports commentator who played from 1959 to 1980. A two-time All-Star, he helped the Cardinals to the 1964 World Series title.

Richard Belzer
Aug 03, 1944 - Feb 18, 2023
American actor, stand-up comedian and author. Best known for his role as NYPD Detective/sergeant and investigator John Munch, whom he portrayed for 23 years in the NBC police drama series Law & Order: Special Victims Unit
---
---

Gary Rossington
Dec 03, 1951 - Mar 04, 2023
American guitarist. He is best known as a founding member of Southern rock band Lynyrd Skynyrd, in which he played lead and rhythm guitar. He was the longest-surviving founding member of the band.


Robert Blake
Sep 17, 1933 - Mar 08, 2023
Prolific American Award winning actor, who appeared in some 200 films. He was best known for starring in the 1967 film In Cold Blood and playing the title role in the late 1970s television series Baretta. Began his career in the 1930s and became famous as a child actor in the Our Gang (Little Rascals) short film series from 1939 to 1944. Childhood friend of Porcus' father.


Bud Grant
May 19, 1927 - Mar 10, 2023
Was a player and coach in the National Football League (NFL) and Canadian Football League (CFL). Grant is best known for serving as the head coach of the NFL's Minnesota Vikings for 18 seasons; leading them to four Super Bowl appearances - (lost all 4) - 11 division titles, one league championship and three National Football Conference championships.
---
---

Al Jaffee
Mar 12, 1921 - Apr 09, 2023
Was an American cartoonist. He was notable for his work in the satirical magazine Mad, including his trademark feature, the Mad Fold-in. Jaffee was a regular contributor to the magazine for 65 years and is its longest-running contributor. In a 2010 interview, Jaffee said, "Serious people my age are dead".

Harry Belafonte
March 1, 1927 - April 25, 2023
American singer known as the King of Calypso Got Famous for "Day-O," The Banana Boat Song

Jerry Springer
February 13, 1944 - April 27, 2023
American TV Talk Show host. Credited with launching Trash TV which showcased homewreckers, strippers, and violent on-air brawls. Proclaimed by TV Guide "the worst TV show ever."

---
---

Gordon Lightfoot
November 17, 1938 – May 1, 2023
Canadian singer-songwriter and guitarist who achieved international success in folk, folk-rock, and country music. Songs include"Black Day in July", "If You Could Read My Mind", "Sundown" "Carefree Highway", "Rainy Day People", and "The Wreck of the Edmund Fitzgerald"

Jim Brown
Feb 16, 1936 - May 18, 2023
Legendary fullback and three-time MVP winner for the Cleveland Browns. He retired from football in 1966 while making his second film, The Dirty Dozen, and pivoted to a career in acting. His screen credits included 100 Rifles, Ice Station Zebra, The Running Man, Any Given Sunday,


Tina Turner
Nov 25, 1939 - May 23, 2023
American singer often dubbed the Queen of Rock & Roll. Achieved musical success in the '60s and '70s as part of a duo with then-husband Ike Turner. In the '80s, Turner reinvented herself as a global rock superstar with songs like "What's Love Got to Do With It," "Let's Stay Together," and "The Best." Turner performed in films like 1975's Tommy and 1985's Mad Max: Beyond Thunderdome.
---
2022 OBITUARIES
---
January
---

Dan Reeves
January 19, 1944 – January 1, 2022
American football running back and coach in the NFL. During his 38 years in the NFL, Reeves participated in nine Super Bowls.He served as a head coach for 23 seasons primarily with the Denver Broncos and the Atlanta Falcons.

Sir Sidney Poitier
February 20, 1927 – January 6, 2022
Award winning, Bahamian born American Actor with impressive body of work, The Blackboard Jungle; Guess Who's Coming To Dinner
Bob Saget
May 17, 1956 – January 9, 2022
fwas an American stand-up comedian, actor, and television host. "Full House"; "Fuller House"; Host of "America's Funniest Home Videos." Saget was also known for his adult-oriented stand-up comedy, Don't let the wholesome All American baby face fool you. Dude was XXX raunchy and we loved him for it

Meat Loaf
Sept. 27, 1947 – Jan. 20, 2022
American Musician and Actor. Claim to fame was "Bat Out of Hell" series of albums. Also featured in "The Rocky Horror Picture Show" and "Fight Club.
Pound for pound this dude can sing. We like Meatloaf and here's why...
>>> Two Out Of Three Ain't Bad >>>
>>> Paradise By The Dash Board Light >>>

Louie Anderson
March 24, 1953 – January 21, 2022
American Stand-Up Comedian, Actor, and Game Show Host. Movie credits include "Ferris Beuller's Day Off"; "Coming To America"
Don Wilson
February 10, 1933 - January 22, 2022
American musician rhythm guitarist and last surviving founder of surf-rock pioneers The Ventures. Best know for "Hawaii Five-O" theme song.


Howard Hesseman
February 27, 1940 – January 29, 2022
American Actor best known for his roles as radio disc jockey Dr. Johnny Fever on "WKRP in Cincinnati" and history teacher Charlie Moore on "Head of the Class"
---
February
---

Ivan Reitman
October 27, 1946 – February 12, 2022
Czechoslovak-born Canadian film and television director, producer and screenwriter. Films he directed include Meatballs, Stripes, Ghostbusters, Ghostbusters II, Twins, Kindergarten Cop. Reitman also served was producer for such films as Animal House (1978), Beethoven, pace Jam, and Private Parts.

P.J. O'Rourke
November 14, 1947 – February 15, 2022
American libertarian, political satirist and journalist.
Former editor-in-chief of the National Lampoon among other roles, and authored articles such as "How to Drive Fast on Drugs While Getting Your Wing-Wang Squeezed and Not Spill Your Drink", three New York Times bestsellers. "Parliament of Whores" and "Give War a Chance" reached No. 1

Sally Kellerman
June 2, 1937 – February 24, 2022
American actress and singer best known as Major Hot Lips Houlihan in film production of M*A*S*H and "Back To School" with Rodney Dangerfield
---
March
---

Conrad Janis
February 11, 1928 – March 1, 2022
American actor and jazz trombonist. He played the role of Mindy McConnell's father, Frederick, on television's Mork & Mindy.


William Hurt
March 20, 1950 – March 13, 2022
Award Winning American Actor "Kiss of the Spider Woman", Children of a Lesser God," and Broadcast News."
---
April
---

Estelle Harris
Apr 21, 1928 - Apr 01, 2022
American actress and comedienne, known for her exaggerated shrill, grating voice. She was best known for her role as Estelle Costanza on Seinfeld. Her other roles included the voice of Mrs. Potato Head in the Toy Story franchise,

Gilbert Gottfried
Feb 27, 1955 - Apr 11, 2022
American stand-up comedian and actor known for his exaggerated shrill voice, strong New York accent, and squinty eyes. Many comedic credits on TV and movies and also the voice of the AFLAC Duck.

Ray Liotta
Dec 17, 1954 - May 25, 2022
American actor and film producer. He was known for his roles as Shoeless Joe Jackson in "Field of Dreams" and Henry Hill in Martin Scorsese's "Goodfellas."

Naomi Judd
Jan 10, 1946 - Apr 29, 2022
American singer and actress. She and her daughter Wynonna formed the duo known as The Judds, winning five Grammy Awards and nine Country Music Association awards.

---
May
---

Mickey Gilley
Mar 08, 1936 - May 06, 2022
American country music singer and songwriter. Gilley charted 42 singles in the top 40 on the US Country chart. He was a cousin of Jerry Lee Lewis, Carl McVoy, and Jimmy Swaggart.

Bo Hopkins
Feb 01, 1938 - May 27, 2022
American actor. Films The Wild Bunch, The Getaway, American Graffiti, Midnight Express, among many other films.

---
June
---

Everett Peck
October 9, 1950 – June 14, 2022
American illustrator, cartoonist, and animator. He is best known as the creator of Duckman and Squirrel Boy.


Tony Siragusa
May 13, 1967 - Jun 21, 2022
American football player and Super Bowl winner with Baltimore Ravens. Nicknamed "the Goose" After his football career, he worked as a sideline analyst for NFL games broadcast on the Fox Network.
---
July
---

James Caan
March 26, 1940 – July 6, 2022
American actor best known in "Brian's Song" "The Godfather," "Rollerball""Thief." and "Misery,"


Ivana Trump
February 20, 1949 – July 14, 2022
Ivana Trump was born and raised in Czechoslovakia, moved to New York iand married Donald Trump in 1977. She worked within the Trump company as an interior design consultant and held executive positions on many of his projects.


Paul Sorvino
April 13, 1939 – July 25, 2022
American film, television and stage actor known for roles in "Goodfellas" and as NYPD Sergeant Phil Cerreta on the second season of the TV series Law & Order.

Tony Dow
April 13, 1945 – July 27, 2022 was an American actor, film producer, director and sculptor. Best known as Wally Cleaver in "Leave It to Beaver"


Bill "Laker Killer" Russell
February 12, 1934 – July 31, 2022
Considered the "Greatest Player in the History of the NBA" winning 11 NBA championships, 8 in a row. In your face Laker fans.
---
August
---

Vin Scully
November 29, 1927 – August 2, 2022
Iconic, legendary and one-of-a-kind American sportscaster.Calling games for the Brooklyn and Los Angeles Dodgers for 67 years.

David McCullough
July 7, 1933 – August 7, 2022
American historian and two-time Pulitzer Prize winner. He was also given the Presidential Medal of Freedom, one of the United States' highest civilian awards.



Olivia Newton-John
26 September 26' 1948 – 8 August 2022
Entertainer and activist Olivia Newton-John was best known as a pop singer and actress. Her most famous roles was as Sandy in the movie adaptation of "Grease"

Len Dawson
June 20, 1935 – August 24, 2022
American Hall of Fame and Superbowl Champion quarterback who played in the (NFL) and (AFL) primarily with the Kansas City Chiefs franchise.
---
September
---

Queen Elizabeth II
April 21,1926 – September 8, 2022
Queen of the United Kingdom and other Commonwealth realms. Her reign of 70 years and 214 days was the longest of any British monarch and the longest verified reign of any female monarch in history. At the age of 19, Princess Elizabeth joined the Auxiliary Territorial Service (ATS). After joining, she trained as a driver and mechanic

Louis Fletcher
Award Winning American actress who portrayed the the ultimate psycho-sadistic bitch Nurse Ratched in One Flew Over the Cuckoo's Nest (1975), which earned her an Academy Award for Best Actress
---
October
---

Loretta Lynn
April 14, 1932 – October 4, 2022
American country music singer and songwriter. In a career spanning six decades, Lynn released multiple gold albums. "Coal Miner's Daughter" The film Coal Miner's Daughter was made based on her life.

Bruce Sutter
January 8, 1953 – October 13, 2022
American Major League Baseball Hall Of Fame relief pitcher. A six-time All-Star and 1982 World Series champion.

Angela Landsbury
October 16, 1925 – October 11, 2022
Irish-British and American film, stage, and television actress. Her career spanned eight decades, much of it in the United States, including "Murder, She Wrote"

Jerry Lee Lewis
September 29, 1935 – October 28, 2022
American singer, songwriter and pianist. Nicknamed "The Killer", he was described as "rock & roll's first great wild man". Famous for "Whole Lotta Shakin' Goin' On" "Great Balls of Fire", "Breathless"
---
November
---

Ray Guy
December 22, 1949 – November 3, 2022
American professional football player who was a punter for the Oakland / Los Angeles Raiders. He won three Super Bowls with the Raiders. Guy was elected to both the College Football Hall of Fame and the Pro Football Hall of Fame in 2014. An eight-time All-Pro, Guy is widely considered to be the greatest punter of all time.

Dan McCafferty
October 14, 1946 – November 08, 2022 was a vocalist and songwriter best known as the lead singer for the Scottish hard rock band Nazareth from its founding in 1968 to his retirement from touring with the band in 2013.

Gallagher
July 24, 1946 – November 11, 2022
Known as "The Wizard of Odd'" Gallagher, was an American comedian whose signature act of smashing a watermelon on stage with a wooden sledgehammer he called the "Sledge-O-Matic"


Christine McVie
July 12, 1943 – November 30, 2022
Multiple Award Winning British singer/songwriter known for her years with Fleetwood Mac
---
December
---

Kirstie Alley
January 12, 1951 – December 5, 2022
A was an American actress best known was an American actress. Best know for "Cheers," "Star Trek II: The Wrath of Khan," "Look Who's Talking," and its two sequels, "Who's Talking Too" and "Look Who's Talking Now."
Stuart Margolin
January 31, 1940 – December 12, 2022
American actor who won two Emmy Awards for playing fast talking Evelyn "Angel" Martin on the 1970s television series The Rockford Files.

Franco Harris
March 7, 1950 – December 20, 2022
American professional football player who was a 9 time Pro Bowl selection and 4 time Super Bowl Champion. Forever known for the "Immaculate Reception, one of NFL's most memorable, miraculous plays.

Pele
October 23, 1940 – 29 December 29, 2022
Brazilian soccer/futbol player and 3 time World Cup Champion labelled "the greatest" by FIFA,
he was among the most successful and popular sports figures of the 20th century. In 1999, he was named Athlete of the Century by the International Olympic Committee

Barbara Walters
September 25, 1929 – December 30, 2022
She may have been a celebrated and an accomplished award winning journalist, but all that went straight down the shitter when she created and produced "The View" Adios, Baba Wawa.
---
2021 OBITUARIES
---
January
---

Tanya Roberts
October 15, 1955 – January 4, 2021
American actress babe with blazing blue eyes. Best known for her appearance as a Bond girl "A View to a Kill" "Charlies Angels" "That '70s Show"

Gregory Sierra
January 25, 1937 – January 4, 2021
American Actor known for roles on "Sanford and Son," "Barnery Miller" "Papillon" "The Towering Inferno"


Marion Ramsey
May 10, 1947 – January 7, 2021.
American actress best known for playing cute little Officer Laverne Hooks in the Police Academy franchise.

Tommy Lasorda
September 22, 1927 – January 7, 2021.
Legendary and Outspoken Hall of Fame Los Angeles Dodgers manager, who won two World Series titles with the team.

Deezer D.
March 10, 1965 – January 7, 2021.
American actor best known for playing nurse Malik McGrath on ER. Cool dude, Friend of Porcus

Phil Spector
December 26, 1939 – January 16, 2021
America music producer and convicted felon (murder). 81 at the time of his death, was serving 19 years to life in prison after being convicted of murder in 2009.

Don Sutton
April 2, 1945 – January 18, 2021
Hall of Famer MLB pitcher He was a four-time All-Star with a career W-L record of 324-256


Hank Aaron
February 5, 1934 – January 22, 2021
Major League Baseball's Only REAL Home Run King, Hammerin' Hank Aaron goes deep and crosses home plate and into the clubhouse for the last time, passing away at age 86.

Larry King
November 19, 1933 – January 23, 2021
American television host, radio host whose numerous marriages and suspenders are almost as famous as his "Larry King Live" show. Seperated at birth from Supreme Court Justice Ruth Bader Ginsburg?

Cloris Leachman
April 30, 1926 - January 27, 2021
Legendary and Award Winning American Actress best known for "Young Frankenstein" "The Last Picture Show,""The Mary Tyler Moore Show."
February
---

Dustin Diamond
January 7, 1977 - February 1, 2021
Goofball Actor best known for his role as "Screech" Powers on "Saved by the Bell"

Christopher Plummer
December 13, 1929 - February 5, 2021
Award Winning Canadian Actor most famous for his portrayal of Captain Von Trapp in "The Sound of Music."

Larry Flynt
November 1, 1942 - February10, 2021
Legendary Publisher, Porn-Peddler and 1st Amendment Free Speech advocate.
March
---

Marvelous Marvin Hagler
May 23, 1954 – March 13, 2021
American professional boxer from 1973 to 1987. He reigned as undisputed middleweight champion from 1980 to 1987. Don't tell anyone, but he did not die from COVID


Yaphet Kotto
November 15, 1939 – March 15, 2021
American actor known for Homicide: Life on the Street; Alien; The Running Man; Mr. Big in the James Bond film Live and Let Die; Midnight Run
April
---

Prince Prince Phillip
Duke of Edinburgh
June 10, 1921- April 9, 2021
Duke of Edinburgh. Claim to fame? The husband of Queen Elizabeth II


Bernie Madoff
April 29, 1938 – April 14, 2021
was an American fraudster and financier who ran the largest Ponzi scheme in history, worth about $64.8 billion.
.

Tempest Storm
February 29, 1928 – April 20, 2021
"The Queen Of Exotic Dancers, was an American burlesque star and motion picture actress.

Johnny Crawford
March 26, 1946 – April 29, 2021
American actor, singer, and musician. He first performed as a Mouseketeer. Moved to"The Rifleman.
May
---

Olympia Dukakis
June 20, 1931-May 1, 2021
American actress best known for her Oscar-winning turn in 1987's "Moonstruck" Also cousin of former Massachusetts Gov. Michael Dukakis.

Charles Grodin
April 21, 1935 - May 18, 2021
American actor known best for his comedic deadpan in movies such as "Heartbreak Kid," "Midnight Run" and "Beethoven."

Gavin MacLeod
Feb. 28, 1931-May 29, 2021
American actor known for "The Love Boat" "The Mary Tyler Moore Show" and "McHale's Navy."


B.J. Thomas
Aug. 7, 1942- May 29, 2021
American singer, known for "Hooked on a Feeling"
and "Raindrops Keep Fallin' on My Head"

June
---

Clarence Williams III
August 21, 1939 – June 4, 2021
Known for "hippie" Detective Linc Hayes on "The Mod Squad" from 1968 to 1973

Ned Beatty
July 6, 1937 – June 13, 2021
American actor. Films include Deliverance; All
the President's Men ;Network; Superman; Back to School; Rudy; Silver Streak
July
---

Ron Popeil
May 3, 1935 – July 28, 2021 American inventor and founder of Ronco and TV pitchman for
the Chop-o-Matic, GLH (a.k.a. Hair in a Can), and the Showtime Rotisserie, and creator of catchphrases like "Set it and forget it" and "But wait, there's more!"

Jackie Mason
June 9, 1928-July 24, 2021
American stand-up comedian, and film and television actor.

Dusty Hill
May 19, 1949 – July 28, 2021
American bassist, vocalisy, keyboardist and co-founder of legendary Texas trio ZZ Top, known for their trademark long beards and sunglasses.

August
---

Tom T. Hall
May 25, 1936 – August 20, 2021
American Country music singer/songwriter known as "The Storyteller"


Don Everly
1937 – August 21, 2021
American musician. One half of the famed Everly Brothers Songs include "All I Have to Do Is Dream," "Bye Bye Love" "When Will I Be Loved."

Charlie Watts
1937 – August 21, 2021
British musician, and thought to be one of the greatest rock drummers of all time for legendary Rolling Stones.
September
---

Willard Scott
March 7, 1934 – September 4, 2021
American weather reporter on Today Show; original Ronald McDonald; Bozo

Norm MacDonald
March 7, 1934 – September 4, 2021
Canadian born comedian best known for deadpan style. Appeared on SNL, The Drew Carey Show and 1988 film "Dirty Work."
October
---

Betty Lynn
August 29, 1926 – October 16, 2021
American actress. She played Thelma Lou, Deputy Barney Fife's girlfriend, on The Andy Griffith Show.


Colin Powell
April 5, 1937 – October 18, 2021
American politician, statesman, diplomat, and United States Army general. Served as Secretary of State; National Security Advisor; chairman of the Joint Chiefs of Staff.

Peter Scolari
September 12, 1955 – October 22, 2021
Emmy Award winning actor "Bosom Buddies" and "Newhart"
December
---

Bob Dole
July 22, 1923 – December 5, 2021
American WWII veteran, politician and attorney who represented Kansas in the United States Senate including three non-consecutive years as Senate Majority Leader.

Michael Nesmith
December 30, 1942 – December 10, 2021
American musician, songwriter, actor, producer, and novelist. He was best known as a member of the pop rock band the Monkees.



Anne Rice
October 4, 1941 – December 11, 2021
American Gothic Novelist.She was best known for The Vampire Chronicles, whose first book Interview With the Vampire. Rice's books have sold over 100 million copies.

BOOM!!!
John Madden
April 10, 1936 – December 28, 2021
Legendary, Illustrious Hall Of Fame American football coach and sportscaster. Head coach of the Oakland Raiders (1969–1978) and guided them to a championship in Super Bowl XI (1977). His 103-32-7 record is still an NFL best. As a broadcaster, Madden worked for all four major American television networks: CBS, Fox ABC and NBC. As a pitchman, Madden was most famous for his Lite Beer commercials and lending his name to the John Madden Football (later Madden NFL) video game series.

Betty White
January 17, 1922 – December 31, 2021
American actress and comedian with a career spanning eight decades. Her most notable roles, The Mary Tyler Moore Show,The Golden Girls, Hot in Cleveland. We love her quote: "Why do people say "grow some balls"? Balls are weak and sensitive. If you wanna be tough, grow a vagina. Those things can take a pounding."

---