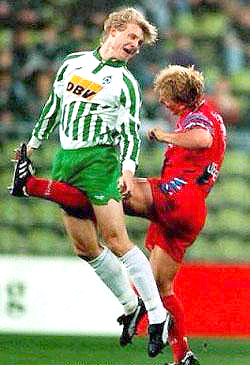 Welcome to the PIGDOME and PIG's Whacked Out World Of Sports. It takes balls to play in the PIGdome. No astroturf, steroids or designated hitters here, either.
OK all you PIG Bleacher Bums, we're here to talk sports, competition, winning, losing and some properly-PIGish sports takes.
Why are we writing about sports here at the Free State Of PIG? Because Korrectniks far and wide found a way to toss their crappy stick in the mud on anything from dodgeball, kickball, marbles, hopscotch and team logos and mascots.
If Redskins, Fighting Irish and Atlanta Braves Tomahawk Chops ruffle your sensitivities, well then pick up your tiny balls and little stick and start walking, because YOUR'E OUTTA HERE!
PIG's Whacked Out World Of Sports Section will not only deal with the thrill of victory and the agony of defeat, but who got their clocks cleaned by whom, on more out of the way topics. For instance, how many of you watch NASCAR to see how many points Jeff Gordon will get per season as opposed to those who watch NASCAR in hopes of seeing some red cement?
If the concept of two teams or individuals doing battle with each other on the field of competition with the spirits of a gladiator, with the outcome being one winner, one loser bothers you, we'll be more than happy to drop kick you back to Sensitivity Memorial Stadium.
What is a "Sport?"
A sport can be considered a recreational pastime involving an individual, an individual against another individual or a team versus another team, in the conventional sense of the word. But when big game hunters chase down elephants and kill them just for the sake of bagging the poor beast and stuff and mount it's head on their wall, that's not a sport, not even if your'e going to eat the damn thing. Why? Because the elephant didn't have a chance.
A sport usually involves two or more willing participants ready to do battle with victory being the primary objective. Hell, tiddlewinks IS a sport that does not involve athletism as much as it involves coordination and concentration.
Is blasting sports-phobic korrectniks a sport? If you answered 'no' to that, consider yourself ejected from the PIGDOME. Forever.
Pastimes.
Most of the PIG staff's pastimes are eating pizza and drinking tubs filled with beer. That's a pastime, but what happens when there's one slice of pizza left could be considered a bloodsport.
Winning.
Winning. It's what it's all about in the arena of competition. Any area, but we're talking sports, PIGsters. From Gladiators and chariot races to today's Ultimate Fighting Competition and female mud wrestling, you gotta love the spirit of competition involved.
PIG'S CHEERLEADING SQUAD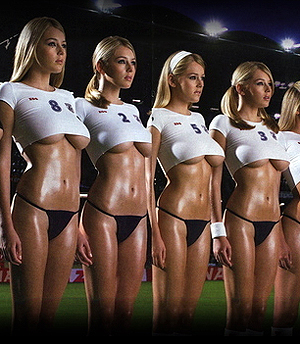 Examples Of Winners:
Vince Lombardi inspired a winning attitude among his Green Bay Packer championships teams.
The late Al "Just Win Baby" Davis, owner of the Oakland/L.A./Oakland Raiders, scumbag that he is, did the same.
Leo Durocher, coined the term "Nice guys finish last."
Larry Bird, well, we know what he did for the real Beaners - (Bostonians) Sports fans.
Jesse Owens: Snatched Olympic Gold in front of Hitler.
Whoever bags those cheerleaders pictured.
Let's get our balls rolling and in high gear.
---
QUOTE
JUNE 01, 2022
---
"If I had to choose a player to take a shot to save a game I'de choose Michael Jordan. If I had to choose a player to save my life, I'de take Larry Bird." - Pat Riley
---
DREAM TEAM
MAY 29, 2022
---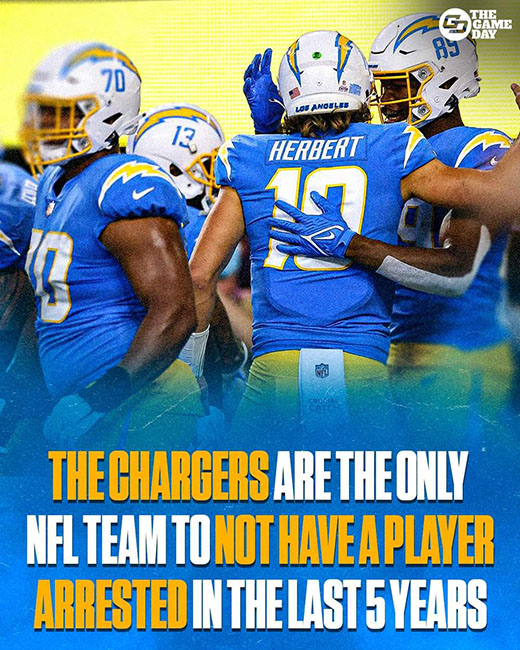 ---
MAKES PERFECT SENSE
MARCH 03, 2022

---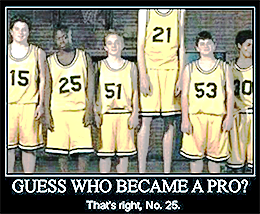 ---
SPORTING OBSERVATIONS
FEBRUARY 22, 2022

---
Most of the names mentioned here will probably only be recognized by Seniors.

Don Meredith, Dallas Cowboys Quarterback once said: "Coach Tom Landry is such a perfectionist that if he was married to Raquel Welch, he would expect her to cook."

Harry Neale, professional hockey coach: "Last year we couldn't win at home and we were losing on the road. My failure as a coach was that I couldn't think of anyplace else to play."

Reggie Jackson commenting on Tom Seaver: "Blind people come to the ballpark just to listen to him pitch."

Doug Sanders, professional golfer: "I'm working as hard as I can to get my life and my cash to run out at the same time. If I can just die after lunch Tuesday, everything will be perfect. Mickey Lolich, Detroit Tigers pitcher: "All the fat guys watch me and say to their wives, 'See, there's a fat guy doing okay. Bring me another beer.'"

Max McGee, Green Bay Packers receiver: "When it's third and ten, you can have the milk drinkers; I'll take the whiskey drinkers every time."

Tommy LaSorda, L.A. Dodgers manager: "I found out that it's not good to talk about my troubles. Eighty percent of the people who hear them don't care and the other twenty percent are glad I'm having them."

E.J. Holub, Kansas City Chiefs linebacker regarding his 12 knee operations: "My knees look like they lost a knife fight with a midget."

Vic Braden, tennis instructor: "My theory is that if you buy an ice-cream cone and make it hit your mouth, you can learn to play tennis. If you stick it on your forehead, your chances aren't as good.

Tommy John, N.Y. Yankees, recalling his 1974 arm surgery: "When they operated, I told them to add in a Koufax fastball. They did, but unfortunately it was Mrs. Koufax's."

Walt Garrison, Dallas Cowboys fullback when asked if Tom Landry ever smiles: "I don't know. I only played there for nine years."

John Breen, Houston Oilers: "We were tipping off our plays. Whenever we broke from the huddle, three backs were laughing and one was pale as a ghost."

Bum Phillips, New Orleans Saints, after viewing a lopsided loss to the Atlanta Falcons: "The film looks suspiciously like the game itself."

Al Hrabosky, major league relief pitcher: "When I'm on the road, my greatest ambition is to get a standing boo."

Bill Veeck, Chicago White Sox owner: "I have discovered in 20 years of moving around the ballpark that the knowledge of the game is usually in inverse proportion to the price of the seats."

Paul Horning, Green Bay Packers running back on why his marriage ceremony was before noon: "Because if it didn't work out, I didn't want to blow the whole day."

Lou Holtz, Arkansas football coach: "I have a lifetime contract. That means I can't be fired during the third quarter if we're ahead and moving the ball."

Knute Rockne, when asked why Notre Dame had lost a game: "I won't know until my barber tells me on Monday"

Jim Frey, K.C. Royals manager when asked what advice he gives George Brett on hitting: "I tell him "Attaway to hit, George."

Bill Walton, Portland Trail Blazers: "I learned a long time ago that 'minor surgery' is when they do the operation on someone else, not you."

George MacIntyre, Vanderbilt football coach surveying the team roster that included 26 freshmen and 25 sophomores: "Our biggest concern this season will be diaper rash."

Rick Venturi, Northwestern football coach: "The only difference between me and General Custer is that I have to watch the films on Sunday.

Bum Phillips, Oilers coach on why he always takes his wife on road trips. " She's too ugly to kiss goodbye." The great John McKay, who coached USC for a bunch of years and later became the initial head coach of those terrible expansion Tampa Bay Bucs teams, had a few zingers. He was once asked after a lopsided loss what he thought of his team's execution. He said: "I think it would be a very good idea." On another occasion, after a serious whipping he was asked what the turning point of the game had been. He replied: "The Star-Spangled Banner."

Former UCLA basketball coach, John Wooden, "Coaching is highly overrated. The team with the better players almost always wins."
---
XI LEBRON SEZ: JUST LOOT IT
July 04, 2021

---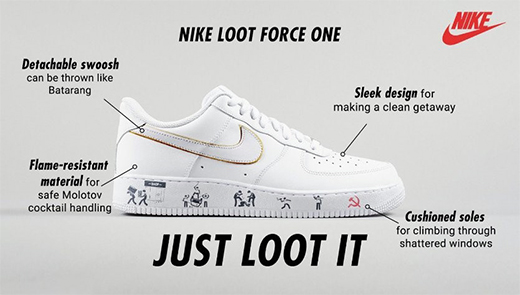 ---
CHIEF WAHOO REPLACED BY CAUCASIAN MASCOT
January 24, 2021
---
Item #1: Chief Wahoo, the long time and beloved mascot of the Cleveland Indians, became another victim to Woke-ism Cancel-Culture, Virtue Signaling wet blankets and party-poopers.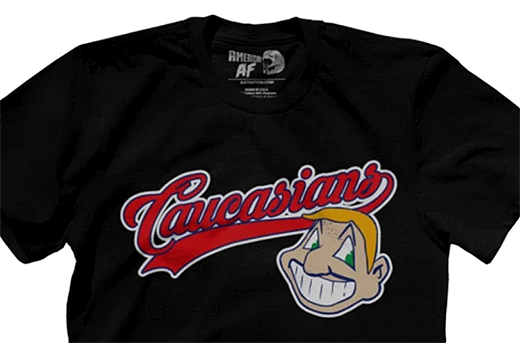 ---
NIKE: JUST SCREW IT!
September 07, 2018
---
Stolen From: Stiltons' Place
America's ongoing quest to always have something to be hyperventilating about has temporarily been satisfied by the announcement that Nike has named Colin "Kneepads" Kaepernick as their newest "Just Do It" spokesperson. Which is more than a little ironic, considering he wouldn't takethat simple advice when it came to showing respect for our national anthem.

Nike's choice of Kaepernick certainly generated the publicity they were hoping for, but has also caused a few minor drawbacks. Specifically, a nearly $4 billion drop in their stock market value as well as a boom in highly entertaining Youtube videos in which people find creative ways to set Nike products on fire.

We also find a certain irony in Nike's desire to use Kaepernick to demonstrate their sense of "woke" social consciousness, considering that any of the underpaid sweatshop laborers who make their products overseas would probably be flogged senseless for staging a knee-bending protest during working hours.

But in the immortal words of Rhett Butler, we frankly don't give a damn about Nike, Kaepernick, or the horse they rode in on. And as far as a boycott of Nike products go, we enthusiastically say "Just do it."
---
J.D. MARTINEZ | JIM BROWN
September 04, 2018
---
Item #1: J.D. Martinez and 2nd Amendment:
J.D. Martinez does not back down from Instagram post with Hitler photo: 'I stand by the second amendment'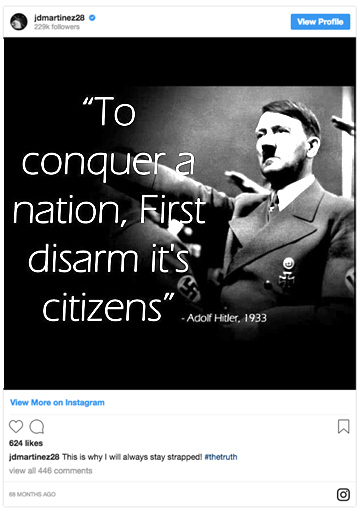 Boston Red Sox slugger J.D. Martinez said he didn't intend to offend anyone when he posted an Instagram message that recently surfaced in which he used Adolf Hitler to illustrate his support for the Second Amendment.
Martinez, who is Cuban-American, defended his pro-gun message, posted in 2013 when he was with the Houston Astros.
The post featured a picture of Hitler doing the Nazi salute with the quote — "To conquer a nation, First disarm it's (sic) citizens."
"This is why I always stay strapped! #thetruth," he captioned the post.
"I posted it," admitted Martinez, who addressed the media Tuesday. "I love my country. I love this country. I stand by the Constitution and I stand by the Second Amendment and it's something that I take pride in. It's something that I'll back up.
"At the time I posted that, the Second Amendment at the time was definitely a hot topic," he said. "The point of it wasn't to offend anybody."
Martinez, now 31, is one of baseball's most feared hitters and has a chance to capture the American League Triple Crown -- leading the AL in batting (.337), RBI (110) and second in home runs (38). He's also the latest baseball star to have an old controversial social media post surface in recent months.
In the offseason, he signed one of the most lucrative free agent deals -- a five-year, $110 million contract.
"I don't want this distraction," he said as the Red Sox are winning at a historic pace and could end up with one of the best seasons ever. "You guys are talking about something that happened six years ago. I posted it and that's why I'm out here talking about it, but I'm worried about a championship.
"Everyone here has a right to their own political beliefs and everybody has the right to stand by what they believe in. That's what makes us American. We're all not going to agree on the same things, but that's what makes this country so great."
Item #2: The Jim Brown Lowdown On Anthem Protesters:
'We Should Never Denigrate Our Flag': Jim Brown Doubles Down on Anthem Stance, Trump Support
NFL legend and activist Jim Brown has been met with some backlash after expressing his support for President Trump and his opposition to athletes protesting during the national anthem.
"I should be criticizing Trump on every level because he does certain things that call for criticism, but when I look at television I see all these announcers become experts and they're pointing the fingers and they're not doing a doggone thing but pointing their fingers, I find myself really pulling for the president," Brown said on JT The Brick radio show last week.
"Now, that would make me very unpopular in the black community, very unpopular with a lot of Americans … but I think that there are certain good things that are coming out of this presidency because we've never seen anything like it."
Trump took to Twitter on Monday to thank Brown for his support.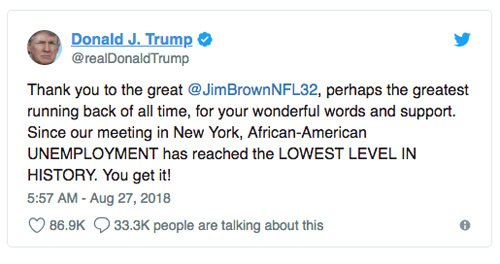 On "Fox & Friends" on Tuesday, Brown praised Trump for his handling of North Korea, and the fact that he has been receptive to Brown's input.
"This president is accessible and he's different, he challenging, and he pays attention to what I say," said Brown, who met with the then-president elect at Trump Tower in December 2016.
Brown said he's not focused on blaming the nation's problems on the president, but instead on working hard and using his influence to make the country better.
"We should look at ourselves first before we look at the president," Brown said. "We have to be able to, as citizens, bring something that the president can join forces with and triple the effectiveness of it."
As for his stance that he would "never kneel" for the anthem and "will always respect the flag," Brown doubled down.
"We should never denigrate our flag and our national anthem," Brown said.
"We should always be Americans first and we should work our butts off to make it a better country. But to not respect your flag and your national anthem is something that I would never do."
---
KNEE SLAPPING SERIOUS
July 01, 2018
---
Take a Knee?
By Stanislaus "Stan" Drew
Take a little trip to Valley Forge in January. Hold a musket ball in your fingers and imagine it piercing your flesh and breaking a bone or two. There won't be a doctor or trainer to assist you until after the battle, so just wait your turn. Take your cleats and socks off to get a real experience.
Then, take a knee on the beach in Normandy where man after American man stormed the beach, even as the one in front of him was shot to pieces, the very sea stained with American blood. The only blockers most had were the dead bodies in front of them, riddled with bullets from enemy fire.
Take a knee in the sweat soaked jungles of Vietnam From Khe Sanh to Saigon, anywhere will do. Americans died in all those jungles. There was no playbook that told them what was next, but they knew what flag they represented. When they came home, they were protested as well, and spit on for reasons only Liberals Progressives and cowards know.
Take another knee in the blood drenched sands of Fallujah in 110 degree heat. Wear your Kevlar helmet and battle dress. Your number won't be printed on it unless your number is up! You'll need to stay hydrated but there won't be anyone to squirt Gatorade into your mouth. You're on your own.
There are a lot of places to take a knee where Americans have given their lives all over the world. When you use the banner under which they fought as a source for your displeasure, you dishonor the memories of those who bled for the very freedoms you have. That's what the red stripes mean. It represents the blood of those who spilled a sea of it defending your liberty.
While you're on your knee, pray for those that came before you, not on a manicured lawn striped and printed with numbers to announce every inch of ground taken, but on nameless hills and bloodied beaches and sweltering forests and bitter cold mountains, every inch marked by an American life lost serving that flag you protest.
No cheerleaders, no announcers, no coaches, no fans, just American men and women, delivering the real fight against those who chose to harm us, blazing a path so you would have the right to "take a knee." You haven't any inkling of what it took to get you where you are, but your "protest" is duly noted. Not only is it disgraceful to a nation of real heroes, it serves the purpose of pointing to your ingratitude for those who chose to defend you under that banner that will still wave long after your jersey is retired.
If you really feel the need to take a knee, come with me to church on Sunday and we'll both kneel before Almighty God. We'll thank Him for preserving this country for as long as He has. We'll beg forgiveness for our ingratitude for all He has provided us. We'll appeal to Him for understanding and wisdom. We'll pray for liberty and justice for all, because He is the one who provides those things. But there will be no protest. There will only be gratitude for His provision and a plea for His continued grace and mercy on the land of the free and the home of the brave.
It goes like this: GOD BLESS AMERICA!
---
J.J. WATT | KNEE TAKERS
May 27, 2018
---
Item #1: J.J. Watt: Hard Hitting Humanitarian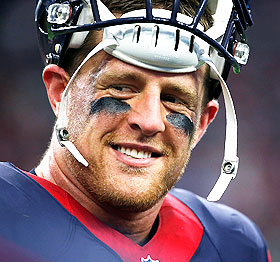 J.J. Watt, Houston Texans' defensive end and three time NFL Defensive Player Of The Year and 2017 Walter Payton NFL Man Of The Year for charity work off the field and excellence on the field (Tough twinkies Colin Kaepernik & Co.) has done it again.
In the wake of the Santa Fe school shootings, Watt offered to pay for funeral expences for those that lost their lives. Very, very cool of him and this is not the first time Watt has stepped up and offered assistance to people in need after devastating tragedies.
In 2017 after Hurricane Harvey ravaged Houston and other towns and cities in Texas, Watt went to social media and used his name and opened his wallet in a fundraising drive for relief efforts. Watt initially set a $200,000 goal and said he would even match the first $100,000. His efforst snowballed into a whopping $37,000,000 in three weeks, a gesture that won him the Walter Payton Award .
Winning that award in 2017 is doubly sweet. Prior to Watt's fund raising, Colin Kaepernik was the heavy favorite to win the award by among others, the #Blacklivesmatter (bowel) movement. No end zone dance for Kaepernik.
The NFL sure could use more Wattage and less knee-taking, knee pad wearing over paid, wife beating, ungrateful protesters.
Item #2: NFL New National Anthem Policy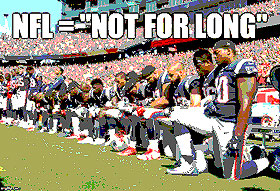 The NFL owners and commissioner's office finally woke up and realized that knee taking players, protesting some kind of racial inequality during our National Anthem was costing the league viewership and revenue and stopped the hemorrhaging by instating the following policy:
From ESPN:
NFL owners have unanimously approved a new national anthem policy that requires players to stand if they are on the field during the performance but gives them the option to remain in the locker room if they prefer, it was announced Wednesday.

The policy subjects teams to a fine if a player or any other team personnel do not show respect for the anthem. That includes any attempt to sit or kneel, as dozens of players have done during the past two seasons to protest racial inequality and police brutality. Those teams also will have the option to fine any team personnel, including players, for the infraction.

NFL owners have unanimously approved a new national anthem policy that requires players to stand if they are on the field during the performance but gives them the option to remain in the locker room if they prefer, it was announced Wednesday.

"We want people to be respectful of the national anthem," commissioner Roger Goodell said. "We want people to stand -- that's all personnel -- and make sure they treat this moment in a respectful fashion. That's something we think we owe. [But] we were also very sensitive to give players choices."

Goodell said the vote was "unanimous" among owners, although San Francisco 49ers owner Jed York said he abstained. York said that all owners that voted in the process supported the change. The policy will be part of the NFL's game operations manual and thus not subject to collective bargaining. The NFL Players Association said in a statement that it will review the policy and "challenge any aspect" that is inconsistent with the CBA.
From Cowboys owner Jerry Jones:
"I'm not trying to diminish issues of our rights here, but the No. 1 thing is our fans, and I know our fans want us to zero in on the game, zero in on football," Jones said. "They want to come to the game and get away from a lot of the other issues that are out here.
"So from my standpoint, I'm trying to figure out the very best way for when somebody thinks NFL, they think about who's starting at quarterback and who's going to come out hot in the third quarter. We've got to make sure that whatever we decide here, it's oriented toward getting our minds on what's going on on the football field."
This issue had Donald Trump saying "Wouldn't you love to see one of these NFL owners, when somebody disrespects our flag, to say 'get that son of a b---- off the field right now, out, he's fired.'"
The F.S.O.P. was just wondering where else can a player (employee) piss off his boss on the bosses dime and time and still have a job and get paid?
Well, we hope this becomes a thing of the past, so, are you ready for some protest free football?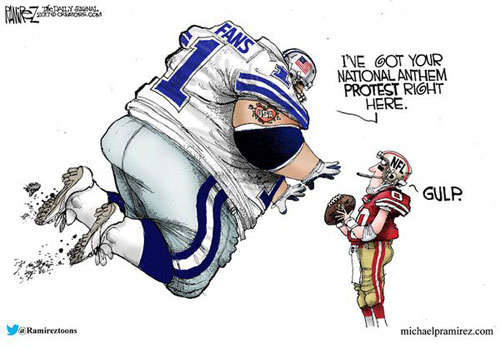 ---
OPENING DAY
April 04, 2018
---
Item #1: Team Spirit
Hey baseball fans, it's Opening Day and with that, we bring out PIG's official Opening Day Babe, once again. Notice her enthusiasm as she bares it all for our National Pastime and O'Sports Hack's favorite team.
Gosh. With spring in the air, such spirit would be inspiring enough for any dude to want to grab his wood and play ball on some freshly mown grass
I was just wondering where I can get one of those. Shame on all of you for thinking I wanted anything more than a neat phone like that.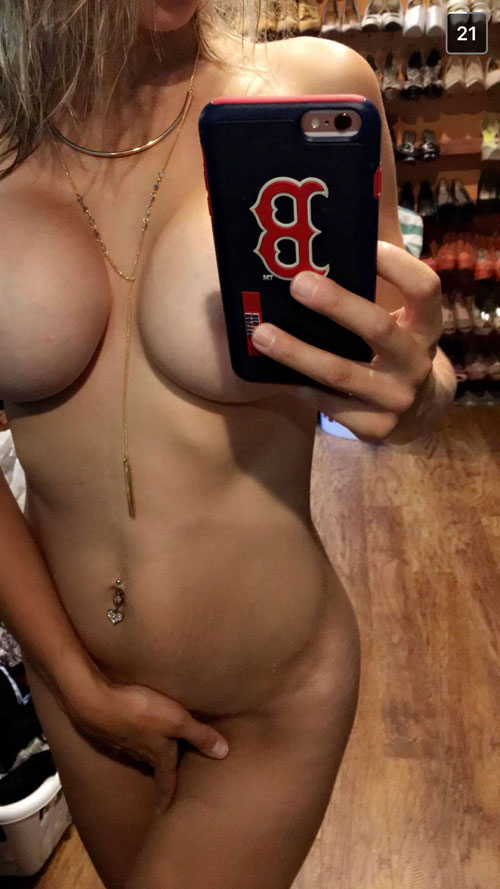 Item #2: Balls
Meet Luke Terry. Luke is a special young man and here's why: Luke is a 15-year-old catcher for his Cornersville Tennessee High School. That sounds normal but what separates Terry head and shoulders above his teammates is that he does it all with one arm.
That's right. He catches, throws and hits with one arm. He's no Snowflake either. He doesn't whine about life throwing him a spitball by him losing his arm due to E.Coli as a baby.
Baseball is challenging enough for anyone with two arms but this clip demonstrates how easy he makes playing baseball (and life in general) look: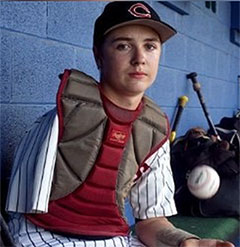 Item #3: Patriot's Edelman Runs Interference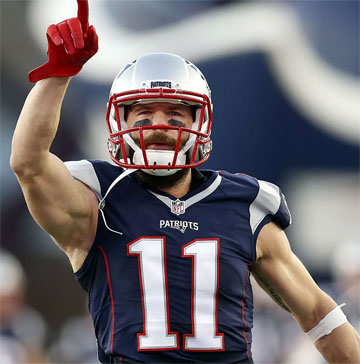 foxnews.com
Patriots wide receiver Julian Edelman helps stop potential school shooting
Julian Edelman has played in three Super Bowls as a member of the New England Patriots.
New England Patriots wide receiver Julian Edelman, his assistant and an unidentified Instagram user have been credited with stopping a possible school shooting in Michigan.
Edelman told The New York Times that he was visiting his former teammate Danny Amendola late last month when an Instagram user identified as "jesseyi3" sent him this direct message: "Dude, there is a kid in your comment section says he s [sic] going to shoot up a school, i think you should alert the authority [sic]."
Edelman, who helped the Patriots to two Super Bowl titles in three years before missing the 2017 NFL season with a torn ACL, alerted his assistant, Shannen Moen.
Moen located the comment by user "its_ya_boiii_aidan" under a photo Edelman posted March 25.
"I'm going to shoot my school up watch the news," the comment read.
Moen called 911, and detectives were able to trace the user's email and IP address to Port Huron, Mich.
The Times reported that when local police went to the user's address, they found a 14-year-old boy who admitted to posting the threat.
They also recovered two rifles, which belonged to a family member.
WDIV reported that the threat was directed at Central Middle School in Port Huron.
The 14-year-old was arrested and charged with making a false report of a terrorist threat.
"When I told Julian, he was in shock," Moen told The New York Times. "We're very lucky the Boston cops were all over it, very lucky the Michigan cops were all over it."
Edelman says he's trying to reach out to the user who alerted him to the threat.
"Thankfully, this kid said something," said Edelman, who has played in three Super Bowls with the Patriots in his eight-year N.F.L. career. "We're going to send him something, a care package, just for his work. He's the real hero."
foxnews.com
Patriots wide receiver Julian Edelman helps stop potential school shooting
Julian Edelman has played in three Super Bowls as a member of the New England Patriots.
New England Patriots wide receiver Julian Edelman, his assistant and an unidentified Instagram user have been credited with stopping a possible school shooting in Michigan.
Edelman told The New York Times that he was visiting his former teammate Danny Amendola late last month when an Instagram user identified as "jesseyi3" sent him this direct message: "Dude, there is a kid in your comment section says he s [sic] going to shoot up a school, i think you should alert the authority [sic]."
Edelman, who helped the Patriots to two Super Bowl titles in three years before missing the 2017 NFL season with a torn ACL, alerted his assistant, Shannen Moen.
Moen located the comment by user "its_ya_boiii_aidan" under a photo Edelman posted March 25.
"I'm going to shoot my school up watch the news," the comment read.
Moen called 911, and detectives were able to trace the user's email and IP address to Port Huron, Mich.
The Times reported that when local police went to the user's address, they found a 14-year-old boy who admitted to posting the threat.
They also recovered two rifles, which belonged to a family member.
WDIV reported that the threat was directed at Central Middle School in Port Huron.
The 14-year-old was arrested and charged with making a false report of a terrorist threat.
"When I told Julian, he was in shock," Moen told The New York Times. "We're very lucky the Boston cops were all over it, very lucky the Michigan cops were all over it."
Edelman says he's trying to reach out to the user who alerted him to the threat.
"Thankfully, this kid said something," said Edelman, who has played in three Super Bowls with the Patriots in his eight-year N.F.L. career. "We're going to send him something, a care package, just for his work. He's the real hero."
---
FOCUS AS THE WORLD BURNS| NASCAR FUNNIES
March 20, 2018
---
Item #1: Modern Day Nero Fiddling With His Five Iron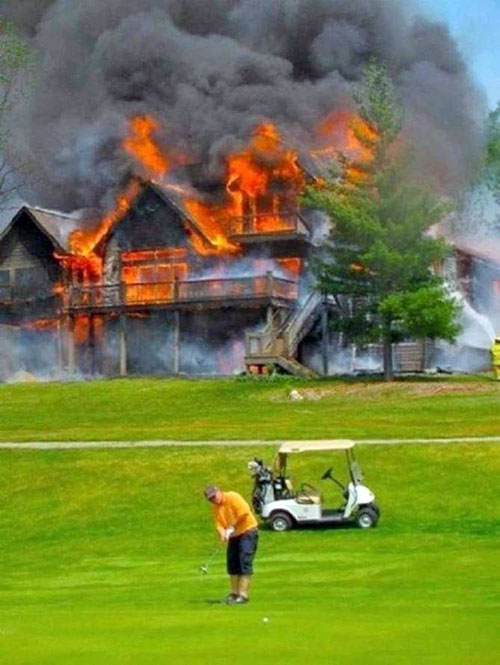 Item #2: Racism In NASCAR?
Last week, FOX Sports had comedian Sarah Tiana on its NASCAR RaceHub show to do a segment in which she would award superlatives to different drivers. Tiana awarded Mexican driver Daniel Suarez, who just happens to the first non-American to ever take home a NASCAR championship, as "least likely to hit any wall … or get close to any wall now that Trump is President."
---
OLYMPIC FIGURE SKATING
February 26, 2018
---
PYEONGCHANG, South Korea — 19 year old Hungarian Women's Figure Skater Ivette Toth may not have won over those snooty ice skating judges with her recent performance, but she probably won hard rock fans over world wide with her musical choice of skating to the music of AC/DC.
Not only did she heat up Olympic Ice by skating to the sounds of AC/DC, but she also sported a black studded Angus Young vest that would make any head banger proud.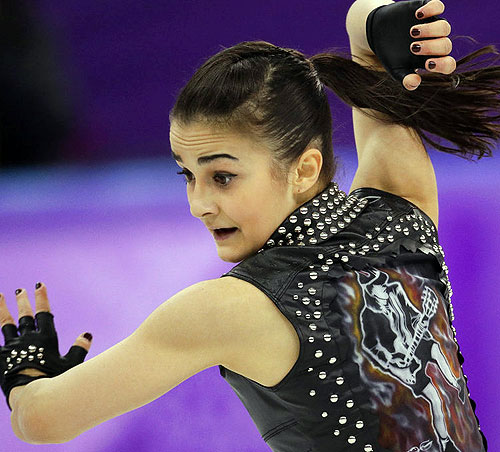 ---
NORTH KOREAN ATHLETES UNITE AROUND OLYMPIC FLAG
TO STAY WARM
February 10, 2018
---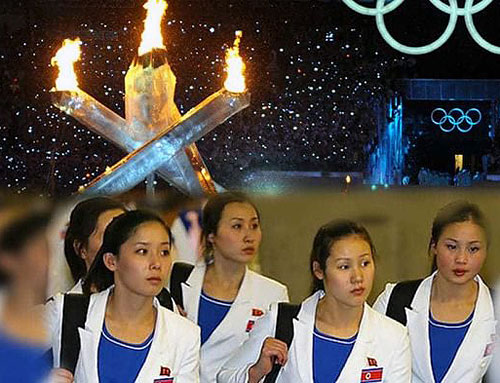 PYEONGCHANG, South Korea — The delegation of North Korean athletes taking part in the 2018 Winter Olympics have been spotted huddling near the Olympic flame to keep warm, sources confirmed today.
According to the North Korean government, however, it was actually a "show of national pride and unity" to have North Korea's 22 olympians stand near the torch in threadbare jackets and gloves without fingers.

"It's an honor to be here in South Korea," said North Korean skier Choe Myong-gwanG. "It is great to be here around this flame fueled by a mysterious burning gas. This could keep a from freezing to death for hours," she added, before being hustled away from reporters to conduct a practice run at Camp 22.
According to sources, many of the North Korean athletes were confused by some of the new technologies in the Olympic Village they had never seen before, such as wireless internet, space heaters, and food.
Several other athletes spent time in Pyeongchang and spoke of the richness on display for visiting royalty, which is more commonly referred to as a grocery store.
Besides its athletes, North Korea was also planning to send a cheerleading team known as the "Army Of Beauties" to the Olympics. At press time, every US service-member in Korea who plays World of Warcraft was scrambling to buy a ticket.
---
BRUCE LEE vs. MOHAMMED ALI
December 15, 2017
---
Bruce Lee: The one man who got Mohammed Ali to shut up and quit flapping his lips, if even for a second.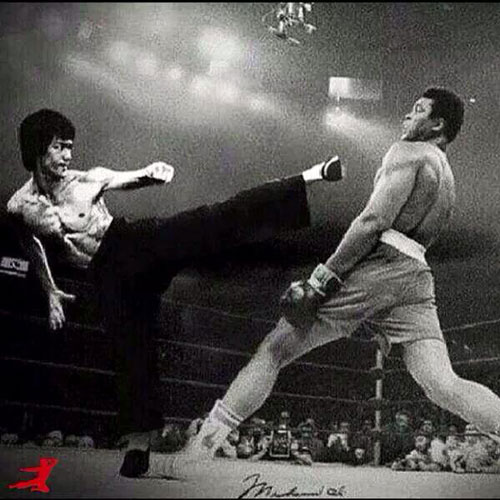 ---
LINGERIE FOOTBALL LEAGUE: "WE STAND"
December 12, 2017
---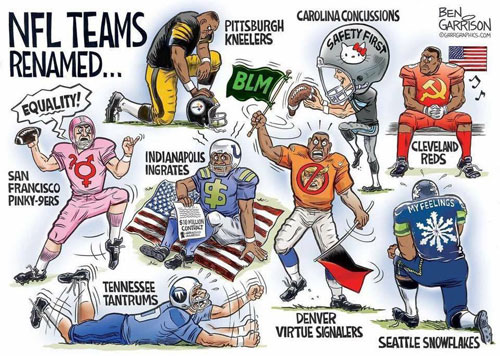 Sports Illustrated Grants Award to Colin Kaepernick for Disrespecting National Anthem
Sports Illustrated has followed GQ down the rabbit hole of radical leftism by granting an award to the bitterly anti-American former football player who set in motion the ongoing collapse of the NFL, Colin Kaepernick:
The [washed-up, unsigned] quarterback has received the 2017 Sports Illustrated Muhammad Ali Legacy Award, an honor awarded annually to athletes who demonstrate "the ideals of sportsmanship, leadership and philanthropy" and who use "sports as a platform for changing the world."
"There will never be another Ali, but few athletes have followed his example as fully as Colin Kaepernick," said SI Executive Editor Stephen Cannella.
As disgusting as it is that a radical like Kaepernick is bestowed awards for injecting ultra-left politics into football, Cannella is correct. Kaepernick has followed Ali's lead by delighting the leftist sports media with his race-based hatred of America.
Ali was a draft dodger during the Vietnam War. He explained why he refused to serve:
"My conscience won't let me go shoot my brother, or some darker people, or some poor hungry people in the mud for big powerful America. And shoot them for what? They never called me nigger, they never lynched me, they didn't put no dogs on me, they didn't rob me of my nationality, rape and kill my mother and father…"
No one raped and killed his mother and father. Both died of heart failure at age 77.
Ali is not revered despite having been a skunk; he is revered because he was a skunk — just like Colin Kaepernick.
In bestowing the honor, Sports Illustrated praised Kaepernick's "steadfastness in the fight for social justice" and his "adherence to his beliefs no matter the cost."
Please. The has-been Kaepernick has said he would stand for the national anthem that he hates so much if only someone would sign him.
The article noted that both Ali and Kaepernick "sacrificed for the greater good at a time when many Americans could not see it was a greater good."
If only we were as wise as obnoxious cretins like Ali and Kaepernick, and the still more detestable moonbats running Sports Illustrated, we would understand that noisily despising America serves the "greater good."
If you have a Sports Illustrated subscription, you might want to cancel it for the sake of your self-respect.
---
LINGERIE FOOTBALL LEAGUE: "WE STAND"
September 28, 2017
---
The ladies of the LFL, Legends Football League, formerly the Lingerie Football League has this to say about honoring our National Anthem, courtesy of Dailywire: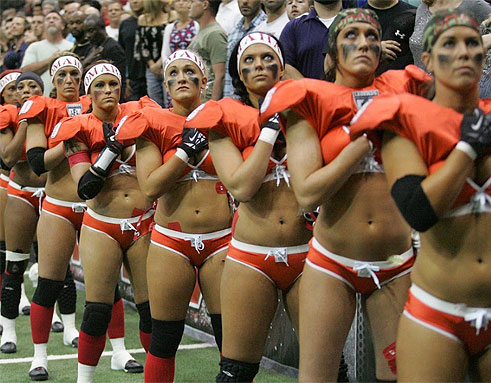 The Legends Football League, formerly known as the Lingerie Football League, responded to the NFL this week by announcing that they stand for the national anthem because the sacrifices made by American heroes are "far too sacred" to protest.
"The LFL recognizes everyone's First Amendment right to protest, but our nation's flag and anthem are far too sacred," the league said Tuesday. "Too many fellow Americans have made the ultimate sacrifice, so that our flag and anthem continue in all its majesty."
The league also released a video announcing their support for the U.S. flag and the national anthem.
"It symbolizes all the blood, sweat, and tears that have been shed so that we as Americans can raise our flag across our nation," the LFL says in the video. "The LFL salutes all those who make this the greatest country in the world."
"We stand in salute of our flag."
---
DARING TO BE DIFFERENT
September 25, 2017
---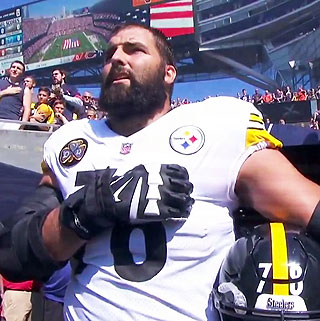 "It is better to die on your feet than to live on your knees." - Emiliano Zapata
Week 3 of the NFL saw a growing number of Kool-Aid swilling players resort to taking knees during the playing of our national anthem.
One team, the Pittsburgh Steelers, perhaps trying to diffuse the situation actually cowered in the locker room during the Star Spangled Banner exercising their First Amendment right.
One Steeler, Alejandro Villanueva dared to be different by exercising HIS First Amendment rights and being the only player to emerge from the clubhouse tunnel while the National Anthem played.
Villanueva is not your ordinary left tackle. Villanuena was also a former Army Ranger and Captain (now Major) with 3 tours in Afghanistan and had this to say:
"I don't know if the most effective way is to sit down during the national anthem with a country that's providing you freedom, providing you $16 million a year … when there are black minorities that are dying in Iraq and Afghanistan for less than $20,000 a year," Villanueva said of the anthem protests.
PIG Props go out to Major Alejandro Villanueva to have the Nads to put his flag and his country before some fly-by-night, 'take a knee' movement.
Conversely, the rest of the Steelers took a heap full as witnessed in the clip below as they take the field after the Anthem and after they left their teammate all alone and out to dry:
On a related note, two of NASCAR's owners, Richard Petty and Richard Childress related their takes on any of their employees kneeling:
Childress told USA Today:
"Get you a ride on a Greyhound bus when the national anthem is over. I told them anyone who works for me should respect the country we live in. So many people have gave their lives for it. This is America."
Petty Sez:
"Anybody that don't stand up for that ought to be out of the country. Period. If they don't appreciate where they're at … what got them where they're at? The United States."
Question: How long until News Nit-Wits and the LSM begin calling the standing for the National Anthem 'controversial' while kneeling becomes the norm?
---
SHAKEDOWNS | RACE BALL | MASCOTS | MISCELLANEOUS
August 30, 2017
---
Item #1: Shakedown From The Myopic, Melanin-Enriched Meatheads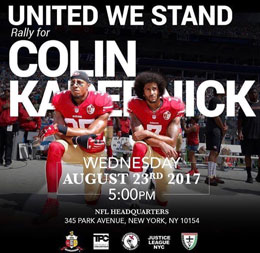 The NAACP, with Whitey-Hater Spike Lee's endorsement called for a boycott of NFL games until Colin Kaepernick gets an equal opportunity at making a roster for the upcoming season.
"There will be no football in the state of Georgia if Colin Kaepernick is not on a training camp roster and given an opportunity to pursue his career," Gerald Griggs of the Atlanta NAACP told Fox 5.
Riggs warned that if Kaepernick remains unsigned to a deal as of 5 p.m. Sept. 17, "We are going to have the world's largest tailgate, and that tailgate will not go into Mercedes-Benz Stadium." (Riggs was referring to the new $1.6 billion home of the NFL's Atlanta Falcons.)
"We will take a knee, and we will continue to take a knee on the NFL until they act with one voice," Riggs said.
The threat of a nationwide boycott is meant to send a message to NFL Commissioner Roger Goodell and the owners of the NFL's 32 teams, Riggs said.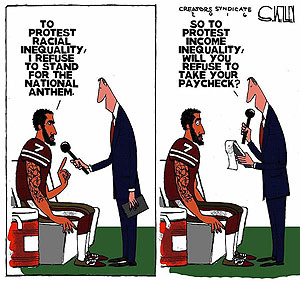 Item #2: Shakedown Fallout From NFL Great Jim Brown
Jim Brown Sez...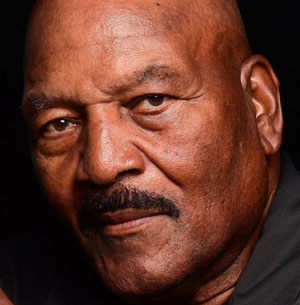 "I'm an American. I don't desecrate my flag and my national anthem. I'm not gonna do anything against the flag and national anthem. I'm going to work within those situations. But this is my country, and I'll work out the problems, but I'll do it in an intelligent manner,"ntelligent maner,"
Craig Bannister/cnsnews.com
After a dozen Cleveland Browns players knelt in protest during the National Anthem at last Monday's NFL preseason game, Jim Brown – the team's legendary Hall-of-Famer – said he'd never disrespect his country's flag. At yesterday's game, every Browns player stood at attention during the Anthem.
In their game on August 21, 12 Browns players reportedly chose to take a knee in protest, despite the National Football League franchise's official statement of respect for the United States and its flag.

Later that week, in an interview, Jim Brown said that players should keep their profession and their activism separate. Football players are paid well, and they should respect their country when they are on-camera or in a game, representing their employer, Brown said:
"If you're a football player, play football. If you're gonna be a real activist, use your money, use your notoriety."
Brown said that he, personally, would never disrespect his country's flag and anthem:
"I'm an American. I don't desecrate my flag and my national anthem. I'm not gonna do anything against the flag and national anthem. I'm going to work within those situations. But this is my country, and I'll work out the problems, but I'll do it in an intelligent manner."

The Browns anti-anthem antics last week angered fans – and even prompted a local veterans' facility to begin boycotting the team's games. As MRCTV.org reports:
"A local Veterans of Foreign Wars (VFW) Post in Strongville, Ohio now says it's refusing to air Browns games on weekends, normally a well-attended gathering for their sports fans, saying they love their flag more than their football team."
The sign in the front yard of VFW Post 3345 proudly declares:
"We Like Our Browns – We Love Our Flag More. Your Games Will No Longer Be Shown Here. God Bless America!"
Item #3: Ret. Marine Col. Jeffery Powers Wrote to the NFL Commissioners the Following:
Commissioners, I've been a season pass holder at Yankee Stadium, Yale Bowl and the Giants Stadium.
I missed the '90-'91 season because I was with a battalion of Marines in Desert Storm. 14 of my wonderful Marines returned home with the American Flag draped across their lifeless bodies. My last conversation with one of them, Sgt. Garrett Mongrella was about how our Giants were going to the Super Bowl. He never got to see it.
Many friends, Marines, and Special Forces Soldiers who worked with or for me through the years returned home with the American Flag draped over their coffins.
Now I watch multi-millionaire athletes who never did anything in their lives but play a game, disrespect what brave Americans fought and died for. They are essentially spitting in the faces and on the graves of real men, men who have actually done something for this country besides playing with a ball and believing they're something special! They're not! My Marines and Soldiers were!
You are complicit in this! You'll fine players for large and small infractions but you lack the moral courage and respect for our nation and the fallen to put an immediate stop to this. Yes, I know, it's their 1st Amendment right to behave in such a despicable manner.
What would happen if they came out and disrespected you or the refs publicly?
I observed a player getting a personal foul for twerking in the end zone after scoring. I guess that's much worse than disrespecting the flag and our National Anthem. Hmmmmm, isn't it his 1st Amendment right to express himself like an idiot in the end zone?
Why is taunting not allowed yet taunting America is OK? You fine players for wearing 9-11 commemorative shoes yet you allow scum on the sidelines to sit, kneel or pump their pathetic fist in the air. They are so deprived with their multi-million dollar contracts for playing a freaking game!
You condone it all by your refusal to act. You're just as bad and disgusting as they are. I hope Americans boycott any sponsor who supports that rabble you call the NFL. I hope they turn off the TV when any team that allowed this disrespect to occur, without consequence, on the sidelines. I applaud those who have not.
Legends and heroes do NOT wear shoulder pads. They wear body armor and carry rifles
They make minimum wage and spend months and years away from their families. They don't do it for an hour on Sunday. They do it 24/7 often with lead, not footballs, coming in their direction. They watch their brothers carted off in pieces not on a gurney to get their knee iced. They don't even have ice!
Many don't have legs or arms.
Some wear blue and risk their lives daily on the streets of America. They wear fire helmets and go upstairs into the fire rather than down to safety. On 9-11, hundreds vanished. They are the heroes.
I hope that your high paid protesting pretty boys and you look in that mirror when you shave tomorrow and see what you really are, legends in your own minds. You need to hit the road and take those worms with you!
Time to change the channel.
Powers originally sent his letter to former Florida congressman Allen West. West then posted the letter on his news website.
As of last week, at least 18 NFL players had protested the anthem by either kneeling during the anthem or raising their fists, according to USA Today Sports.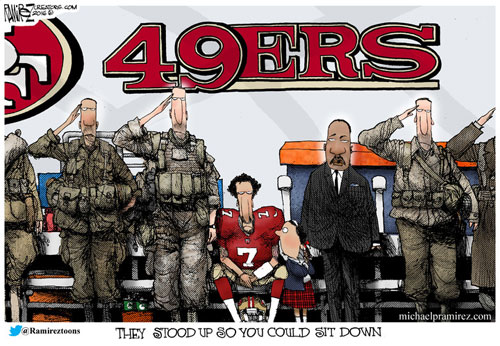 Item #4: Lt. Col. Allen West's Open Letter To Colin Kaepernick (K-Fro)
"I Can No Longer Remain Silent On Colin Kaepernick."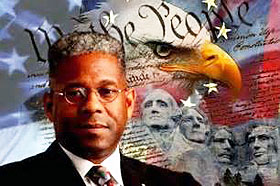 I've kept my peace on this subject, but you can refer to my original comments on the issue of Colin Kaepernick from last year's football season.
But now I hear there's a petition of folks who are planning to boycott the NFL if Colin Kaepernick doesn't get picked up by a football team. This is typical of the left who only operates in the world of intimidation, coercion, and violence…threats.
So now the progressive socialist left wants to coerce and intimidate a private sector business into accepting one of their chuckleheads.
Here's the bottom line: Colin Kaepernick utilized his freedom of speech and expression — stupidly — in protest against our national anthem. That is his right, but guess what my tender cupcake leftist social justice warriors, there are consequences.
If Colin Kaepernick wants to make politicized statements he is free to do so. And NFL teams also have a freedom, not to hire him! You delusional leftists seem to believe we have to put up with your insidious proclamations and actions. We do not.
Can y'all be so intellectually challenged to believe that you get to say and do whatever you wish, and all others must accommodate and acquiesce, to your whims? That is reflective of the childlike immature manner in which you live your lives. You throw a tantrum in public and expect not to get spanked.
Let me tell you how dumb this is. Most of y'all don't even like football because it's too violent for you. Furthermore, football isn't about participation trophies; there are winners.
Here's the deal; Colin Kaepernick may not have a future with the NFL, so just have ol' Uncle George Soros hire him to be a spokesperson for some stupid progressive socialist cause. But, just be advised, there are many of us red-blooded Americans who look forward to the fall and high school, college, and professional football. You leftists have pretty much screwed up everything from our healthcare to North Korea…doggone, leave football the hell alone!
And we will not be discussing Colin Kaepernick any more on this Facebook page or website.
Item #5: Black Student Leader Says USC Mascot Is Symbol Of White Supremacy. The Reason Gets Utterly Slammed.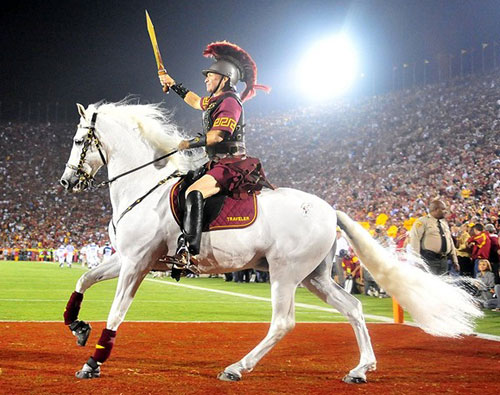 The co-director of the Black Student Assembly at the University of Southern California said at a rally denouncing the 'alt-right' gathering in Charlottesville, Virginia, that white supremacy hits close to home, student newspaper the Daily Trojan reported.
Saphia Jackson was referring to USC's mascot, Traveler, the paper said. You know — that white horse that's trotted onto football fields every fall carrying a guy dressed as a Trojan warrior.
It appears the beef is that Traveler's name is similar to the name of Confederate Gen. Robert E. Lee's horse, the Daily Trojan said. Lee's horse was named Traveller (note the extra "l").
The Black Student Assembly declined to comment to the Daily Trojan after last week's rally and wouldn't talk to the Los Angeles Times, either, which picked up the story.
A USC spokesman pointed the Times to the school's website when the paper asked about the origin of the horse's name.
"USC's mascot horse is a symbol of ancient Troy. Its rider, with costume and sword, is a symbol of a Trojan warrior," the website notes, according to the Times. "The name Traveler, spelled with one 'l,' is a common name among horses. . . . USC's Traveler is and has always been a proud symbol of Troy. There is no truth to any other claims or rumors about its name."
Stories have come up connecting the name of USC's mascot to Lee's horse, the Times said, but without attribution.
The widow of the man who trotted out the first Traveler for USC fans told the paper that the horse was already named when Richard Saukko bought him in 1958.
"The problem is this: maybe three weeks ago it was fine," Pat Saukko DeBernardi told the Times about the overall issue that's exploded since Charlottesville. "So now the flavor of the day is … we all have to be in hysteria. …. It's more of a political issue. The horse isn't political and neither am I."
Those commenting on the Times piece seemed to agree that USC mascot supposed connection to Lee is taking things a bit too far.
"Seriously?" one commenter said. "This is idiocy at its best."
"I'm liberal, but honestly making any sort of fuss over this is so stupid and pointless," another commenter declared. "It has never stood for anything other than a Trojan mascot at SC games."
Another added: "Give me a break, now the horse's name is perpetuating racism? When we these activists just stop looking for reasons to justify their petty existence … non-causes. I hate SC (UCLA fan), but leave the horse alone and his/her name. It is part of SC and its tradition."
There was precious little love lost between yet another commenter and the activists: "This is the type of thing that makes me hope those who even brought this up live utterly miserable existences."
Item #6: ESPN's Bob Lee Reassigned Due To Name
ESPN'S ROBERT LEE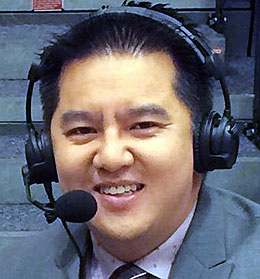 Only An ESPN Nit-Wit Can Spot The Resemblance Of Sportscaster Robert "Bob" Lee and a Confederate General
ESPN has jumped on the "Post-Charlottesville Erasing, Expunging and Eradicating Anything/Anyone Hinting of Robert Lee" Bandwagon.
ESPN has reassigned one of it's sportscasters from covering the Virginia-William & Mary football game this season, simply due he having the name of Robert Lee. If you think that's weak, the funny part is that ESPN's Robert Lee happens to be Asian and looks nothing like any statue of any Confederate general named Lee.
Here's the statement it released to the college football blog Outkick the Coverage, which broke the story:
"We collectively made the decision with Robert to switch games as the tragic events in Charlottesville were unfolding, simply because of the coincidence of his name. In that moment, it felt right to all parties.

"It's a shame that this is even a topic of conversation and we regret that who calls play by play for a football game has become an issue."
It's only an issue because the safe-space flowers at ESPN made it one. I'd like to think the other 323 million Americans have better things to do than worry about anything so ridiculous.
If you think ESPN wernt too far, we here at PIG wondered about taking this whole "Lee" thing a bit further. Whether you are black, white Asian even Hispanic with the name Lee, you better watch out, or at least consider changing your name.
Among notable people with the surname "Lee" include:
* Bill "The Spaceman" Lee, White Baseball player
* Alvin Lee, White Guitarist
* Sara Lee, White Pastry Peddler
* Stan Lee, White Comic Book Mogul
* Bobby Lee, Korean Comedian (MAD TV)
* Bruce Lee, Asian Martial Artist
* Spike Lee, Black Film Maker
* Tommy Lee, Rock/Home Made Porn Star
* Geddy Lee, Rock Star, "Rush"
* Tim Berners-Lee, (Move Over, Al Gore) Internet Inventor
* Sheila Jackson-Lee, Black, Ethnocrat Politician. She Got White-Smacked twice. Once with "Jackson" the Other, "Lee"
Item #7: Gloria Allred Takes (A Big One) For The Team
The Mighty "Lights! Camera! Action" Gloria Allred comes up to the plate and demonstrates the many uses and versatility of a Major League baseball bat outside the lines.
Too funny!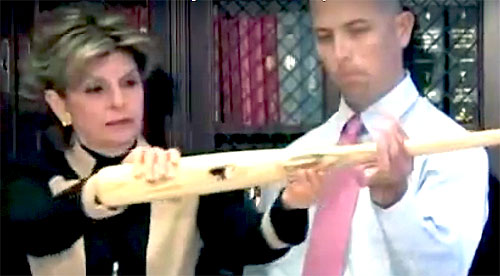 tem #8: Red Sox Owner "Haunted" By Yawkey Way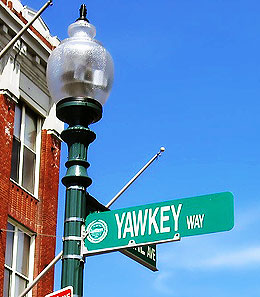 Looks like the Boston Red Sox want a piece of re-writing history action.
The entrance to Boston's Iconic Fenway Park lies along Yawkey Way, named after Boston Red Sox owner, (the late) Tom Yawkey.
Yawkey's name is on the chopping block NOT because of his numerous philanthropic endeavors which benefitted countless underprivilged of any color, but because he was the last owner in Major League Baseball to sign a black player.
The F**king Horror!
Here's some hot air from current Red Sox owner, John Henry:
The Red Sox don't control the naming or renaming of streets," Henry told the Boston Herald. "But for me, personally, the street name has always been a consistent reminder that it is our job to ensure the Red Sox are not just multi-cultural, but stand for as many of the right things in our community as we can — particularly in our African-American community and in the Dominican community that has embraced us so fully…I am still haunted by what went on here a long time before [the present ownership group] arrived."
Henry told the Boston Herald the time has come to take former owner Tom Yawkey's name off the street that runs alongside Fenway Park — though such decisions ultimately are up to the city. Henry even has a potential new name in mind: David Ortiz Way.
"We ought to be able to lead the effort and if others in the community favor a change, we would welcome it — particularly in light of the country's current leadership stance with regard to intolerance," Henry told the Herald.
OTAY, Mr. Henry. You must want a riot outside of Fenway Park if you think hard-core chowder swilling die hard Red Sox fans will fall for that load.
WTF Next! Find out that a racist actually worked on constructing historic Fenway Park and tear that down, too?
Punk.
Item #9 Parting Shot From Dying Philadelphia Eagles Fan.
A Philadelphia Eagles fan took a brutal shot at his favorite NFL team with what is believed to be a dying wish, according to his obituary.
Jeffrey Clayton Riegel passed away at the age of 56 on Aug. 18, per his obituary published in ThePress of Atlantic City.
The pertinent passage where Riegel absolutely destroys the Eagles is as follows:
He was beloved by all. God gave Jeffrey the miracle of time to prepare which allowed him to verbalize his last wishes. He requested to have 8 Philadelphia Eagles as pall bearers so the Eagles can let him down one last time.
Boom. Roasted.
Philly.com reports that the "Eagles did not immediately respond to requests for comment" after the news outlet made an inquiry.
Yeah, probably a good call. What could the team possibly say in response to that epic slam?
It's not uncommon in the least for an obituary to feature some comment or reference to the deceased's sports loyalties, or lack thereof (more on that here). But Mr. Riegel's savage slam is among the best ever.
Source: http://us.pressfrom.com/news/sports/-77610-eagles-fan-trolls-team-with-dying-wish-about-player-pallbearers/
---
PUIG-ING OUT
June 16, 2017
---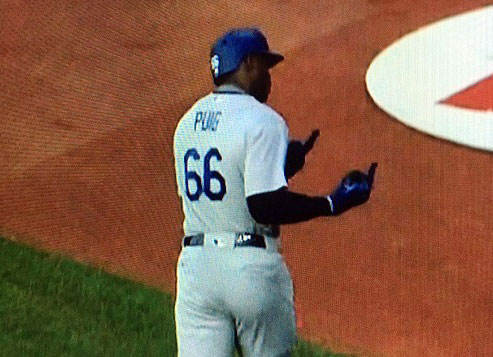 BThat's the L.A. Dodgers' very own, all-around nice guy saluting Cleveland Indians fan who had a prfanity laced conversation with Puig jus before Puig hit a 2-run shot off the Indians' pitcher. Translated, Puig said he was just saying "**** You" to fan.
---
MORE MASCOT MAYHEM
May 20, 2017
---
Student Apologizes For Wearing "Hurtful"
Chicago Blackhawks Jersey
Bethel University student Cody Albrecht had the balls to wear a Chicago Blackhawks sweatshirt to his "Social Perspectives, Human Worth and Social Action" Class - what ever the hell that is - and was told the shirt was "hurtful and offensive."
So far, so good, Cody.
But Cody gets no PIG Props because as a result, Cody went and did the predictable. He caved in and apologized. Furthermore, Cody allowed himself to fall prey to the Social Justice Warrior tribe, therefore, Cody, no goal.
Read the full story below.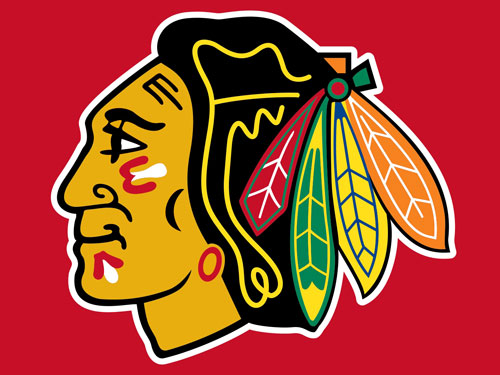 ---
Golfing Goofballs
May 11, 2017
---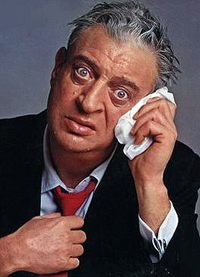 ---
NO CAPTION NEEDED
March 22, 2017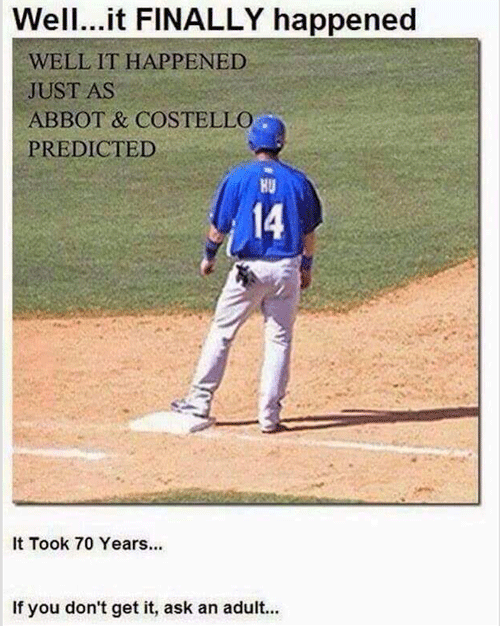 ---
MAD SKILLS | ROMO
March 10, 2017
---
Item #1: Trick Shots: Seems as if Steve-O, whoever he is and Playmate Laci Kay Somers have too much time on their hands...and other places.
Dude does have some mad skills, with his little ball, anyway.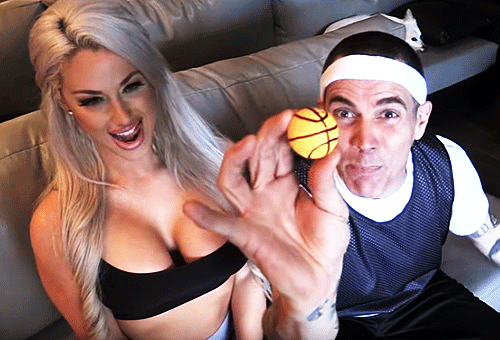 Item #2: Dallas Cowboys Update: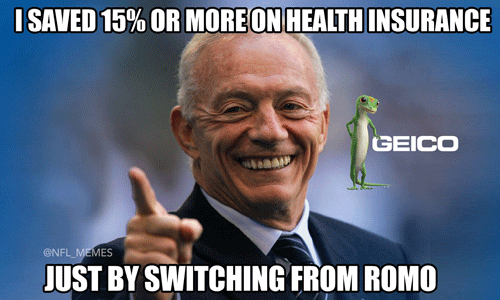 ---
SUPERBOWL LI MEMES THAT SUM IT ALL UP
February 08, 2017
---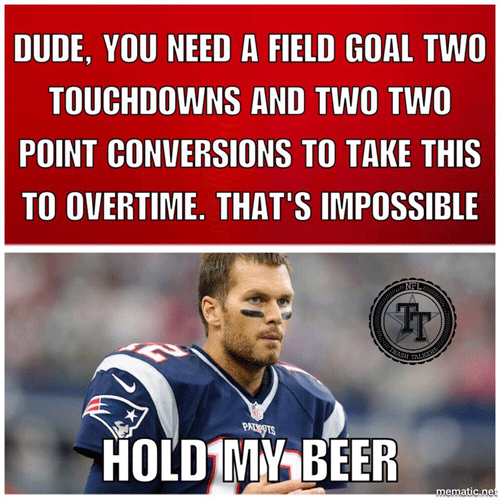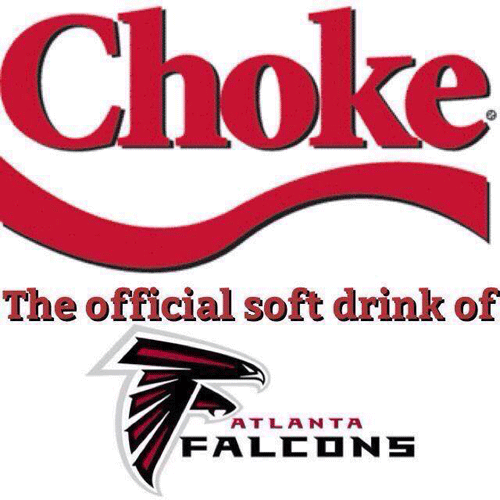 ---
TOMMY B. GOODE
February 03, 2017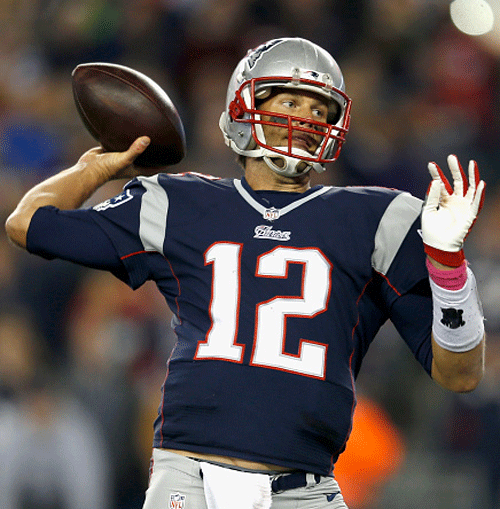 ---
TEAM SPIRIT | GOLF TIPS | WHINER
December 23, 2016
---
Item #!: Team Spirit: Gotta love a real Sports Babe who proudly shows her team spirit for the Boston Red Sox on her cell phone.
O'Sports Hack really likes her uniform, too.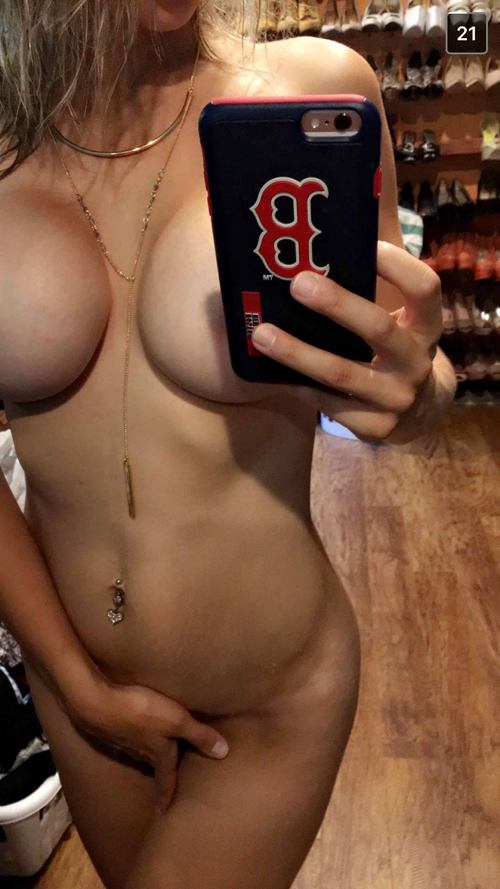 Item #2: Golfing Terms:
Some new golf terms to use when you're out on the course.
A 'Rock Hudson' - a putt that looked straight, but wasn't.
A 'Saddam Hussein' - from one bunker into another.
A 'Yasser Arafat' - butt ugly and in the sand.
A 'John Kennedy, Jr.' - didn't quite make it over the water.
A 'Rodney King' - over-clubbed.
An 'O.J.'- got away with one.
A 'Princess Grace' - should have used a driver.
A 'Princess Di' - shouldn't have used the driver.
A 'Condom' - safe, but didn't feel very good.
A 'Brazilian' - shaved the hole.
A 'Rush Limbaugh' - a little to the right.
A 'Nancy Pelosi' - Way to the left and out of bounds.
A 'James Joyce' - a putt that's impossible to read.
A 'Ted Kennedy' - goes in the water and jumps out.
A 'Pee Wee Herman' - too much wrist.
A 'Sonny Bono' - straight into the trees.
A 'Paris Hilton' - a very expensive hole.
A 'Tiger Woods' - wrong hole
Item #3: Whiner: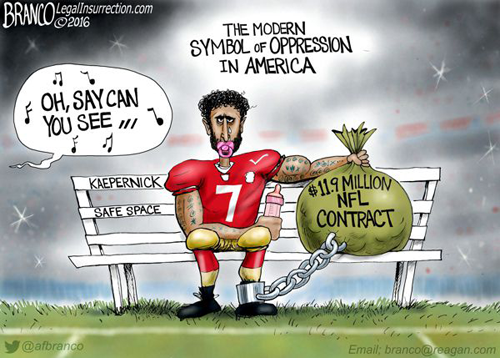 ---
FROM SOME ROMOPHOBE
November 26, 2016
---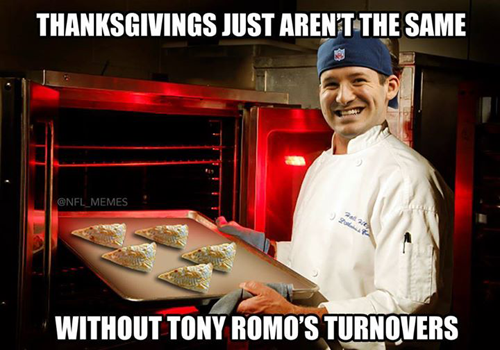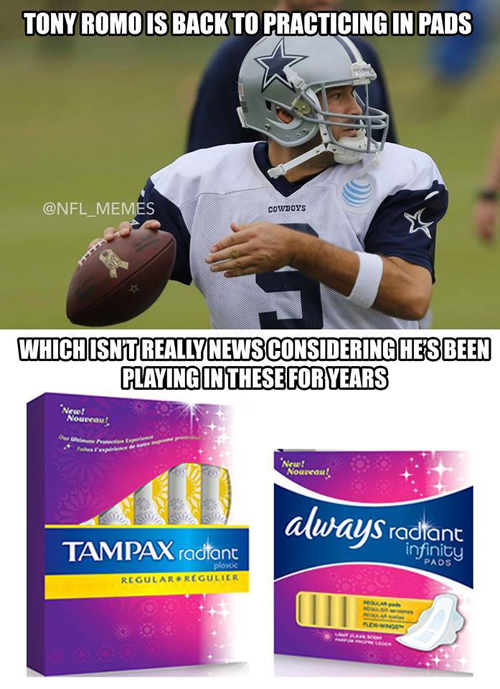 ---
FUN STUFF
November 13, 2016
---
Item #1: Dodgeball: Looks like Dodgeball isn't as dead as Libtards Assorted Social Engineers and Educrats thought they would make it. Seems like the spirit of competition is still alive and well with private Dodgeball tournaments
O'Sports Hack recently ran across this recent local flyer while going about town and thought "Awesome!"
Now kids of all ages can participate in a way cool sport, dress up, have some fun AND tell pussified Progtards and Limp Wristed Libs that ONE team wins the $5,000.00 and NO, the losing teams don't get trophies for showing up.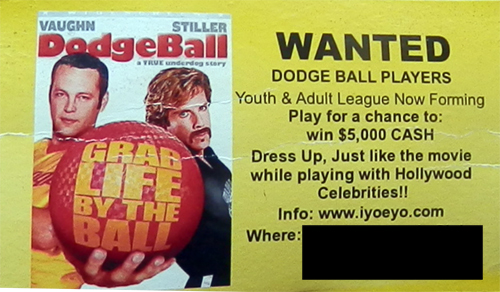 ,
If you don't have a local Dodgeball League, start one and say "In Your Face" to the local wet blankets.
Remember this. Dodgeball doesn't lower self esteem, win or lose, it raises it.
Now, go out out there and toss a Dodgeball at the nearest Limp-Dick you see, and have fun doing it.
Item #2: Cubs Win!: HOLY (Not Mrs. O'Leary's) COW! The Chicago Cubs broke a 108 year Championship drought by defeating the Cleveland Indians in an extra inning game 7 of the 2016 World Series.
Great for the team and especially the Cubs to bring it on home.
The city of Chicago celebrated in a very civil, but probably half drunken manner, but I didn't hear of any gun violence. Could it be that the "No Gun Zones" load didn't appy, meaning that in that part of town people just might be packing?
---
DEPARTURE DOUBLE HEADER; MARCHING ORDERS
October 04, 2016
---
Item #1: Vin Scully Calls Last Game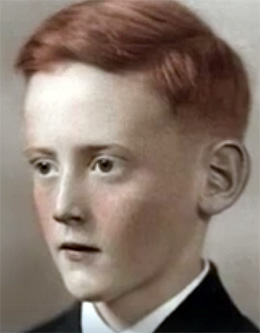 After 67 years in the Brooklyn and Los Angeles Dodger's broadcast booth, Vin Scully has called his last regular season game on Sunday, October 02, 2016.
Scully, at the tender young age of 88 – doesn't sound like 88 – will grace the airwaves to open his last game with his trademark opener the way he always has, "It's time for Dodger baseball! "Hi, everybody, and a very pleasant good evening to you, wherever you may be."
Vin Scully has been a fixture not just of Dodger baseball in Los Angeles, but throughout the entire sports and sports broadcasting world.
Scully's gift of graceful, flowing gab, commentary, observations and asides, would somehow draw the listener or viewer into the game and his world and turn an otherwise boring, snoozefest of a game into an intimate experience, as if it were just him and you taking in a game together.
Whether listening on a transistor radio at home or even at the stadium, watching on TV, the listener got lost in Scully's play-by-play, commentary and even personal stories and Scully's distinguished voice.
One game O'Sports Hack remembers on the radio was Memorial Day 1996. Before the game, Scully recollected that the day after the Pearl Harbor attack, he stated that almost every able bodied young man rushed down to the draft board and enlisted in the military. Scully also said that back then, the Patriot spirit was at an all-time high and many underage young men lied to serve their country.
He then fast forwarded to 1996 and said these days, young men don't lie about their age and rush to the recruitment office, but instead, find a way out of serving.
That's as political as I've ever heard him.
While at the helm of the Dodgers broadcast booth, Scully has called some memorable games.
Here are just a few highlights that may be a trip down memory lane for some:
1956: Don Larsen pitched perfect game in World Series.
1965: Sandy Koufax pitches perfect game. Note the scoreboard.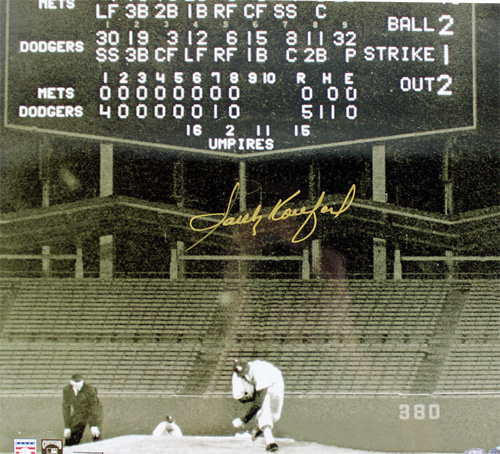 1974: Hank Aaron hits home run 715, breaking Babe Ruth's record.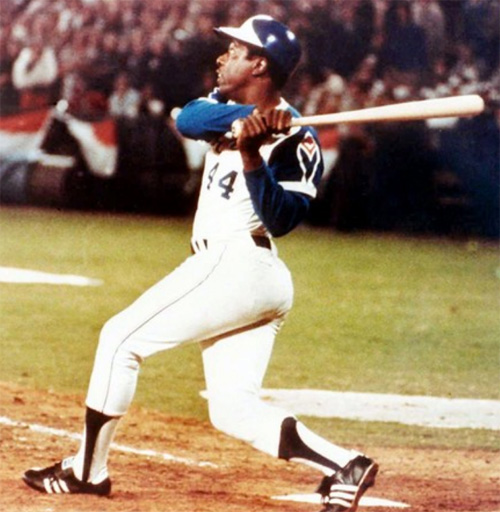 >>> Hammerin' Hank Hits 715 >>>
1976: Rick Monday rescues Old Glory from being torched by a couple of losers in centerfield. A personal favorite.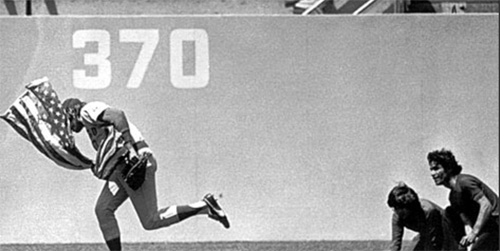 >>> Rick Monday Rescues Old Glory >>>
1988: Kirk Gibson limps off bench in Game One of World Series and hits a game winning, hobble-off home run.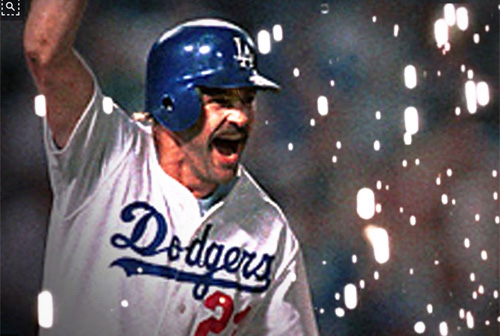 >>> "...The Impossible Has Happened..." >>>
1991: Dennis Martinez of the Montreal Expos pitched a perfect game against Dodgers. (O'Sports Hack's mom took him to that game for his XXth birthday. Her very first at Dodger Stadium).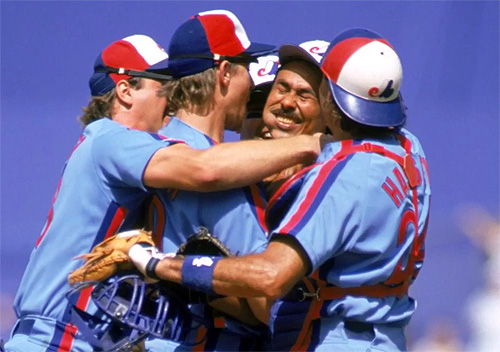 My Ticket Stub and Alibi For That Day: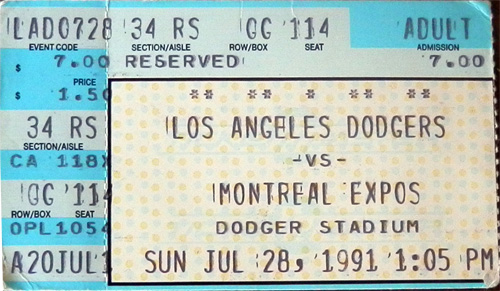 >>> El Presidente Goes Perfecto >>>
After 67 years in the Dodger broadcast booth, there are no doubt, many, many more memorable games Vin Scully was a part of.
Vin Scully's final sign-off:
"You know friends," Scully began,"so many people have wished me congratulations on a 67-year career in baseball and they wished me a wonderful retirement with my family and now, all I can do is tell you what I wish for you."
He then recited an Irish blessing he's repeated often in this final year.
May God give you…
For every storm, a rainbow,
For every tear, a smile,
For every care, a promise,
And a blessing in each trial.
For every problem life sends,
A faithful friend to share,
For every sigh, a sweet song,
And an answer for each prayer.
Scully then signed off with reassuring and familiar words.
"You and I have been friends for a long time, but I know in my heart I've always needed you more than you've ever needed me. And I'll miss our time together more than I can say.
"But you know what? There will be a new day and, eventually, a new year. And when the upcoming winter gives way to spring, oh, rest assured, once again, it will be time for Dodger baseball.
"So this is Vin Scully, wishing you a very pleasant good afternoon - wherever you may be."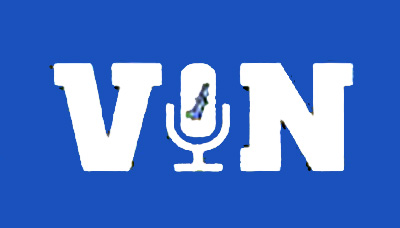 Thanks, Mr. Scully. Dodger Baseball will never be the same.
You are and always will be a class act and a tough one to follow, if ever.
>>>>>
DUAL DEPARTURES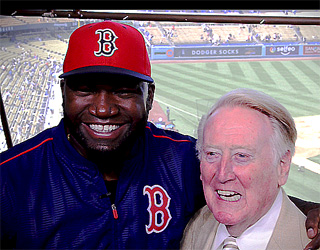 DAVID ORTIZ & VIN SCULLY: OUTTA HERE!
>>>>>
Item #2: David Ortiz Bids Boston And Baseball Adios
David Ortiz, affectionately known throughout the baseball world as 'Big Papi' is hanging it up after a monster career, mostly in Beantown.
His is much loved and respected by teammates and opposing players alike.
Beginning with the 2004 American league playoffs, down 3 games to none against the Yucky Yankees, Ortiz ignited one of the greatest 8-game winning streaks in any sport, spearheading the Rag-Tag Red Sox who called themselves, "The Idiots." Boston took the next 4 from The Yankees for the League Championship and swept St. Louis for the title.
Ortiz was also part of the Red Sox 2007 and 2013 Championship teams.
A name like David Ortiz in a sports crazed city like Boston catapults him into a very elite crowd of former Boston athletes, Larry Bird, Wilt Chamberlain, Bobby Orr, Carl Yastrzemski, and even Tom Brady. Not bad company for Mr. Ortiz to keep.
He's not done yet. The Red Sox advance to the playoffs and we'll be seeing more of David Ortiz, at least for a few more games.
CENTERFIELD FENWAY PARK TRIBUTE TO DAVID ORTIZ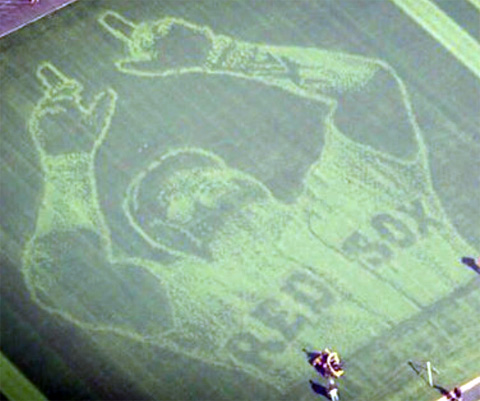 Item #3: Fans Give ECU Marching Band Marching Orders
The East Carolina University's marching band jumped on the "Take A Knee During The Star Spangled Banner" bandwagon before Saturday's game.
When they returned to the field for the halftime show, they were met with boos from fans in the stands.
That's too cool. Why can't fans of professional sports teams follow suit? After all a lot of those MLB, NBA, NFL games are nationally televised so when members of a certain team, visitors OR home team get the same reception by their fans?
That works on a few levels. One, it allows the PAYING fans a way to let their feelings be known, and...
Two, public humiliation and being taken down a few notches works well, too.
Item #4: Atlanta Braves Fans Say Goodbye To Turner Field
Braves fans say goodbye. We say good riddance. Turner Field which opened in 1997 was the subject of controversy over what to name the stadium.
Many thought it should have been named after Hank Aaron, but Ted Turner, yes, THAT Ted Turner stroked his ego and named the park after himself.
Turner, and his pathetic Tomahawk Chop posse will be playing at SunTrust Park, for those that care.
---
Mariner's Catcher Suspended Over BLM Tweets
September 24, 2016
---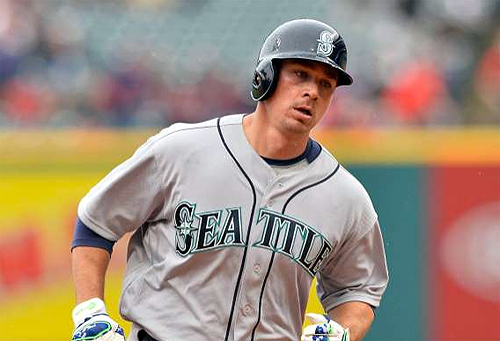 The Seattle Mariners have suspended backup catcher Steve Clevenger without pay for the rest of the season for tweeting messages critical of the Charlotte riots, BLM and Obama.
Here are the Tweets that the weak ass Mariner's organization thought were objectionable:
"Black people beating whites when a thug got shot holding a gun by a black officer haha (expletive) cracks me up!! Keep playing the National Anthem!"
"BLM (Black Lives Matter) is pathetic again! Obama you are pathetic once again! Everyone should be locked behind bars like animals!"
Let's see here. Colin Kaepernick - whose future in the NFL is questionable and probably on life support - is celebrated for publicly disrespecting our flag, military and police officers but Clevenger is issued a suspension for expressing himself through harmless tweets.
Clevenger no doubt has gone on the usual, mandatory, manufactered apology tour.
Another blow to the First Amendment" you bet, and by the way, is the a "Twitter Cop" out in cyberspace that monitors who tweets what to whom?
Good bye First Amendment, hello Big Brother.