---
THE PORCUS PITCHFORK | THE GOSPEL ACCORDING TO PORCUS
---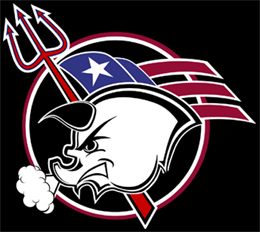 Not getting enough Pitchfork in your daily diet? Due to his limited brain capacity, Porcus occasionally spins out of control with information overload and resorts to his 'Notes To Self' scribblings and deep thoughts.

These deep, beer induced thoughts have spilled over onto a new Pitchfork page titled, Porcus Pitchfork: WTF!, where Porcus puts his everyday observations into print.

So, since you're here anyway, no doubt surfing the web on your bosses dime, make a mad dash over to:

You just may find yourself guilty as hell of the same thoughts and observations, so be sure to tune in from time to time.

Welcome to Porcus' Pitchfork. After much nagging from Hambo, I reluctantly decided to launch this page.

What the hell am I going to do with this page? Skewer Korrectniks, brain-deaders, call 'em as I see 'em, and from time to time, give props to way cool individuals that deserve a hearty two-thumbs up, that's what I'm going to do, dag-nabbit!

Am I in direct competition with my Brother In Arms, Hambo? No way. This page is meant for Porcus to sound off and spout off on really important issues like Twatney Spears, Babes of The Month, and maybe some other pesky stuff like our upcoming election, border jumpers, and assorted scum that renders a "blip" on the PIG radar.

I won't claim to be the prolific writer Hambo is, but I'll post my musings from time to time, in between beers, pizzas and fishing trips.

As founder of PIG, I should have recognized the responsibility of sticking my neck out and offering up my two cents worth on an occasional basis, as I created PIG as a forum for everyday folks (Like me, Hambo, Staff and our contributors) to voice their opinions on any subject.

I thought I should make the clear distinction between Hambo and myself. While we are in many ways, very like-minded, we also are two very different individuals. He has his "ways", I have mine, but when we meet, 100% Guaranteed, we cook something up, each and every week.

So PIGsters, your humble publisher is finally coming out of the closet to launch what's left of his mind upon you, should you care to stop by.

Name is Porcus Maximus, founder, creator, builder, designer, and discoverer of talent, (Hambo & Staff) of the best damn website, period. PIG.

Enjoy.

P.S. No need to assemble outside of my house, mob-style, with tar and feathers, hockey sticks, pitchforks, shotguns, torches, whiney Korrectniks and Nanny-State Kool-aid swillers, etc. You'll never stifle the voice of freedom that's heard here at The Free State Of PIG every day.
---
OVERDUE 'FORKINGS
---
*Publishers (Porcus') Notes: Apologies for my recent AWOL status. Life interferred for a while and some nagging personal issues needed to be addressed and disposed of. I have officially been deemed fit enough to re-enter mainstream society without meds or supervision and resume PIG activities.
My way overdue 'Forking goes to...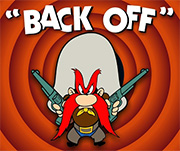 Anyone who cancelled, modified or "corrected" Aunt Jemima, Uncle Ben, The Hot Indian Squaw on Land 'O Lakes, Mr Potato Head, Dukes of Hazard, Yosemite Sam, Sesame Street, Pepe LePew, Paw Patrol, and many more.
Anyone who voted for Biden, Harris, Schumer, Pelosi, Members of the "Squad" Maxine Waters,
Professional sports - NFL, NBA, MLB, NHL - for caving in to the Kulture of Korrectness and all the players who took a knee during our National Anthem, city of Atlanta for cancelling the 2021 MLB All-Star game.
Egghead Educrats and school boards pushing toxic subject matter and curricula like Critical Racist Theory and alternative, perverted sexual lifestyles as the norm...ON THE TAXPAYERS DIME and ON CHILDREN.
Anyone who thinks the BLM, Antifa are just an "idea" and their destructive and deadly riots were "peaceful protests."
Anyone supportive of The Equality Act - HR 5 which trample the Civil Rights Act of 1964, makes a mockery of women's sports and Title IX, promotes perversion by allowing open showers and restrooms for males identifying as females, opens the floodgates for lawsuits against doctors and hospitals that refuse to perform abortions or sex-change operations and the list goes on...
Most Hollywood Lip Flapping Libtard Airhead Celebtards.To them, STFU!!!!
Anyone who ananomously and secretly "buys" Hunter Bidens "art."
---
POOR TASTE, POOR TIMING
---
I happened to be watching the early morning news the other day on September 12, when a woman – an actress of obvious Mid-East pedigree - from MENA (Middle East North Africa) comes on and starts whining about how Hollywood hasn't created enough positive characters in movies and on TV. She spouted some truth when she said Hollywood usually type casts Middle Easterns, oops, sorry, MENA's, as evil, diabolical, bomb toting, America hating terrorists. Can't argue with that especially when the shoe bomb fits.

What really gets my 'Forking fingers itchy is that she had the nerve to snivel about this THE DAY AFTER 9/11, a day most American's take a moment or two and reflect and mourn the tragedy that was inflicted upon us, especially the innocents who lost their lives.

Who perpetrated and mastermined 9/11? Why, evil, diabolical, bomb toting America hating terrorists that hail from MENA countries, that's who, shit for brains.

If/when a feature film is ever made, just who the Hell does MENA expect to portray evil, diabolical, bomb toting America hating terrorists? Dark skinned, swarthy Greeks, Spaniards, Italians or Hispanics? Light skinned blacks?

Boo-hoo, bitch. To this day, and I do not claim to speak for other people, but when I encounter someone(s) of Mid-East origin, speaking Arabic, my gut tells me to proceed with caution and suspicion. So if MENA wench doesn't like the way Hollywood portrays her "people" she can go f**k herself and the camel or goat she rode in on, right into the smoke filled sunset, complete with my Pitchfork firmly planted between her MENA ass crack.
---
POLITICALLY CORRECT PERVERSION
---
Here's some tid-bits the LGBT advocates, champions, apologists and other assorted sick, slimey sympathizers don't want you to see. In their quest to demand 'special' rights, and probably 'protected minority' status, these subhumans demand their rights at the expense of all others.
That's just so f**king precious.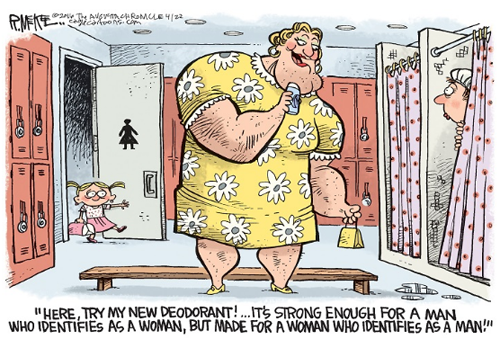 5 TIMES 'TRANSGENDER' MEN ABUSED WOMEN AND CHILDREN IN BATHROOMS
The leftist push to force both private and public entities to open their bathrooms and locker-rooms to gender identity has recently exploded in the media. The governor of North Carolina's decision to reject such an ordinance by signing HB 2 into law has taken over the spotlight. The left has cast the law as bigoted, along with all those who agree it. Baseball legend Curt Schilling was even fired from his job at ESPN for expressing opposition to the ordinance and proclaiming that "a man is a man no matter what."
One conservative argument against the leftist push goes as follows: some men will abuse the bathrooms and locker-rooms open to gender identity rather than biology by falsely proclaiming womanhood in order to gain access to women and children for motives of malice. Such facilities could become easy-access breading grounds for predators. Thus, it would be common sense to keep the facilities separated based on biology rather than identity to protect women and children.
Predictably, the left has vehemently denied that such a thing would ever happen—or worse, that this is a price we must pay for "inclusivity" and "equality."
Here are 5 times "transgender" men abused women and children by exploiting such facilities:
1. A Seattle man, citing transgender bathrooms laws, was able to gain access to a women's locker-room at a public recreational center while little girls were changing for swim practice.
In February, The Daily Wire reported that a Seattle man who walked into the women's locker-room—on two occasions—and began undressing, cited the "new state rule that allows people to choose a bathroom based on gender identity." You know, those laws the ingenious left has been pushing because of "inclusiveness."
"It was a busy time at Evans Pool around 5:30 p.m. Monday February 8," reports KING5 News. "The pool was open for lap swim. According to Seattle Parks and Recreation, a man wearing board shorts entered the women's locker room and took off his shirt. Women alerted staff, who told the man to leave, but he said 'the law has changed and I have a right to be here.'"
Subsequent to this new rule, no one called the police on this man who reportedly came back a second time when young girls were changing into their swimsuits for swim practice.
2. A Toronto man claiming to be transgender was arrested and sentenced to jail for sexually assaulting several women in a women's shelter after he gained access to the shelter and its shower facilitates as "Jessica."
As Life Site notes, "A biological man claiming to be 'transgender' so as to gain access to and prey on women at two Toronto shelters was jailed 'indefinitely'" in early March.
Christopher Hambrook, 37, using the name "Jessica," was able to gain access to Toronto women's shelters.
"Her tights had been pulled down past her bottom and her bathing suit had been pulled to the side," reads a court document of one of the incidents. "She yelled at the accused, demanding to know what he was doing. He simply covered his face with his hands, said 'Oops!' and started giggling."
Per Life Site:
Court also heard evidence of Hambrook terrorizing a deaf woman living in the shelter. "The accused grabbed the complainant's hand and forcibly placed it on his crotch area while his penis was erect," court heard.
The same deaf women reported that Hambrook would peer at her through a gap between the door and its frame while she showered.
3. A Virginia man was caught and arrested for peeping on and filming two women and a 5-year-old child in a women's restroom after receiving entry by dressing in drag.
"Richard Rodriguez, 30, filmed a woman in a bathroom stall at the Potomac Mills Mall, Prince William County Police said," reported NBC Washington. His victim was a 35-year-old woman who was in a bathroom stall when "she saw a bag moved toward her under the stall divider." According to police, Rodriguez had been filming her.
Apparently, when the victim rushed out of the stall to confront the man, he had already moved to another woman just one stall over. "The victim alerted the woman and then contacted mall security of the shopping center on 2700 block of Potomac Mills Circle in Woodbridge, Virginia," noted NBC Washington.
Reports suspect that this was not Rodriguez's first time peeping on women by dressing himself up as woman to enter a restroom; disturbingly, he likely spied on a 53-year-old woman in May of 2015 and a 35-year-old and her 5-year-old daughter back in October.
"Rodriguez, of Fredericksburg, was charged with three counts of unlawful filming of a non-consenting person and three counts of peeping," reported NBC Washington.
4. A Los Angeles man dressed in drag, entered a Macy's department store bathroom and videotaped women under bathroom stalls.
As The Daily Wire reported in late March, charges were filed against Jason Pomare, 33, for allegedly disguising himself as a woman, sneaking in to the women's restroom at a Macy's department store and secretly videotaping hours of footage of women in bathroom stalls.
Pomare reportedly disguised himself with a wig and fake breasts; he kept his video camera with him in a small purse.
The suspect "was charged Tuesday with six counts of unlawful use of a concealed camera for purposes of sexual gratification. After his arrest, investigators said a video camera found in his purse had 'hours' of video of women using the restroom inside the store," reports NBC4 News.
5. Two male students were caught at the University of Toronto exploiting "gender-neutral" facilities to peep on women in the shower with their cellphone cameras.
As The Daily Wire's Pardes Seleh reported in October, The University of Toronto had to change their gender-neutral bathrooms back to bathrooms separated based on biology "after two separate incidents of 'voyeurism' were reported on campus September 15 and 19. Male students within the University's Whitney Hall student residence were caught holding their cellphones over female students' shower stalls and filming them as they showered."
---
MEMO FROM IRISH TO CUPCAKES
---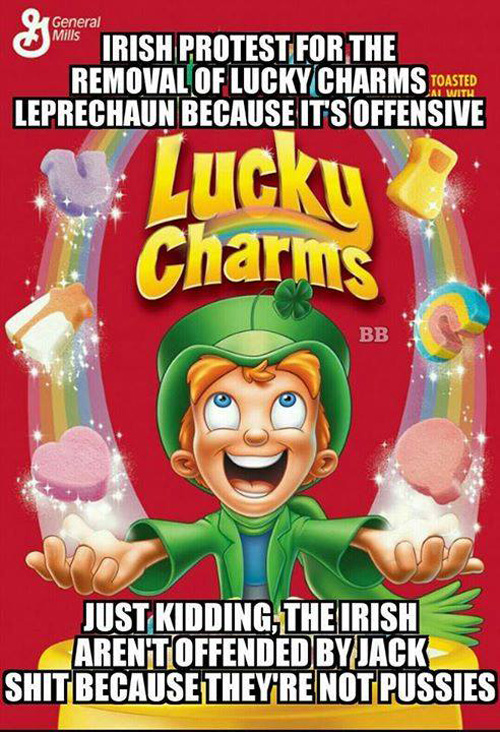 ---
OPEN LETTER TO BRUCE SPRINGSTEEN AND HIS BAND
---
By Michael Brown via Charismanews.com
Dear Bruce,
As a resident of North Carolina since 2003, I read with interest that you decided to cancel your April 10th concert in Greensboro because of HB2, the Public Facilities Privacy and Security Act.
In your statement, you explained that, in your view, the bill is "an attempt by people who cannot stand the progress our country has made in recognizing the human rights of all of our citizens to overturn that progress."
You added that it was time for you and your band "to show solidarity for those freedom fighters" (speaking of transgender activists), and you ended your statement with these powerful words: "Some things are more important than a rock show and this fight against prejudice and bigotry—which is happening as I write—is one of them. It is the strongest means I have for raising my voice in opposition to those who continue to push us backward instead of forward."
I also read that your guitarist Steven Van Zandt, has likened HB2 to an "evil virus" that is spreading through the United States in the form of similar legislation.
These are strong words, and they represent strong convictions.
So let me first commend you and your band members for putting your principles before your livelihood, even to the disappointment of your North Carolina fans.
I have read that you regretted not performing at the 1985 Live Aid concert in Wembley, and perhaps this is your way of saying, "I do care, and I'm here to make a difference."
Whatever your motivation, I admire anyone who puts morality before money.
My question to you and your band is simply this: In boycotting North Carolina and siding against HB2, did you really side with morality? Are you truly standing with "freedom fighters"?
I'm assuming you read HB2 for yourself and you're not just listening to media reports attacking the bill or, worse still, getting your talking points from biased lobbyist groups like the Human Rights Campaign. (If you're not really familiar with the bill, then click here and here and here.)
So please allow me to ask you some questions.
First, how do you know if someone is really "transgender" or not? Is it determined entirely by how they feel about themselves? If so, do you think that it might be hard to make laws based entirely on how people feel? Did you ever stop to consider that?
Second, what's the difference between someone with "gender dysphoria" (or, as it used to be called, "gender identity disorder") and someone, say, with schizophrenia or "multiple personality disorder" or some other psychological condition? In other words, if a man is a biological and chromosomal male but believes he is a woman, is he actually a woman, or does he have a psychological disorder?
If he does have a psychological disorder, should we try to treat that disorder or should we celebrate that disorder? And is it right to call biological males who feel they are women and biological women who feel they are men "freedom fighters"? Perhaps that's not the best use of the term.
If you are deeply offended that I would dare suggest that many transgender individuals are dealing with a psychological disorder, could you kindly point me to the definitive scientific literature that explains that these biological males are actually females and these biological females are actually males?
I'm not saying they don't deserve compassion.
To the contrary, I'm saying that's exactly what they deserve: compassion, not celebration.
But perhaps I'm being too abstract here, so let's get really practical.
Let's say that a 6' 4" male who used to play professional football and who has secretly agonized over his gender identity for years finally determines that he must be true to himself and live as a woman.
Do you think it might be traumatic for a little girl using the library bathroom to see this big man walk into her room wearing a dress and a wig? Should we take her feelings into account, or is she not important? What if that was your granddaughter? Would you care if she was traumatized? And when you speak of "the human rights of all of our citizens" does that include little girls like this?
I understand that this gentleman will have difficulties should he decide to dress and live as a woman, but that is still a choice he is making, and it is not fair to impose his struggles on innocent little children, is it?
And what if this same man, whom we'll assume is not a sexual predator, wants to share the YMCA locker room with your wife and daughter, standing there in his underwear as they come out of the shower stalls wrapped in towels. Is this fair to them?
Let's take this one step further.
If any man who claims to be a woman can use women's bathrooms and locker rooms, then how do we keep the sexual predators out? I've asked people to watch this short video, giving examples of male heterosexual predators who donned women's clothing to get into the ladies' rooms, and I'd encourage you to watch it too.
Without HB2, rapists and voyeurs and pedophiles would have free access to our women and daughters in the safety of their own bathrooms and locker rooms.
Since you don't like HB2—indeed, your guitarist called it an "evil virus"—what's your plan to keep the predators out? How can we tell the difference between a "genuine" transgender person and a sexual predator? Since everyone knows you as "The Boss," what would you do to keep the ladies and children safe?
And one final question.
When you booked the concert in Greenboro, the laws in North Carolina were just as they are today: In public facilities, people had to use the bathrooms and locker rooms that corresponded to their biological sex.
Why, then, did you agree to come in the first place? Why cancel the concert when things today are just what they were six months ago?
Again, I appreciate your sincerity, but I question your judgment.
In your zeal to do what is right, you have actually done what is wrong.
---
"HATER" HATERS
---
Fork It! All of these "Hater" hating Haters protesting Trump rallies and blocking freeways because they think Trump is a xenophobic racist on the subject of illegal immigration and a wall to keep them the hell out, seem to be looking for any excuse to crawl out of Mommie's basement and let the world know just how bad their feelings have been hurt.
Fork that! I am not sponsoring or endorsing anyone for President, but he's right. Keep the riff-raff the hell out. Had a lady friend of Mexican persuasion here recently and she said that Trump or anyone that favors a wall to keep people out is racist.
Well, I heard her out, but countered by saying I guess in your eyes, I'm a racist because I fully support the idea, and would go a few steps further. I would dig a very wide moat on the U.S. side and fill it with crocs, gators, piranhas, leeches, water moccasins and other mean, nasty Mother Nature creations.
I then told her sidewinders and Gila Monsters are native to the Southwest, so why not scatter a shitload of them and some wild coyotes and Australian Dingos for good measure.
Fork It! Didn't stop there. Told her of Hambo's Landmine Lotto plan. That was hands on hips, foot stomping and eyeball rolling time for her. More words were exchanged with Hot Tamale, but justified my position by saying to her, "Explain why illegals should be allowed in to the families friends and loved ones who have been victimized, raped and murdered by illegals.
The sound of silence on her end was heavy and deafening. Adios, Conchita!
---
1ST AMENDMENT: "...CREATES HOSTILE AND
UNSAFE LEARNING ENVIRONMENT" | NOVEMBER 13, 2015
---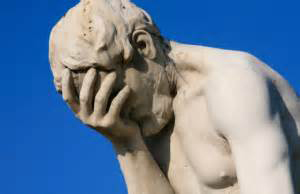 This 'Forking is done at the risk of offending the sensitivities of any limp-wristed, leaping lemming American cupcake posing as a College student in need of a "Safe space", complete with a "group think" mind set and deplete of free speech and open, diverse dialogue, facts and opinion.

I'll take the risk of incurring the wrath of those suffering from 'Manic, Manufactured Outrage Syndrome' with the chance that I'm going to be sent to my room with no TV and no dessert.

Hambo hit the nail on the head when he penned The PIG Doctrine, and among them are the following that apply to this posting:
• The "unalienable rights" with which you were "endowed" at birth do NOT include a right not to be offended. Living in a nation founded on inalienable individual liberty means you will hear things you don't want to hear. It also means you will see things you don't want to see.

• The exaggerated sensitivities of others are not my responsibility, nor do their hurt feelings empower them to abolish my right to free speech.
Seems as if anyone entering the hypersensitive Twilight Zones known as college campuses without a list of "hateful" or "hurtful" words and terms 'deemed too real' is going to be tarred and feathered, stigmatized and called mean, hurtful, nasty names by those tolerant buzz-kills known as ex-individuals who surrendered their self-identity upon enlistment, oops again, enrollment.
From Yale to University of Missouri and all outposts of manufactured outrage in between, here are some samples of tantrums spurred by spoiled
At University Of Missouri:
In the aftermath of recent student protests at University of Missouri, inmates are beig asked to report (snitch) to the University of Missouri Police Department asking "individuals who witness incidents of hateful and/or hurtful speech" to call the police immediately and photograph the individuals involved, allowing the university to "take disciplinary action" against offending students.
Call the cops??? WTF**K for? An emotional lynching or imagined rape? Wait! A student modeling his hand like a hand gun or bow and arrow and actually pointing his hand at somebody. The HORROR!
Questions. Who the F**k determines 'hateful and/or hurtful' speech? The chronically offended?
"...take disciplinary action"? Oh boy. Let me guess. Can anyone say group encounter sessions, sensitivity training and involuntary administrative resignations complete with insincere 'apologies'?
Listen, if you can stomach this load, to University of Missouri Students Association Vice President:
BRENDA SMITH-LEZANA: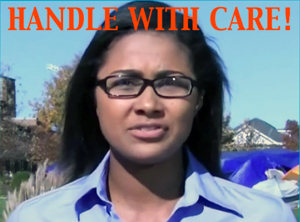 "I PERSONALLY AM TIRED OF HEARING THAT FIRST AMENDMENT RIGHTS PROTECT STUDENTS WHEN THEY ARE CREATING A HOSTILE AND UNSAFE LEARNING ENVIRONMENT"

Spooky Stuff From Yale:
Looks like The Spirit of The Grinch reared his ugly head early this year at Yale. There is an out-and-out assault on Halloween and Halloween costumes being racially and culturally insensitive.
ONE-SIZE-FITS-ALL COSTUME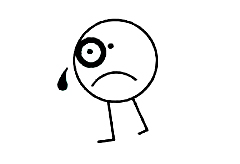 THE 2015 "CRY BULLY" COSTUME

A warning not to wear culturally insensitive Halloween costumes sparked a s**t storm at Yale, which went viral over the weekend. A lecturer asked in an email, "Is there no room anymore for a child to be a little bit obnoxious … a little bit inappropriate or provocative or, yes, offensive?"
Erika Christakis - one of the college masters, (Masters? Hmmm.) - wrote in an email, "Lighten up, academe, and trust students to pick out their get-ups. Christakis suggested that Halloween costumes should be allowed to scare people and, in ghastly moments, even offend them. She wrote, "Free speech and the ability to tolerate offense are the hallmarks of a free and open society."
Alex Castellanos wrote on CNN.com:
"…I also hope I would have resisted student demands to institutionalize their intolerance by censuring speech, muscling journalists, demanding confessions of "white privilege," and requiring "safe spaces" fenced by race.

"As ridiculous as it sounds, the expression of legitimate grievances at Mizzou has devolved into ultimatums that we protect college students from life's real brutalities – sombrero themed - trick-or-treating, other offensive Halloween costumes, and politically indecorous language.
At least at Yale University, freedom of expression has been preserved: It's in a bottle of formaldehyde in the Department of Outdated Privilege. Sticks and stones may break your bones, but Yale will not allow mean words to hurt."
Whiney, wimpy students' responses contributed to the following Snivel-A-Thon:
"It is not about creating an intellectual space! It is not!
Do you understand that? It's about creating a home here!"
"He doesn't get it. And I don't want to debate. I want to talk about my pain."
Here's the $65,000-A-Year Tuition Question: What part up GROW UP, GROW A SET and GET A LIFE don't you understand?
Assaults on 1st Amendment Rights Are Alive and Well at
The University of Minnesota-Twin Cities:
The Minnesota Student Association rejects a proposed 9/11 Remembrance as it may violate a "safe space" on campus and could potentially incite racism.
From Campus Reform:
"This resolution was non-controversial and was supported by the MSA's President and Vice-President," said Amundson, "However, several members, in exchanges with CRs rep Theo Menon, were militant in their opposition to it due to a perceived bias toward Muslims."

Other proponents of the resolution argued in forum that its passage could bring up controversial topics, and that a healthy dialogue and campus tension reduction would ensue from the moment of recognition.

At-large MSA representative and Director of Diversity and Inclusion David Algadi voiced severe criticism of the resolution. He also made sure to emphasize 9/11's status as a national tragedy in his response.

"The passing of this resolution might make a space that is unsafe for students on campus even more unsafe," said Algadi, "Islamophobia and racism fueled through that are alive and well."
Algadi added that holding a moment of recognition over a tragedy committed by non-white perpetrators could increase racist attitudes on campus, asking, "When will we start having moments of silence for all of the times white folks have done something terrible?"
So, percieved hurt feelings trump the 9/11 victims and their families
Jonah Goldberg sums it up in an L.A. Times article:

The rise in "helicopter parenting" and the epidemic of "everyone gets a trophy" education are another facet of the same problem. We're raising millions of kids to be smart and kind, but also fragile.

And what happens when large numbers of these delicate little flowers are set free to navigate their way through life? They feel unsafe and demand "safe spaces." They feel threatened by uncomfortable ideas and demand "trigger warnings." They might even want written rules or contracts to help them negotiate sexual relations.

In other words, this is the generation the mandarins of political correctness have been waiting for.
Here's a few more recent tid bits:
Wesleyan students debate cutting funding for the student newspaper after it ran an op-ed criticizing the Black Lives Matter movement.
At Mount Holyoke, students canceled a production "The Vagina Monologues" because they felt it excluded transgender women.
Protests led to the withdrawal of Condoleezza Rice as commencement speaker at Rutgers.
What these students/inmates need is a reality check complete with healthy doses of what is sorely lacking in their empty, pathetic lives: Truth, Humor, Facts and Fun.
Whatever happened to "Sticks and stones may break my bones, but words will never hurt me?" I suppose in these hypersensitive times, Korrectnik Kryptonite would be a leering, ogling look, an implied racist remark if Whitey even enter into ANY dialogue involving race relation. There are plenty more instances of manufactered grievances but topping the charts, and Public Enemy Number One with the Korrectly Kloned is, drum roll, please, exercising First Amendment rights.
Parting shot from The Free State Of PIG:
Tolerate this! We have no hidden agenda. PIG celebrates our constitutional right to be overtly honest, opinionated, insensitive and sometimes offensive.
WTF! Where the hell is Bluto Blutarsky when you need him most?
---
OBAMA: 'FORK PORK! | OCTOBER 13, 2015
---
"...ALL ANIMALS INMATES ARE EQUAL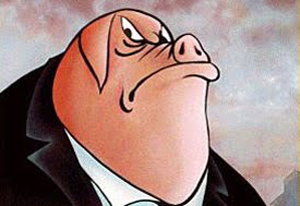 BUT SOME ARE MORE EQUAL THAN OTHERS"
What The Fork?!? Headline Read: 'Obama Bans Pork In Federal Prisons.'
Seems as if Obama has resolved most of the world's major problems - Syria, Putin, ISIS, North Korea, Irananian Nukes, Refugees, Border Jumpers, Crime, Terrorism, Trade Imbalances, Cecil The Lion, etc. - so now, before he drops the hammer on so-called "climate change" non-issues, he has found the time to assume the role of Federal Prison Dietary Czar by banning all pork ("The other white meat") products from the prison inmates menu's.
That's Forking right! No more sizzling bacon strips on C-Blocks Sunday morning menu. No more pork chops, ham sandwiches, BLT's, pig's feet, barbeque ribs (the brothers gonna riot over that load) or even a pineapple glazed ham on Easter or Luau Night at Club Fed.
The 'reason/excuse?' From Joe A. Gilbertson of The Punching Bag Post:
According to a Washington Post article, the Bureau of Prisons, which operates facilities for over 200,000 prisoners has decided to eliminate pork from their menus. The Bureau of Prisons cited higher prices and prisoner choices to the move.

But this is hogwash (sorry for the pun...) according to Dave Warner of the National Pork Producers Council, who claims pork is much less expensive than beef and said, "I find it hard to believe that a survey would have found a majority of any population saying, 'No thanks, I don't want any bacon.'"
Non-pork options have long been available to observant Jews and Muslims, who do not eat pork products for religious reasons.

Author's Note: This may seem a trivial matter, but Mr. Warner's comments ring true. The premises from the Bureau of Prisons are obviously crap. Americans consume over 25 billion pounds of pork per year, somebody must like it...
Could the real reason be that Obama, being sympathetic to say the least is elimination pork to appease CAIR – Council on American Islamic Realtions? Who the Fork is CAIR to weigh in on what Federal prisoners eat. It's Forking prison, not an encounter group aimed at accommodating the Muslim prison population.
i'll bet a ham sandwich to halal that if anyone, even a devout, incarcerated Muslim felon were hungry enough and the ONLY thing on the menu was a rack of ribs, he would literally kill for dem ribs.
Reminds me of a quote by Buddy Hackett: "My mother's menu consisted of two choices. Take it or leave it!"
---
WTF! | AUGUST 04, 2015
---
Here's a real 'Forking load that's been circulating throughout cyberspace regarding Gun-Free military recruitment centers:
[Mbatt] Lt. Cmdr. Timothy White to Be Prosecuted for Returning Fire Against Muslim Terrorist in Chattanooga
Mohammad Youssuf Abdulazeez presumably thought there would be nothing waiting for him but sitting ducks to shoot at the gun-free zones he attacked in Chattanooga. Fortunately not everyone mindlessly obeys lunatic orders:
A Navy officer and Marine reportedly returned fire at the shooter who killed five service members in Chattanooga, Tenn., even though current policy does not permit military members to carry firearms on facilities such as those where the attack occurred.
Mohammod Abdulazeez was slain [July 16] after allegedly firing dozens of shots at two separate military facilities, including the Navy Operational Support Center in Chattanooga. The cold-blooded assault killed four Marines and one active-duty Navy reservist.
The center's commanding officer, Lt. Cmdr. Timothy White, used his personal firearm to engage the shooter during the attack, according to sources quoted in the Navy Times. A report from The Washington Post said that one of the Marines killed in the shooting might have been carrying a 9 mm Glock and possibly returned fire on Abdulazeez. The Navy officer could face disciplinary action for violating policy about possessing a weapon on the facility that was supposed a gun-free zone.
I thought, surely the military would not prosecute an officer for defending himself and others from enemy attack. Imagine what it would do to morale to have the brass brazenly side with the enemy, given that the gun-free zone policy still being in place after the shootings at Fort Hood already has people in the service wondering whether their orders come down from friend or foe.
Allen West confirms that I was wrong:
Ladies and gents, resulting from the text message I received [Friday], I can confirm that the United States Navy is bringing charges against Lt. Cmdr Timothy White for illegally discharging a firearm on federal property.
The text message asked if it would be possible for Lt.Cmdr White to reach out to me. To wit I replied, affirmative.
What kind of freaking idiots are in charge of our Armed Forces — pardon me, our "unArmed Forces"? What would they prefer that Abdulazeez had been able to kill all the Marines and Sailors at the Naval Support Reserve Center?
Apparently so.
What has happened in our America where we believe that our men and women in uniform — especially the commanders — are just targets for these damn Islamic jihadists?
What happened is that an anti-American leftist was made Commander in Chief.
Can you imagine the message this sends to ISIS and all the enemies of America?
This contrast underscores the message:
Here we have a known deserter, Bowe Bergdahl, out getting picked up smoking marijuana, or at a house growing marijuana. According to Susan Rice, he served with honor and distinction. The real men of honor such as Army 1LT Clint Lorance, and now it seems Lt. Cmdr White, are forced into jail.
Ponder this, Obama will pardon drug dealers, but men who fight the enemy are imprisoned? Now, can someone, any one of you inane characterless liberal progressive trolls explain that to me? Explain it to us that you would rather have had more Sailors and Marines die than for this Navy Commander to draw his personal weapon in defense of his command.
According to Obama's ideology, sailors and Marines are racist neocolonialist oppressors. Abdulazeez was just practicing his revered Islamic faith as it has always been practiced from the beginning.
Here we have a president and secretary of state sitting down with a sworn enemy in Iran who holds four Americans hostage, and we're going to bring charges against an American Naval Commander who returned fire against the enemy.
It is becoming clear that we are ruled by our enemies.
*Publisher's Note: So much for our C-I-C/N\HNOC, Hussien and his d**kheaded directives.
---
FOR A FRIEND | JUNE 07, 2015
---
Does anyone want a real 'Forking? Thought so.
Tune in to PIGstress Grammy, she gets the deed done.
We give PIG props to her making mention of PIG, Hambo and yours truly.
Thanks for your kind words about us, and in your face commentary.
---
'FORKING AROUND | MAY 23, 2015
---
Seems as if my Executive Editor and Partner in Pigish activities, Hambo has been posting some takes on my recent activitites with the opposite sex.
'Fork it! No ten dollar words here.If you're here to begin with, your mind is in the gutter, as is mine most of the time. Here goes:
6 months ago I finalized a divorce. I waited a good long and hard (imagination not needed, but curious female inquires welome) until I got into "The Mood", romantically. Well, without broadcasting or advertising my new found availability and troll total loser and lonely hearts websites, I found my self a commodity on the dating scene simply by virtue of saying hello to attractive women.
Guess what? If a chump like me who was in marital Hell for 21 years can pick up where he left off, and within one or two weeks of unleashing my charm and spreading my extra special brand of joy, bullshit, Irish Blarney, I found a half a dozen phone numbers from the unsuspecting of the female persuasion. And that is all without even trying.
Well, true confessions are due.I admit to getting weak knees when confronted by a pretty smile, short skirt, long legs, beautiful lips, currvy hips, high heels and a tight rear end and extra firm front end of the B-C-D-Cup persuasion.
So, what the 'Fork do I have to do to go out of my way to rush into another situation destined to get me Bobbitized? Pretty much, just show up and wait for the chips to fall.
Well, in short there's got be a woman foolish enough to let me enter her life and find a way to tarnish and corrupt "Girl next door, preacher's daughter" image.
'Fork it. When it comes to women, I need to come with a cautionary wrning disclaimer.
---
BRIAN WILLIAMS 'FORKS HIMSELF | FEBRUARY 08, 2015
---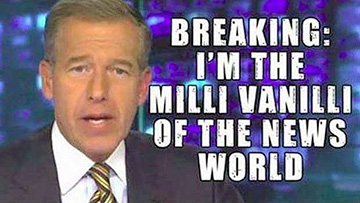 This week's Self-'Forking goes to NBC's main Anchor Man/Liar-In-Chief and Legend-In-His-Own-Mind, Brian Williams who really stepped in his own self-made steaming load of tales, lies, exaggerations and embellishments.
Williams recently got caught fabricating his 'involvement' in several military-related stories he was reporting and in doing so, he made HIMSELF the news.
Williams copped to being under enemy fire, when in fact he may not have even been to the actual events in question until after the fact, when he showed up to interview
Williams also fessed up to seeing a dead body float by after Hurricane Katrina flooded New Orleans and how it profoundly changed him. Boo-Hoo. One can only imagine the psychological damage that he must have endured. Poor thing.
The truth was, he was reporting from a cozy hotel room in the French Quarter district of New Orleans which is on higher ground and was not even affected by the flood. Another story that never was, except in Williams' own self-serving mind.
Williams will now forever be known as or equated to Cliff "Been there, done that" Clavin of "Cheers" fame. At the end of the day, Brian Williams not only 'Forked himself, he also 'Brian Williams'ed' himself out of a lucrative career and credibility.
Here is a look back at the career Brian Williams thinks he remembers wishing he had: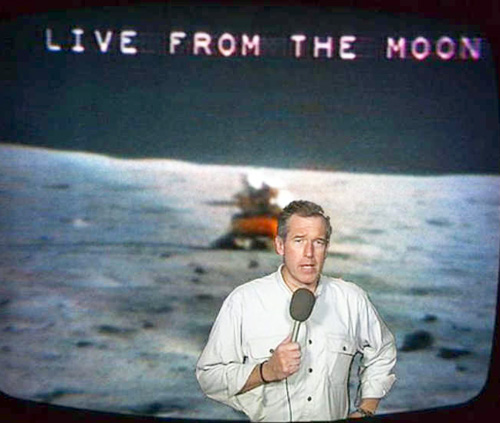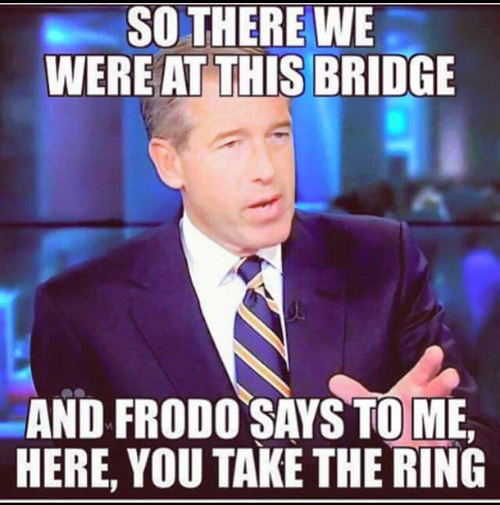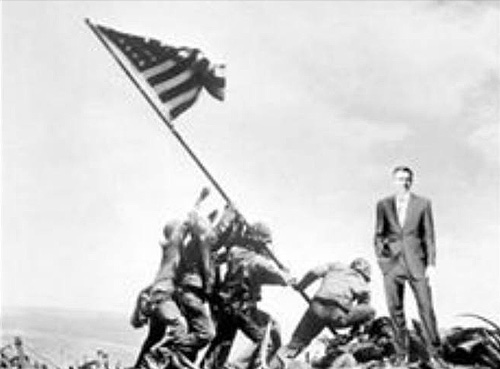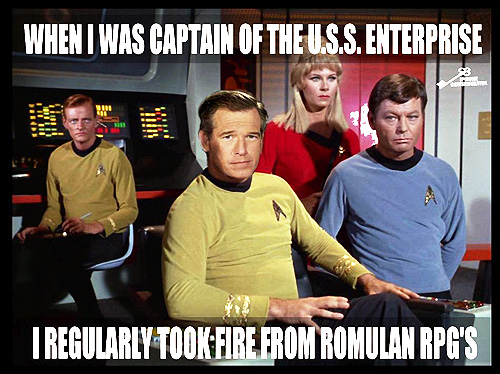 ---
A REGULAR RIOT?! | JANUARY 08, 2015
---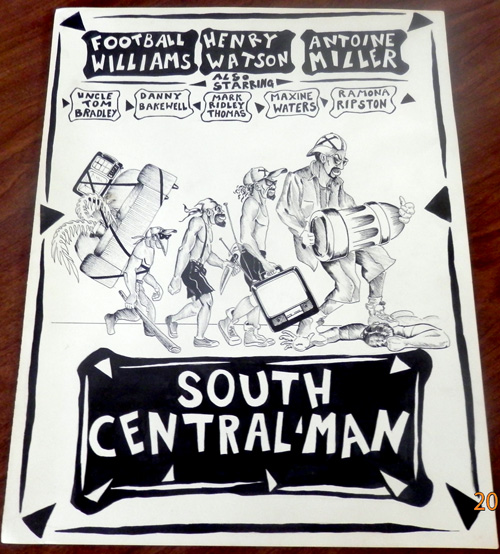 The above image harkens back to my starving artist days and post Los Angeles riot days, which I witnessed first hand. Armed with attitude and a lot of piss and vinegar attitude in my veins, I presented that image as part of my meager portfolio to the art director and ediors of the Los Angeles Times at the Times Mirror building and explained the context of this illustration.
The illustration was inspired by the washed up comedian Pauly "I Washed Up On A Shore" excuse of a movie titled "Encino Man."I explained the context to Limp Wristed Libtard edirors and they in turn told me their most P.C. policy and had me and my portfolio escorted out of the building by security.
Is this racist? Hardly. It's a graphic and somewhat artistic interretation of what Humble Publisher witnessed. Dis-F**king dusting.
Enough said about that. Fast forward to right the hell now. Certain inner-city, disenfranchised 'Hood or "The Community" members feel that they are justified in robbing and looting because "The man" has kept them and their peeps down and Grand Juries decisions didn't go their way.
I would say "Boo-Fucking Hoo" but I don't feel your pain, and because of certain socital elements, I suppose we just all can't get along.
I make no aplogies whatsover for this posting.
Forgive me i forgot.
If certain peeps' idea of reparations is tossing bricks and moltav cocktails through store front windows in your pathetic quest for flat screens and Air Jordans, well, I suppose you deserve to live in the "Hoods you burned down.
Oh. Leaving on a most positive, yet PIGish note, say hi to Je$$e and Al. I'm sure those riot inspiring charlatans would reciprocate my sentiments.
---
PASADENA, TEXAS TO NEW BLACK PANTHERS: GTFO! | DECEMBER 08, 2014
---
Recently, residents of Pasadena, Texas didn't exactly roll out the red carpet and embrace the New Black Panthers and members of The Nation of Islam with open arms and group hugs when they came shuckin' and jivin' to town with the intention of raising some sort of awareness or related racial/racist shit storm.
Them thar Texans did however, escort the New Black Panthers straight the Fork out of town almost as soon as they arrived.
Below is a clip and if you're a White Studies major at No University, ever, show this to your fellow students. Better yet, show it to the Black/African-American Studies students and professors alike.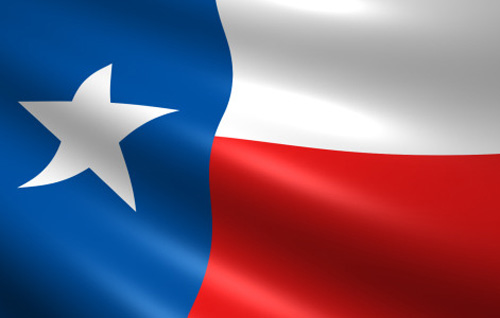 >>> Welcome To Texas, Now GTFO >>>
---
HAPPY COLUMBUS DAY | OCTOBER 13, 2014
---
This 'Forking goes out to Multicultualist whiners that are stealing and hijacking Columbus' Calendar Day Thunder by declaring Columbus Day 'Indigenous People's Day.'
If Indigenous Peoples' want to further clutter the calendar with yet another useless 'Awareness Day" so be it, but why rain on Columbus' Parade? Let the olive oil importing, legitimare businessmen of Italian descent have their Italian pride/heritage time, and Indigenous Peoples' can simply pick another of the 364 days on the calendar to express their ingratitude and call it Indigenous Indignation Day.
Indigenous People's Day will not be celebrating their heritage in a festive manner, though, but instead use it as a platform to whine about things that did happen 522 years ago, but did NOT happen to them.
Instead of feeling terminally and artificially short changed, Indigenous People ought to get on their knees in gratitude that Columbus did make that wrong turn that eventually over much time, upgraded the quality of life for all.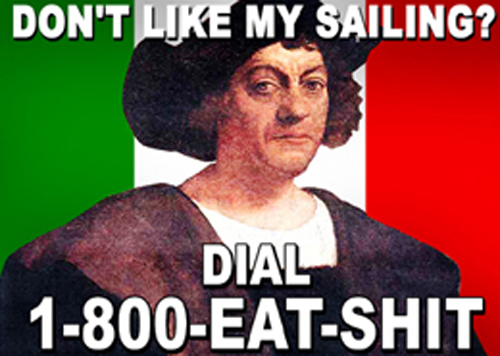 ---
THE CADDY SHACK PRESIDENT | AUGUST 20, 2014
---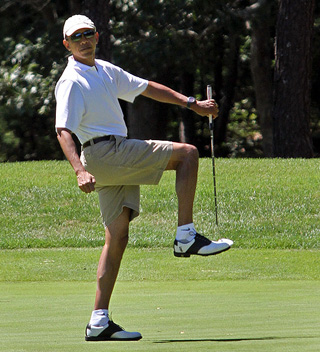 'Fork it, big time! I really hope that our motherfucking piece of shit Pussy-In-Charge has improved his all-important golf game on Martha's Vineyard while ISIS is committing some of the most gruesome, ugly, vile acts of violence and cowardice witnessed in our time and it's anything goes time in Ferguson, MO.

While Golfer-In-Charge is too busy to be bothered with such trivial matters, he's rubbing elbows with the elite and dining on clam chowder and lobster without a care in the world. In the meantime, women are being stripped naked and brutally raped and slaughtered in public. Children and men are being beheaded or crucified. Do you hear those crickets in the background? That's his pals, the ambassadors for the 'Religion Of Peace,' CAIR sitting on their asses saying nothing about the absolute evil committed by their homeboys.

I wonder, Mr. Miniature Golfer, does the beheading of an American journalist even bother you or motivate you to take action, any kind of action? I suppose that gruesome news would be an inconvenience and interruption to your vacation time.

Mr. Tee-Off-In-Charge, I'll stoop to a new low and ask, what if what is happening in the Middle East happened to someone close to you? Would that just be yet another pesky annoyance or would you somehow find the time to get off your ass or the golf course and spring into action? If not, would taking a moment or two to consider the parents of James Foley do anything for you or to you? Just wondering.

Golf? Really? Is that really in his job description? If it wasn't he probably went to his pen and phone and signed that load of shit into some sort of half-assed law that caters to him exclusively, too. That is after all, top priority shit for this administration.

As one who assumed the position of the leader of the free world, one of his unwritten duties, and most Americans expect this, but not from Mr. A-Hole-In-One-In-Charge, is to demonstrate leadership, especially in times of crisis and international ugliness. But I suppose DOING HIS JOB is beneath the likes of a freeloading, hustler like the one that was voted into office.

And for the dumber than dumb dumbshits that voted for him, you ought to be regarded as his accomplices, or at least being partially responsible for contributing to the delinquency of America, and in essence, the world. Good for you, look at the mess you helped create by voting him in office merely for the fact that he is HALF-BLACK. How fucking symbolic, I've got warm fuzzies and goose bumps at the historic significance. Sure he's half-black, half white, but he's 100% lame, in office merely for an 8 year, all the free shit, vacations and golf games a person can handle.

Hey, Shit-For-Brains-In-Charge, can you do ANY FUCKING THING to put one positive note on your already lame assed, shit stained lack of a legacy as 'President?' How about that useless thing you married? Oops! She's too concerned with what kind of crap she can shovel down school kids' throats.

Silly me! I forgot. This all Bush's fault, right?

You are a typical Chicago Shucker and Jiver. All sizzle, no steak. Just disposable, inedible and unwanted gristle and dead weight. I suppose once you're waaaay the hell away from office, as if you're ever there anyway, we Americans will do our darndest to somehow carry on and manage without you.

PIG, being somewhat family friendly, hope you plan your next vacation right in the heart of ISIS territory. Perhaps you can negotiate some sort of truce or treaty. You can even bring your golf gear, there are plenty of holes (open graves) to play a round or two with the local herd of goat humpers.

I have a better solution that's real nifty. Forget about impeachment, that would be a waste of time and money. Why don't you grab your golf gear, that cow of a wife of yours, Moochelle, your arrogant 'Let's Golf' attitude and teleprompters and hop on your cute little bicycle and pedal on out of our lives and our country…for good!

'Fork it! I know I'm supposed to be your most humble publisher, the choirboy of PIG, but I make no apologies for this posting.
---
HAPPY FOURTH, PIGSTERS | JULY 03, 2014
---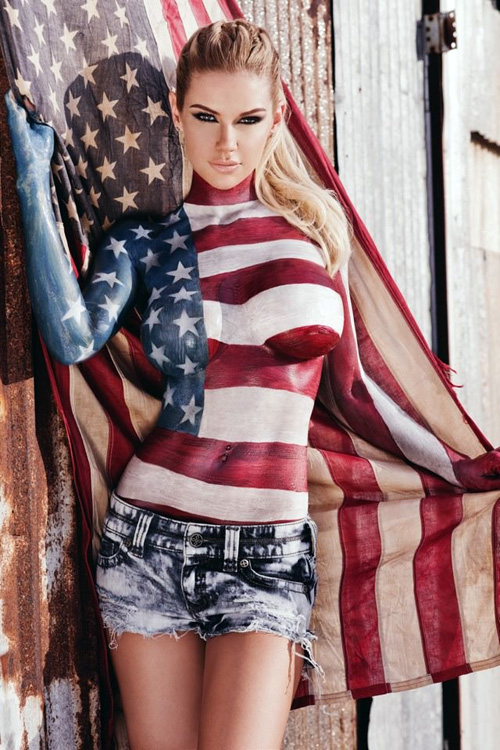 ---
FATHER'S DAY GIFT FOR THIRSTY PIGS | JUNE 15, 2014
---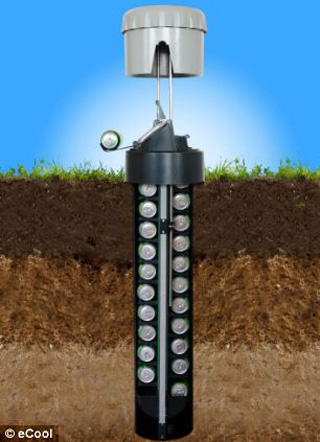 We think we've stumbled, more than likely staggered across the perfect Father's Day gift for dad's that get thirsty while doing gardening and other yard work around the house. It's the eCool underground beer cooler.

The eCool is the brainchild of four apparently very thirsty but enterprising dudes from Denmark who like the idea of keeping their beer stash cold and close by while helping the environment at the same time...all without tracking dirt and mud into the house to grab another cold brew.

The $350 underground beer fridge that means you'll never have to leave the garden
1.13m tube can keep beers cool underground
Crank used to a raise a beer and deliver it directly to the garden
Called the eCool, it sinks 24 beers underground.
When beers are removed, the next is automatically pushed to the top using a pulley system.
HOW IT WORKS
>>>>>>>>>>>>>>>
• A crank is used to raise the beer and deliver it to the surface.
• It holds 24 cans and can stay installed the whole year.
• It takes advantage of lower temperatures underground to keep beer chilled.
• The entire system, which is just over a metre in height, is sunk underground.
• 'It's advised to use a garden drill, but can be installed with a shovel as well, if you're a real man,' the firm says.
• It says the system is ideal for eco-friendly beer drinkers as it uses no electricity.
• 'Do something great for yourself and the environment.
• 'It's easy to install in the garden or terrace, and uses no electricity.
• 'With the eCool you can always drink a cold beer with good conscience.
• The earth cooler is 113 cm in height, 22-30 cm in diameter and weighs 12 kg.
• It holds 24 cans and can stay installed the whole year.
If you're still wondering what to get dear old dad, your search is over. and if your dad is no longer with you, order one for yourself and crack open a few in his memory.
And hey, you gotta love their slogan - "Save The World - One Earth Cooled Beer At A Time."
---
LUBRICRANTS | JUNE 01, 2014
---
'Fork it. We've all heard people say about someone that had a few too many remark, "It's the booze talking."
Well, since I've been in a creative funk, and have had my beer rations taken away AND put on double secret wife/doctor probation regarding my breakfast-lunch-dinner beer intake, I thought I would let the booze do the talking.
Oh, what the 'Fork. I'm still thirsty.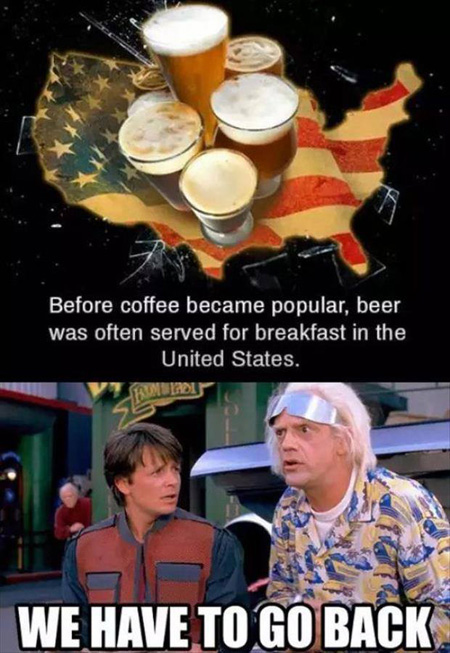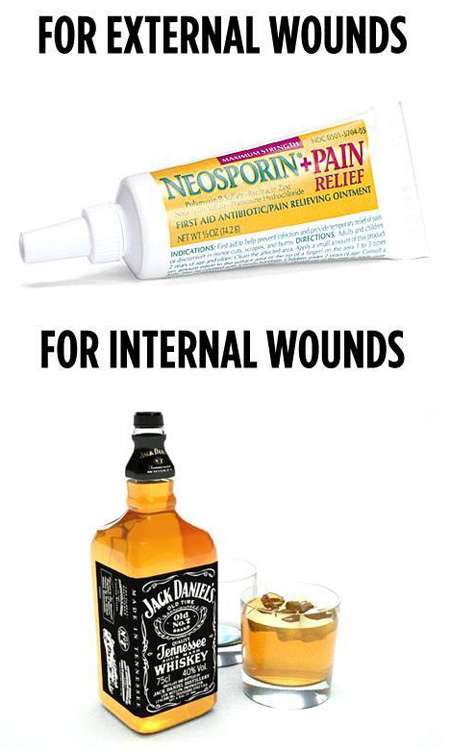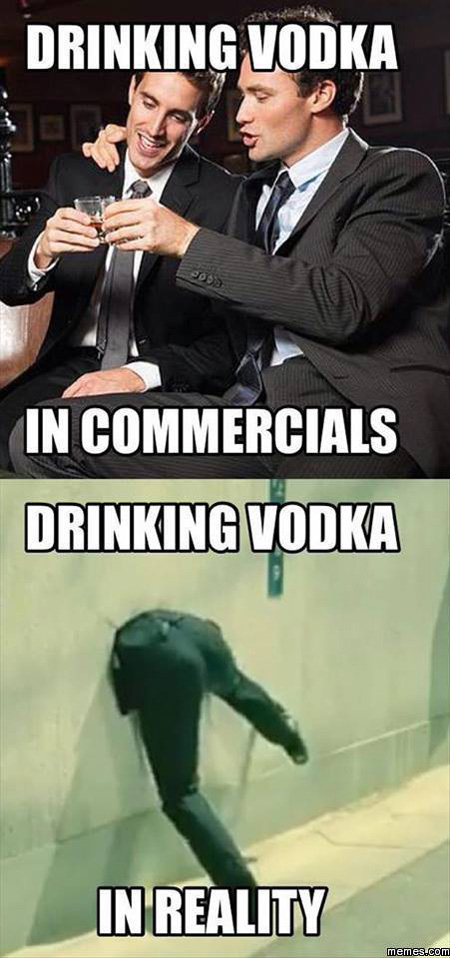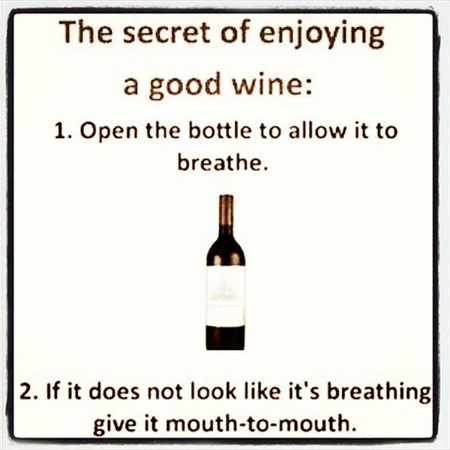 ---
ST. PADDY'S DAY BULLSHIT | MARCH 17, 2014
---
'Fork It Pigsters of the Irish persuasion. Yeah, yeah, yeah. Today is St. Patrick's Day. A day when normally rational, sane idiots show their true idotic ways being wannabe Irish for a day. Wearing tacky ass green scarves , blouses, sweaters, and drinking, puking and shitting green does not qualify one to be Irish, if just for a day.
How the 'Fork do I know? Name is Porcus O'Publisher. For those that don't believe me, just give me a blood alcohol test. You will find I am at least 86 proof, way over the legal limit the other 364 days of the year, so that my Irish wannabe's is what qualifies me, your most humble and beer induced publisher to say "What the hell" being Irish ain't all that bad.
After all we Irish get to fight, fuck, recite poetry and bed down very pretty lassies all year long. And us Irish feel sorry for those that wish they were Irish and get to live the carefree lives we do.
So you wannabes, rookies and amateurs can have your one day of wearing 'O the green, symbolically and stupidly, get flaming drunk, end up in jail for a night, but us real Irish folk are cursed with the other 364 days of the year.
Your most humble publisher whose first name is Patrick, will leave you with this:
Q: What's the difference between Martin Luther King, Jr's. Day and St. Patrick's Day?
A: On St.Patrick's day, everyone wants to be Irish.
Do the math, get drunk, laid and be festive.
P.S. Don't call me or Hambo from the drunk tank.
---
BUZZ KILLS | FEBRUARY 06, 2014
---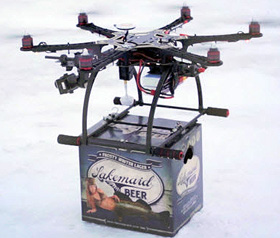 Here's a real Buzz Kill. A Minneapolis beer company had offered a beer delivery service involving drones. The Minnesota brewery, Lakemaid had been offering it's drone delivery service to ice fishermen until the 'Forking FAA grounded the service.

The FAA stated that it is currently illegal to use drones for commercial purposes. Well, the FAA (Federal Asshole Administration) doesn't see the beneficial possibilities of not just delivering brewskies to the thirsty masses, but ought to consider that commercial drones can deliver food or medicine to the elderly, disabled and infirmed. Something like Meals In Drones, as opposed to Meals On Wheels.

Better yet, drone in some pizzas to the PIG's Top Secret Bunker or PIG's other remote War Room location.

A more enterprising idea would be for that one horndog that needs a hottie to scratch his itch at 2:00 AM. Simply airlift her to his location for the evening.

The 'Forking possibilities are endless, but as usual, some mind numbed gubment agency has to play buzz kill by road blocking a way cool idea with their red tape and asinine rules and regulations.

Here's a 'Forking thought. What is to stop two neighbors that have home made drones from delivering goods and services in a non-commercial manner?

'Fork it. The FAA would find some dumb ass rule that has been broken and stop all the fun and ingenuity involved in the entire drone concept.

'Forking Buzz Killls!
---
ANNIVERSARY TIME | JANUARY 15, 2014
---
I happened to be loitering around Hambo's Hammer page and took note of his posting yesterday and noticed his dedication to his wife on their anniversary. Many folks can learn and take notes from Hambo's sense of commitment to his chosen bride.
If you think this a soppy, slobering posting, you're wrong. If more married couples demonstrated their devotion to each other as Hambo and wife do, then the divorce shyster industry would be extinct.
'Fork it. That's all folks and happy anniversary to PIG's esteemed executive editor and let's all wish him and his lovely bride many more anniversarys.
---
SHOE SHINING | JANUARY 08, 2014
---
This 'Forking goes to my all-time favorite target and ultimate skidmark...wait, I want suspense to build. What the 'Fork, I'll spill the beans. It's none other than, ta-da, Je$$e "The Race Card And Show Me The Money" Jack$on.
Why, pray tell would I want to 'Fork an extorting, money grubbing model citizen like Je$$e? Well, it's his quest and attempt at trying to play pirate and pickpocket and pressure Phil Robertson, A&E and Cracker Barrel into being accountable, money-wise as always for Robertson's comments about homosexuality and race relations in a GQ interview.
Robertson is a very well off man financially and Je$$e can smell deep pockets from miles away. Robertson who was initially suspended from the successful show "Duck Dynasty" due to his comments was reinstated.
Je$$e then attempted to go on his pathetic money grubbing warpath, but he picked the wrong guy to persue. Robertson did not and will not apologize for expressing his beliefs and will not allow Je$$e into his deep pockets in any way, shape or form.
Je$$e, my most favorite and easy target, why don't you quit while not even ahead, ask Phil Robertson if you can be his personal shoeshine BOY.
I find it very ironic that Je$$e is going after a born and bred, well educated and no-shit Bayou Brother and Cracker Barrel.
Je$$e, this time you stuck your nose into the wrong barrel of crackers.
---
PIMPS AND PROSTITUES | NOVEMBER 13, 2013
---
Most people, when they hear of pimps and prostitutes immediately think of a late night street corner girl with fishnet stockings and cheap perfume selling her goodies and services to the first desperado who she encounters, for a price.
When people think of pimps, they envision a Superfly or Huggie Bear type that drives a purple Cadillac with leopard skin seat covers and wears a wide brim hat and Stacy Adams shoes and all of the bling that goes with the territory.
'Fork it. That is a fair and honest assesment, but the truth is, we are all prostitutes and pimps.
Why? I'll explain and I'm not off of my meds or rocker. We all prostitute our talents and time each and every day when we report to work for our pimp, also known as the person that signs the checks. Work all week and wait like a Pavlov dog for that bone on Fridays when Mr. Pimp, the employer, distributes paychecks for a good week and job (pun and metaphor intended) well done.
The difference between Mr. and Mrs. 9-5 and street corner girls is that the street corner girl freely advertises her goods and services and admits she is a prostitute, 9-5'ers don't.
In plain and simple terms, Pimp (Boss) employs Prostitute (Employee) for goods and services and Pimp pays Prostitute no matter the nature of the goods and services performed and rendered in any profession.
So whether you are a CEO (Pimp) or a mid-management type (Prostitute), we are really all slaves to the almighty dollar.
---
POWER | OCTOBER 21, 2013
---
Ladies and gentlemen, take note of the illustration below. What it demonstrates is the true power women have over men.

'Fork it. I don't need to say anymore.
Look and learn ladies and gentlemen.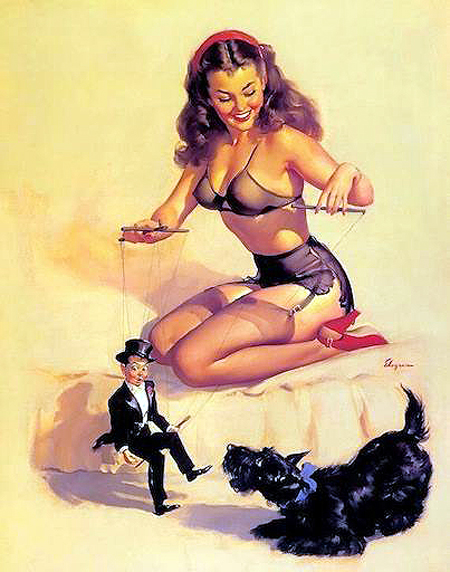 ---
AN ILLUSTRATION OF MORONS IN AUTHORITY | OCTOBER 14, 2013
---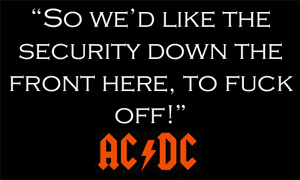 Some of us have had the miserable experience of going through airport security and dealing with the TSA idiocy and their stupid ass Barney Fife like tactics with their petty ass shakedowns.
Well, in the name of public safety, not sanity, they're just doing what they are paid to do at airports for their whopping paychecks and help them on their way to pay their rent in Mommy's basement.
I'll get back to that 'Fork full of crap in a moment.
Mrs. Porcus and I walk into an outdoor venue to see a rock concert by a band called Bad Co. On the way in, there were very nice looking, scantilly clad women who didn't mind displaying their physical goodies
The women factor is all way fine and dandy, but security A--Wipes almost ruined the evening.
First, the so-called security dolts did not blink an eye at the sight of women disrobing in public when the band came on stage. No objection from me, after all it was a rock concert, not a Ladies Home Journal jamboree.
The moron factor comes into play when I escorted Mrs. Porcus to the consession stand and restroom. As I waited, a security dolt informed me that I couldn't stand 'there' as I waited.
Not wanting be a problem, I tried to comply and stepped two feet to my right and stood 'there.' I was then informed by the robotic security moron that I couldn't stand 'there' either. I then stepped back a yard or two, and the same moron said I couldn't stand 'there.'
At that point, I had no idea where the 'Fork 'there' is or was or should be, so I then reverted to being a real bad, bad boy at a Bad Co. rock concert. I did the un-'Forking-thinkable by whipping out an unlit cigarette and my trusty Zippo.
After sparking up my nicotine laced smokable, I was then approached and informed by two more gutless goons that I couldn't smoke 'there,' but they would allow me to smoke waaaay the f**k over to another 'there.'
Stomped out the smoke after going waaaaay over 'there' to enjoy it, I headed back to my seat. Once again, I was approached by another highly trained security jerk off who asked me where I thought I was going.
Determined not to let these brain dead idiots ruin a nice evening, I told them I was going to go back to my seat to join my wife. They asked for this, that and another thing to verify my seat.
That's when I had to resort to whipping out my ticket, pointed to my seat and let them know that that's where I was headed and to please not 'Fork with me anymore.
The Goon Squad was not convinced, so they drag out a 'Supervisor,' whatever the 'Fork that is.
"Supervisor" comes out, and at that point I realized I was dealing with a gang full of idiots that make chimpanzees look like rocket researchers and brain surgeons compared to them.
After they tried to give me their version of the third degree treatment regarding my 'felonious' behavior, I took them to school and asked why I can't do this, I can't stand 'there' I can't smoke in this zip code, but, they don't raise a finger at the slobs that are spilling beer on my shoes, and their trophy babes screaming , shrieking and disrobing and distracting other folks from a fine performance?
Well, I got the usual, predictable answer in the form of a "Well, sir, we're just doing our job, and..."
Yeah, right. But, wanting to get back to my seat, I then asked 'Supervisor' how can I get one of those macho man, tough guy looking security shirts and name tags, puff out my chest as if I owned the joint, complete with "Big fish small pond" attitude.
He asked why I wanted it and I explained that I wanted to be on a tip-top, one man ultra secret task force to get front row seats and make sure that the women folk didn't catch cold and to escort them to their cars.
As usual, no dice, but we all had a laugh and I got back to my seat and no one had any hard feelings, but, they're still anal retentive trained security morons who seem to take some sadistic pleasure in flexing their muscles and authority to paying customers.
Whether it's at an airport, ball game, rock concert, or even your own mailbox, 'they', the morons, will always be 'there' and in your business and checking out your junk.
---
---
MULTICULTURALISM | SEPTEMBER 22, 2013
---
We've all heard the term 'Multi-Culturalism' and when used it never includes whitey, instead, 'people of color'.
Here to de-bunk that load of Ivory Tower Egghead crap is a geographical presentation of how Europeans really are the most mixed up ethnically and culturally kids on the block.
So, to all you misguided miscreants who think they have a monopoly on multiculturalism, enjoy the link.
---
POST 9/11 IMAGES | SEPTEMBER 12, 2013
---
THINKING OF 'THE CHILDREN' ON 9/11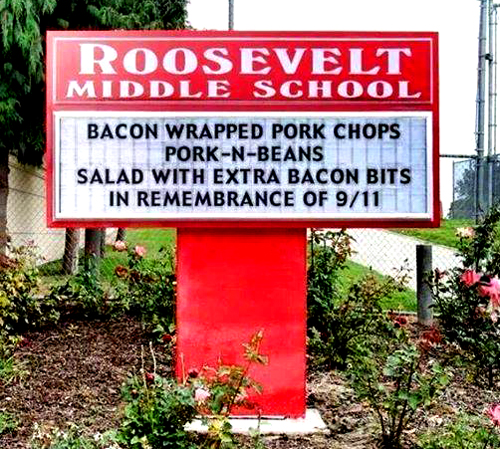 REACHING OUT ON 9/11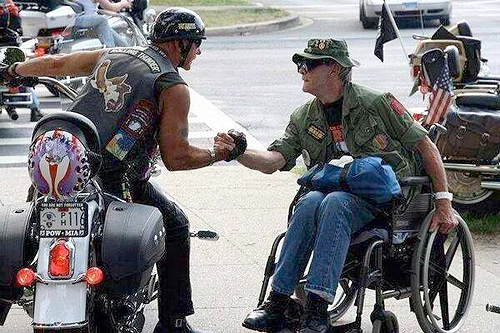 GIVING PIG PROPS ON 9/11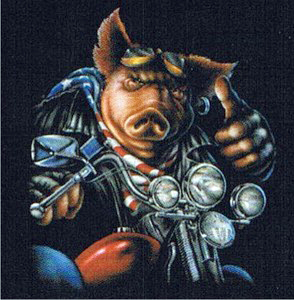 HONORING OUR HEROES ON 9/11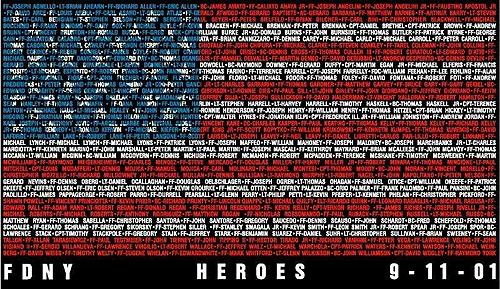 HERE COMES THE CAVALRY ON 9/11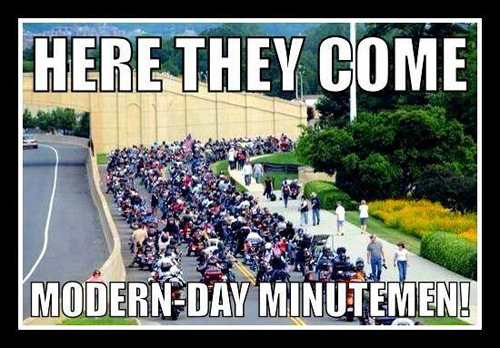 A TOUCHING, FINAL MESSAGE ON 9/11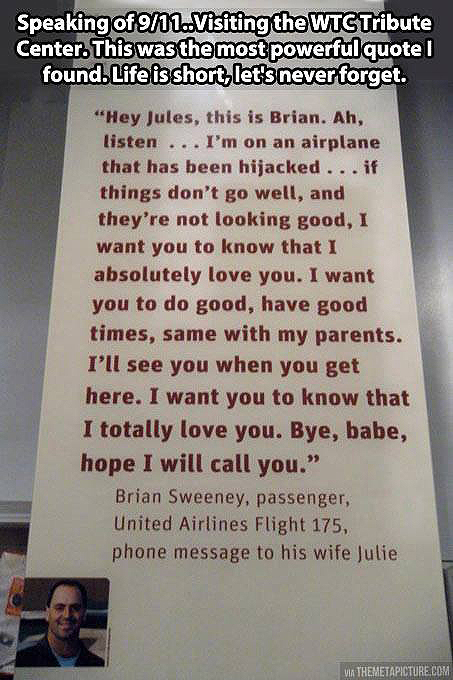 THE SOUND OF FREEDOM ON 9/11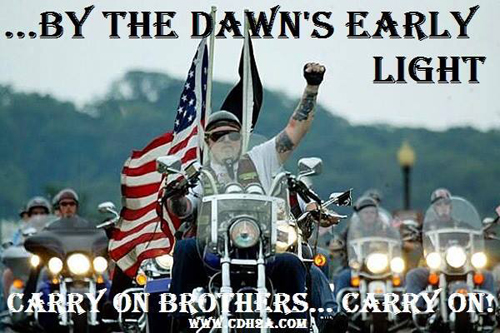 PIGGING & GRILLING OUT ON 9/11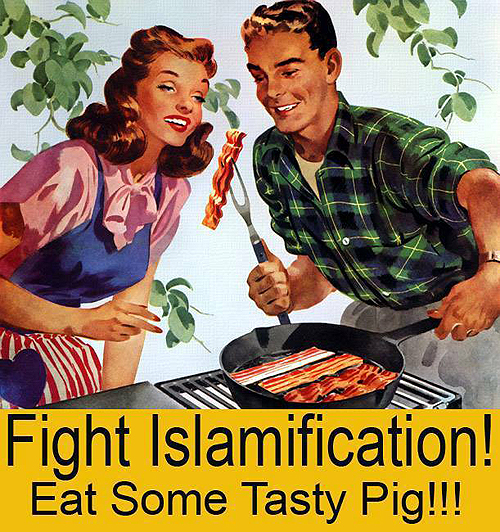 AND FOR YOUR ENTERTAINMENT, THE CLOWN PRINCE ON 9/11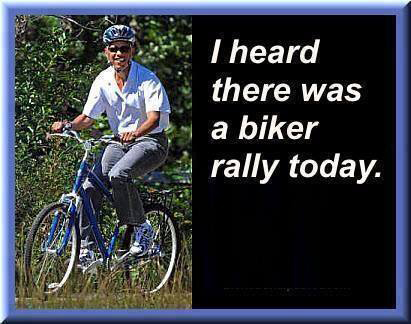 ---
ONLY WHEN THE WIFE IS AWAY... | SEPTEMBER 09, 2013
---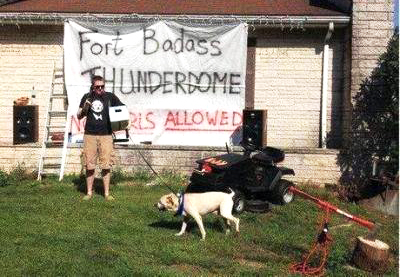 ---
FLIPPED OUT | SEPTEMBER 04, 2013
---
Fast food workers across the country are demanding $15.00 and hour, about twice the current minimum wage to ask if you want fries with that and to upgrade their already 'stellar' quality and service.

$15.00 'Forking dollars an hour to man the deep fryer? I suppose such marketable skills are hard to come by, huh?

What's wrong with this picture? First, the S.E.I.U. is up to their usual low-rent tactics by trying to unionize fast food workers. That fact right there tells me there's some rotten cheese in those Big Macs.

We all know that to pay an unskilled burger flipper $15.00 an hour would ultimatley cause prices to super size and probably force the owners to capsize themselves out of business, and burger flipper out of work.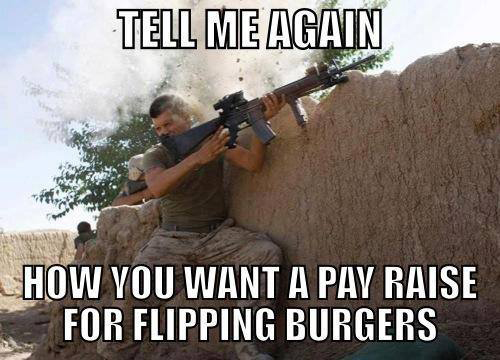 If burger flipper wants to be treated like an in-demand commodity with a $15.00 and hour pay rate, complete with rock star, red carpet treatment, he/she ought to consider some hard working folks with real world, marketable skills, or some fresh out of college grad that would jump at the chance for an entry level position sweeping floors, selling soggy, salted fries, and can and would replace them in a nano-second.
Here's a nifty solution to burger-flipper regarding this outrageous demand. Unless you have always aspired to be a burger-flipping king hauling in a minimum wage pittance, go the 'Fork out in the real world, super size yourself and get some skills that put you in command and demand.
Until then, Shut The 'Fork Up and hold the mayo.
---
BIKE ME! | AUGUST 27, 2013
---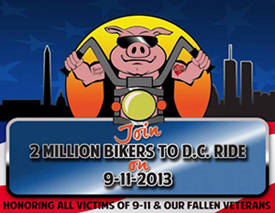 We all know and are aware that September 11, 2013 marks the 12th year since the murderous attack on American soil, and the one year mark of the Benghazi massacre at the hands of Islamikazi Terrorists.

This year on 9/11/2013 MD Alam, founder of AMPAC, American-Muslim Political Action Committee has planned a Million Muslim March on D.C. and stated the following:
"One million Muslims will march to Washington D.C. and demand that our civil rights be protected by our government. We are demanding that laws be enacted protecting our First Amendment rights. We are asking President Obama to fulfill his promise from his first campaign for the Presidency of a transparent government. Lastly we are asking for the establishment of a real 9/11 Commission to reveal the truth to the American people."

"We American Muslims reject violence and terrorism, and defend the Constitutional rights of all Americans," says MD Alam, founder of AMPAC. "Every year on September 11th, beginning in 2013, we will be marching in Washington DC as we build toward our goal of bringing one million American Muslims to march in our nation's capital."
Right. That sounds highly suspect of the way they use our laws to their advantage in pushing their long term Jihad agenda and Sharia Law. In fact, the whole notion created such public outcry that event organizers renamed their cause "Million American March Against Fear."
Here's more fuel for the fire:
Iran has frequently threatened and referred to the US as "the Great Satan." Indeed, a Council on American-Islamic Relations leader recently announced the belief that members of the Islamic faith should not be bound by American law: "If we are practicing Muslims, we are above the law of the land," ~ Mustafa Carroll, executive director of the Dallas-Fort Worth CAIR branch.
To summarize their true goal is to say that they will use that day as an excuse to commemorate and pat themselves on the back for a job well done on 9/11/2001 and 9/11/2012.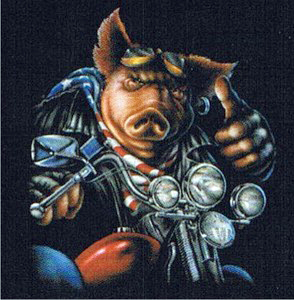 'Well, never 'Forking fear PIGsters. There is a group that is mobilizing and organizing a "2 Million Bikers to D.C. Rally" (I like to call the Biker's outfit C.R.U.D.D.S. - Cyclers Rounding Up & Deporting Deplorable Scum) on the same day and same place as the so-called Million Muslim March.
Can you imagine the look of sheer terror (pun intended) on Achmed and Achmed, Jr.'s faces as they drop their RPGs and strap on bombs and hop on their camels in utter fear when a group of biker's show up to counter demonstrate.
To really instill fear in the Terrorists, oops, "Peace loving" Muslims, PIG's most humble publisher suggests showing up with real, squealing, oinking pigs and let them loose on the Islamikazi's. Dead pigs, pig's blood, flying pigs, PIG T-shirts, anything thing pig-related ought to have them hopping on the next magic carpet the hell out of America.
'Fork it! Let's take it a step further. If the bikers really want to stir the pot, they could show up with t-shirts, posters and cartoons of Mohammed all the while having a good old fashioned American Hog Roast and offer some to the Muslim protesters after wiping the bar-b-que sauce off their chinny chin chins with a Mohammed T-shirt.
I can almost hear that classic Ned Beatty-like Squeeeeeal from the Muslims as they high tail it out of town and hopefully back to their caves, far, far away where they can blow themselves to smithereens all to their hearts content.
For more info on the 2 Million Bikers To D.C. rally, click the link below. And if you are of the gambling persuasion, go "All In" for the Bikers to prevail and maybe even "Double Down" to wager that the Jihadists won't even show out of either fear of American bikers or fear of being exposed as the hypocritical rodents they really are.
>>> 2 Million Bikers To D.C. >>>
---
LABELING, CUBA "SHOW ME THE MONEY" GOODING, JR. STYLE | AUGUST 21, 2013
---
And this weeks 'Forking goes to....envelope please. Cuba Gooding Junior!

What the 'Fork did he do? Read the quote below which was Gooding talking about race relations and plugging the film, "The Butler."
...Another co-star, Cuba Gooding, Jr., offered his advice to any young African-Americans who feel "disenfranchised." He said he thinks "there's been a real disconnect with the civil rights movement and the history of it and I think this movie opens that dialogue so that you can make your decisions as an African-American or an American."
What the hell is he thinking when he said "...as an African-American or an American"? I suppose to him and people of his mind set, being an American is just too plain, and beneath him. But being an African-American, well, to him, that just elevates his status and ego and probably his place in the Victimhood.
Thanks for shedding some light on your true colors, Mr. African-American.
As an American, I'll do my best to shuck and jive, step and fetch, exercise white guilt at every twist and turn just for Mr. African-'Forking-American's satisfaction.
Not going to 'Forking happen, Mr. African-American.
Good night, Gooding, from this mere mortal of an American.
---
SPECIAL RIGHTS FOR GLAAD-BAGS | AUGUST 14, 2013
---
California's Governor Jerry "The Clown" Brown just signed off on AB1266, which allows students, K-12, the "right to participate in sex-segregated programs, activities and facilities" based on their self-perception, regardless of their birth gender."
Brown was not alone in getting this bill passed. He was aided and abetted by the usual P.C., feel good, full of warm fuzzies and Gummie Bear flavor -of-the-month mob. The coalition involved is a mish-mash of GLAAD-BAGS: Gay and Lesbian Alliance of Annoying Dykes Boys And Alleged Girls*. (*Alleged Girls covers, bi, tri, quadra, poly and transsexuals, plus crossdressers.)
Randy Thomasson, of the socially conservative advocacy group SaveCalifornia.com., called the law "insanity."
"This radical bill warps the gender expectations of children by forcing all California public schools to permit biological boys in girls restrooms, showers, clubs and on girls sports teams and biological girls in boys restrooms, showers, clubs and sports teams."
Trouble is bound to ensue right off the bat from every angle. Here is one extreme but hypothetical scenario:
Little Johnny and his squeeze Muffy both experience mutual hormonal surges at the same time. Wow! All Little Johnny has to do is declare he is a girl, today anyway, and demand all access pass to the girls locker room.
Little Johnny and Little Muffy hit the showers and "hook up."
After Johnny gets done bragging to his friends what he did and how he did it, the entire male student body will become 'girls' overnight and demand their new, special rights, get their all access passes and the girls showers become one big love fest.
As far as access to sports programs, this bill will give new meaning to the school yard taunt, "You throw like a girl." It also gives new meaning to "Play ball!"
AB1266 is not about equality or quality of education. It's about indoctination, pushing an agenda and special rights. It's also about undermining parental authority and pissing off a lot people statewide and is bound to result in many lawsuits.
'Fork it, PIGsters. Tonight I feel like a woman, not in THAT way, but on my menu at least.
---
SOLUTIONS | AUGUST 11, 2013
---
PIG has a staff member whose motto is "Just shoot the bastards." Well, I understand that staff members sentiments when it comes to low lifes, career criminals, sub-human scum, undesirables, rapists, child molestors and murderers that get sentenced to death row.
While those convicted of such crimes are doing time, awaiting the appeal process to slowly pass for years or decades as the legal system sits on it's collective asses, while the inmates get three hots and a cot on the public dole awaiting their fate, the Keeper of The 'Fork proposes the following.
It's real simple and goes as such and will save taxpayers tons of money.
Distribute bags of high grade cocaine along with some heroin and a contaminated, dirty needle to the inmates and let them self destruct. After all they have to pass the time somehow, so, why not let them gradually rot and die in peace in the Hell hole they deserve to die in.
Cruel and Unusual? Well, Duh. That's the intent and you bet.
It could prove to be very cost effective and a relief on society in general.
What the 'Fork. Just my opinion.
---
SKITTLE ME THIS | AUGUST 07, 2013
---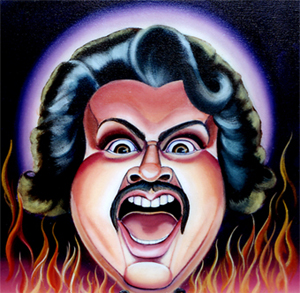 WHERE THE HELL ARE AL $HARPTON, JE$$E, INC. AND THE HATE CRIME HACKS WHEN A WHITE KID IN FLORIDA GETS BEATEN BY THREE BLACK KIDS ON A SCHOOL BUS?

THE BEATING COULD HAVE BEEN PREVENTED BY THE BUS DRIVER WHO IS ALSO BLACK.

THE BEATING SUPPOSEDLY WAS THE RESULT OF SOME MARIJUANA DEAL THAT WENT SOUR. SILLY ME. I THOUGHT SKITTLES AND HOODIES CAUSED FRICTION AND ANIMOSITY BETWEEN THE RACES.

FILTHY LITTLE SECRET TIME. IT'S THE AL $HARTON'S AND JE$$E JACK$ONS THAT ARE FUELING THE FLAMES OF RACIAL DIVIDE, ALL IN THE SPIRIT OF SELF-PROCLAIMED VICTIMHOOD AND A QUEST TO PICKPOCKET WHITEY'S BENJAMINS.

IF I WERE THE WHITE KIDS, OOPS, I MEAN "CRACKERS" PARENTS, I WOULD GET A SHARP TOOTHED LAWYER AND SUE THE SCHOOL DISTRICT FOR ALL THEY'VE GOT.

NEXT, GO AFTER THE BLACK, OOPS, I MEAN SPOOKS PARENTS FOR ALL OF THEIR FOOD STAMPS AND WHATEVER M-F**KING BLING THEY MAY HAVE, TOO.

WHY STOP THERE WHEN THEY HAVE THE NAACP, JE$$E AND AL FOR INDIRECTLY INCITING STUPID BLACK BOYS TO VIOLENCE.

IN THE WORDS OF A VERY WISE WHITE MAN, "WE SHOULD HAVE PICKED OUR OWN COTTON."

ONE CAN ONLY IMAGINE THE OUTCRY FROM COCKROACHES LIKE JE$$E, AL, NAACP, ETC.,IF THAT WHITE KID WENT BERNARD GOETZ OR GEORGE ZIMMERMAN ON HIS BLACK ATTACKERS.

MASSA PORCUS BE PUTTIN' AWAY HIS PITCHFORK AND BULL WHIP, FOR NOW.

THIS POSTING BE IN ALL CAPS BECAUSE PORCUS BE MADDER THAN A BUSLOAD OF BUCKWHEAT'S, STYMIE'S AND WEEZIES WHO JUST HAD THEIR WATERMELON, FRIED CHICKEN AND BLING PRIVLEGES TAKEN AWAY.

HERE IS A LINK
---
WHO WANTS TO BE A MULTI-MILLIONARE? | JULY 31, 2013
---
Hard up on available cash and need some now? Take a lesson about creativity from the following recent headliner.
Keep in mind, I do not promote or advocate armed robbery and theft, but I do applaud the sophistaction and simplicty of the recent diamond heist in the French Riviera.
According to news reports, a plot was concocted to break a convicted felon out of a Swiss prison. That worked. The so called Pink Panther gang got together and found out that there was much diamonds and jewelry to be had at a luxury hotel in Cannes.
Well, they picked one guy to pick the lock of the hotel, stroll in with a hand gun, scarf and demand a certain bag that contained a briefcase filled with diamonds, pendants, rings and earrings.
This heist took one minute to successfully execute, worth, now hold on to your hot dogs, a whopping $136,000,000.
$136,000,000 in one minute? That's what I call a Ka-Ching! one monster of a payday!
Now, whoever pulled this off knows that Interpol, Scotland Yard and the insurers are hot on his ass and he probably has pre-planned arrangements to go underground and into hiding, somewhere, anywhere. It's going to be a catch me if can, cat and mouse game.
The diamonds will no doubt be sold on the black market. So young lovers that are in the market for a diamond ring, consider this. Those shiny diamonds just might be sizzling hot stolen property.
'Fork it! Would I do the same thing to become an instant multi-millionaire?
You bet! I would consider the calculated risk factor and just say, "Let's 'Forking do it!"
---
A MEMO TO ALL LIBTARDS FROM CHIEF KESSLER | JULY 26, 2013
---
*Publishers Note: The following is a 1st and 2nd Amendment issue. Thanks to Eatin' Cro for the links
Wanna see how things that go BANG! work in the hands of a responsible gun owner and pissed off police chief work?
Click the link below and be prepared to hear some F-bombs dropped along with some loud noise.
This guy makes Dirty Harry look like a Girl Scout. Sorry, Clint.
These clips are too 'Forking great!!!
---
ROLLING STONED | JULY 19, 2013
---
Let's see. Who gets 'Forked today? Oh, it's the A-Wipes at Rolling Stone magazine that showcased and glamorized the Boston Bomber on their current issue.
An editorial and publishing decision was made by us to not have his name or image disgrace The Free State Of PIG.
Heads ought to roll over Rolling Stones' decision to publish this murderous punk. The residents of Boston are no doubt 'Forking pissed, big time.
One of the first to react was the CEO of CVS Pharmacy who immediately yanked all issues of the magazine off their shelves nationwide. Other merchants and franchises followed suit.
So, the idiots at Rolling Stone that thought publishing this terrorist's picture on their cover are going to humanize a sub - human, well their little stunt has backfired in the form of lost revenue and subscription base as well as bad publicity.
If the editors of Rolling Stone thought it would be neat and cool to sympathize with the piece of shit bomber, well, they will get a big 'Forking, in your face bomb in the form of NO 'FORKING SALE!
That's the 'Fork report for today.
---
SAY HELLO TO MY PRETTY FRIEND | JULY 13, 2013
---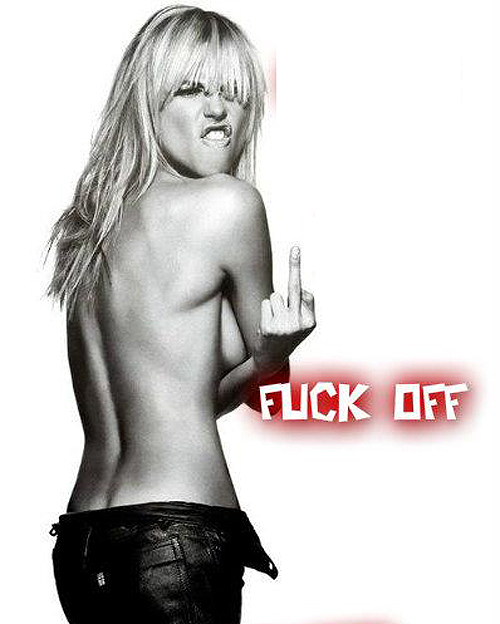 ---
POT FOR PIGS...YAY! | JUNE 26, 2013
---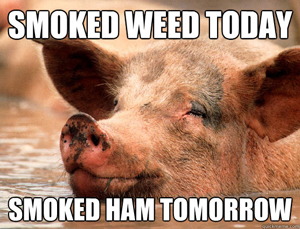 A recent news story caught my radar and it has to do with pigs.

Apparently, there is a pig farmer in Washington state that is mixing marijuana into his Potbelly pigs food in order to increase their appetite. That in turn fattens up the pigs, thus a higher (pun intended) return at the market.

Great idea, but here's some food for thought.

Next time you eat some bacon, ham, ribs, a pork chop or even a hot dog, it may contain some tasty bud and you just might find that you and your family are 'Forking stoned, Spicoli style, dude.

Now, if you find yourself like totally buzzed, man, after eating a pork product, give Porcus a sample and a real PIG will be more than happy to sample it for you.

'Fork it! I'm not a Potbelly pig, just a regular PIG, and don't bogart that pork chop before I get some.
---
BIG MOTHER | JUNE 22, 2013
---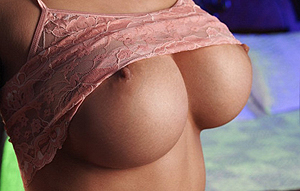 We're all aware of and currently witnessing the predictions of George Orwell's "1984" where a "Big Brother" system of governing and controling an unsuspecting populace that follows the herd, drinks the Kool-Aid and ultimately does the "Lemming Leap."

In a nutshell, Big Brother is likened to that crack dealer or pimp on the corner, luring the suseptible into the arms of, Ta-Da...Big Mother.

I know, you're dying to know who Big Mother is and why is that image on this page and posting. Shut the 'Fork up, break out the crayons and take notes as I try to explain to those with short attention spans.

Big Mother is no longer an unseen force at work in our lives, she is as real as the taxes we pay. Being the true temptress Big Mother is, she has a way of using her will and ways to be very alluring in her methods of suckering zombies to fall into her web of deciept and dependency by inviting Zombies to drink from the Big Government trough and for dessert, you get to suckle on her ample Government tits, teets, breasts, whatever, at the public's expense.

Big Mother will seduce the unsuspecting, disgruntled and disenfranchised with the illusion that she will give you all the free teddy bears, blankies, gummie bears, Obama phones, cable, cradle to grave care and "compassion", free this and all that free crap. Are these freebies coming for "free?"

Hell no. We all know who pays financially, (you and me), but in the case of the facade of Big Mother and her generous treats, the folks that really pay are those that become reliant and dependent on the fruits of Big Mother's bountiful tits.

Can you imagine the poor souls that have become so dependent on Big Mother every month, sitting around in a Section 8 guvment apartment, watching free cable and waiting for a lactating gift in the form of a check like a starving dog waiting for it's bowl to be filled or a bone to be thrown their way?

'Forking pathetic, thanks to the guvment and the Big Mother that promises Hope and Change for all, Marxist style. That in turn, creates a "You owe me" attitude on the part of the recipients that squeeze the hell out of Big Mother and the taxpayers.

Nothing against some temporary assistance for folks that need to get on their feet, but when Big Mother gets her hooks into these people, she will be the equivilent of a fisherman that has one on the hook and reels it in, sticks it in the net and claims that person as her own.

What the 'Fork. There is no such thing as a free lunch and what Big Mother does is encourage dependency and strip people of their spirit of individuality, while at the same time, siphons that person's drive toward enterprise and excellence. Who pays? Everyone.

Big Mother may be tempting for some, but for others, she is a Big 'Forking Bitch, Whore, Pimp, Extortionist and pain the ass.

For those dependent on Big Mother's breasts and what's inside, beware. One day those tits will become sucked dry and start to pathetically sag.

What the 'Fork. I would much rather see the goodies from the hard working gals at Hooters than the poverty peddling tits of Big Mother.
---
HOLY 'FORKING MOLEY | JUNE 14, 2013
---
With Father's Day on the horizon, I was wondering, what's it like beyond the Pearly Gates and a typical day for God and his son, Mr. Jesus H. Christ?

Does God make Jesus earn his allowance by being a carpenter, fluffing up the clouds, polishing up the fleet of chariots, tuning the angels harps and keeping tabs on the fire and brimstone stuff and junk?

Don't know. God already had his son Jesus come down to Earth and do the ultimate dirty job by suffering everything from humiliation to a brutal, physical death just for our salvation.

Tough job indeed and Jesus H. earned his keep for taking one for the team.

Here's where Porcus really 'Forks himself and please try to follow this warped, beer induced thought after he chewed through his short leash.

What if Jesus H. had a brother, a prodigal son, so to speak, who we'll call Stinky H. Christ who is the the equivilant of a human slacker. Hangs around the mansion, sleeps until noon and scratches his ass all day?

With the impending Second Coming Of Christ, I was wondering, does God tell Jesus H. he has to return for an encore, apocoplyptic performance and do the deed again?

Jesus responds with the typical attitude and says, "Aw Dad! Do I really gotta go back there just to grant a free pass to allow those sinners access to our house and maybe even my room? Why don't you send Stinky instead, besides, those crosses are heavy and I could sure use a day off from all of this salvation crap?"

I'de love to be the proverbial fly on the wall when that Father/Son conversation hits the boiling point and God drops his hammer on Jesus by telling Jesus he is destined to do it again, and that his brother Stinky H. Christ really is not qualified to bear the burden.

Jesus in turn may scratch his head, and get shrewd with his dad and asks, "What do I get out of this rotten deal, Dad, after all, the H. in my middle name now stands for "Hell no, I'm not going while Stinky gets to stay home! It's not fair and I'll just hold my breath."

God, being all wise, powerful and omnipotent, ponders and says, "Look, you are on a mission from God, but I promise, I'll give you the keys to the chariots, I'll lift your curfew and any angel babe that suits your fancy and I'll even toss in a free Bermuda vacation. How's that?"

Jesus, it seems is still pondering but concedes and says, "OK pop. I'll do it again, just for you. Happy Father's Day."

I suppose that would be an example of the ultimate Father's Day gift, but for all you Dads and unsung heroes out there, you are saluted.
---
RANDOM 'FORKINGS | MAY 13, 2013
---
It's been a while since any 'Forking activity, but I've been scribbling notes and saved them up for a nickel and dime 'Forking session in the form of tid-bits and snipings.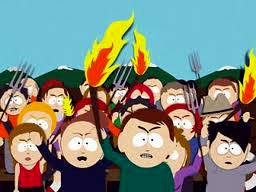 Item #1: Mother's Day just passed and a big time 'Forking goes to the IFC cable network for airing - ALL DAY - the movie, "Mommie Dearest."
For those that don't know, Mommie Dearest is a tell-all swipe at the private life of the late actress Joan Crawford, courtesy of her adopted daughter, Christina Crawford. In her book, later the movie, Christina Crawford airs out their high profile mother's alleged dirty laundry, abuse, alcoholism, neglect, etc.
The movie ends on a real sour note with Joan Crawford writing her children out of her will/estate. Makes for real upbeat, inspirational drama, and a hell of a way to kick off Mother's Day festivities, right?
The Crawfords private life nor the movie are not the grounds for a 'Forking. The 'Forking goes to the A-Wipe at IFC that made the decision to air the movie all day, Mother's Day.
Whatever unresolved mother-related issues that person in charge of programming had/has with his/her own mother seems to have manifested itself by the act of showing THAT movie on THAT day. In my eyes,THAT person is a literal Mother F**ker and made this years Mother's Day a real downer for those that chose to watch THAT movie.
What the 'Fork! Call me old fashioned, but I always thought Mother's Day was to celebrate, acknowledge and reflect on the number one woman in everyone's life. In most cases, anyway.
THE NOTORIOUS FINGER GUN...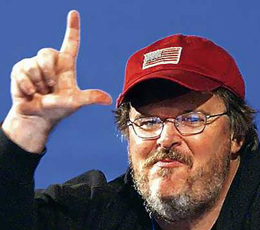 By Zero Tolerance Zombie definition, if the (intimidating) Finger Gun gesture is a suspendable offense, shouldn't the Gas Bag in the picture be hauled in front of a disciplinary tribunal? Yes, but he probably won't, being the Fat, Sacred Cow that he is, but we'll gladly settle for a Tar, Feather and 'Forking session.
Item #2: The wholesale suspending (and sometimes arrest) of public school students - inmates, as Hambo calls them - are at an all-time high. These suspensions are not for violent crime or deviant behavior, which would warrant a suspension, but for some really petty, inane, trivial, playful acts like playing Army, Cowboys and Indians or Cops And Robbers in the class, mistakenly bringing a Boy Scout knife to class, wearing a Pro-NRA T-shirt or American flag T-shirts worn by white kids on Cinco de Mayo, boys innocently kissing, even hugging female classmates, drawing pictures of guns, tanks, bombs and missiles, even making a finger gun gesture.
Hell, one kid was hauled in for placing plastic soldiers on top of cupcakes.
Reasons for the suspensions and disciplinary actions are justified by Brain-Dead Zero Tolerance Zombies reciting from the PC rulebook as "Threatening," "Intimidating," "Culturally Insensitive," the list of lame ass excuses goes on and on and seem to be very subjective
All of these instances, and probably many, many more are a one-way ticket for those Zero Tolerance Public Skool Enforcers (highly paid, unionized babysitters) to the world of 'Forking For F**k heads.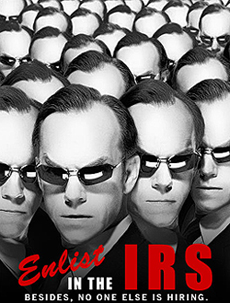 Item #3: Whenever I turn on the news, I always hear of the latest gloom and doom unemployment problem. There seems to be a contradiction in reporting certain facts, figures and numbers.
Case in point? Obama has authorized the hiring of 16,000 IRS agents, more than likely to act as Death Care goons to put the squeeze on those that for whatever reason can't or won't participate in the Un-'Forking-Constitutional force feeding of an inferior product, Obama Care, for example.
Good news! If you're looking for work, have no friends, even no experience, failed at everything else you ever tried, at least know what numbers look like and would love a ground floor opportunity at confiscating other peoples' money and making their lives miserable, report at once to the Department of the Treasury, Asshole Division.
So now you, too, can put down the video games, crawl out of Mommy's basement, set up shop and take up space on the federal dime all while shaking down your neighbors.
While applying for your new career, be sure to tell 'em Forcus Maximus sent you! That's Forcus, with a capital F.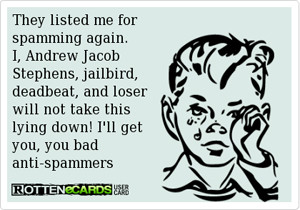 Item #4: Once in a while, while filtering out my email, I let curiosity get the better of me and I actually check on what latest piece of crap these Spammers are hawking.
After scrolling down, I usually notice a microscopic disclaimer that offers a way to unsubscribe to these particular unwanted messages. I either click a link, which I think is suspect in the first place, or I can sit down, write, and send out a snail mail requesting to be removed.
I know. Just by clicking on, but not opening the main message, I probably 'Forked myself into getting on even more Spammers' annoying lists. That's not the issue or reason for the 'Forking.
The 'Forking goes to those low life Spammers that think I'm going to entertain them by replying to them and request getting off of their 'lists.'
I'm not sure, but I think that by even acknowledging them in the form of an unsubscribe request, somehow I get a sense that those low lifers are going to sell my name and address to other low life Spammers.
As far as I'm concerned, Spammers can go 'Fork themselves AFTER taking the latest fly-by-night manhood enhancing product they attempt to sell to online suckers.
---
THE NANNY STATE WANTS YOU | APRIL 08, 2013
---
While recently 'Forking around with my computer and cleaning out some folders and trashing a lot of obsolete files, I blew the cobwebs off of the following article and thought it was high time for a refresher course in Political Correctness.

If you choose to read this, and understand it, great. But this posting is not a standard issue 'Forking, but a high, hard F**k You towards those that have overdosed on the Kool-Aid, and have fostered, sponsored, perpetuated, advocated and pontificated Political Correctness and the ever growing Nanny-State against individual thought and speech.

>>>>>>>

Political Correctness - the idea of substituting certain words or thoughts with others deemed to be "acceptable" - is destroying America.

The phrase has been in existence for many years. A Wikipedia entry notes an early usage of the term in the 18th Century, and proponents of liberal thought used it in the 1970's. The idea has been around at least since World War I, and one website attributes the phrase to Leon Trotsky.

In an address to the AIA in 2000, Bill Lind said it originated in a comic strip. We laugh at the idea of political correctness, but as Lind points out, it is deadly serious. He calls it the: ...Great disease of our century, the disease that has left tens of millions of people dead in Europe, in Russia, in China, indeed around the world. It is the disease of ideology. PC is not funny. PC is deadly serious.

We have seen political correctness, or PC, rear its ugly head since the shootings in Tucson.

For example, one Member of Congress announced he would introduce legislation banning the use of crosshair graphics in political ads, and a CNN talk show host after a guest used the term.

"We're trying to get away from using that kind of language," John King explained.

Others have actually suggested banning certain words from our vocabulary, as though that in and of itself would prevent other acts of violence.

Destruction of language was a central theme in George Orwell's signature novel 1984, a book that should be required reading for anyone concerned about the state of modern American politics, for in it one finds many parallels between the fictitious tyrannical state of Oceania and modern liberalism.

Remove words, and one removes thought; Remove thought, and one removes freedom. In a conversation with the main character, Winston Smith, one of the "creators" of Newspeak explained:

The whole climate of thought will be different. In fact there will be no thought, as we understand it now. Orthodoxy means not thinking -- not needing to think.

Orthodoxy is unconsciousness

If this sounds familiar, it should.

Consider the knee-jerk reaction many liberals have any time Sarah Palin speaks. Rather than apply critical thought to anything she says, they react like Pavlov's dogs, snarling and sniping because that is what they have been conditioned to do by their puppet masters.

Political correctness has extended its tentacles in other areas as well.

Consider the case of Cody Alicea, the California school boy ordered to remove an American flag from his bike because Latino students might be offended, or the more recent case of the Oklahoma school boy who was suspended from the first grade because he made a "gun gesture"with his hand.

Political correctness plays a huge role in any situation involving prayer, like the recent case in Hawaii where the state Senate bowed to the ACLU and became the first state to ban prayer in that legislative body.

As Lind points out, political correctness has as its primary goal, the advancement of a cultural Marxism. Lind explains:

...For the classical Marxist, it's Marxist economics. For the cultural Marxist, it's deconstruction. Deconstruction essentially takes any text, removes all meaning from it and re-inserts any meaning desired. So we find, for example, that all of Shakespeare is about the suppression of women, or the Bible is really about race and gender. All of these texts simply become grist for the mill, which proves that "all history is about which groups have power over which other groups." So the parallels are very evident between the classical Marxism that we're familiar with in the old Soviet Union and the cultural Marxism that we see today as Political Correctness.

The result of political correctness can be seen throughout modern American politics. Masses of people, hypnotized by the bumper-sticker campaign of a charismatic individual, fully supported by a lapdog media, elected one of the most liberal Presidents in American history.

Many cast their vote without thinking of the consequences, and the nation is now spiralling headfirst into socialism.

Anyone who disagrees with President Obama is instantly labeled a racist or a bigot, no matter how sound their argument.

Political correctness also plays a huge role in the advancement of many liberal causes like the environment or gay rights.

A casual observer can see how language is often changed to pursue the statist's goals, and those who disagree are instantly labeled "bigots", "deniers", or "haters".

What was once "global warming" is now "climate change"; "gay marriage" is now "marriage equality", and so on.

Lind concludes his essay by writing:

...America today is in the throes of the greatest and direst transformation in its history. We are becoming an ideological state, a country with an official state ideology enforced by the power of the state. In "hate crimes" we now have people serving jail sentences for political thoughts. And the Congress is now moving to expand that category ever further. Affirmative action is part of it. The terror against anyone who dissents from Political Correctness on campus is part of it. It's exactly what we have seen happen in Russia, in Germany, in Italy, in China, and now it's coming here. And we don't recognize it because we call it Political Correctness and laugh it off. My message today is that it's not funny, it's here, it's growing and it will eventually destroy, as it seeks to destroy, everything that we have ever defined as our freedom and our culture.

Political correctness is a disease that threatens the very fabric of our Republic.

Free speech and freedom of thought is the cure.
---
NEW YORK CITY'S NANNY ON STEROIDS | MARCH 12, 2013
---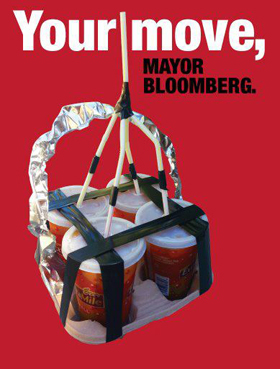 What the 'Fork?!? There seems to be a micro-managing menace of a mayor of New York City in the form of a behavioral Dick Tater-Tot that was born with the name Michael Bloomberg, aka, Michael Doomberg.

With his dictates as to what HE chooses what, where and how much people can eat, drink or smoke, Queen Bloomberg seems to be on a quest to limit the dietary and personal choices of what New Yorkers can consume.Guess what? New Yorkers are swallowing this load of crap is like a little herd of lambs.

With nothing better to do, in spite of all of New York City's problems Big Nanny Bloomberg has a laundry list of what HE/SHE considers taboo, and may have banned, if not already.

For instance:

No smoking in public.

No Trans-Fats in eateries.

Salt intake regulation.

Breast feeding initiative.

Styrofoam coffee cups.

No soft drinks over 16 oz.*

*As of this writing, a NYC judge has put a halt on the Big Gulp Ban.

What Bloomberg really needs is one big, fat 'Forking bare Knucle PIG sandwhich, courtesy of New Yorkers.
---
THIS GUY SUCKS | FEBRUARY 23, 2013
---
By executive order from the Keeper of The 'Fork, the pussy whipped nad-less punk, pictured below, deserves more than a 'Forking. He deserves a good old fashioned tar and feathering.

The poster explains it all. However, if you see this ex-guy, current gay, bitch slap him or slap fight him/it as he deserves.

He's on a path to ruin it for all guys.

'Fork him and the women that fall for this load.

He 'Forking sucks and he's on my shit list.

Period.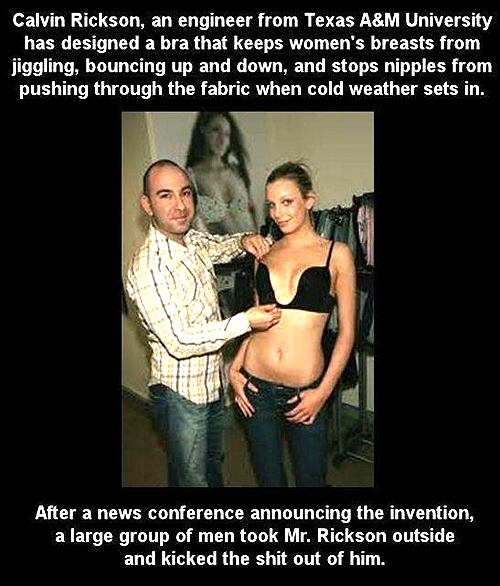 ---
PLAN C | FEBRUARY 13, 2013
---
We've all encountered religious zombies that in their quest to win your soul and wallet, will pose the questions regarding Heaven and Hell.
On their quest, their standard issue question is "Where do you want to spend eternity, Heaven or Hell?"
Well for most, ideally, Plan A is Heaven. Plan B would be Hell for those most deserving.
But no one ever considered a Plan C regarding the afterlife.
The Keeper Of The 'Fork will explain Plan C.
What if, upon perishing, someone from six feet under takes a stand to whoever gives you or me those first two options gets creative and says, "Hey, I need a century or two to decide. I'll have my people get back to your people about my eternal accomodations"
When those in charge of your afterlife travel arrangements will have to wait and let you contemplate your options, as you sip on a Mai Tai, let them sweat, and then you get leverage in negotiating a deluxe suite in Nirvana.
That's the 'Forks Plan C.
But then again, once you're dead, you have no choice...or do you?
---
FLYING THE NOT SO FRIENDLY SKIES| FEBRUARY 04, 2013
---
Someone must have been huffing some pretty strong glue, spray paint or turpentine when they made a decision to send 4 American made F-16 fighter jets to Egypt.
Egypt? They hate our guts and will more than 'Forking likely use those jets against us or our allies. If not, dismantle them and disect our technology to use it against us and begin building their own aircraft for some not so nifty purposes.
Whoever signed off on the order to give Egypt OUR military aircraft really dropped the ball. But since they insist upon aiding and abetting or enemies, why stop with a paltry 4 F-16's?
Why not toss in some American made submarines, an aircraft carrier or two to our enemies, along with several billion dollars in foreign aid, and wow, guess what? They're still going hate us.
This 'Forking goes to whomever signed off on this useless and destrucive idiotic idea.
---
TOP PRIORITY MEMO TO HAMBO FROM PORCUS | JANUARY 11, 2013
---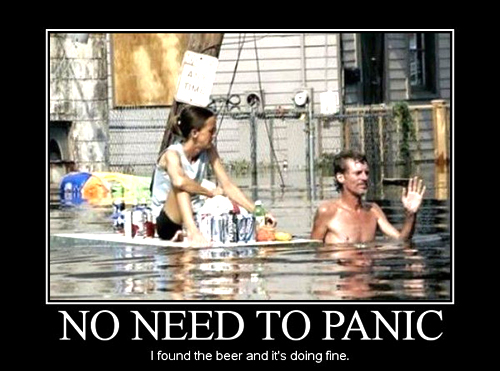 ---
CLOWN$ OF A FEATHER FLOCK$ TOGETHER | JANUARY 05, 2013
---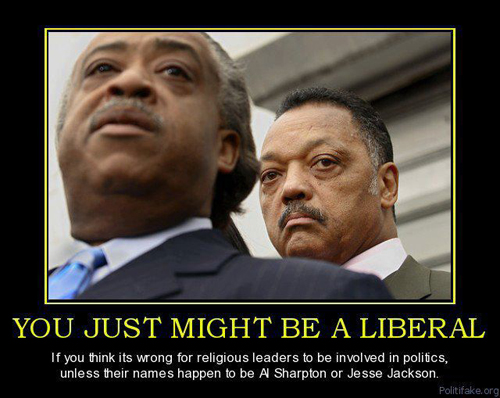 ---
PUBLIC PRAYER PUNKS | DECEMBER 24, 2012
---
This time of year, the usual 'Forking A-Wipes with nothing better to do than snivel about anything from public Nativity displays, Christmas trees and even Jolly Old St. Nick and most especially, prayer in State...oops, Nanny State run institutions and facilities, especially prayer in public schools or government property.
The A-Wipes are always up in arms about violation of the First Amendment's provision regarding seperating Church and State. There's a fine line and bones of contention on both sides, but, there seems to be one government run behemoth that avoids criticism from the those opposed to public prayer.
Wanna take a wild guess what the government run institution is?
It's not Congress. It's not even local City Council meetings.
Give up? It's called jail. Whether it's the local drunk tank, county lock-up or a state pen, there all kinds of so-called recent converts who while locked up after getting busted, hit their knees in prayer and request a spiritual advisor of any persuasion or flavor.
These inmates, in a moment of guilt and repentance seek forgiveness in the form of prayer, and who pays for these spiritual advisors? The taxpayers.
Who pays for the newly convicted and converted inmates Bibles? Probably not the taxpayers, but the generosity of church and outreach organizations, but fostered and sponsored by the government.
So, this 'Forking goes to those that advocate freedom from religion, while all the while trampling the First Amendment rights of individuals that choose to worship anything from Santa Claus, the Easter Bunny, to Jesus, Moses, Menorahs to Mickey Mouse, thus exercising freedom of religion and choice.
Remember this First Amendment hypocites, there are no atheists in 'Forking foxholes.
The end and MERRY CHRISTMAS, from Porcus.
---
NEWTOWN NIGHTMARE | DECEMBER 17, 2012
---
Adam Lanza left his skidmark on society and innocent children with his massacre at a Newtown, Connecticut elementary school, causing the untimely and undeserved deaths of 20 innocent children and 6 adult educators'.

Lanza took it upon himself to sneak into Sandy Hook Elementary School, armed to the teeth and slaughtering little innocent lives, not to mention the effect his actions have had on his victims families, friends, the State of Connecticut, and our nation.

Before any 'Forking begins, the pissed off and saddened members of The Free State Of PIG extend to the surviving family members our condolences, thoughts and prayers to all effected by this tragedy.

'Fork Time: The minute Lanza began his murderous and cowardly killing spree,we like to hope PIG's top secret and most covert operative, known as Old Scratch, Lucifer, Satan, the Devil, already had eternal plans for Lanza the minute he took his own life.

One can hope that if Satan had a little bit of a sense of justice, Satan would have sharpened his Fork, rolled out a red carpet, complete with hot coals and escorted Lanza down the flaming hot red carpet, and welcomed him to his new suite, located in the Adolf Hitler/Pol Pot/Josef Mengle/Joseph Stalin/Genghis Khan wing of Hell.

Next order of business would be to slow roast, complete with a skewer to be permantenly applied to the anal and oral orifice's of Lunza, and slooooooow roasted over the hot as Hell coals.

Now, we'll see what Good, Bad and Ugly will come out of this.

The Good: This incident has caught the attention of lots of folks, worldwide, and many are holding charity yard sales, professional sports teams are acknowledging the innocent lives stolen with moments of silence, the wearing of black bands and prayers.

One of the most benevolent acts of kindness came from a parent that lost his daughter and said he will attend church services and offer forgiveness to Lanza, even though Lanza stole his daughter's life.

Another, private individual from North Carolina donated 26 Christmas trees, one to memorialize each victim, to line the entryway of the school.

Expect a lot more Good Samaritan gestures from sympathetic and generous folks in the near future.

The Bad: The usual, predictable, Kool-Ade drinking, NRA Hating Media Meathead A-Wipes will be out in full force, asking the same lame questions and demanding yet more useless gun control laws.

More Porcus Pitchforking goes to the pseudo-sympathetic psychobabblers that will claim that Lunza was disturbed, had Mommy issues, syndromes, disorders, was a loner, had issues and all he needed was more cookies and milk, a blanky, his teddy bear, a bedtime story and a hug from Mommy.

The Ugly: The ugliest part of this already happened, devastating families, fellow students, co-workers at the school and an entire local, small town community, a nation and world.

The Ugliest part will be that the surviving family members will never see justice done to their loved ones tragic demise, unless Satan does a good deed and sees to it that his form of justice is administered, swiftly.
---
GAME SHOW TIME! | DECEMBER 15, 2012
---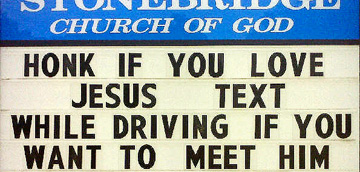 Hey, PIGsters! Wanna play a real neat game?
Thought so, but you may not after this.
The game is called: Texting, Tweeting and Talking In Public Places With Lots of Traffic Heading your Way and See What Ensues, usually a big fat SPLAT sound is the end result.
Ground Rules are as such: All you need is a brain-dead pedestrian contestant with a cell phone glued to either their ear or hands with texting capabilities and a two ton vehicle barreling down the road, right in the direction of Text-And-Tweet-For-Brains moron.
It's a very elementary game, and by all means, all habitual textsters and tweeters are invited to participate after signing a damage disclaimer, posthumously.
Let the 'Forking begin.
First, Tabatha, (OMG, LOL, BFF and all that crap) gets on her mobile communications device, complete with Hello Kitty crap apps absolutely has to call her other brain dead friend, Britney to go over such important issues like...OMG...what that cute guy was wearing, or what Melissa did to her hair, and what Tiffany did to her nails, all the while oblivious to our hero, Contestant Number Two, Brick Bazooka, who never met a gas pedal he didn't like.
Scenario: Tabatha is so immersed in her useless and fruitless airheaded conversation on her cellphone with...whomever, whatever, that she doesn't see Brick and his 4x4 coming straight at her.
Naturally, Tabatha let's out a high squealed scream as she bellows her last, and eternal OMG breath as Brick's ride flattens her worse than a pancake.
The real fun and drama starts here.
How the hell is Brick going to explain this to his insurance adjusters? How did Tabatha's brain and skull matter get embedded in the grill of his shiny new truck?
Brick now may face criminal charges. Sure, Tabitha's family will want to press charges due to their dingbat daughters ill regard for her own surroundings, other motorists and pedestrians forcing Brick to shell out some hard earned money to retain a lawyer, but Tabita Texter's family won't stop with a mere criminal charge, if any. Hell no. They want compensatation in civil court, too.
End Result: Brick gets off on all charges. All charges dropped in criminal and civil matters. He walks with a commendation fron the judge and jury for performing a much needed community service
Who wins? Tabatha's parents. Why? because they don't have to put up with a spoiled brat on THE FUCKING PHONE 24/7.
Fun 'Fortking game, huh?
We encourage all to participate.
Stay tuned, more to come, hopefully.
---
THANKS | NOVEMBER 24, 2012
---
At this time of year, your most humble publisher wants to extend thanks to all who have contributed to the Forum known as the Free State Of PIG throughout the years.
All of your graphic and textural contributions and comments are always gratefully accepted. We apologize if we don't post your contributions right away. We do keep them in reserve for future use, just so you all know.
Now, why is this 'Fork worthy? Damn glad you wondered, or even cared.
See, we get material from all over the world from all kinds of like minded,free thinking people. Most is of very PIGish quality and gets posted in a timely fashion.
But, and this gets real 'Forking good, I'll bet my dollars to Hambo's donuts that no one has a clue as to what some of the sick shit that gets sent our way gets trashed.
Example: If you've ever watched an episode of South Park or Family Guy, written by grown men, you have to wonder, how much editing was involved with that and what ended up on the cutting floor to produce an episode?
Well, we make those command decisions to reluctnantly omit some very incorrect, but inappropriate material from our little cyberspace PIG sty.
Secretly, we laugh our asses off and make decisions regarding what to post on PIG. But hey, don't let this posting prevent you from not sending us any PIGish material.
Once again, thanks for tuning in and contributing. We humbly appreciate those gestures. We can't guarantee that your contributions make the Hallowed Halls of The PIGdom pages every time, but we'll do our damn best to try and get your contributions and comments posted.
Gratefully And Always PIGishly Yours,
P.K. Crowley, aka Porcus
Publisher, PIG
---
LET THEM EAT TWINKIES | NOVEMBER 17, 2012
---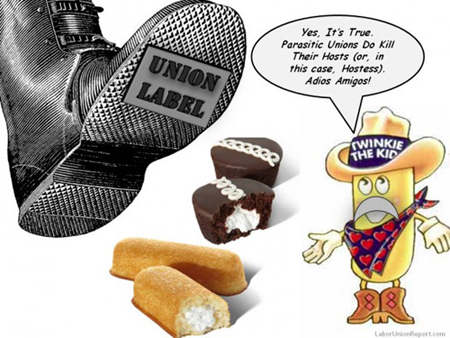 With the Hostess bakery company declaring bankruptcy and closing shop over their workers' union demands, looks like the Twinkie defense is off the table and out of the window for excuse abusers.
This 'Forking goes to the employees union of Hostess and their delegates that made too many demands and forced managements hand into ultimatley laying off, (firing) 18,500 sniveling whiners. In essence, the union members 'Forked themselves out of work, but also, those addicted to Twinkies who leaned on their intake of Twinkies to get out of felonious criminal behavior.
Shame on those labor unions for eliminating not just the Twinkie defense theory, but also the Hostess enterprise.
Any sympathy from The Keeper of The 'Fork towards those that lost their jobs due to union greed? No 'Forking way, but props go to the Hostess management for standing their ground and calling prima donna union punks on their demands.
Memo to overdemading union types that forced the Hostess company's hand and you out of work: You didn't get your demands met, live with it. And all I can say is instead of "Let them eat cake," I say, Let them eat what's left of the Twinkie crumbs they ain't gonna get unless they get on their knees and beg.
But, being about solutions, I propose to the newest members of America's unemployed army. Buy some tin cups, pencils and sunglasses and peddle your wares on the sidewalk.
---
APOLOGY TOURS | NOVEMBER 12, 2012
---
Victoria's Secret is the latest to cave in and go on an apology tour for creating and displaying a woman in an Indian headdress that seems to have ruffled some feathers.
Model Karlie Kloss, seen below, apparently offended some Indian Casino Owner types by stereotyping tribal Indians with her outfit claiming the headdress is an insult to so called 'Native' Americans and should not be worn by anyone but Indians.
'Fork that! Who the hell said Indians had a monopoly on wearing feather adorned headdresses? In America, anyone can stick a feather in one's cap, or wear warpaint and wear a headdress, or even play cowboys and Indians.
The real 'Forking goes to Victoria's Secret for caving in and catering to the hypersensitive demands of tribal nations and their sniveling.
Now after enjoying the looks of this piece of Squaw Bread, scroll down and click the link provided.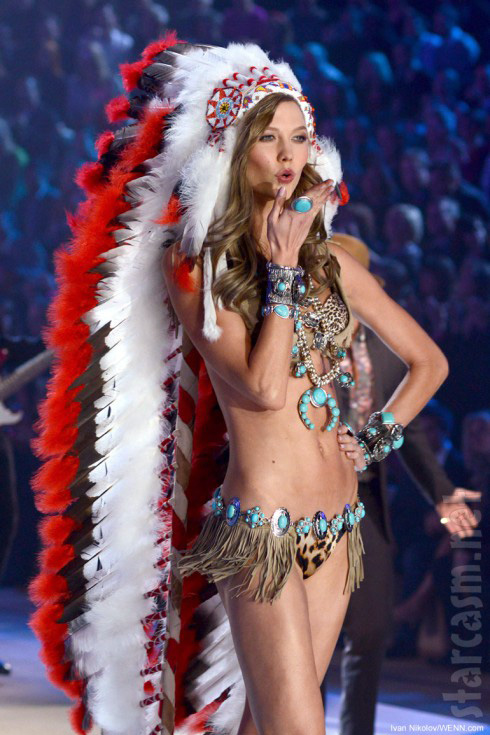 For more, click the link below and read the comments on the page as I go smoke um peace pipe.
---
THANK YOU, ALL VETERANS | NOVEMBER 11, 2012
---
The image below is of then General George Washington on his knees asking for Divine Guidance and Inspiration during the Colonial Army's brutal winter at Valley Forge.
Whatever happened as a result of Washington's personal conference with The Almighty, got him to rally his troops, cross the Delaware River and open some major cans of whoop-ass against King George's Redcoat troops.
We here at The 'Fork wish to extend thanks to the memory of eveyone who served under Washington all the way to those that still serve and have served.
Most humble thanks and gratitude for your service, sacrifice and bravery from the Free State Of PIG.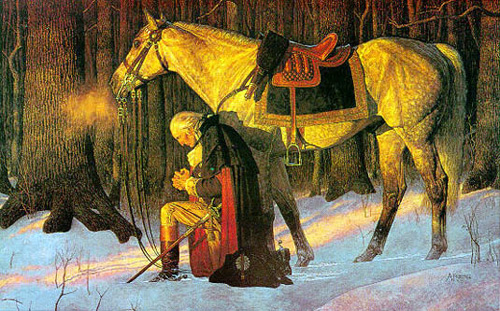 ---
STUPIDITY AT IT'S WORST | NOVEMBER 09, 2012
---
With the recent re-election of Barak Obama as Boy Blunder In Charge, I thought, well, what's the use in spinning my wheels with a spirit of hatred, and doing hit pieces on the son of a ...whatever that will rape, ruin and pillage our nation and freedoms.

Instead, I propose we gather round the campfire in a bi-partisan effort, join hands, sing Kum Ba Yah and have a big group hug afterwords and look "Forward" in unison as one big happy village.

I can already feel the warm fuzzies and taste those Gummie Bears as we all watch the rainbows and unicorns as we hold hands and....

Uh Oh! Hambo just bitch slapped me into reality.

OK, the Keeper Of The 'Fork is back in service.

This Double Dog 'Forking, with no K-Y Jelly and no reach around goes straight to the idiot mass of Zombies that voted this turd in for second term.

You Obamanauts 'Forked our nation into a state of submission, again, have an agenda to tax regular folks to pay, excessively for your special, personal needs like taxpayer funded bailouts, birth control, and other free stuff and junk, and drive us further and further into debt with our Ping Pong creditors in China.

'Fork it! Obamaholics, I hope you sleep soundly at night, collecting your food stamps and all other taxpayer funded entitlements as the rest of us have to live on Reality Street, struggling to make ends meet.

Is Porcus pissed? 'Fork yes, at the stupidity of the Ex-Americans that voted for the rat bastard, and his wife, that will live rent free in the White House.

Damn right, I'm 'Forking pissed.

---
NEWS NIT WITS | OCTOBER 29, 2012
---
I heard one of the dumbest News Nit Wit questions of all time.

In regards to Hurricane Sandy, the usual Meatheads are out on the east coast reporting as to the current conditions and predictions of this hurricane. You know, Storm Coverage idiocy.

Well, while in the 'Forking process of the live interview, complete with a cameraman in Virginia Beach, Virginia, a man who was behind soaking wet News Nit Wit was a dude on the beach with a metal detector or geiger counter seeking to scoop up some washed up booty, loot, treasure, whatever.

Well, here's where the dumbest question comes in. The anchorman asked on the spot News Numbnuts, reporter "Hey, what's that guy behind you doing on the beach in this hurricane?"

'Fork that! What gives blow dried reporters higher status and access to emergency situations and putting themselves at risk as opposed to some dude walking down a hurricane ravaged beach by Hurricane Sandy than a private citizen?

The Keeper of The Fork can answer that. He's doing the same as you, News Nit Wit. Hanging out on the beach during a hurricane. So, who's dumber?

PIGsters, do the math.

But hey, on a sidenote maybe some good can result from this impending act of Mother Nature.

What the 'Fork. Hey, Hurricane Sandy, while on your way through New Jersey, can you find a way to dispose of the cast of Jersey Shore, Snooki and The Situation and send them far, far away, and while you're at it, send News Nits Wits to a further galaxy in the process?
---
WHAT THE FLUKE? | OCTOBER 06, 2012
---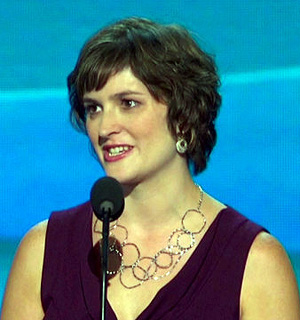 This 'Forking goes out to the The Fluke, as in Sandra Fluke.

Fluke made a lame speech in front of House Democrats advocating for a government mandated insurance clause to include contraceptives and birth control for womyn.

Does that, when translated, mean that the government goons are going to force We The People to become her pimps and sponsor her to strap a mattress to her back and allow any and every Tom, DICK and Harry to play hide the sausage with her…it?

'Fork It! First, who the hell would want to have sex with her in the first place, much less look or listen to her? And, if anyone does, they've got to be the drunkest sailors on leave, blind as a bat, or one of those desperate 'last call' at the bar prowlers.

Either she's a law school prostitute, oxymoron intended, or she pays men to do the dastardly deed. If she gets her way, I want mine. I want vouchers and mandates for my cigarettes, beer, gas, strip clubs, weed, hookers, cable, dope, etc.

I'll stop here and insert the words of Rush Limbaugh, who's usually right. This time, he's right on.
"[Fluke] essentially says that she must be paid to have sex—what does that make her? It makes her a slut, right? It makes her a prostitute. She wants to be paid to have sex. She's having so much sex she can't afford the contraception. She wants you and me and the taxpayers to pay her to have sex."
Memo to Fluke: How about getting your tubes tied, put a cork in your 'you know what', get a chastity belt, or put a paper bag over your face, and when the drunken dude is done and realizes what he just did, and with who, he'll need that paper bag as a barf bag.
'Fork it. Fluke is a fine name, but in her/it's case it rhymes with puke. Also, I offer my apologies for posting the image of Uglo-Tard Fluke.
---
UNFORKING BELIEVABLE: BANNED BOOKS | OCTOBER 02, 2012
---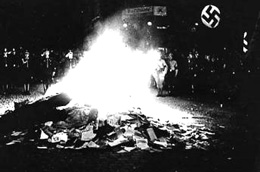 The following was lifted from a Glendora, CA website, Glendorapatch.com
It's hard for many to believe that banning books is still alive and well throughout America.
Echoes of Nazi Germany and North Korea? You bet, and now the 'Forking uptight, 'It's for the children" squardron of simple minded, had enough time on their hands to compile a list of what books they want banned from schools and librarys.
My always humble 'Forking won't do this justice, so here goes:
Banned Books Weeks 2012: 10 Most Challenged Titles
Censorship is alive and well, as highlighted by Banned Books Week—and you might be surprised by who the most vocal challengers of books are.
The importance of the First Amendment and the concept of "intellectual freedom" might not always be readily apparent to most kids, but Banned Books Week is a great opportunity to make those lessons come alive for children—and adults.
Banned Books Week is held annually during the last week of September (Sept. 30-Oct. 6). The week is an occasion for libraries and bookstores across the U.S. to help folks realize just how real and ongoing a problem censorship is.
More than 11,000 books have been challenged (though not necessarily successfully censored) since 1982, the inaugural year of Banned Books Week. According to the American Library Association (ALA), the vast majority of challenges to books are initiated locally by parents, likely in well-meaning attempts to protect their children.
Last year, there were 326 challenges reported to the ALA's Office of Intellectual Freedom, based on everything from offensive language, to violence, insensitivity, religious viewpoint and sexual explicitness. In addition to those challenges, the ALA estimates that as many as 60 to 70 percent of challenges may go unreported.
Over the past year, the 10 most challenged titles were:
1. ttyl; ttfn; l8r, g8r (series) by Lauren Myracle
2. The Color of Earth (series) by Kim Dong Hwa
3. The Hunger Games trilogy by Suzanne Collins
4. My Mom's Having A Baby! A Kid's Month-by-Month Guide to Pregnancy by Dori Hillestad Butler
5. The Absolutely True Diary of a Part-Time Indian by Sherman Alexie
6. Alice (series) by Phyllis Reynolds Naylor
7. Brave New World by Aldous Huxley
8. What My Mother Doesn't Know by Sonya Sones
9. Gossip Girl (series) by Cecily Von Ziegesar
10. To Kill a Mockingbird by Harper Lee
Among banned and challenged classics you're likely familiar with are:
• The Great Gatsby by F. Scott Fitzgerald
• The Catcher in the Rye by J.D. Salinger
• The Grapes of Wrath and Of Mice and Men by John Steinbeck
• The Color Purple by Alice Walker
• Ulysses by James Joyce
• The Lord of the Flies by William Golding
• Animal Farm and 1984 by George Orwell
• The Sun Also Rises and A Farewell to Arms by Ernest Hemingway
• Beloved and Song of Solomon by Toni Morrison
• In Cold Blood by Truman Capote
If you're interested in celebrating Banned Books Week as part of a lesson for your kids—or simply to feel like a rebellious reader—check out these additional resources:
• Mapping Censorship, a visual representation of places books have been challenged in the US, created from cases documented by the ALA and the Kids' Right to Read Project
• Virtual Read-Out, a worldwide celebration of the freedom to read, featured on a dedicated Banned Books Week YouTube channel
• State-by-state listing of BBW events
• Banned Books Week on Facebook and Twitter
• Free BBW downloads from the ALA, like badges and Facebook cover art
---
PISSED | SEPTEMBER 29, 2012
---
A long time ago, when your most humble publisher, Porcus was literally a starving artist and student, a scam/scum job so-called 'artist' Andres Serrano comes along with his signature piece, titled, "Piss Christ," pictured below.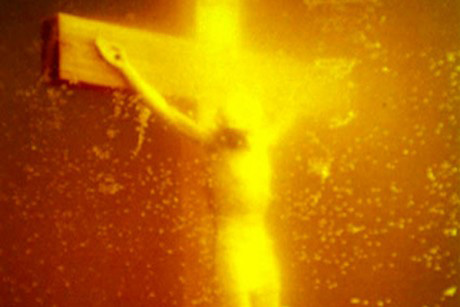 Now, is this image a painting? 'Fork no.
Did he create it with money out of his pocket? Double 'Fork no.
I know. What's my issue with this Porcus?
I'll inform you, maybe with a little trip down art history lane.
Break out the fingerpaints and take notes.
This piece of shit, Andres Serrano, got a federal grant from the NEA - National Endowment For The Arts to create this pathetic piece of shit.
The medium he used was not paint, but guess what? His own urine, a jar and a crucifix, all on the taxpayer's dime.
What talent, huh?
This 'Forking goes not only to him, but the usual turtleneck wearing, artsy-fartsy wannabe artists like Serrano that couldn't cut in the free market of the art world, and hailed his 'work' as a masterpiece.
I agree. It is a piece alright. A piece of what? Use your imagination.
But wait! It gets better for him and worse for us. Because these Bohemian art critic types got mesmerized, and his load of piss went on a national tour, earning Serrano "criticaly acclaimed" status.
Wow. I didn't know that by simply taking a leak in a jar, "in the name of art, of course" could bring fame and fortune to the provider of the piss.
Now, am I pissed? You bet, but I have a solution.
I can one-up this scam artist. I host a beer fest and barbeque, get a bucket and everyone takes a leak, drains themselves, stick a photograph of Serrano inside and see what happens when I shop that piece of 'art' gets shopped around.
I'll title it "Piss Serrano."
'Forking begins, right about...now.
Serrano, you suck. NEA, you suck too for fostering his piece of shit exhibition, and you know what you suck. When you're done sucking, you know what you can kiss.
That thing, pictured, is a real insult to good folks that sacrifice, work their asses off in art school to learn how to practice their craft as future artists, while living on cheap Top Ramen.
Woops! Did I mention that image is also insulting to regular church going people?
Well, I have to take a piss myself. At least I have a toilet.
---
SOLUTIONS | SEPTEMBER 22, 2012
---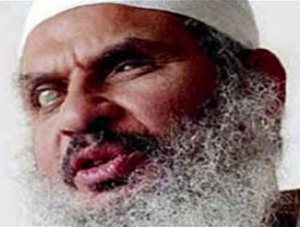 Well, the blind idoits that are burning, looting and murdering are making demands that we release the Blind Sheik for health and humanitarian issues.
Sure thing. As if his release will stop all world violence and create warm fuzzies as we all embrace in an international group hug.
Yeah, right.
For those that don't know who this tool is, he masterminded the first World Trade Center attack in 1993 and is serving a life sentence in an American prison.
Normally, The Keeper Of The 'Fork would say, "'Fork You!"as far as conceding to or considering demands of the worlds worms, but upon further consideration, I thought that perhaps there may be a viable and amicable solution regarding his release.
Before you 'Fork me, hear me out.
First, we agree upon his release, OUR way, which is one body part at a time.
We can begin with the handy fellas over at American Chopper that start with a pair of needlenose pliers and remove his finger and toenails.
Next, we can have Lorena Bobbit and her Ginsu knife collection remove his tiny useless testicles.
Gets better. We can get some crows to pick and eat his eyeballs out - remember, an eye for an eye.
Then, we get the Queer Eye For Straight Guys to give him/it a complete fashion makeover, beginning with his ridiculous headgear.
For the grand finale, a Samurai warrior with his sword will behead him.
After all the disassembly, we stick his remains in a crate, do a flyover to whatever hole they want him in, complete with a live pig and parachute them down and the rat bastards that want him so bad can put him back together, piece by piece.
Remember, the F.S.O.P. is about solutions and my humble proposal would make everyone happy, especially Americans. Tee Hee.
---
OUR PLANETS PLAGUE | SEPTEMBER 16, 2012
---
Recent violence in the Middle East has driven a certain PIG staffer, me, to go to his garage and break out his vintage, limited edition of his Pitchfork and sharpen this baby up.
Why? Damn glad you stopped by and asked.
Our great nation is under assualt. Not just internationaly, but even here at home from lowlife bottom feeding, brainwashed SCUM.
Kill our citizens who are trying to help you in your Bedrock ridden country? Burn our flags at OUR embassies?
That's to be expected.
You don't need me to explain what is and what will happen with these so-called humans that give maggots a bad name and I don't want to waste my beloved 'Fork on them.
Rather, this 'Forking goes to the gutless wonder in the White House that makes Jimmy Carter look like Hercules with his inaction in defending Americans and our interests abroad.
The 'Forking doesn't stop there, Mr. C-I-C. With the HNIC in charge who is more concerned with raising money for his pathetic election campaign, golf scores, and apologizing to the dirtbags that plague our planet and hate our guts, my 'Fork, at the very least, gets admistered to the nadless wonder to occupies Air Force One and does and grand total of...NOTHING.
Wait! I just spoke to my trusty 'Fork, and she reminded me that due to lack of action, we may become international laughing stocks and regarded as wimps of the world.
Thanks loads, Barry. The Hope and Change thing worked on some suckers for about a minute and was nothing but a scam and a lot of folks thought you took and oath to defend our Constitution and nation.
Barry, don't go. My 'Fork just said she doesn't want to be wasted on you, either, but, good news! We'll take you to any airport that might be headed towards Indonesia, Hawaii, or even Kenya.
Mr. Barry, you ARE part of the plague.
Burnign question, Mr. Barry. WHEN THE HELL ARE YOU GOING TO DO SOMETHING, ANY DAMN THING ABOUT THE PESTS AND PLAGUES OF THE WORLD?
I know. Never.
Hope your golf score thing is working for you, and enjoy the picture, below, of your homeboys at work.
'Forking off for now,
Porcus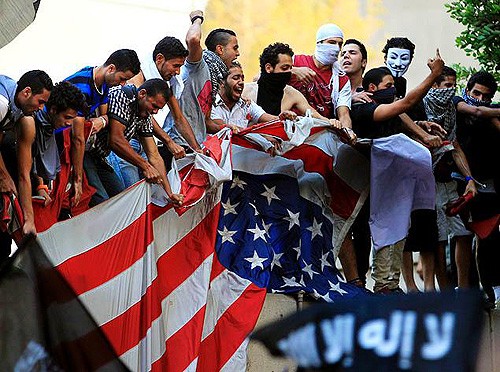 ---
'FORK IN THE MOUTH, V.P. STYLE | AUGUST 20, 2012
---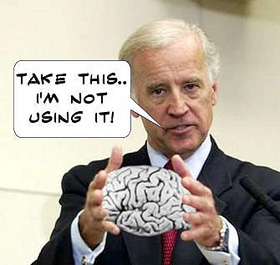 Last week, Vice President, Joe "Foot-In-The-Mouth" Biden, undisputed king of public political gaffes, was at his best/worst when he squirted out this all-time steamer:

"Look at what they [Republicans] value, and look at their budget. And look what they're proposing. [Romney] said in the first 100 days, he's going to let the big banks write their own rules -- unchain Wall Street. They're going to put y'all back in chains."
- Joe Biden, speaking to a largely African-American audience in Danville, Va., Aug. 14, 2012

Saying it in front of a largely black audience is one thing, but saying it in a plantation massa accent/dialect sheds an entirely different (racist) light on the context of his rambling.

For casually brushing that one aside and giving Biden something of a free pass, while still bringing up Dan Quayle's gaffes and especially his 'Potato(e)' incident, this 'Forking goes to Obama's P.R. wing, the Mainstream Media Meatheads and News Nit-Wits.

But the 'Forking won't stop there. Let's make this fun and post some classic Biden and Quayle blunders and see which one of these steamers floats the highest and longest.

We'll begin by taking a trip down memory lane with some classics from the Dan Quayle files, beginning with the famous potato incident:
"Add one little bit on the end... Think of 'potato', how's it spelled? You're right phonetically, but what else...? There ya' go... all right!"
- "correcting" a student's correct spelling of the word "potato" during a spelling bee at an elementary school (he told the student to add an "e" at the end.

"If we don't succeed, we run the risk of failure."

"What a waste it is to lose one's mind. Or not to have a mind is being very wasteful. How true that is."

"Welcome to President Bush, Mrs. Bush, and my fellow astronauts."

"Mars is essentially in the same orbit . . . Mars is somewhat the same distance from the Sun, which is very important. We have seen pictures where there are canals, we believe, and water. If there is water, that means there is oxygen. If oxygen, that means we can breathe."

"The Holocaust was an obscene period in our nation's history. I mean in this century's history. But we all lived in this century. I didn't live in this century."

"I have made good judgments in the past. I have made good judgments in the future."

"The future will be better tomorrow."

"We're going to have the best-educated American people in the world."

"We have a firm commitment to NATO, we are a part of NATO. We have a firm commitment to Europe. We are a part of Europe."

"I am not part of the problem. I am a Republican."

"I love California, I practically grew up in Phoenix."

"It's wonderful to be here in the great state of Chicago."

"A low voter turnout is an indication of fewer people going to the polls."

"When I have been asked during these last weeks who caused the riots and the killing in L.A., my answer has been direct and simple: Who is to blame for the riots? The rioters are to blame. Who is to blame for the killings? The killers are to blame."

"We are ready for any unforeseen event that may or may not occur."

"For NASA, space is still a high priority."

"Quite frankly, teachers are the only profession that teach our children."

"It isn't pollution that's harming the environment. It's the impurities in our air and water that are doing it."

"[It's] time for the human race to enter the solar system."

"The American people would not want to know of any misquotes that Dan Quayle may or may not make."

"I stand by all the misstatements that I've made."
And now for some Golden D'Ohs from Joe "Toys In The Attic" Biden.
As you read the following, keep in mind that Biden is Number Two H.N.I.C.:
"I promise you, the president has a big stick. I promise you."
- Joe Biden, citing Theodore Roosevelt's famous quote, "Speak softly and carry a big stick; you will go far." (April 26, 2012)

"This is a big fucking deal!"
- Joe Biden, caught on an open mic congratulating President Barack Obama during the health care signing ceremony, Washington, D.C., March 23, 2010

"His mom lived in Long Island for ten years or so. God rest her soul. And although, she's - wait- your mom's still- your mom's still alive. Your dad passed. God bless her soul."
- Joe Biden, on the mother of Irish Prime Minister Brian Cowen, who is very much alive, Washington, D.C., March 17, 2010

"An hour late, oh give me a f**king break."
–Joe Biden, caught on a live mic speaking to a former Senate colleague after arriving on Amtrak at Union Station in Washington, D.C., March 13, 2009

"You know, I'm embarrassed. Do you know the Web site number? I should have it in front of me and I don't. I'm actually embarrassed." –Joe Biden, speaking to an aide standing out of view during an interview on CBS' "Early Show," in the midst of encouraging viewers to visit a government-run Web site that tracks stimulus spending, Feb. 25, 2009

"Look, John's last-minute economic plan does nothing to tackle the number-one job facing the middle class, and it happens to be, as Barack says, a three-letter word: jobs. J-O-B-S, jobs."
--Joe Biden, Athens, Ohio, Oct. 15, 2008 (Source)

"When the stock market crashed, Franklin D. Roosevelt got on the television and didn't just talk about the, you know, the princes of greed. He said, 'Look, here's what happened."
–Joe Biden, apparently unaware that FDR wasn't president when the stock market crashed in 1929 and that only experimental TV sets were in use at that time, interview with Katie Couric, Sept. 22, 2008

"Stand up, Chuck, let 'em see ya."
- Joe Biden, to Missouri state Sen. Chuck Graham, who is in a wheelchair, Columbia, Missouri, Sept. 12, 2008

"Hillary Clinton is as qualified or more qualified than I am to be vice president of the United States of America. Quite frankly, it might have been a better pick than me."
--Joe Biden, speaking at a town hall meeting in Nashua, New Hampshire, Sept. 10, 2008

"A successful dump!"
- Joe Biden, explaining his whereabouts (dropping deadwood at the dump) to the reporters outside his home, Wilmington, Del., Aug. 20, 2008

"I mean, you got the first mainstream African-American who is articulate and bright and clean and a nice-looking guy. I mean, that's a storybook, man."
–Joe Biden, referring to Barack Obama at the beginning of the 2008 Democratic primary campaign, Jan. 31, 2007 (Source)

"You cannot go to a 7-11 or a Dunkin' Donuts unless you have a slight Indian accent.... I'm not joking."
- Joe Biden, in a private remark to an Indian-American man caught on C-SPAN, June, 2006

"A man I'm proud to call my friend. A man who will be the next President of the United States — Barack America!"
--Joe Biden, at his first campaign rally with Barack Obama after being announced as his running mate, Springfield, Ill., Aug. 23, 2008
Well there's a couple of loose cannons for you. The only difference is, is that one of them is still in office, and is friends and running mate of Barak "America."
Fun stuff, huh, PIGsters?
Four more years of Biden may provide for hours of much entertainment, but will also contribute to 'Forking the hell out of America.
---
ONLY IN AMERICA: PART II | AUGUST 15, 2012
---
ONLY IN AMERICA!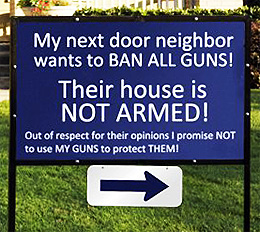 Piggy backing off of Hambo's stellar Top Story this week titled, "Only In America" I found something that would further amplify the theme of his rant.

In an effort to assist Hambo, I found the following tid-bit that I thought he could use, but he informed me that he had already written and posted this weeks Top Story.

After reading his Top Story and realizing that he nailed it, as usual, I thought that the following would accentuate Hambo's scribblings and was also too good to let disappear into cyber-oblivion:

20 'ONLY IN AMERICA' IRONIES

By John Hawkins

John Hawkins is a professional blogger who runs Right Wing News

1) Only in America could politicians talk about the greed of the rich at a $35,000 a plate campaign fund raising event.

2) Only in America could people claim that the government still discriminates against black Americans when we have a black President, a black Attorney General, and roughly 18% of the federal workforce is black.

3) Only in America could we have had the two people most responsible for our tax code, Timothy Geithner, the head of the Treasury Department and Charles Rangel who once ran the Ways and Means Committee, BOTH turn out to be tax cheats who are in favor of higher taxes.

4) Only in America will you find people who burn the American flag and call America an "imperialist nation," but who get offended if you say they're not patriotic.

5) Only in America can we have terrorists kill people in the name of Allah and have the media primarily react by fretting that Muslims might be harmed by the backlash.

6) Only in America could someone drinking a $5 latte and texting to his friends on an iPhone 4 complain that the government allows some people to make too much money.

7) Only in America would people take rappers who brag about shooting people and selling drugs seriously when they complain the police are targeting them unfairly.

8) Only in America would we make people who want to legally become American citizens wait for years in their home countries and pay tens of thousands of dollars for the privilege while we discuss letting anyone who sneaks into the country illegally just become American citizens.

9) Only in America could the people who believe in balancing the budget and sticking by the country's Constitution be thought of as "extremists."

10) Only in America could the most vicious foes of successful conservative women be self-proclaimed feminists and the National Organization for Women.

11) Only in America could you need to present a driver's license to cash a check or buy alcohol, but not to vote.

12) Only in America can we have terrorists fly planes into our buildings and have some people's first thought be "what did we do to make them hate us?"

13) Only in America would we think teaching kids at college is an appropriate job for communists, terrorists, and other dregs of humanity.

14) Only in America could people demand the government investigate whether the oil companies are gouging the public because the price of gas went up when for every penny of profit the oil companies make, the government tacks on roughly 24 cents' worth of taxes.

15) Only in America could the first people asked to weigh in on the seriousness of a racial incident by the media be professional race hustlers like Jesse Jackson, Al Sharpton, and Ben Jealous. In other words, it's like calling in a car dealer as a neutral source on whether or not you need to get a new car.

16) Only in America does airport security put its hands on your underwear....while you're wearing it.

17) Only in America could the government force a skating rink to have handicapped parking spots and Braille on the ATM machines.

18) Only in America could the government collect more tax dollars from the people than any nation ever has before in all of recorded history, still spend a trillion dollars more that it has per year, and complain that it doesn't have nearly enough money.

19) Only in America could the rich people who pay 86% of all income taxes be accused of not paying their "fair share" by people who don't pay any income taxes at all.

20) Only in America could the people who approve of slaughtering 25 million females babies via abortion accuse OTHER PEOPLE of waging a "war on women."
---
THE MAN ISLE | JULY 29, 2012
---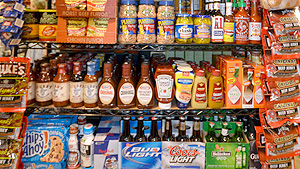 Management at Westside Market in New York City were joking around recently and came up with a solution to those wandering lost souls in the shopping aisles.

Men.

So, they created a section in the market aimed exculsively for men.

The shelves are stocked with all the essentials any self-respecting Man-Cave Dweller would need to stock up on.

In the Man Isle, one can find everything a dude would want. Beer, chips, jerky, shaving equipment, barbeque sauce, condoms, even more beer, salsa, nuts, shampoo, deodorant, and much more.

Basically, the basics.

Nifty idea, but the creators neglected to add a few things to make shopping in the Man Isle a truly 'male' experience, and for this, they get 'Forked.

For instance, Dude is halfway out the door when SHE asks him to pick her up some tampons and some type of sweet smelling douche bag or Summer's Eve. I don't think the Man Isle is equipped for that type of overload to a dudes psyche, but the owners ought to anticipate requests from him, and demands from HER.

Other items to consider. Padlocks to keep HER out of the sacred Man Cave. Should she gain entry, The Man Isle should have the forethought and consideration for HIM to stock up on duct tape for those times SHE will not keep her trap shut during game time.

Razor wire ought to be placed around the perimeter to keep out the shrills, as well as a preferred Man Isle Card for dudes to gain exclusive access.

Can't cruise the Man Isle without making a statement with a pimped out shopping cart.

Last but not least, a seperate checkout lane just for men. No more waiting on Two-Ton Matilda who shops in bulk 3 times a week or Blue Haired Betsy who clutches coupons in her cobwebbed claws as if her life depended on it. No, just a simple, streamlined shopping experience, Just For Men.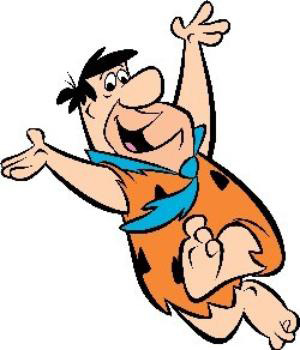 Dudes! Don't you feel SO 'liberated*' and 'empowered**' now? If not, how about now having a sense of simple peace and f**king quiet?
If you ever find yourself at the Man Isle in the Westside Market at 110th and Broadway, tell 'em PIG sent you.
Note: For all you No-Nads that wanted preferential (special) treatment and 'rights' simply because you have no nads, well political correctness and seperatism has really gone full circle and taken a huge bite out of your asses. You can call the Man Isle 'Shopping For Dummies' or misongynistic, but the truth is, you're bitter because men thought of it first.
* Liberated - A Way overused Politically Correct term used by NO-NADs and Gendercrat. Used sarcastically in the context of this 'Forking.
** Empowered - Same crap-ola as 'Liberated.'
---
A DEDICATION TO THOSE THAT '...DIDN'T BUILD THAT' | JULY 19, 2012
---
With Obama really stepping in it with his "...You didn't build that" load of crap, I thought it would be appropriate to remind former, present and future innovators, inventors, visionarys and entrepeneurs exactly what they didn't build.
Before scrolling down, I wonder if The One would be willing to tell Hambo and Porcus that we didn't really build The Free State Of PIG. Somebody did it for us.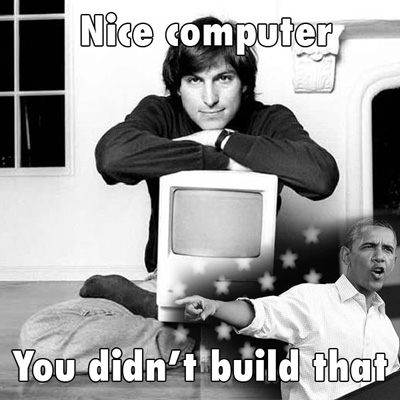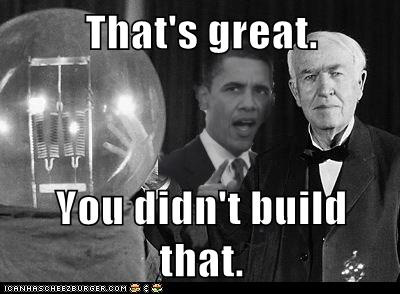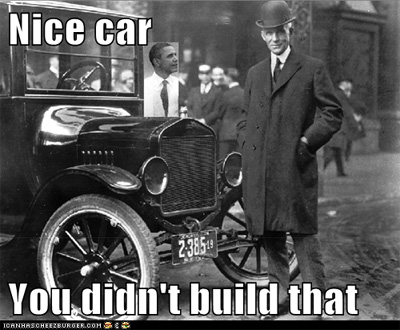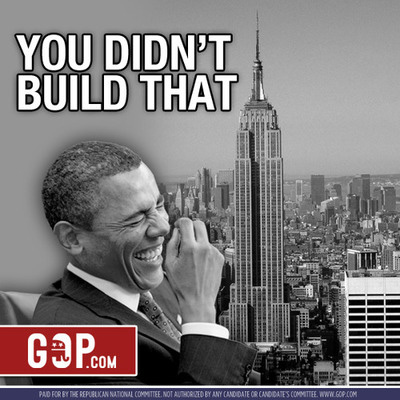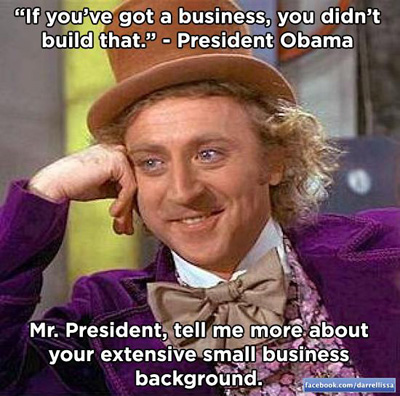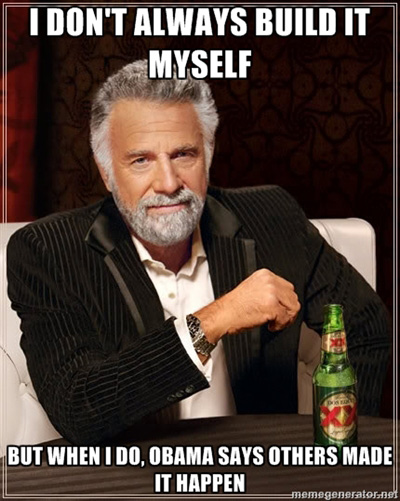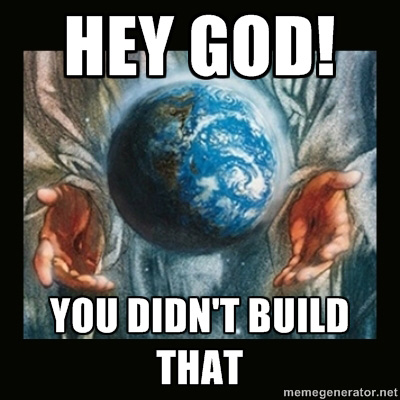 ---
ROBERT BLAKE 'FORKS PIERS MORGAN | JULY 13, 2012
---
Former child star, Little Rascal and tough guy actor Robert "Baretta" Blake recently appeared on CNN to discuss his book, "Tales Of A Rascal."

Piers Morgan who replaced the Larry King Live time slot, had Blake stop by and talk about almost anything but his book.

Morgan tried his best to push Blake's buttons with questions about his personal life and murder trial aquittal.

With every question, Blake came firing back locked and loaded with both barrels blazing.

Blake, full of his standard issue piss and vinegar, complete with his overtly opinionated attitude answered the questions his way.

It's an interview like no other, but telling it like it is, is Blakes no shit style both publicly and privately.

Don't ask how I know.

Click the link below
---
MANS BEST FRIEND | JULY 03, 2012
---
Here at the Porcus Estate, we recently got a dog. Well, that little pooch may appear to be cute and cuddly, but, if ANYONE, especially those of the scumbag ilk tries to enter our property on her watch, she alerts me. I, in turn alert Mister Tire Iron.
Problem solved.
Dogs are mans best friend because:
1) They don't nag.
2) They don't want to drag you to the mall while the game is on.
3) They are pretty much low maintenance.
4) Most importantly, they are eternally loyal to their master and will do anything to protect you.
This 'Forking is for wannabe badasses, burglars and other degenerates that feel free to break and enter into someone's home to steal their goodies, but once they meet Fido and Rover, will think twice, do an about face and run fast and far from your home.
We double dog dare any criminal coward to even attempt to approach a loyal pooch.
Remember the old adage: "It's not the size of the dog in the fight, but the size of the fight in the dog."
Over and out.
Bow Wow and Ruff Ruff.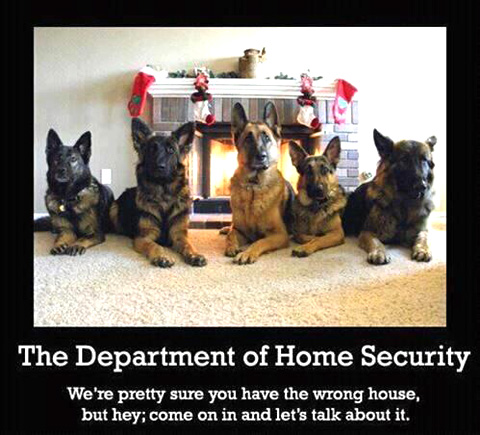 ---
'FORKING AROUND ON THE PHONE | JUNE 26, 2012
---
Recently, I saw an ad on TV advertising college scholarships to Native Americans by the Morongo (We love whiteys money at our casinos) Indian Tribe.
Well, I said hot diggity. I have a son of college age that just so happens to be native to America. I call them up and they explained their criteria.
He must be a native American, which he is by virtue of birth. They asked what tribe, and I said my tribe, American, he was born here.
Well, the brainwashed idiot on the other end of the phone said that neither he nor I were native Americans.
I retorted by saying, "Well in your TV ad, the scholarship was for native Americans, and since we were both born here, how does that negate he or I being "native" Americans? After all, where else would we a native of, Pakistan?"
Well, that set off a volley of me talking back to an idiot, and yes, I was trying push buttons to find out the mind set of others that claim to have a monopoly on being native Americans and victims of...whatever.
I knew that engaging her in a historical review of Americas history, and that when her forefathers came here, it wasn't even America, but pretty much sand, dirt and wilderness, would be futile.
Sure enough, after asking enough hard questions and pushing enough buttons, I got the predicted response I had anticipated.
Click.
See, the 'Forking goes out to ignorant, self important politically correct "minority" gangs, groups and tribes that don't realize that they excerise what they claim to be victims of. Seperatism, exclusionism, prejudice, and even racism.
'Fork off, casino owners.
Does Porcus have too much time on his hands? 'Fork yeah.
---
LITTLE BLACK SAMBO ARTWORK | JUNE 02, 2012
---
It dawned upon me that The Free State Of PIG has been especially critical and hard on Je$$e, Inc., Al $harpton and the rest of their money grubbing, Race Card carrying ilk, scum, sludge, whatever.
Well, I'm not on this page to atone for my transgressions regarding those low rent characters. No way. I'm here to amplify them.
See, here in the PIGdoms War Room, we recieve a publication called Collector Magazine, and the following advertisements for old Negro art and ceramics were spotted by the Keeper Of The 'Fork.
I scanned them in and didn't know where to put the images. But, while cleaning up my files and desktop, I thought I would put those scans on the pages of PIG.
Hey, Je$$e, Al, and all of the other extortionist worms,'Fork You, you make money from Whitey's wallet, and attempt to instill white guilt to uninformed, rich white liberals and Korrectniks, so what's the harm in some little old lady making money out of images of Sambo in an antique publication? As if you really knew Little Black Sambo himself, and will probably and predictably demand reparations.
Fair is fair, and equality is equality. Right, Bro?
Not only do we hope you enjoy the following, but I REALLY hope that Je$$e and Al do too.
My advice to Little Black Sambo...run Sambo, run!
Run 'Forking fast, too when you see the likes of real Uncle Toms like Je$$e and Al $harpton chasing you to help put bread, chitlins, grits, greens, watermelon and of course, fried chicken on their tables.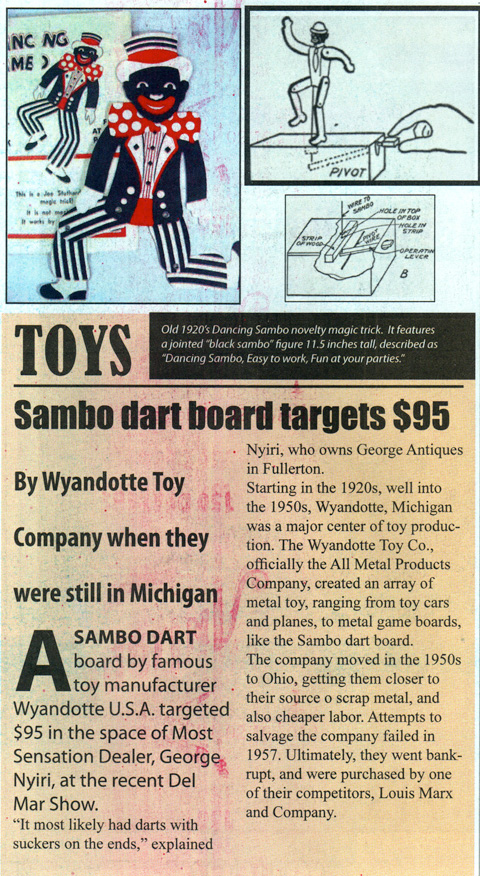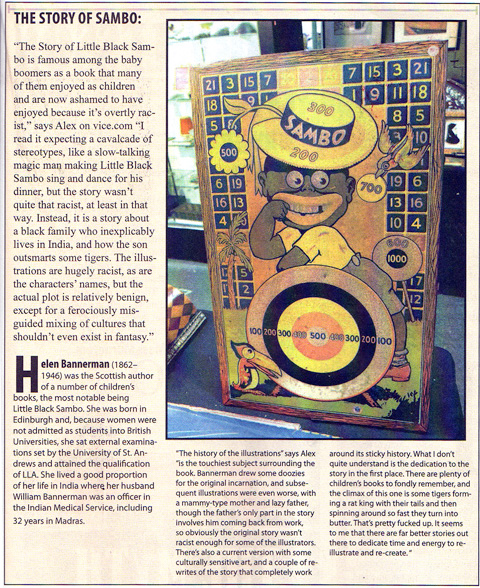 ---
THE RAPE OF CHINATOWN | JUNE 01, 2012
---
It seems as if local merchants in the Los Angeles Chinatown district are up in arms about the prospect of a new Wal-Mart muscling in on their business.
We've all heard of the pros and cons of a Wal-Mart moving into certain neighborhoods, but this 'Forking, indirectly, has little to do with that issue.
I don't know what the Chinatown merchants are crying about. Most of the stuff in Wal-Mart is made by their homeboys in China, so what's the Kung Pao beef about?
But, this being PIG, we can be about solutions, once in a while. I've got several suggestions:
First, Shut the 'Fork up and quit your whining. This is America and you don't have a monopoly on regulating who can do business and where they can conduct their business.
Or, move back to China. American sellout corporations are always hiring in China.
Or, you be cooperative and work for the Wal-Mart that you think is going to threaten your business.
Or, since you come to this country thinking you're better and smarter than Americans, buy Wal-Mart products in bulk, take them back to your shop, mark up the prices and rip off your customers. After all, many of Wal-Mart products have cheap "Made In China" stickers affixed to them anyway.
Looks like the pendelum has swung the other way and lopped off some chop sticks concerning American-Chinese business relations. That's the way the fortune cookie crumbles, huh?
Hooray for Wal-Mart! Maybe they're taking heed in the old Chinese proverb, "It's better to be pissed off than pissed on."
---
UN-FORKING BELIEVABLE | MAY 25, 2012
---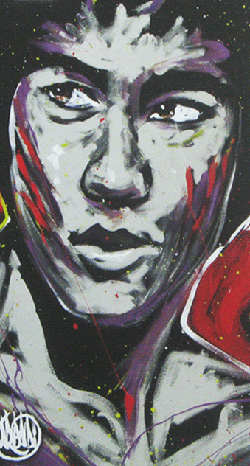 The reason for this Forking will be revealed later. For now, I'll unleash the amazing talents of visual/performance artist, David Garibaldi, who specializes in speed painting.
What he does is incorporate themed music with a dance troupe as he brushes off portraits of anyone from Ludwig Von Beethoven, Michael Jackson, Jesus Christ, Bruce Lee, Bob Marley, Elvis Presley and many more.
The amazing thing is, is that he can execute his paintings in 2 minutes or less, on stage in front of a live audience.
I'll provide some links which will be provided below, but now for the Forking.
Who gets the Fork?
Me. I spent 4 years of my life learning art at a high caliber, private art institute in order to learn my craft, and along comes this guy, who knocked my kneecaps off and took my breath away with his out of this world talent.
Even if you are not an art fan, you'll like these clips.
Oh, and kids, by all means DO try this at home, and don't worry about what Mommy and Daddy say when you use the hallway walls as a canvas.
Enjoy.
>>> Beethoven >>>

>>> Michael Jackson >>>

>>> Jesus Christ >>>

>>> Bruce Lee >>>
Now, in order to get to know him, here is his website:

>>> getdownart.com/david_garibaldi_original_paintings.html >>>
---
UNGRATEFUL MOOCHERS | MAY 21, 2012
---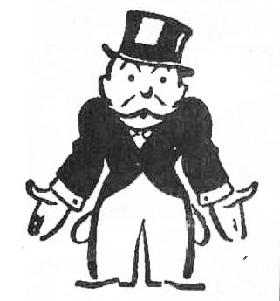 I'll preface this Forking with a quote from Mark Twain:
"There are two times in a man's life when he should not speculate: when he can't afford it, and when he can."
This Forking is an official memo to people that attempt to put a financial touch on you with some bogus, contrived plot to seperate you from your money in the form of an "I need it now" emergency personal loan.
The requests usually come complete with "I'll gladly pay you Tuesday for some $$$ today" with the usual sob story about them needing money for...whatever lame ass excuse they have.
Don't get me wrong. Some decent folks have had to ask for some financial favor from a friend or family member for a legitimate reason, and that's fine in the Forkdom. After all, most people had to ask some bottom feeding bank for a home or car loan.
However, we'll let the Forking begin with examples of ungrateful A-Wipes that didn't get their sticky fingers in your wallet or pockets.
Example #1: When someone who just got laid off with no job prospects, asks you to spot them money for a down payment for a shiny new car, act as co-signer, and help with monthly payments, and when you decline, they say "F**k You!" and hang up the phone.
Total ungratefulness. The Mooch can say "F**k You!" all day long, but to them I administer a Forking and cross them off of my "List."
Example #2: When someone calls on the phone, asks for X amount of money for a "dire" dental condition and you tell them you would like to consider it. You then go on their Facebook page and find out that person is bragging to their Facebook friends about a brand new pair of Bose speakers for the exact amount of the money they attempted to "borrow."
Call that person back and ask what's up with the speakers and I'm going to say no to your request and suggest that they can always sell their speakers if your dental condition is that bad.
They, in turn, tell you that you suck.
Standard response from an ingrate that deserves The Fork.
Example #3: When a perpetual parasite tells you to go to hell for the last time they tried to hit you up and you said no.
Parasite then calls back with some other lame ass sob story about this, that or the other petty thing and say no when you find out they just bought a new house and say NO, just Fork 'em and hang up the phone.
The bottom line of this Forking is that when you say no to those who ask for money AND bullshit you, and you know it, is that in the Moochers eyes, YOU are now the mean, rotten cheapskate tightwad Scrooge of a bad guy.
Oh, by the way, Moocher gets really pissed when you tell them to get a job or ask Mommy for the money.
Remember the words of John Lennon, "F is not a dirty word."
On this family friendly website, "F" stands for Fork.
---
REAL MOTHERS | MAY 09, 2012
---
What is a real mother and why is this Fork worthy?
I'll explain what a Mom is for those that have no clue and who gets Forked, later.
A Mom is that one 'Go To' person in your life you can always count on when you begin to experience life's trials and tribulations.
A Mom is one who would patch you up after a hard day of playing on railroad tracks and wrecking your new pair of blue jeans and bicycle trying to play Evel Kneivel, put a band aid on your boo-boos and make everything all better.
A Mom is that special person who attends your sporting and scholastic events with glowing pride.
A Mom is that special woman who turns off the TV and makes you do your homework, whether you like it or not.
A Mom keeps the household and family together and provides for her children.
A Mom also provides a shoulder to cry on when things get real shitty.
A Mom is someone who makes sure you get fed, clothed and properly educated.
A Mom is someone who exercises tough love when someone screws up and makes them pay for their mistakes.
I can go on and on about the selflessness and dedication Mothers have toward their children, and why EVERY day, people ought to acknowledge their Mothers for all of their sacrifices, just for YOU.
Now the fun Forking begins.
This goes out to basement boys, credit card torching kids that take their mother for granted and in some cases, treat their own mother as a doormat, laundromat and free eatery. Punks and pussies, the whole lot of you.
Who am I and how do I know?
Porcus lost his mother recently, and not an hour goes by when I don't reflect in gratitude for ALL she did for our family.
And I mean EVERYTHING.
Get the picture, spoiled brats? If not, you get the Fork. However, if bottom feeders want some redemption, simply walk up to your Mom, give her a hug and tell her what a great Mom she is. She'll love it and you can avoid a Forking.
For those that worship and appreciate all your Mom did for you, two thumbs up.
I make no apologies for getting soft and mushy, but you only get one Mom, right?
---
BREAKIN' THE LAW | MAY 06, 2012
---
When is it OK to break the law?
One, when you're an illegal border jumper operating a motor vehicle without a license.
Two, when you're an L.A.P.D. officer that pulls over an unlicensed illegal and ignore the California State Law which requires police to impound the vehicles of unlicensed drivers for 30 days.
The Los Angeles Police are saying that the state law is unfair because it limits the ability for illegal immigrants to get to work and imposes a fine on them to get their car back.
According to L.A. Police Chief Charlie Beck, "It's about fairness. It's about equal application of the law."
'Fork that crap. "Equal application of the law?"
Well, some scum is more equal than others, huh?
That's just what Mexifornia, especially Los Angeles needs. Another incentive for border jumpers to skate and skirt the laws of our land, while the rest of us are subject to the regular rules and regulations of the land.
This Forking is aimed right at the LAPD for caving in and acting like they really care about Disease Ridden Scum that hop our borders and cater to the entitlement demanding A-Holes that get special rights above and beyond what is written in the U.S. Constitution.
Fork you, LAPD, especially Chief Charlie Beck.
Wimp.
---
AN FOP COMES CLEAN | FEBRUARY 17, 2012

---
The following was lifted from Hambo's Hammer. Why is it here? Because Good Neighbor Sam is...me, Porcus. I get 'Forked on occasion due to my allowing some people to take my kindness for weakness.
Hambo is right on many points, I have a weakness for some 'so-called friends' and neighbors that do anything from asking me for a ride, letting them use my phone, or out and out invading me just to chew my ear off with useless conversation.
There is no crime in showing empathy or sympathy towards people in need, but when someone gets played on a regular basis and treats others as a personal doormat, soup kitchen server, babysitter or bartender, and I'm no bleeding heart, but if it were legal, I would love to build a moat, with a drawbridge, hire a sentry, and put up some razor wire and get an attack dog stationed outside of the house, but that would lower property values for my neighbors.
Word to those that care, too much. Don't be a Good Neighbor Sam 24/7. Also, I seemed to have forgotten one of the most beautiful words in the English language. That word is NO!
I allowed myself to get 'Forked, and sharp pitchforks really are a pain in the ass.
Here's Hambo's rant in it's entirety:
His Home Is THEIR Castle?
Today, I'll spend a few moments exploring the plight of an FOP, a friend of PIG whom we'll call Good Neighbor Sam. He's an inherently sociable dude, who lives in a venerable house that's near the 'main drag' of a small American town. Located next to the town library, and less than a block from a popular strip mall, our FOP's abode is ground zero for uninvited 'I was just in the neighborhood' visitors. What to do?
If you're thinking 'hunker down' and 'play dead', it's a non-starter. Why? When he's not relaxing on the screened in porch in front of his home, he's working on his computer, which is also visible from the street. So what? So plenty. The minute they see him, they make their move why? Because they know he won't say 'no'.
For example, a couple days ago, a toddler - approximate age = 4 - showed up to 'play with Sam's dog. Six hours later, after feeding and tending a stranger's tyke, his neighbor - the tyke's grandmother - showed up to collect him. Did she thank Sam, or apologize for inflicting the lad on our FOP? Nope. It never crossed her mind.
Another abuser of his hospitality is a dude who makes regular pitstops at Sam's home, on the way to, or from, the strip mall. This virtual stranger makes a habit of dropping in, unasked, unannounced, to watch Sam's television, drink his beer, and empty his refrigerator. Does he ask if Sam is busy? Nope. Does he thank Sam afterwards? Nope. Does he ever show up with beer, or snacks? Nope, because none of those things cross his mind.
Our FOP, Sam, is, in my opinion, too nice for his own good. He needs to go against his instincts and tell any/all uninvited guests to 'buzz off', at least once, instead of fuming, and fussing, afterwards.
Enquiring minds what to know where being sociable stops and being a doormat, patsy, begins. Wherever the line is, Sam is on the wrong side of it.
---
FATHER OF THE YEAR | FEBRUARY 09, 2012

---
This guy has to be the hands down, Father Of The Year for shooting - yes, shooting, with a gun, and smoking a cigarette - his Prima Donna daughters laptop because of her postings on her Facebook page. In his statement Dad is going to bill her for the bullets and the software he installed.
Too cool.
Way to go, Pops.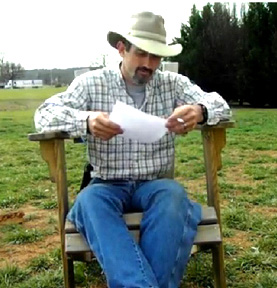 >>> Click Here For An Awesome Video >>>
I'm sure the spoiled brat is saying OMG and WTF, not really LOLing and maybe even calling Child Protective Services over the death of her computer.
Boo-Freaking-Hoo.
---
ZONE COVERAGE | FEBRUARY 07, 2012

---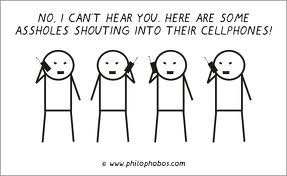 With the stigma that certain behavioral regulators have put upon smokers, tobacco, that is, by legislating and enforcing 'No Smoking" zones because public smoking disturbs or artificially 'offends' people, why hasn't anyone proposed a "No Cell Phone" zone?
If there is a risk of offending people through smoking in public, what about the risk of Cell Phoning in public, where everyone within the Cell Phoners vicinity can hear all about the Cell Phoners personal lives, I just wonder, where's the outrage when little 14 year old Brattney feels the need to broadcast and inflict upon an unsusupecting public her most private and personal details, via cell phone?
This Forking goes to those rude, inconsiderate Cell Phoners that invade the privacy of others. And, they get an extra special twist of the Fork when they are on their cell phones and say "Eeeeeww, I just saw a smoker light up a cigarette, OMG"!
Think about it. Smokers have the courtesy to not light up at a movie theater, church or even during a holiday dinner and when they feel the need to spark one up, they'll politletly go outside. But Cell Phoners, on the other hand, have no consideration towards invading other peoples' peace and privacy the minute their cell phone goes off, interrupting the occasion, in a very rude manner.
So, if it's good enough for smokers to step outside to satisfy their need, as to not offend anyone, how about Cell Phoners doing the same? By Cell Phoners publicy broadcasting their petty little coversations for all to hear, it's the equivilant to fingernails on a chalkboard.
We all know that exiling Cell Phoners to a Cell Phone area won't happen, but something to consider. How many auto accidents are attributed to someone smoking behing the wheel versus idiots that are cell phoning or texting behind the wheel? Hmmmm?
Fork you, public Cell Phoners. You do need to be sent outside to conduct your petty cell phone activities, just like smokers. But, if you are a chronic Cell Phoner and a smoker, you can exit the building, and kill two birds with one stone, by walking far, far away...into the Cell Phone Zone.
---
A REAL PISSER: THE WHIZ KIDS OF THE U.S.M.C. | JANUARY 13, 2012

---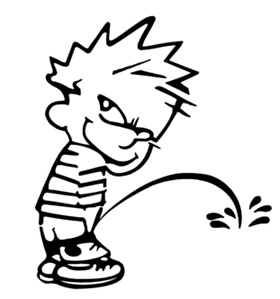 Hey, when you gotta go, you gotta go, and when you do, do it in the right place, or in this case, the right face in the following:
It seems as if some fighting forces are going to be put under the microscope of not just the Beltway Brass-less, but also the media, and through that, public opinion for using dead Taliban scum forces as an outdoor restroom by taking a leak on the corpses.
There is outcry (probably manufactured) from the State Department, Do-Gooders and of course CAIR, stating that our soldiers are held to higher standards in the field of combat.
WTF is that? Our soldiers are not ambassadors, they are trained warriors. When they get done dodging bullets whizzing by their heads and take out enemy Taliban forces, they probably need a little relief. The corpses just happened to be in the way.
This Forking doesn't go to the person that caught the images and made it viral, but the predictable A-Wipes that want to punish our troops, stating that this activity will hinder negotiation "Peace talks" with the Taliban.
Gee whiz, negotiate? Anihilate is more like it. I don't think there are any provisions in the Geneva Convention that dictates when, where and to whom a golden shower may be administered to.
I would hope that if Mr. Whipple were around with a roll of Charmin bathroom tissue, at least one of our troops would have taken a squat and put some "brown icing" on top of the heap of sub-human scum.
The video is all over the place on many websites, and can be found easily, and hopefully, it sends a message to Islamikazes, that this IS what we think of YOU.
The Keeper Of The Fork gives props to the Whiz Kids of the U.S. Marine Corps that left a liquid calling card on our enemy.
---
A MESSAGE FROM THE PUBLISHER | JANUARY 07, 2012

---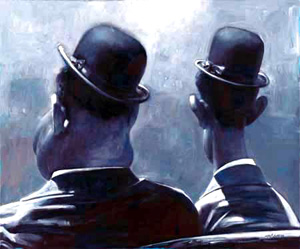 For years, The Free State Of PIG has strived to provide fresh, original, sometimes funny, sometimes deadly serious material on a weekly and daily basis.
PIG has always been primarily a collaborative effort between Hambo, Porcus and Staff.
We get the inspiration for our material from some very common sources. Anything from driving down the parking lots otherwise known as freeways in Mexifornia, visiting supermarkets, watching what passes for news, and to put it in a nutcase shell, whatever pisses us off, makes us wonder or out and out makes us want take Old Betsy to the Bell Tower or laugh til we wet our pants.
Our creative process goes as such. One of us will propose an idea to the other. Sounds simple? Sometimes it is, and sometimes it's way more complicated.
For example, Porcus may pitch an idea from the outskirts of left field and toss it to Hambo. Hambo, in turn, will body slam the idea to the wall. Whatever sticks to the wall, stays. Whatever slides down the wall to the floor is shitcanned. If approved by Hambo and Staff, we'll go through the process of creating something out of nothing in a PIG-Worthy fashion.
The attitude and concensus of The Pitchfork is that there will always be too many Korrectniks and Kool-Aiders and too little time. Rest assured PIGsters, we've already rolled up our sleeves for 2012, in hopes of Forking and Hammering those that richly deserve it with Truth, Humor, Facts and Fun.
---
OCCUTARDATION |
JANUARY 03, 2012

---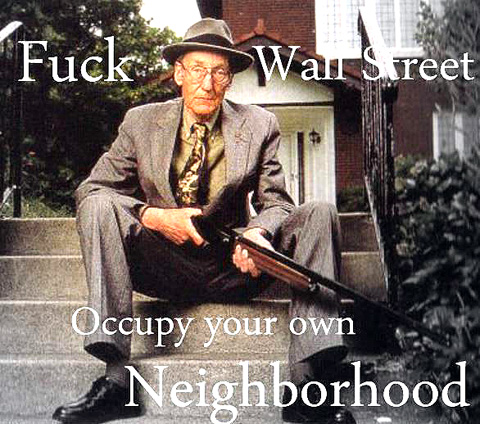 The lamebrains, whiners, Kool-Ade swilling Follow The Herd types, vagrants and fleabags participating in the 'Occupy' movement throughout the country have little, if any respect for most peaceful working people from not just Wall Street, but Main Street as well and deserve, not earned, a severe 'Forking.
Guess what Occutards? When you show no respect, you get no respect.
Why? What's the purpose of pitching tents, clogging roadways, preventing honest people from getting to and from their jobs, littering, commiting crime, probably panhandling, harassing, and shoplifting. Not to mention being litterbugs and costing local municipalities to pay for the cleanup of your leavin's when you pack up and leave, which probably include styrofoam cups, cigarette butts, hambuger wrappers, and probably condoms and fecal matter.
This 'Forking will be short and goes as such without getting into specifics. We do beleive that you have the right to peacefully protest, BUT, you should not hinder or obstruct, or tresspass upon anyone that disagrees with you from pursuing THEIR right to Life, Liberty And The Pursuit Of Happiness and/or exercising their First Amendemnt Rights as well.
Tell you what Occutardists, how about if a mob assembled on YOUR lawn, pitched tents, scratched their asses and armpits, took dumps on the sidewalk that YOU have clean up, had open sex, played loud music and basically, disturbed the peace and harassed your neighbors as you do?
Bet that wouldn't fare well with you.
You get 'Forked because you are worse than the pirates you are protesting.
What you ought to target your manufactured rage at is not Corporate America, but those that enabled and fostered the bailouts, debt ceilings, proposed Socialised medicine...the Federal Government, Union supporters, siphoners or members, The Capitol Hill Clowns, and especially, our Golfer and Vacationer-In Chief, Obama.
I said it, and stand by it.
Now, get off OUR lawn, fleabags.
'Fork You, and consider getting a life, Occutards.
---
SELF-'FORKULATION |
AUGUST 05, 2011

---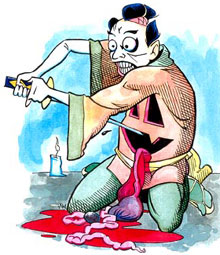 The initial purpose of creating The Porcus Pitchfork page was and is to provide a forum (for Porcus) to critique, stigmatize, laugh at and administer a 'Forking to those deemed most deserving of receiving the business end of the 'Fork.
Everyone is considered fair game, and this 'Forking Fiesta goes to none other than The Keeper Of The 'Fork...Me!
That's right. I've exiled myself to a corner in a dark room, sucking my thumb and 'Forking Off. In case you didn't know, your most humble publisher has been know to be in the wrong once, maybe twice in his life. More like twice this week alone.
I know. Being as modest as I am, it really is hard to believe, even for me, but true nonetheless.
Like anyone else, I've registered on my own radar and am prone to the same mistakes, screw ups, bad moves, from time to time catch a case of the old "Foot In Mouth" condition, and have awarded myself the "Golden D'oh!" award many times.
As recently as this week, I was the cause of two minor mishaps regarding this website. Luckily, Hambo immediately caught both screw ups, fixed them, and didn't lecture me, Hammer me, or even put me on Double Secret Probation.
I've been known to piss some folks off, tell the wrong, sometimes right people precisely where to stick it, and why they suck. Being in the wrong place at the wrong time. Hanging with the wrong crowd, namely, me. I'm way guilty of all of those and many, many more, and sometimes as a repeat offender, and have always paid the price.
Don't get me wrong. This NOT a true confessions posting. I can't do that, here anyway, due to the statute of limitations.
This posting is to prove that no one, not even me, is immune to an In-Your-Face 'Forkjob. The difference between 'them' and 'me' is that I don't swallow. After all, if someone, something is worthy of getting 'Forked by me, I'de like to know who died and declared that I can't 'Fork myself?
Does this mean that the 'Fork is getting soft and dull?
Not by a longshot.
The tines of the 'Fork are sharper than ever and the woodshed is currently empty, awaiting it's next 'Fork-A-Thon.
Finally, just so you know. I did not go blind, nor did I grow hair on the palms of my hands as a result of this adventure in Self-Forkulation.
'Forking Off until next time,
Porcus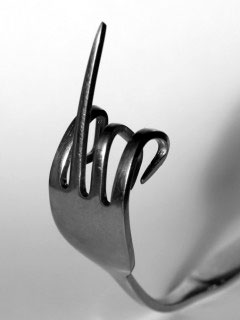 ---
COMPETITION |
JUNE 11, 2011

---
The arrogant eggheaded Ivory Tower A-Holes, who think (think?) that just because someone shows up at anything involving competition merits and deserves a trophy, gold star or a smiley face even when they blow chunks and suck some hard nard, are total 'Tards.
Enabling and encouraging young people with no creative, artistic, musical, athletic, or educational knack, talent or ability, then giving them an award for merely showing up to boost their self-esteem is felonious.
It's equivilant to a fat girl who lost 2 pounds in 3 months because she kicked the Twinkie habit and struts around town with a...gasp...blue veined fat stomach revealing shirt that says "I'm Sexy."
Well, she showed up, got a brand new, high octane self esteem. How neat is that? Warm fuzzies all around, huh?
Back to the subject of competition, and I'll make this brief. Competition brings out the best of the best that due to hard work, or natural talent by virtue, gets them to the top and when they get to the top, they get that brass ring, trophy, certificate, or, more importantly, the thrill of victory or knowing they didn't just 'Show up' they kicked ass, Forked their competitors at whatever they did, and won.
Case in point: I recently attended a college version of an American Idol musical competition, in which my neice was performing. Prior to her taking the stage, there were some other female acts that relied mainly on their low cut on the top, high cut on the bottom dresses, long legs to save them, because they had as much talent as a blade of grass when it came to singing.
When my neice hit the stage with her band, she brought the house down. Twice, with standing ovations each time.
After she won, she appoached us and I had to ask, "Where does this talent come from?
She replied, "Hard work, and a lot of practice.I want to win"
She beat and Forked the competition, hands down and won a sweet prize for her performance.
Afterwards, while I sparked up a victory cigar, I heard some disgruntlded parents complaining that their precious spawn should have won. Tough toenails, the best person won, and you need to get over it.
Memo to parents of losers, of anything: If your kid sucks at what YOU want them to do, be it anything from athletics, poetry or violin recitals, raking leaves, sometime you have to face reality and admit, my son/daughter just isn't geared for this.
There is hope and good news. McDonalds is always hiring, and in time your untalented, uncompetitive kids can learn how to say, "Do you want fries with that?"
I want to leave on a happy, yet, Forking note to parents that don't instill a "Be The Best You Can Be" Attitude towards their children.
This is for the parents of the losers, courtesy of The Forkdom:
Don't be pissed,
Don't feel dissed,
Don't be an ingrate,
Accept your fate,
Your kid sucks,
And didn't get the bucks,
Just hit the road and kick some rocks,
If your untalented kid wants to be famous,
They'll have to learn how to suck on some...(Let's see, what rhymes with rocks? Use your imagination.)
Your kid was a dork,
And you get The Fork.
So, if you want to chew on sour grapes because you or your kid can't cut it, get lost or get Forked.
---
WHIPPED |
MAY 15, 2011

---
*Publisher's Note: I did not write this, but I coudn't resist posting it.I lifted it from Page One PIG's Tasty TidBits. But, I found it to be worth a good 'forking.
These pussy-whipped clowns are worse than the Vagina Monolouge screech owls and wet hens that squawked about how men in general sucked because men don't like to cuddle, go to the mall, or spend quality time with their pussy (cats.)
That's to be expected from a whiney "woman," but the following should never be said by a dude.
Scroll down, inform yourself how not to be a whipped wimp, (like somebody I know).
Enjoy and learn. Part of this posting was based on a Real Dude named Hambo.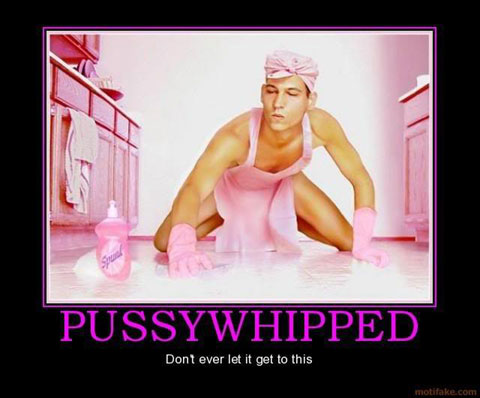 A group calling itself Conscious Men is apologizing to women for thousands of years of lousy behaviour, including burning them at the stake, prostitution, rape, genital mutilation, political and economic inequality and relegating them to "subservient chores."

"Dear Woman," begins the group's eight-minute YouTube video, which features a diverse cast of men speaking over a weepy violin.

"We stand before you today as men committed to becoming more conscious in every way," one man reads from the group's manifesto. "We feel deep love, great respect and a growing sense of worship for the gifts of the feminine. We also feel deep sorrow about the destructive actions of the unconscious masculine in the past and present."

Some of the men are dad-ish and others are professorial. There's a teen in a hoodie, a white guy with dreadlocks and a muscular type in a flowing white shirt. One sits atop a pile of pillows, apologizing for men who have used women's bodies for "commerce, prostitution and pornography." Another celebrates women's abilities to "pay attention to what is here, right now." (There's a painting of a kitty behind him.)

"I honour your intuition, and your profound capacity for feeling," one says. "As men, we have often devalued feeling and intuition, in favour of a view dominated by data and logic," adds another, overtop an image of mathematical symbols filling a chalkboard.

One would think women would be thrilled, but apparently they're mostly just creeped out, with commenters tearing a strip off the men for being too "new-agey" on Jezebel. Others accuse the Conscious Men of being macktivists (that's espousing a cause for sex).

Over on YouTube, a vicious backlash prompted the Conscious Men to disable comments on their video.

"We are very aware that some people resonated with it, and some did not," reads a note under the video. "We have received thousands of comments, and many of them are highly abusive or offensive. We are happy to welcome all points of view, but not expressions of violence or hatred."

The two founders are pensive types: Gay Hendricks offers online relationship therapy with his wife Kathlyn while Arjuna Ardagh is hawking his "Deeper Love" retreat in Corfu, Greece.

Not to be outdone, Mr. Ardagh's wife, Chameli, has also repledged her own apology – on behalf of all women to men.

"In our bitterness and feminine starvation we empower ourselves by making you small and ridiculous. We speak of the masculine with contempt and disrespect and instead we took it upon ourselves to compete with men, when this was a futile competition to start with," she writes to her "sisters."

Should men be apologizing for the actions of a few? What do you make of the hatred aimed at the apologists? Does it suggest men can't win, either way?

This appeared in Tasty Tidbits:

Eunuchs

They call themselves 'Conscious Men', but I'm not convinced on either score. Conscious? Perhaps. Men? I doubt it. Whatever the case they're apologizing, on behalf of their alleged gender, to women for 'thousands of years of lousy behaviour, including burning them at the stake, prostitution, rape, genital mutilation, political and economic inequality and relegating them to "subservient chores"...' (Globe & Mail)

"Dear Woman," begins the group's eight-minute YouTube video, which features a diverse cast of men speaking over a weepy violin.

"We stand before you today as men committed to becoming more conscious in every way," one man reads from the group's manifesto. "We feel deep love, great respect and a growing sense of worship for the gifts of the feminine. We also feel deep sorrow about the destructive actions of the unconscious masculine in the past and present."

Some of the men are dad-ish and others are professorial. There's a teen in a hoodie, a white guy with dreadlocks and a muscular type in a flowing white shirt. One sits atop a pile of pillows, apologizing for men who have used women's bodies for "commerce, prostitution and pornography." Another celebrates women's abilities to "pay attention to what is here, right now." (There's a painting of a kitty behind him.)

"I honour your intuition, and your profound capacity for feeling," one says. "As men, we have often devalued feeling and intuition, in favour of a view dominated by data and logic," adds another, overtop an image of mathematical symbols filling a chalkboard. (Globe & Mail)

And what, you ask do women think of this very special apology ploy? According to the Globe & Mail, 'they're mostly just creeped out'. The blowback, apparently, is so impressive that Conscious Men shut off the YouTube video's comment's links.

Hambo sez: Crawl back under your rocks until you sprout a pair.

---
PICKPOCKETS |
MARCH 21, 2011

---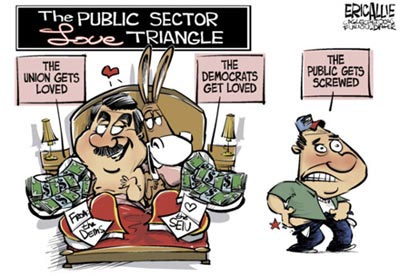 There's seems to be a big stink emanating from the Cheesehead state of Wisconsin, and Limburger is not the super stinky culprit on a steaming load of steroids.
It smells more like a rat.
It seems as if an awful lot of ungrateful 'Public Sector' emloyees are whining about them having to contribute to not only a little more from THEIR paychecks for THEIR pensions, benefits and and of course, their untouchable and totally union protected, undeserved, inflated salaries, but also their collective bargaining rights, too.
The term 'Unconstitutional' is being used by any/all Public Sector Union members in their quest to take more from the taxpayer, and that includes teachers, correctional officers, tin stars, street cleaners and other bureaucratic bullies. I'm no Constitutional scholar, but I don't think the Framers and Founding Fathers wrote any provisions in the Constitution that green lights a parasital horde - the public sector union members - to make demands upon and pick the pockets of hard working private sector empoyees and employers. I don't think there are any provisions or amendments regarding collective bargaining rights of union workers, either.
Well, the taxpaying (non-union) public and private sector, aka, 'We The People' are being villified, along with Wisconsin governor Scott Walker, because they dare to say 'Fork Off to Public Sector Union members' high priced demands on the public by making budget cuts that include the precious perks and high priced pensions that WE pay for.
When WE THE PEOPLE declare that "We're mad as hell, and we're not going to take it anymore!", well, they stomp their feet like spoiled teenage drama queens and act as if we're taking food off of their tables. The truth is, Public Sector Union Punks are taking food off of OUR tables with their demands that we Fork over our hard earned money to pay their inflated and undeserved salaries, benefits, pensions, etc. and is outright piracy and legalized pickpocketing. Talk about Robin Hood in reverse. These Public Union Thugs are getting fat off of every dime they manage to squeeze from the taxpaying public.
What do WE get in return? A lot, if you like sub-standard, rude service, coupled with miles of red tape, served up by incompetent clock watching, self serving union drones.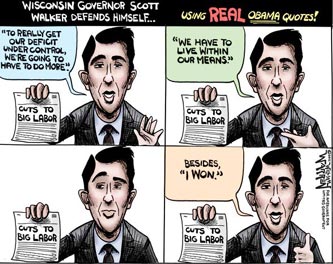 Well, this 'Forking goes as such, and this applies to not only to the "It's For The Children" schoolteachers in Wisconsin, but all SEIU drones, ACORN thugs, government workers, correctional officers that don't do squat, to fat lazy Barney Fife type wannabee Tin Stars.
You're a bunch of pious parasites feeding off the host, 'We The People' and without U$, you will whine and snivel yourselves - and us - into poverty.
You claim to serve the public, but your recent activities demonstrate you're only out to serve yourself. If your 'job' depended on performance, merit and achievement rather than tenure or union protection, you would be shitcanned, replaced and out looking for work like millions of others who not only don't have a job, but with that, needless to say, no benefit package or pension as well.
Memo to ungrateful, self serving public union members: Your freeloading, gravy training days may soon be over and you may have to fall in line with the rest of those you pretend to serve.
So, the next time you call in 'sick' to protest the fact that you may have to pony up a few extra dollars for your benefit package and pension - for the children's sake, of course - why don't you 'Fork Off, get the 'Fork out of town and save the taxpayers a few 'Forking dollars in the process?
Remember, you're getting no sympathy here in the 'Forkdom and yes, you CAN be replaced.
For more on Public Sector Union abuse, click here:
>>> Union Abuses In Wisconsin >>>
P.S. I posted this on behalf of "The Children" that are supposed to be getting educated, but are getting the stinky end of the stick.
---
BAGPIPING ON THE IRISH |
FEBRUARY 12, 2011

---
It seems as if New York City Mayor Michael Bloomberg had nothing better to do recently than to call out the New York's Irish community by, in essence calling them a bunch of sots, and drunks in anticipation of next month's St. Patrick's Day Parade.
He may have done a hit piece on the Irish, but what he said was true.
Irish love to not only drink, a lot, but most have a strong will, love of work, fighting, and hand me my four leaf clover, lucky charms, and Blarney Stone barf bag, but also having very thick skin, usually.
Not in the case of Bloomberg's remarks. It seems as if a hyphenated, hypersensitive Irish-American community organization demanded a Don Imus-type apology, basically, a "Kiss My Ass, I'm Irish" type of explaination from Bloomberg.
This posting of the Forking does not go to Bloomberg, but to New York City's Irish, who I thought had thick enough skin to merely laugh it off and move on, as usual. But not in this case.
Shame on you, Shamus, Sean, Paddy, Colleen, Lassie, Laddie, Murphy, O'Brien, whatever, shut the Fork up! Somene called you out on the truth and you're taking it as an emotional boo-boo.
Right about now, I need O'Hambo to pass me a Guiness, or 12, and say, for shame, you Victimhood bunch of very Un-Irish, crybaby Micks. With your complaints and hypersensivity, you just forced me to consider changing my name to Horowitz, Bloomberg, maybe even Kowalski. Heh, Heh.
So, Fork off with your complaining, Mick's and grow a set of Blarney Stones and get over it.
---
BRAIN DEAD ZEALOTS |
FEBRUARY 09, 2011

---
*Keeper Of The Fork Note: This posting will be prefaced by a take from the movie, "Oh God!" Here goes:
Jerry Landers, (John Denver) "I don't belong to any church."
God, (George Burns) "Neither do I."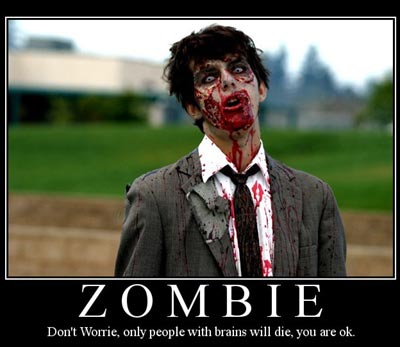 There seems to be a certain brainwashed breed of cyborg's that lurk among us, riding bicycles and wearing short sleeved, white button up shirts, with cheap J.C. Penney neckties that knock on your door, and attempt to peddle their brand of faith upon the unsuspecting.
They pedal their bikes and peddle their brand of Bible Thumping guilt trips, and usually can take a polite no for an answer.
However, there seems to be a little local batallion of brothers...oops, elders around my neck of the woods that don't understand not only what "NO" means, but what "FUCK NO" means in their recruiting/sales tactics when they knock on my door
But Holy Joseph Smith and Brigham Young! Oops. I just did some name dropping didn't I? Oh well, That cat's out of the bag, huh?
Well, that's OK. God Bless them in their missionary quests, those brain dead zombies, but the next time they feel inspired to brainwash, robotize, convert or otherwise ply their sales pitches on me, they get a Forking at my front Forking door.
What further infuriates me and gives Kool-Aiders like them a double Forking with no Vaseline, K-Y or any other sort of personal lubricant is the fact that I know they'll be back. When that time comes, and it will, I'll use the splinter end of the Fork and make a deposit where the sun don't shine.
What makes this Fork-Worthy is that these spiritual, snot nosed Kool-Aid consuming zombies with no worldly experience, come to my front door and tell me that my faith in...whatever, is all wrong and their 'New And Improved' brand of Elmer Gantryism is superior to mine by attempting to sell me on an eternal bliss complete with rainbows, lollipops, candy canes, harp music and unicorns, plus the usual damn guilt trip.
Gee whiz. I thought the assholes that believed the 72 virgins thing was far fetched, and actually, I'll take the 72 virgins, as long they're lined up at my front door, but the particular religious creepy crawlers I mentioned seem to not be able to grasp the word NO.
In short, these robots stepped on the wrong set of toes, but rather than get mad, I'll simply borrow from Clint Eastwood and tell these hacks to Get Off My Forking Lawn.
Over, out and amen, brother's and sister's
---
BIG BROTHER'S ENFORCERS |
JANUARY 07, 2011

---
Big Brother has apparently been overdosing on steroids in the state of Florida with it's new DUI checkpoint policy of "No Refusal" for any motorist that won't submit to a blood, breath or urine test at law enforcement's Gestapo-Style checkpoints.
Tin Stars are alive and well in a huge Orwellian fashion, with a Barney Fife attitude at these checkpoints, because if you are suspected of driving under influence by a cop, and refuse any of their requested sobriety tests, guess what? Barney Fife is backed up with an 'on location' judge that will sign a search warrant, on the spot, that permits the Tin Stars to invade your body and person by taking your blood to determine if you are driving under the influence.
Don't know about you, but if ANYONE took my blood, or invaded my body against my will, I would throw down the gauntlet and whip out the Fork.
What in the world is happening in the Land Of Liberty when We The People lay down like little lambs ready for slaughter, and surrender and submit to further trampling on our personal freedoms in the form of what could be termed as not only an invasion of privacy, but mental and Constitutional rape?
Don't get me wrong. We're all for keeping dingbats and drunks off the the road, but to mandate a total stranger that just happens to wear a badge to stick a foreign object in your body and take your blood, even if you are shitfaced while driving, is an outright violatation of any American's citizens personal right's.
Gets better. The Keeper Of The Fork predicts that other states will follow suit. But, the better news is, that as individuals, many people who were not hoisting brewskies, but suspected of driving under the influence, yet still were FORCED to submit to an invasion of their body by Big Brother and Barney Fife, will open up the Yellow Pages, find the nearest sharp toothed shyster and file suit and hopefully sue the badges off of those Tin Stars, and rightfully so.
Oh, and guess what, Fife's? Porcus got a brand spanking new Pitchfork for Christmas. It's really neat. It's pretty, primed, shiny and sharp, and christaned for the new year by sticking my New Fork in a part of the body that is a proctologist's worst nightmare, right up Big Brother's anal cavity. With pleasure, too.
Here's a link to a news story, and if your'e a member of the "We The People Club" this one may require an extra large barf bag that accompanies my new Fork.
---
O COME ALL YE FAITHFUL, TWISTED PIGSTERS |
DECEMBER 16, 2010

---
This Christmas season, all Pitchforking activities towards the usual cretins and creepy crawlers that normally register Fork worthy shall be put on hold, due to Porcus' most merciful kind heart (right) that frankly don't know any better and would normally find themselves on the pages of PIG either getting Hammered by Hambo or Forked by Porcus.
Instead, in the true spirit of the birth of Christ and goodwill toward men and even wannbee men, I, Porcus, put aside my Pitchfork, put on my Santa Claus cap and hereby grant all Fork-Worthy A-Holes a VERY temporary pardon.
Remember, VERY temporary. Tis my gift to the otherwise Fork-Worthy that made my Naughty List.
Now, for those that felt more than a pinch and bite out of their financial asses from our Pirate-In-Chief and have nothing to give, there is one gift you can give. It's called thanks and gratitude.
To who?
First, your Creator for giving you the gift of life, liberty and pursuit of happiness here in America and the freedoms bestowed upon you that have not yet been hijacked by Constitution trampling, jack-booted thugs.
Second, and more importantly, and this a heartfelt message from Porcus. You still have the freedom to tune in to PIG's ranting's and raving's and occasional insanity, (enjoy while it lasts) And for that we here in the PIGdom get a gift from our faithful each day throughout the year every time you take time out of your day, usually on your bosses dime, to keep tabs on us.
So, thanks to you, our PIG faithful for your time, contributions, comments and faithfulness to our little cyberspace dartboard and whipping post. Quite a gift we recieve every day when we get feedback from you, the PIG faithful.
Our gift to you is, of course, providing truth, humor, facts and fun throught the next new year, and it's ALWAYS our pleasure to do so.
Now, for those that are burned out on traditional renditions of Christmas tunage, I'll offer this and are of the more unorthodox ilk, the following link is for your enjoyment.
Enjoy and have a Merry, PIG-style Christmas, and most importantly, when you click the link, turn it way up.
If, for some reason that link doesn't shine the balls hanging off your tree, well Fork off and enjoy something a little more traditional, with an extra special, Twisted rendition of The 12 Days Of Christmas.
---
DIVORCE AGREEMENT |
OCTOBER 05 , 2010

---
The following was sent my way by PIGster Lone Star and had been gathering dust in my inbox for some quite a while.
According to the memo that accompanied this, it was written by a young student, and it was so well put, that I thought the time was right for me to have a guest do my Forking for me.
DIVORCE AGREEMENT
American liberals, leftists, social progressives, socialists, Marxists and Obama supporters, et al:

We have stuck together since the late 1950's, but the whole of this latest election process has made me realize that I want a divorce.... I know we tolerated each other for many years for the sake of future generations, but sadly, this relationship has run its course.
Our two ideological sides of America cannot and will not ever agree on what is right so let's just end it on friendly terms. We can smile and chalk it up to irreconcilable differences and go our own way.

Here is a model separation agreement:

Our two groups can equitably divide up the country by landmass each taking a portion. That will be the difficult part, but I am sure our two sides can come to a friendly agreement. After that, it should be relatively easy! Our respective representatives can effortlessly divide other assets since both sides have such distinct and disparate tastes.

We don't like redistributive taxes so you can keep them. You are welcome to the liberal judges and the ACLU. Since you hate guns and war, we'll take our firearms, the cops, the NRA and the military.
You can keep Oprah, Michael Moore and Rosie O'Donnell (You are, however, responsible for finding a bio-diesel vehicle big enough to move all three of them).

We'll keep the capitalism, greedy corporations, pharmaceutical companies, Wal-Mart and Wall Street. You can have your beloved homeless, homeboys, hippies and illegal aliens.
We'll keep the hot Alaskan hockey moms, greedy CEO's and rednecks. We'll keep the Bibles and give you NBC and Hollywood.

You can make nice with Iran and Palestine and we'll retain the right to invade and hammer places that threaten us.. You can have the peaceniks and war protesters. When our allies or our way of life are
under assault, we'll help provide them security.

We'll keep our Judeo-Christian values. You are welcome to Islam, Scientology, Humanism and Shirley McClain. You can also have the U.N.. but we will no longer be paying the bill.

We'll keep the SUVs, pickup trucks and oversized luxury cars. You can take every Subaru station wagon you can find.

You can give everyone healthcare if you can find any practicing doctors. We'll continue to believe healthcare is a luxury and not a right.
We'll keep The Battle Hymn of the Republic and the National Anthem. I'm sure you'll be happy to substitute Imagine, I'd Like to Teach the World to Sing, Kum Ba Ya or We Are the World.

We'll practice trickle down economics and you can give trickle up poverty your best shot.
Since it often so offends you, we'll keep our history, our name and our flag.

Would you agree to this? If so, please pass it along to other like minded liberal and conservative patriots and if you do not agree, just hit delete. In the spirit of friendly parting, I'll bet you answer which one of us will need whose help in 15 years.

Sincerely,
John J. Wall
Law Student and an American

P.S. Also, please take Ted Turner, Sean Penn, Martin Sheen, Barbara Streisand, & Jane Fonda with you..

P. S. S. And we won't have to press 1 for English.
---
JOHN CALLAHAN: 1951 - 2010 |
SEPTEMBER 21, 2010

---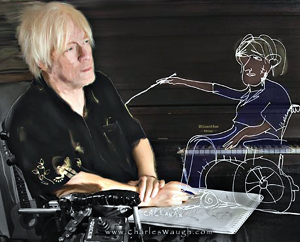 Over the summer while in Portland, Oregon, I happened to pick up a local, somewhat underground, alternative weekly fishwrap which announced the passing of one of the most darkest, and most definitely Incorrect cartoonists of all time, John Callahan.
Not exactly a household name, some of you may recall some of his work, which has appeared in many major publications, Callahan was not your Mommy's caliber cartoonist.
Several things about Callahan made him stand apart from the crowd.
One: The personal obstacles he had overcome in his life to leave his footprint on the world. He was a quadrapalegic and a recovering alcoholic.
Involved in a booze fueled car accident at age 21 that left him in a wheelchair, paralysed, he was able to crank out some crudely drawn, but in your face cartoons by holding his pen with both hands.
Two: In John Callahan's cartoon world, everything, and everyone was fair game. From Smoke Nazi's and Feminazi's to Ethnocrats and Disabled, if you registered on his radar, guess what? Tag! You're it!
Why is this on the Pitchfork? Well, I'll steal a quote from Callahan himself, who spent his lifetime Forking those that deserved it most, especially those claiming to defend the disabled:
"Like me, they are fed up with people who presume to speak for the disabled. All the pity and the patronizing. That's what is truly detestable."
If interested in more Callahan fun, visit his official website: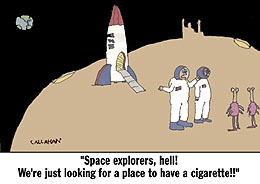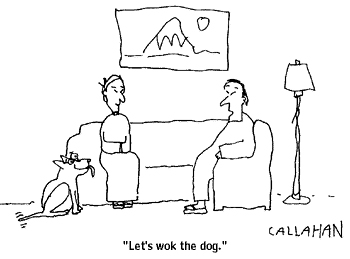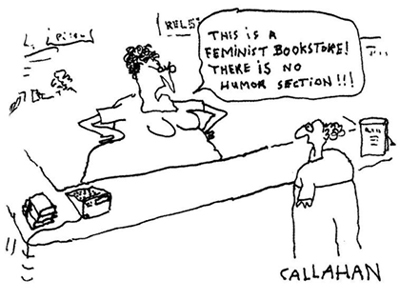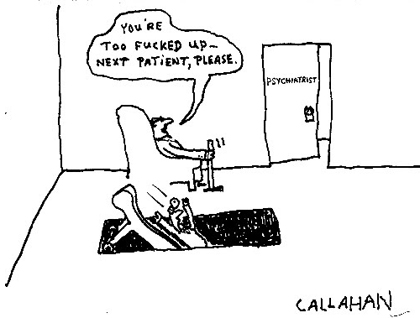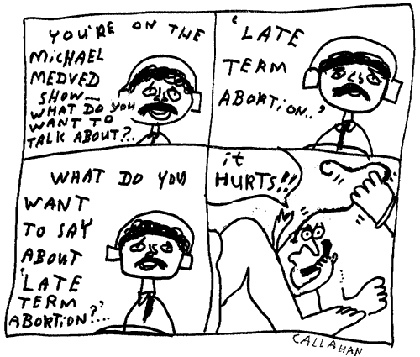 ---
PORCUS GETS POETIC |
SEPTEMBER 10, 2010

---
An Ode To Hambo
Don't know how it came to be, when we met that fortunate day,
But PIG became the playground where we both could play.
At all the right people, he hurled prose filled bombs and rocks,
To his critics he would shrug his shoulders and say "Whatever rots your socks"
How fortunate was I, to have met this man,
Who can tell you where to stick it like NOBODY can,
If your panties were twisted, perhaps even puddled,
Fear not, whilst reading his prose, your mind will no longer be muddled,
His views have been declared, loud and clear,
Yet when he does so, the voice of reason is so sure to be near,
When you register on his radar, you better beware,
If he's pissed at you, you don't want to be THERE,
If you feel neglected for lack of mention,
Never fear, he'll find a bone of contention.
He's a funny, patient to a point dude,
But if he comes to your house, lock up your beer and food,
Keep tuning into PIG, where he's hitting his stride,
And remember, he's dedicated to PIG with a chest full of pride.
It's always been my privilege to know this man,
Who has a talent to think, reason and write like nobody can.
And I mean NOBODY.
Period.
Thank you for not laughing.
Porcus
---
FIRE SAFETY RULES |
SEPTEMBER 07, 2010

---
Gosh darnit! I just heard a pastor in Florida wants to commemorate the 9th anniversary of the 9/11 attacks by having a rally burning Korans.
Burning Korans on 9/11? Cool. Fight fire with fire.
But Jiminy Crickets, has any one considered the potential of a possible fire hazard if that happened.
Did the pastor take the time to contact the local fire department for a public permit?
Probably not, but this being The F.S.O.P. I have a little Pitchfork style solution to assist the local fire fighting battalion.
Once those Korans are torched to high Heaven, or better yet, Hell, my main concern would be the safety of the local community due to the smoke and embers from the pyre.
Solution to extinguish the fire?
Plan A involves a stampede of wild pigs to stomp on those nasty flames on the Koran until the fire is ALMOST out. When that doesn't work, we can have a butcher and barbeque grill ready to slaughter one of the pigs, and sprinkle it's blood on the Koran.
Plan B of the Pitchfork fire safety proposal is a lot more fun, satisfactory, and enjoyable. Since there's a barbeque grill, probably some sudsy adult beverages, and willing participants, folks can gather round the bonfire in a circle, hold hands and take turns in a session of whipping out their business, ladies included, and pissing out the last of the fire.
Hateful? No.
Practical? Well, in the words of PIG's Executive Editor, "I'm not saying, but I'm just saying."
We normally don't advocate the burning of books, however, in the context of this, we think we can look the other way.