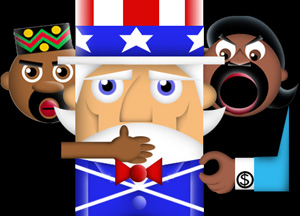 The relentless quest for plunder - the 'slavery reparations' extortion scheme - continues to resonate among Amerikan parasites of the whining, melanin-enriched persuasion. Countless well-intentioned individuals seek to reason with these greedy dolts, hoping, no doubt, to make them see the error in their thinking. Obviously, these 'lets sit down and reason together' dweebs don't get the big picture: these slavery reparations extortionists, whiners who cling to their 'Great White Bigot Behind Every Tree' bovine excrement, aren't speaking from intellectual conviction. They're basing their spew on emotion. Nobody, no matter how intelligent...no matter how polished their debating skills...no matter how well reasoned their views can win an argument with emotion. It can't be done, because feelings, by their very nature, are irrational, thus beyond the reach of well-reasoned persuasion.
We, on the other hand, know better than resort to a calm, reasoned discussion. We know, too damn well, that these greedy obnoxious, lazy dolts will persist, until they set off a race war, or get their plunder. Extortion? You better believe it, Sparky. Unlike civilized individuals who seek to resolve this through relentless yammering, I only want one damn thing. I want these reparations-extorting assholes to shut the (expletive deleted) up and get the hell out of my face about this reparations bovine excrement.
Fact: Reparations is an asinine notion that will set back race relations in Amerika by decades. That said, I'm all for it, if it will make these Ethnocrat whiners shut the hell up. I say, let's dangle a wad of money (at least $500,000 in dead presidents, but I'm willing to make it a cool $1 million, if needed) in front of their bellowing, self-pitying faces. Let's tell these whiners that the money is theirs for the taking, however, we want something in return. No, I'm not spouting any 'send them back to Africa' drivel. The only requirement is as follows:
You're free to take the money and use it any way you want, tax free. In return, you, personally, and all of your descendants to the end of time, must absolve the Amerikan government of any/all historical 'sins'. In other words, from the instant you take this money, you and your family are, in the eyes of the government 'unhyphenated white males'. This means no more racial set asides, no more 'protected minority' status, no raced-based government largess, ever again. As an unhyphenated white male, you lose your race card privileges. White males, by their very nature, are incapable of being subjected to racism. By the way, former Ethnocrat, these aren't the white man's rules, these are your rules. So, there you have it. The choice is yours. The money in exchange for your protected minority status.
In other words, they can take the god damn money and shut their god damn yaps, for god damn ever! If they won't accept the money on those terms, they can bellow about reparations and racism till our sun explodes, because they're not getting jack. This offer is a one-time, take it or leave it gig.
End of discussion.
– T.D. Treat