---
ETHNOCRATS | CHIP ON YOUR SHOULDER? PLAY THE RACE CARD!
---
RACE CARD
---
RACE CARD / VICTIM VOUCHER BENEFITS:
• Jump to the front of the admissions list in
Amerika's top universities
• Gotta hire me, can't fire me, job protection.
• Your red carpet to the gravy train, as a
job-for-life government employee.
• First refusal on those enriching
government contracts.
• Win fame and fortune as a victim of police
brutality and/or profiling.
• Your get out of jail free card when you
choose to burn, loot, rob and riot.
• Your passport to separatist clubs, colleges,
pageants, student organizations and
award shows.
• Obligates guilt-ridden liberals and media
sludge to hang on your every word, no
matter what kind of drivel you're spewing.
• No matter how rich, successful or famous
you get, the Voucher proves that you're
still a victim.
"Playing the Race Card" is a familiar phrase...one some of us use routinely. Ironically, those most likely to play the race card - Ethnocrats - are the ones least likely to use this phrase. Most of the time, it's deployed by the vast right-wing conspiracy, but even such champions of sovereign individualism as libertarians and objectivists are prone to using it.
This phrase's meaning knifes through the facade of Ethnocrat self-pity, to the very heart of victimism. At its pathetic core, victimism is raw, irrational emotion. Surrounded by their cocoon of hypersensitivity, Ethnocrats view life through race-tinted glasses. The race card is part and parcel of this world view.
Playing the race card? It's perceiving racial motives where none exist. It's detecting racial animus in benign, everyday occurrences...occurrences utterly devoid of racial intentions, implications, or overtones. Playing the race card is blatant, Ethnocrat racism.
Now that we understand 'playing the race card', what, you're wondering, does PIG intend to do about it? We're delighted that you asked. Recognizing the race card's inherent limitations - it only protects the melanin-enriched, and melanin-advantaged - PIG decided to extend pity protection to all the properly-hyphenated. Boldly going where cringing Ethnocrat cretins fear to tread, PIG perpetrated the ultimate in 21st Century coddling: PIG's soon to be legendary Victim Voucher.
Unlike the obsolete race card and its intolerable racial profiling, PIG's Victim Voucher gives the same protection to tree huggers, NO-NAD's and GLAAD BAGs. Our Voucher empowers the victim to feel oppressed, anywhere, anytime, whenever the mood strikes them. Leaving no stone unturned, PIG also created Victim Validation Voucher for bleeding heart pinko liberal scum, a card that enables these Neo-Marxists to 'validate' oppressive outrages when no victim in good standing is there to do the deed. Don't wait a moment longer. Go out there and celebrate your oppression with your very own Victim Voucher. Don't leave home without it.
---
USING YOUR VOUCHER
---
Example 1: While driving, you accidentally cut off another car. The driver you cut off responds with the 'one finger salute'. Thanks to your Voucher, you're a victim of hate speech.
Example 2: Your terminally grumpy coworker doesn't say 'Good Morning'. Thanks to your Voucher, you can nail the asshole as a 'racist', 'sexist', 'homophobe', or 'environmental terrorist'.
Example 3: A cop stops you for a minor traffic infraction. Thanks to your Voucher, you can sue the socks off him for being a 'racist', 'sexist', or 'homophobic' profiler.
Example 4: Your boss promotes a coworker citing 'merit'. RUN, don't walk, to your nearest EEOC office, redeem your voucher and get that undeserved promotion.
PIG's Victim Voucher has many more uses which will enable you to enjoy countless other shortcuts and free rides. Your Card or Voucher entitles you to act as liberally and irresponsibly as the moment dictates.
Start getting even now! It's so damn simple even you can do it: download or copy the Voucher of choice to your hard drive; print it out; cut along dotted lines; stow in in your wallet next to your food stamps. Now, go out there and make Whitey miserable! Don't hog all the fun; download enough for the whole family! We even have a 'Lil Sniveler Starter Kit for the kids in case their school ran out!
From now on, instead of having to go through all the trouble of having Jesse Jackson or Johnnie Cochrane fight your battles, you can do your own whining. Keep your Voucher handy, and remember: when in doubt, whip it out.
VICTIM-VOUCHERS - COLLECT 'EM ALL!
Victim-Vouchers Come In A Variety of Politically Correct Approved Colors:
HOT PINK for GLAAD-BAG's
GLAAD-BAG's: Gay & Lesbian Alliance of Annoying Dykes, Boys & Alleged Girls.*
*Alleged Girls covers Bi, Tri, Quadra, Poly, Transsexuals and Crossdressers.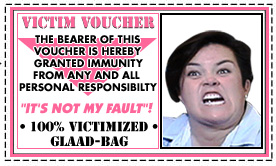 Privileges: Authorized to use these sacred GLAAD BAAG terms: 'homophobic' and/or 'homophobe'. Confers hate crime victim status. Empowered to demand a job from any/all tradtitional family values outposts, including churches, Parochial Schools, the Boy Scouts. Entitled to a paid day off on such GLAAD BAAG holidays as: Anniversary of Matthew Shepard's death, Judy Garland, Marilyn Monroe, or Madonna's Birthday, plus is given time off - with pay - to get tarted up for the Gay Pride Prance-a-Thon.
BLEEDING HEART RED for ULTRA LIBERAL
ULTRA LIBERAL: You know who you are and so do we: Ivory Tower Eggheads, So-Called 'Activists', 'Progressives', Recessives, Depressives, Class Warfare Cretins, Parasite-Coddling Neo-Marxist Asshats and assorted other individual liberty-hating, pathetically paranoid Capitalism-phobic America bashers.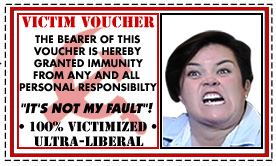 Privileges: Authorized to deem anyone to the right of Karl Marx 'the new Hitler'. Empowered to repeal property rights to save the endangered cesspool cockroach and assorted other irrelevant critters. Entitled to mug American achievers and divide the spoils among your parasite asshat friends. Obligated to be bellowing, aromatic, irrational and a complete waste of breathable air.
GREEN WITH PENIS ENVY for NO-NAD's
NO-NAD's: National Organization of Nasty Angry Distaff's. We'd know you anywhere: bra-less hefty bags in flannel shirts and sensible shoes who recoil whenever someone reminds you that there's another gender. If you're dude-phobic, you gotta carry this card. It's probably the only way we'll realize that you're - technically - female.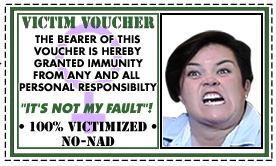 Privileges: Granted unconditional immunity for any/all irrational acts perpetrated during the Periodica*. Empowered to have any male co-worker fired the instant you feel sexually harassed by his expressions, gestures, actions or thoughts. Entitled to declare a consensual sexual encounter a 'date rape', if, at any time in your life you come to regret it. Authorized to proclaim patriarchal oppression whenever life zings you with a reality check. Obligated to keep Gloria Allred's phone numbers on your speed dial, at all times. Must observe a moment of silence, daily, to commemorate those virgins who gave 'it' up to an oppressor during the past 24 hours. *Periodica: a ritual bloodletting ceremony performed every 28 days.
---
FINGER-LICKIN' FUDGE BROWN for XXX - LARGE HIPPO'S
HIPPO'S: Humongous Indescribable Plodding Porker Organization.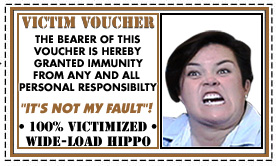 Suggested Use: If you can get your catcher's mitt of a hand into your pocket, present this non-edible voucher to that smart-ass ticket counter at Southwest Airlines who tells you that charging your double-wide ass the price of two seats is like cramming 10 lbs. of shit into a 5 lb. bag. Also handy at the all-you-can-stuff-in-your-face buffet tables. Just show the manager this voucher and he/she personally offer you 2nd, 3rd, 4th, and 5th helpings as long as you promise not to eat any customers. Pass those pork chops! Pronto!!
© Copyright 1993-2013 PIG - The Politically Incorrect Gazette
---
---