---
ETHNOCRATS | SELLOUTS: THINKING OUTSIDE THE RULES OF YOUR RACE...INCORRECTLY
---
Insulated from reality inside cocoons of hypersensitivity, self-described victims of oppression insist on defining the rest of the word in terms that justify their feelings of victimization. In this warped, victim-centered world view there are victims; there are oppressors and there are sellouts. It's this third element in the Victocrat universe on which this section of PIG will concentrate.
Ethnocrats use terms like 'Sellout', 'Uncle Tom', 'Acting White' and the like to intimidate wayward elements of the tribe back into the required group behavior. Implicit in the term 'Sellout' is the baseless notion that choosing an individual identity is an act of betrayal against a person's assigned group. This Ethnocrat view of a 'Sellout' assumes, erroneously, that there is an inherent virtue, some intangible worth, attached to a group identity. These properly-hyphenated whiners can believe whatever they choose, but, that doesn't make it true.
PIG holds these so-called 'Sellouts' in the highest esteem, for choosing individualism over group think and tribalism. PIG refuses to insult these sovereign individuals with the victim-inspired label 'sellout'. The decision to stand on one's own two feet. The decision to succeed or fail as an individual is a virtue of the highest order.
PIG'S SALUTE TO SELLOUTS
---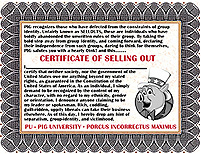 PIG has created this Certificate of Selling Out. It's our way of recognizing anyone who has shrugged off the shackles of Group-Think to face the world as a 'Group of One', an individual. PIG recognizes those who have defected from the constraints of one-size-fits-all group, gang and tribal identity, courageous individuals the properly-hyphenated call Sellouts.
These are the daring individuals who have abandoned the unwritten "rules" of their race, ethnicity, or other group affiliated codes, and have taken the first bold step forward by "coming out" and declaring their independence from such groups by daring to think and act for themselves.
For you rugged individuals, PIG salutes you with our coveted, one-of-a-kind, Certificate of Selling Out.
Hell yes I'm a Sellout, what now? Simply click on the icon, open the actual size PDF certificate, print out, break out the crayons, sign your name, frame it, and proudly display it for all.
FAMOUS "SELLOUTS"
---
Career Ethnocrats usually associate Clarence Thomas, Colin Powell as high profile sellouts. PIG decided to profile some noteworthy "Sellouts".
---

NAME: MEL GIBSON
CRIME: Bearing His Own Cross...All The Way To The Bank
We have nominated Mr. Gibson as a Sellout for his fortiude and vision in
directing and producing "The Passion of the Christ" Gibson put his name,
reputation and money on the line to complete his project.
Turned down by Hollywood insiders, producers and executives, Gibson forged
ahead regardless of the critics, pundits, naysayers, and the usual Misery
Mongers fearing an Anti-Semite backlash. Gibson went ahead with critical
arrows firmly embedded in his posterior, and released the movie anyway.
Whether you view this film from a historical, theological, spiritual, or secular point
of view, you've got to tip your cap, crown of thorns, whatever, to Gibson
for his fortitude in following through with his vision/version of the
Passion epics.
Oh, that sound you hear subliminally throughout the movie, that's the chump
change Mel spills, all the way to bank baby.

---

NAME: OSCAR DE LA HOYA
CRIME: KO'ed His Barrio Critics
An accomplished, championship-quality boxer, Oscar's problems with the Migrant-Mafia can be summed up quite simply: he's not Mexican enough. Is it his flawless English? Is it his refusal to wrap himself in Migrant-Mafia Victimhood? Is it the fact that he beat the stuffing out of several Migrant-Mafia boxing heroes from 'the old country'? It's all of these things and more.

NAME: BERNARD GOLDBERG
CRIME: The Judas of Journalism
For a decade or more, Bernie was a member in good standing within liberal media's Dan Rather wing. Universally acclaimed by the CBS media cabal, Bernie was Dan's pal, until he ratted out liberal media bias at CBS in a 1998 Wall Street Journal commentary. Before you could say, 'turncoat', Bernie's pal Dan stopped speaking to him. You don't need to be Nostradamus to predict that Bernie has majorly pissed-off our dominant media with his best selling book: 'Bias'. Although his book is virtually impossible to ignore, our lefty media is managing very nicely, thank you very much.
---

NAME: TAMMY BRUCE
CRIME: Sleeping With The Enemy
Tammy's NO-NAD credentials seem to be impeccable. A one-time official of N.O.W., this 'proud to be a lesbian' would seem to be bulletproof, when it comes to the NO-NAD contingent. Appearances, in this case, are deceiving. Tammy ran afoul of the NO-NAD brain-trust, during the O.J. fiasco. She noisily, publicly, held N.O.W.'s feet to the fire when she organized marches to shine a bright light of disdain on The Juice's well-documented wife beating outrages. This, ultimately, resulted in her removal as from her leadership role in L.A.'s N.O.W. cadre. Since her defection, she has continued to distance herself from this NO-NAD group. Tammy isn't in the same league as the Independent Women's Forum, but she is continuing to move in that direction. Once a noisy critic of another NO-NAD Sellout, Camille Paglia, Tammy may, finally, have a better understanding of what makes Camille one of PIG's favorite liberated women.
---

NAME: TIGER WOODS
CRIME: Changing Stripes.
Poly-racial Tiger has angered the melanin-enriched with his steadfast refusal to pigeonhole himself as 'black'. On the verge of earning official sellout status, he must endure complaints from the properly-hyphenated for his failure to don the cape of victimhood. Many Ethnocrats complain that Tiger tries to act 'white', that he refuses to 'give back to the community', that he's just not being, uh, black enough.
---

NAME: LARRY ELDER
CRIME: Having the nerve to think for himself.
Larry is a self-described 'small-l libertarian' who has waged an unrelenting war against the welfare state, 'Victicrats', Statism, and group think. Using his afternoon drive talk show on a prominent L. A. radio station, he, routinely, holds Victicrat's feet to the fire on such topics as: affirmative action, babies having babies, single parent households, black-on-black crime, the rampant ineptitude of public education. For these, and other perceived 'sins', Larry has been smeared with the 'Uncle Tom' label.
---

NAME: WARD CONNERLY
CRIME: Color Blindness.
A member of the University of Californski board of regents, Ward's primary transgression is the fact that he championed the removal of affirmative action from college admissions and government hiring in Californski. For that, if nothing else, he has been pilloried by melanin-enriched Ethnocrats as an Uncle Tom.
---
© Copyright 1993-2013 PIG - The Politically Incorrect Gazette
---
---