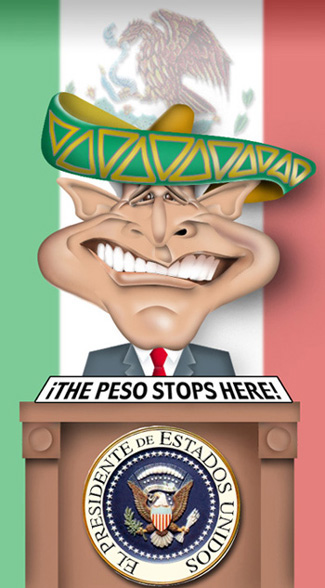 Amerika's illegal immigration problem continues to spiral out of control, but, few elected officials are willing to discuss it. Refusing to stop the illegal tidal wave...unwilling to face scandalous, illegal immigration, facts, the hacks act like this political hot potato is radioactive. Since they don't have the nads to confront this problem, we'll proceed without them. PIG is ready to roll around in the illegal immigration bovine excrement if you are.
To simplify things, we'll cite the two prevailing viewpoints on the issue: the Nanny State (parasite coddling) view and the Capitalist (Sovereign Individualist) view. Curiously, both advocate open borders, but they reach this conclusion for vastly different reasons. We'll take each viewpoint in turn, beginning with the Nanny State punks.
Parasite-Coddling Talking Points
Our laws, unfairly, punish so-called "undocumented workers"
["Undocumented" my ass! They're border-jumping scumbags who refuse to get the big picture on our laws: Amerika's laws don't apply to these intruders, until they enter our country, uninvited...uncoerced, illegally. By entering our country, they voluntarily, submit themselves to our laws...laws that existed before they barged in without permission. If our laws are so oppressive, they should turn their illegal alien asses around and go back home.]
Illegal immigrants come here to better themselves economically, educationally, and medically.
[An aspiring immigrant's unrequited needs are irrelevant; they do not entitle the needy to the unearned fruit of another individual's labor. Parasite coddlers insist that these intruders - invaders is more accurate - have a right to a job, an education and medical care, even when that means someone else is forced to pay the bill. For the down and dirty on this bovine excrement, I'll defer to someone much, much wiser...Ayn Rand:
'No man can have a right to impose an unchosen obligation, an unrewarded duty or involuntary servitude on another man. There can be no such thing as "the right to enslave."

A right does not include the material implementation of that right by other men; it includes only the freedom to earn that implementation by one's own effort.' (The essay, 'Man's Rights' by Ayn Rand)]
Illegal immigrants are hired to perform work that Amerikans won't do.
[At best, this is a half truth, because Amerikan business's well-documented preference for illegal immigrant workers has nothing to do with a shortage of willing Amerikan job applicants. Before we were inundated by this border-jumping tidal wave, teenagers, college students and first time workers performed these jobs. In reality, this illegal alien hiring binge is a marketplace reaction to profit-draining government intrusions into business: regulations, taxes, permits, licensing fees, etc. The reason that illegal immigrants are so nifty for Amerikan employers, is the fun fact that they work cheap - usually off the official accounting ledger. Since existing laws against hiring them are rarely enforced, there's no downside for the company that employs them.]
Without illegal immigrants, certain products and services will cost much, much more.
[This too, is, at best, a half truth. It overlooks the costs associated with illegal immigrants:
The schools their kids attend.
The free medical care used by illegal immigrants
Fighting the contagious diseases some immigrants re-introduce into our populace - tuberculosis comes to mind.
The crime perpetrated by illegal immigrant gangs (Hell-A is besieged by these illegal immigrant thugs).
The cost of providing essential Nanny State services in the border jumper's native language.
I'll mow my own lawn. I'll even take the hit on higher produce/fruit prices and still come out ahead, dollar-wise. In other words, thanks but no thanks and don't let the door smack your border-jumping ass on the way out.]
Sovereign Individualist Talking Points
Employers and willing workers - including illegals - are, per their inalienable individual liberty, entitled to negotiate mutually-beneficial trades: the workers services in exchange for the wages negotiated.
[Like it or not - and I hate it - the Nanny State mandates certain benefits that the business owner and employee are coerced into funding. When a business owner pays an illegal - off the books - he violates my inalienable rights by shifting his employee's heath, education, retirement and medical costs onto the Amerikan taxpayer - onto me. The business owner uses the government's monopoly on the use of force to grant the illegal immigrant worker the unearned, at my expense.]
It's unjust to blame illegal immigrants for the Nanny State's coercive, parasite-coddling, wealth-transferring brain-farts.
[This talking point amounts to:"Everyone else is stealing from you, why should you care if these border jumping parasites rip you off, too?" Abstract discussions about government's on-going violations of my inalienable individual liberty via parasite-friendly tax laws and other coercive excesses are instructive, but, essentially, pointless. There's little I can do about Amerika stealing the fruits of my labor and giving it to our home-grown parasites, in the short term, but, at minimum, securing our borders...sending illegals home...can mitigate future government raids on my rightful property. We already have too many made in Amerika parasites; there's no reason to import teeming, parasite masses yearning to live off me.]
A properly-constitutional, limited, government would not allow the existing welfare state infringements on inalienable individual liberty.
[We cannot base our immigration policy on the political system Amerika ought to have. The parasite-coddling, Amerikan Nanny State exists, wether we like it or not. Dismantling the welfare state, as desirable as it is, can't be achieved in the short term and it's far from a slam dunk, long term. Therefore, of the two viable, illegal immigration solutions - eradicating the welfare state vs controlling our borders - strictly regulating our borders is, slightly, more practical, in the short term.]
Amerika is a nation of immigrants. Throughout our history, these immigrants helped build this nation.
[Agreed, but, in the bad old days - before the welfare state "safety net" - those immigrants arrived here knowing that they would succeed, or fail, through their own knowledge, skills, hard work and/or intellect. During those bygone days, immigrants came here to become part of Amerika, not to plunder it. The twenty-first century immigrant isn't here to become an Amerikan; he's coming here to colonize us.]
In the long run, the capitalist - sovereign individualist - solution is the proper way to resolve Amerika's illegal immigration dilemma, because, unrestricted immigration requires specific conditions to render it "no harm, no foul" for sovereign individuals. The essential requirement is a properly-constitutional government whose sole purpose is sustaining each citizen's inherent, individual liberty. Such a government butts the hell out, allowing sovereign individuals to, voluntarily, trade goods, services, and knowledge under mutually-beneficial terms. A properly-constitutional does not transfer wealth or coronate winners and losers through a punitive tax system.
Under an individual liberty-intensive political system, any immigrant is welcome to come and market his skills, knowledge or energy, but, his success - or failure - is his own, personal, responsibility, not "society's". His needs, whatever they may be, are his problem; they do not entitle him to the unearned, at another's expense. The only hurdle he must surmount before trying his luck in the Amerikan marketplace involves a pre-entry screening. Such a screening would focus on criminal background, contagious diseases, and affiliation with Amerika's sworn enemies (terrorists, and other Amerika-hating asshats.)
Unfortunately, Amerika must sink further into its parasite-infested, Nanny State abyss, before rational adults can persuade a critical, Amerikan citizen, mass to install the properly-constitutional government required to nourish our inalienable, individual liberty. Until that glorious day arrives, our very survival requires strictly controlling our borders and evicting uninvited...visitors. Failure is not an option.