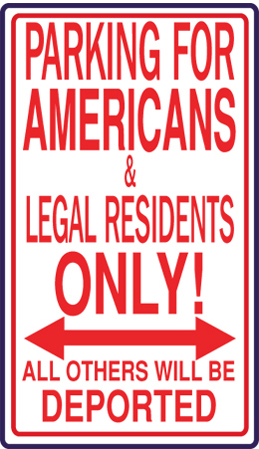 WELCOME TO AMERIKA,
BORDER-JUMPING COLONISTA'S!

---
ILLEGAL ALIEN is defined as:
RANDOM HOUSE:

1.
A foreigner who has entered or resides in a country unlawfully or without the country's authorization.
2. A foreigner who enters the U.S. without an entry or or immigrant visa, especially a person who crosses the border by avoiding inspection or who overstays the period of time allowed as a visitor, tourist or businessperson.
PIG's DEFINITION:
Border-Jumping, Uninvited, Invading Hordes of English-Phobic Scum, who are under the illusion that they have the same rights, status and privileges as U.S. citizens and legal residents.
ENGLISH? NO! FREE MEDICAL, BI-LINGUAL EDUCATION, SPECIAL RIGHTS? SI! SI!
• • • • • • • • • • • • • • • • • • • • •
Some splash across the Rio Grand, while others trudge through the unforgiving Arizona desert. Many come crammed like sardines in an Asian shipping container or climb aboard Canadian Caravan heading South. America is under siege by what PIG calls Border Jumping Scumbags who swarm into this nation like vermine, un-damn-invited, cutting in line ahead of those who patiently plod trough the proper channels for their shot at the American Dream.
Softies that we are, we're doing our best to be thrilled about this ongoing invasion but it's not easy. We suspect that our attitude problem has something to do with the fact that these invaders break our laws to get here, spread diseases like leprosy and tuberculosis, clog our hospitals, schools, jails and schools, displace American workers, contribute to higher insurance costs and impose an unwarranted burden on the American taxpayer. Don't hold your breath for thrilled, Colonista Sparky.
Just for the fun of it, let's imagine that you're Juan Q. Colonista and you're determined to get on that Great White Gringo gravy train. How do you jump the border, grab that free for the taking gravy while evading an unwanted immersion in the American Melting Pot? As usual, we've got it covered.
STEP ONE: Cross the border ILLEGALLY by means of Coyotes, cross the Rio Grande - hence the name "Wetback", crawl under our weakly enforced chain link fences - hence the name "Scratchback", or just any old sneaky, illegal method possible.
STEP TWO: Arrive at any hospital for a few days of R&R. You be tanned, rested and ready for your new life in America. No charge. Gratis.
STEP THREE: Hunt down fellow Border Jumping Scum who will fill you in on how to stick it to the the Great White Gringo by getting you fake I.D.'s, a new identity, location of Day Labor/public, open air restrooms, liquor stores and an apartment where sleeping 10 to a room is a luxury.
STEP FOUR: Secure a job where your employer turns his/her head, asks no questions and knows your situation. Usually displacing an American, who will, by the way, be willing to do that job.
STEP FIVE: Save money and purchase an automobile. Don't worry about such trivialities as a driver's license or insurance. None of your compadres do either. Make sure to tell all of your friends to drive extra slow and contribute to gridlock.
STEP SIX: Marry a fellow Border Jumper, have 6 bambinos by the age of 22. Since you're working "under the table" you or your spouse can probably illegally obtain benefits - food stamps, rental assistance, medical, etc. from the public trough. If your parents are over 65, they can probably be entitled to Social Security, without ever working legally in the U.S.
STEP SEVEN: Now that you've established yourself and got comfy and cozy here in El Norte, you can arrange for your parents, cousins, brothers, sisters, dogs, cats, roosters, cows, goats, whatever, to come here and immediately sign up for more freebies.
SPECIAL COLONISTA BONUS: You'll feel right at home in a Mexican Minute because your Colonista Colony is an English free zone. Thanks to the Colonista coddling horde, your magazine, newspaper, radio, and boob tube will make you feel like you never splashed across the Rio Grand. Best of all, the Gringo Government has its head so far up its butt it will coddle you in Spanish, too. You can spend your whole life in El Norte without ever learning one word of English. It's just like you never left home, except the plumbing is indoors and the cockroaches aren't the size of fat Juanita's butt.
IF YOU'RE NOT A COLONISTA BUT WANT SOME FUN, HERE ARE SOME TIPS:
• Ask Chico and his pals: Why is it that some Asians who come to America floating on a twig with nothing but the clothes on their back, knowing a completely different alphabetical system and language, learn English in no time, and send their children to some of America's most prestigious universities, while you can't, or rather WON'T? Huh?
• Just for kicks, walk into any Laundromat with fake badges and simply yell at the top of your lungs, "MIGRA, MIGRA!" Just watch in amazement as the Border Jumpers scatter like cockroaches when the light turns on. Now you've got the whole place to yourself.
• Under the pretense of being a contractor, or do-it-yourselfer, pull up to a Day Labor site, gather as many as possible, and dump them in the middle of nowhere.
You Demand a What? An apology? PIG will not apologize for the statements made in the previous paragraphs. We blame our so-called Immigration policy, and Vicente Fox's lap dog, Boy George.
Homeland Security my ass! Adios.