Randolph 'Scooter' Farnsworth III Grand Gringo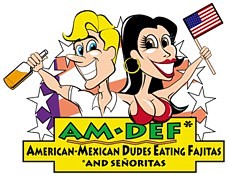 Zachary Taylor Cadre
American-Mexican Liberation Front
Greetings from the Revolution:
The struggle for American-Mexican equality continues. My determination to install American-Mexicans in their rightful place in Mexican society is undiminished by our recent setbacks. Lest you get discouraged, I'm thrilled to report that our occupation of the University President's office - during our recent campaign for an American-Mexican Studies Department - gained us badly needed publicity. Well, let me say that we think we were mentioned. The ongoing Mexican obsession with Spanish, a language none of the Cadre speaks or reads - as a matter of principle - makes it a bit challenging to be certain. As of this writing, our demands that the Mexican government mandate English Language versions of all their official paperwork remain unaddressed. This shocking lack of consideration for American-Mexican sensitivities must stop! This scandalous refusal to honor American-Mexican culture shall not go unchallenged.
Mexico's monolithic culture must be liberated from its antiquated roots so it can embrace American-Mexicans, French-Mexicans, and Native Mexicans. Mexico must be compelled to embrace all the groups that have contributed so greatly to Mexico throughout its colorful history. Why are we all forced to speak Spanish? Why won't Mexico honor the many non-Spanish cultures by providing us, our children, with schooling in our native language? Why is Roman Catholicism the dominant religion, the official State religion? Why is Mexican History so determined to slander American-Mexicans and French-Mexicans in particular? Our beloved Zachary Taylor's liberation of Mexico City, General Pershing's valiant attempt to rectify the dreadful Poncho Villa situation, and especially that whole disagreeable business where the American-Mexicans liberated Texas from that terrorist thug, Santa Ana, are treated with unbelievable scorn, abuse and outright vilification in Mexican History texts. Our French-Mexican brothers and sisters in this revolutionary struggle are egregiously slandered by Spanish-Mexican xenophobes. Mexico's so-called historians deliberately paint the tragic Emperor Maximillian affair in the worst possible light.
At this time, we're working on an American-Mexican Manifesto, a statement of nonnegotiable principles if you will, which we plan to deliver to the Mexican President, in person, when we occupy his offices. Among other things, our Manifesto includes the following items:
1) Spanish must be abolished as the official language of Mexico.

2) Bilingual education must be implemented to allow all minority cultures, such as American-Mexicans, to be taught in their native language.

3) Minority Studies Departments must be established at all Mexican Universities to enrich, enlighten, all students, especially Spanish-Mexicans by instructing them about minority cultures, with a special emphasis on American-Mexican culture.

4) Negative stereotypes about minority cultures - particularly American-Mexican culture - stereotypes perpetrated throughout the dominant Spanish-Mexican culture in school curricula, history texts, official records, etc., must be abolished and replaced by minority sanctioned 'corrections'.

5) The Mexican Federal Government must institute a program to correct the outrageous imbalance in employment and University admissions so they will match a specific minority's percentage of the population. American-Mexicans are shockingly underrepresented in Mexican Government which is dominated by the oppressive Spanish-Mexican clique.

6) Mexico must move forward in the 21st century by shaking off their oppressive Spanish-Mexican culture and embrace the diversity offered by American-Mexicans, French-Mexicans and all the other cultures that have taken root on Mexican soil.

Our task is a large one, but we are determined to liberate Mexico from Spanish-Mexican oppression. I close with our battle cry, noble words from our first American-Mexican martyr, Jason 'Skipper' Bradshaw II, a freedom fighter who lost his life as he streaked across the Mexico City bullring carrying the American-Mexican red banner of liberation: 'Holy Shit! Down, bully, bully. Down, bully, bully.'
Thank you for your unwavering support of our heroic struggle

R. 'Scooter' Farnsworth III

P.S. The Spanish-Mexican storm troopers stole the hood ornament off the Rolls again. Could you order another one for me, dad?