A Critique of Human Sexuality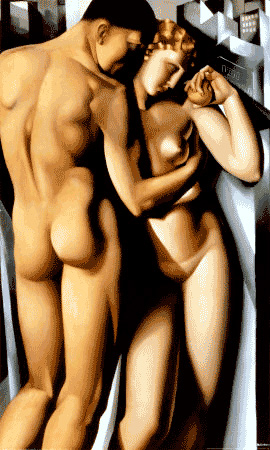 It's a virtual axiom of engineering that no matter how elegant the design, no matter how well the design engineer anticipates the uses to which his design will be put, the end user will abuse his design in ways the most brilliant engineer never dreamed possible. The television remote control is an excellent example of this axiom at work.
The modern remote control is a marvelous example of superior design engineering. In addition to remembering all four of the shows you're watching concurrently, it will, when the right combination of buttons is pushed, race out to the kitchen, fix you a sandwich, fetch you a cold brewskie and get back with it so quickly, you won't know it's gone. Made of a durable plastic, the modern remote can be molded to fit the end user's hand. In a valiant, but ultimately futile, effort to 'idiot proof' the design, the modern remote includes a convenient battery department which is clearly marked with the size and orientation of the batteries. The fatal flaw in the engineer's brilliant design becomes evident when, with one final, heroic, effort the rapidly declining batteries attempt to keep switching between the ball game, the Monster Truck Rally's Bikini Contest, and the semi-porno flick on a movie channel. Should the batteries fall short and leave the end user stranded on - GASP! - a prime time 'Best of Oprah' special, the end user will submit the engineer's brilliant design to the infamous, often fatal, 'wall test', invariably, a shattering experience for our superbly engineered television remote.
If our axiom of engineering is true for something as trivial as a television remote, it is especially true in the field of biological (human) engineering. The fabled celestial engineer is doomed to discover, the hard way, what our mythical design engineer has learned through bitter experience: most end users are morons, drooling incompetents whose mental processes haven't advanced since that first mutated ape 'walled' his mate when he burned his fingers - again - in the cave's cooking fire.
As the title of this article suggests, the celestial engineer's primary design flaw involves human sexuality in general and human reproduction in particular. After doing such a marvelous job in this area with countless animal species, our celestial engineer stepped on his eternal dork when he got to human sexuality. That's what happens when an exhausted, hard working engineer, after a slam bang week of creating the Universe, the Earth, all the plant and animal species, in six action-packed days, does a rush job on the species to which he's entrusting all his other work: humans. Instead of slapping us together on that first Saturday, he should have rested the whole weekend and started on us, well rested, on the following Monday.
Unlike our animal counterparts whose sexual drive is entirely procreational, our exhausted celestial engineer cursed humans with a dual purpose sex drive which is procreational and recreational at the same time. Our animal friends get to ignore their sex drives for months at a time, until, at specific times of the year, they gather to 'perpetuate the species.' Another design advantage given to animals involves who is allowed to breed. In many animal species, only the select few - the strongest, genetically superior, who have the greatest chance for survival - are allowed to breed. This fact of nature forced me to codify the human reproduction corollary to the engineering axiom which states: Anyone can have children and the wrong people always do.
Proof of this human reproduction corollary is all around us. Jose and Kitty Menendez came to regret their ill-considered adventure in parenthood. Sharon Tate's friends and family aren't exactly choked up about the job mama and papa Manson did in raising their baby boy, Charles. The celestial engineer's human design flaw has conclusively proven the corollary by allowing genetically-challenged humans to give birth to such exemplary individuals as Timothy McVeigh, Adolph Hitler, Idi Amin, and Joseph Stalin.
Now that I've pinned a 'Danger, lighting bolt landing zone' sign on my butt, I might as well give the celestial engineer some advice, so he won't make this mistake again, should he decide to reinvent the universe sometime in the future. Actually, it's not too late to swallow that notorious celestial pride, put a lid on the celebrated eternal temper - vividly demonstrated by the great flood, the nuking of Sodom and Gomorrah, and countless other, tantrum-induced disasters - and improve the human design scheme with a long overdue design revision. Such a revision would necessarily include improvements in the original design, improvements so obvious even a novice biological engineer like me can identify them.
Permanently separate the procreational elements of human sexuality from the recreational aspects. Procreation should force the parental aspirants to think about it, to plan it, ahead of time. It should necessitate more than two morons in heat who 'accidentally' play horizontal bingo at the proverbial 'wrong time of the month'. Ideally, procreation should involve a third party - some kind of third sex would be ideal, a third sex whose sole sexual function is to be the essential catalyst in successful human procreation. Such a third sex would necessarily take its role very seriously, much too seriously to let a new ma and pa Manson produce another Charlie.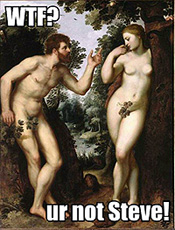 Make up your mind about homosexuality. Shit or get off the pot, celestial dude. Either fix the design to eliminate homosexuality entirely - a fix that you failed to implement in animal species, many of whom indulge in homosexual behavior - or change the Operators Manual, The Bible, to reflect the fact that homosexuality is inherent in the biological design of some individuals and is thus, since you put it there, more or less okey dokey.
Get real about recreational human sexuality. You're the one who designed humans with the ability to enjoy sex. You're the one who mis-wired the human male into a walking hormone with a hair-trigger libido. If you don't want humans to enjoy sex, fix it in the new design. If you intended to make sex enjoyable, yank all that 'sex is sinful' trash out of the revised manual. You can't have it both ways. A good engineer strives for consistency within a design.
While we're on the subject of the Operators Manual, I think this multiple author idea needs to be scraped. Instead, feed the whole thing to one dude, Book of Mormon style, to avoid all those glaring inconsistencies between writers that made the original Operators Manual so annoying. Another thing that majorly rots my socks is...Did anyone else just hear the grandmother of all thunder claps? Maybe I'll quit while I'm ahead and leave the countless flaws in the Operators Manual for another article.
– T.D. Treat