"As you slide down the
banister of life, may the
splinters never point in
the wrong direction!"
– IRISH BLESSING
---
• PIG PLEDGE •
I Pledge Allegiance To The
Way Cool Dudes That Founded
The Free State Of PIG
Because PIG Is The Place
That Gets In Your Face
Regardless Of
Gender
Orientation
Or Race
---
THE PIG NEWS PAGE | PIG-WORTH NEWS
---

Stand by for NEWS!
PIG looks for three types of stories: news stories you want to read; news stories you need to read; news stories that are just too fun to ignore. PIG searches local, remote, mainstream, obscure, right-wing, left-wing and interstellar news sources, selecting those stories we deem PIG-worthy. Our goal is to give you a PIG's-eye view of the familiar and unfamiliar. Some stories will make you mad; others will make you laugh. Above all, they should make you think.
The one common thread that links all the items on this page is that We the PIGs found them PIG-worthy. We were amazed and/or amused to a sufficient extent that we pinned a 'keeper' label on them.
Footnote:
PIG places a supreme value on intellectual property, whether it's ours or somebody else's. That's why we always provide a link to the original source of our news items. Any story elements we use from the originating source will be presented in italics.
SATURDAY APRIL 29, 2018
---
Critics say local bar's controversial name promotes sexual assault
A bar in the Milwaukee suburb of West Allis, Wisconsin, is stirring up controversy. Some locals think the bar's name and imagery do not belong in the year 2018.
The sign painted on the front door declares: "Walk Her Inn, Drag Her Out." Over the door is a cartoon caveman pulling a woman by her hair.
The bar has been around for over 30 years according to locals. The controversy around the name is not new, but has been brought back into the spotlight after an offended resident posted about the bar online.

Some residents believe the "Walk Her Inn, Drag Her Out" bar is promoting sexual assault with its name and imagery.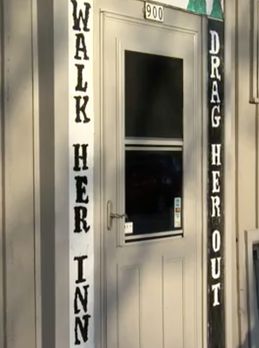 Some think the name of the bar promotes sexual assault and "rape culture." It seems especially inappropriate in the #MeToo era, when millions of women are speaking out about the impact of harassment and assault.
"Having something that implies any nonconsensual activity right [when] walking in the door is very irresponsible," resident Christine Nell told CBS affiliate WDJT-TV.
"I can't believe this exists in our city, right next door. I can't believe it exists," said Paress Huebner, the resident who shared photos of the bar on Facebook. Huebner said she posted photos of the bar's signage to bring awareness and her post has gone viral.
A sign above the "Walk Her Inn, Drag Her Out" bar door shows a caveman dragging a woman by her hair.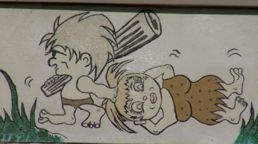 The owners of the "Walk Her Inn, Drag Her Out" bar say they did not come up with the name themselves. They say they're open to possibly changing the name, but for now, they're sticking to it.
"I just don't feel someone's right to be offended is more important than my right to own a business," owner Diane Plumeri said.
Some locals agree with the owners.
"The name is not nudity, it's not profanity, it's just a cartoon," one resident said. "I don't think it needs to be changed. It's been "Walk Her Inn, Drag Her Out" for 30-something years," another bar regular said.
The owners of the "Walk Her Inn, Drag Her Out" bar say they may be open to a change, but they are sticking to the name for now.
West Allis Mayor Dan Devine says the local government cannot regulate signage and is remaining neutral in this matter. Devine told WDJT that residents can send a message by deciding which establishments they chose to spend their money at.
The owners of the controversial bar invite any critics in to have a drink. "Come on in and check it out. If you find we promote raping and drug use and beating on women, that's not the promotion here nor has it ever been," Plumeri said.
~
SATURDAY NOVEMBER 18, 2017
---
LOOK! UP IN THE SKY! IT'S A...YUP IT SURE IS!
Apparently Navy Pilots From NAS Whidbey Island Drew A Massive Penis In The Sky
The phallic flight didn't go unnoticed by those on the ground and there are photos to show for it.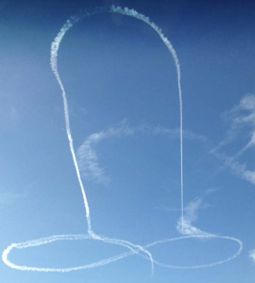 Local news outlets are reporting that pilots from Naval Air Station Whidbey Island—the home of the Navy's fleet of EA-18G Growlers, as well as larger maritime patrol aircraft—drew a massive male genitalia in the sky with their contrails.
The phallic sky art occurred near the town of Omak, which is located in north-central Washington, on the western edge of the Colville Indian Reservation. The area lays under the expansive Okanagan Military Operating Area (MOA). This restricted airspace is used regularly by Growler crews from NAS Whidbey Island and by other military pilots visiting the area for training purposes.
KREM 2, a local CBS affiliate out of Spokane, said a local mother took pictures of the wind-borne wiener and complained to the station that it was inappropriate and that she doesn't want to have to explain it to her children. The good folks over at KREM 2 News inquired about the racy sky art with the Navy, and got the following response:
"The Navy holds its aircrew to the highest standards and we find this absolutely unacceptable, of zero training value and we are holding the crew accountable."
The FAA told the station that there was nothing they could do unless there was a safety risk and that they "couldn't police morality."
It's not like this type of controversy hasn't happened before, but I sure wouldn't want to be taken out of an EA-18G Growler cockpit and put into a C-130 cockpit "hauling rubber dog shit out of Hong Kong" for this unique aerial display of self expression.
I guess we can just chalk this up to what has already been a season of "stranger things" occurring in the skies over the Pacific Northwest.

---
TUESDAY APRIL 04, 2017
---
WTF?
Fake Camel Toe Underwear: The Fashion Trend No One Asked For
There are many parts of Japanese culture that are undeniably excellent.
Sushi. Snow monkeys kicking back in hot springs. Karaoke. Sake. Mind-boggling Japanese game shows.
But something that doesn't automatically get our tick of approval is the "fake camel-toe underpants" that women are apparently clamouring for.
In case anyone has been blissfully unaware of what a camel-toe is (well done, by the way), the urban dictionary defines it as "the visible cleft of the outer labia under tight clothing".
The so-called "frontal wedgie" looks like the toes of a camel. Hence the term "camel toe".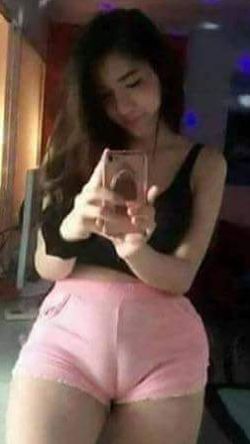 Now that we've got that out of the way, we can happily move on and look at why on earth anyone would want to manufacture a product that can replicate this awkward fashion fail.
The pants, which have been called "party pants" have a silicone pad in the front that "enhances" the female form.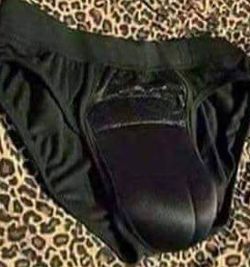 A pair will set you back around $22 on eBay.
According to EliteReaders, the party pants have found a market with the transgender community — male genitalia can be concealed quite effectively with these magical jocks.
Weirdly they also come in a variety of skin-toned hues.
The different skin tones on offer indicate that the cup with be seen at some point. WHY?
It's all still a bit odd because the camel-toe is a fashion accident that most women strenuously avoid. In fact, some companies such as Lululemon use their "anti-camel toe" technology as a selling point.
There have also been products released that aim to conceal the camel-toe, which at least makes a little bit of sense:
The tag line 'our lips are sealed' is undeniably gross.
But maybe we shouldn't be too shocked — it's not the first time a fashion accident has been turned into a "trend".
Remember those god awful G-string jeans that were kicking around for a while?
It also reminds us of the C-string that was launched on Amazon a year or so ago — the plastic cuplike thing that was meant to eradicate the visible panty line.
At the time, the C-string was described on Twitter as "possibly the worst thing to happen to humanity".
---
WEDNESDAY MARCH 29, 2017
---
Idiocy
Subway bosses in Mexico City have fitted plastic penises onto seats in a bizarre campaign to raise awareness of sexual assault.
The smooth shape of some plastic seats on the billion-passenger network has been replaced with the sculpted shape of a male body.
The upper half of the seat is fitted with a chest, nipples and a belly – while the lower half is given legs, and a prominent, flaccid penis: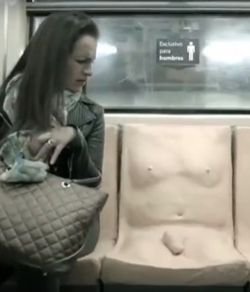 The seats are marked "exclusively for men".
Text placed on the floor next to the modified seats makes the point that sitting there is uncomfortable – but not as uncomfortable as getting sexually assaulted.
The campaign was promoted by a video of baffled passengers staring at the seat, trying unsuccessfully to use it, and staring meaningfully at the sexual assault message:
It concludes with a statistic claiming that 90% of all women in Mexico City have been victims of sexual assault on public transport.
The campaign is the latest effort by metro systems worldwide to crack down on unacceptable conduct by their male passengers.
The trend began with the high-profile campaign in New York City against manspreading – though it has reportedly done little to halt the trend.
---
SUNDAY FEBRUARY 26, 2017
---
A LEG UP
heatst.com
Florida Town Apologizes to Residents Offended By 'Sexist' Leg Lamp Statue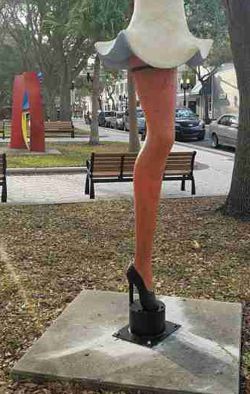 The city of Lakeland, Florida, apologized after residents complained that its newest statue, inspired by A Christmas Story, is sexist.
But a handful of residents took umbrage with the statue on the city's Facebook page.
"I've never liked the objectifying of a womens [sic] body part," one Facebook user posted under the name Natalie Joy. "I get it's part of a classic movie but it's still not by taste. Didn't like it in the movie, do not like it in the middle of my city. Let me take a wild guess and say that the panel who picked this out was mostly men."
Another user, posting under the name Paula Perkins Geiger, claimed that Lakeland was "promoting sex for our children" with the statue.
But overall, the response to the statue was overwhelmingly positive, both online and off.
News Channel 8 even went around asking people whether they saw the statue as tasteless—and had no luck finding someone offended. At most, people said they didn't like the statue aesthetically.
Nevertheless, Lakeland's director of communications said, "If people are offended by a leg, we really apologize."
Younkins-Herzog, the sculptor, said the statue was intended as a feminist work. She said the proportions were based on Barbie's, and the lampshade is a reference to some of her other artwork depicting the female form.
"It has more to do with being a woman in a predominantly masculine field," she told Heat Street. "Feminist means female perspective as far as I am concerned. I take ownership of these stereotypical trappings of beauty, combined with the humorous context of the movie. It would not have happened if I had not enjoyed watching A Christmas Story as a kid."
By deadline, the city's director of communications did not respond to Heat Street's request for comment. It's unclear whether the city will continue to display the statue.
"Seems odd to me that people would be so offended," Younkins-Herzog said. "The wife in the movie was offended based on context in the 70s. Our society and ads and tv are far more suggestive than a disembodied leg."

---
SUNDAY FEBRUARY 19, 2017
---
Dicks on Sticks
Residents upset about phallic cakes sold at El Monte's Spring Festival
By Christopher Yee, San Gabriel Valley Tribune
EL MONTE>> Some residents are asking why the city-sponsored Spring Festival on Saturday featured a vendor selling cakes shaped in the form of penises.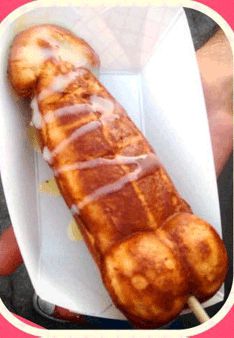 Resident Julio Corona said when his children came home, his eight-year-old son told him about the cakes. Knowing his son's penchant for jokes, Corona said he thought his son was making it up until he saw the photo.
"Once city staff saw the (...) cakes, why did they not stop it," Corona said. "Especially when they could have been selling them to children."
City Clerk Jonathan Hawes said the cakes were "beyond offensive and totally disgusting."
"There is a time and place for everything, and a family community event is damn well not the time or place," Hawes said.
Management for Yummy Hero did not respond to requests for comment on the cakes.
The city partnered to host the event along with the American Chinese Economic Development Business Exchange, Sky Link TV and event organizer Feng & Chiang and Associates.
Lawrence Lee, who helped organize the festival with Feng & Chiang and Associates, said they keep a list of vendors that they invite to events like El Monte's, and that list includes Yummy Hero. He said that Yummy Hero was not specifically invited, but they happened to be one of the vendors on the list who agreed to participate.
He added that they sent the city planning department a list of vendors and a map of their layout before the Saturday event.
City spokesman Mark Vidal called the Spring Festival - the city's first-ever Lunar New Year festival - a success, though he acknowledged the potential offensiveness of the cakes.
"While there were dozens of vendors selling a variety of food and merchandise, we realize that one of the food items could be viewed as offensive," Vidal said in a statement. "At future city partnership events, we will closely monitor what vendors sell, particularly when the city's logo is used in the advertising."
Mayor Andre Quintero declined to comment, saying the City Council has yet to address the matter in one of their meetings.
A majority of responses on Facebook found humor in the cakes. In one post, a person shared a picture of one of the cakes with the caption, "Fertility & prosperity to all."
---
WEDNESDAY OCTOBER 11, 2016
---
Cheesy Fun
[Fox] Kim Kardashian-inspired robbery victim Halloween costume sparks outrage
A Halloween costume depicting reality star Kim Kardashian bound and gagged has sparked outrage.
A company called Costumeish is selling a costume called "Parisian Heist Robbery Victim," and while the reality star is never named in the costume's description, there's little doubt the costume is Kardashian-related.
The costume kit includes a short white robe, a long black wig, large sunglasses, a fake gag, two inches of rope and a fake "$4 million dollar" ring.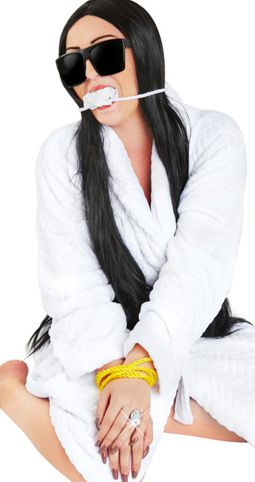 "This Halloween it's all about the #Hallomeme and who better than America's goddess of all things glamorous 'Parisian Heist Robbery Victim Costume?'" the costume's description reads. "She has devoted her life to promoting American decadence, youth, and hedonism but all that flashy living caught up with her one night in Paris when armed men bound her, stole her jewelry and her peace of mind. This Halloween have some fun with pop culture and dress just like the Queen of Social media."
The costume received backlash on social media, but Costumeish told FOX411 the company has "no intentions of taking it down and it has been selling well."
---
WEDNESDAY SEPTEMBER 07, 2016
---
COOL
Teacher Installs Cycling Machines Under Students' Desks to Help Them Concentrate
After noticing that her eight grade students had problems focusing during math class, a North Carolina teacher decided to channel their energy in a different way – cycling.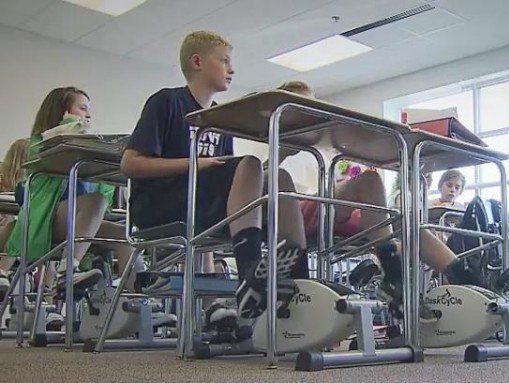 It doesn't sound like the most common thing to do during math class, but Bethany Lambeth, a teacher from Wake County, says that ever since she installed cycling machines under her students' desks, the quality of their work has improved greatly, they are more focused, and, most importantly, they are no longer fidgeting all the time.
"Before, they were drumming on their desks, they were touching other people, they don't do that anymore. Their feet are getting the movement out," she said. "There has been a huge increase in the quality of our student's work and a decrease in the amount of missing work."
"(The kids) are not picking on each other, they are not needing to walk around, they are not needing to go explore, they are able to get their activity out and get their work done," the young educator added. "I think the world is changing a lot and the kids need to be able to do something different. "What we've been doing is not necessarily working."
Lambeth installed the cycling machines at the end of last year, paying around $150 for each, which includes a warranty. The cost was covered by donations and a grant from the 4-C fund. No taxpayer money was used, but judging by the results observed by the Wake County teacher, this might be a solution authorities might want to look into. After learning about the success of Lambeth's project, school officials are particularly excited about the role cycling machines could play in Special Education classes.
The kids obviously love the new "toys". Sofia Fedele, one of Lambeth's students, said cycling helps her focus on her work during class. "I usually tap my feet and stuff…just because it keeps me focused," she said, adding that pedaling is much better. "It keeps me exercising and focused," she told WRAL.
Quinn Spear, another student in Lambeth's class, also acknowledged the health benefits of cycling during class. He told reporters that he had pedaled 5.5 miles and burned 133 calories, all before 10 a.m..
---
SUNDAY JULY 17, 2016
---
Sign of the Times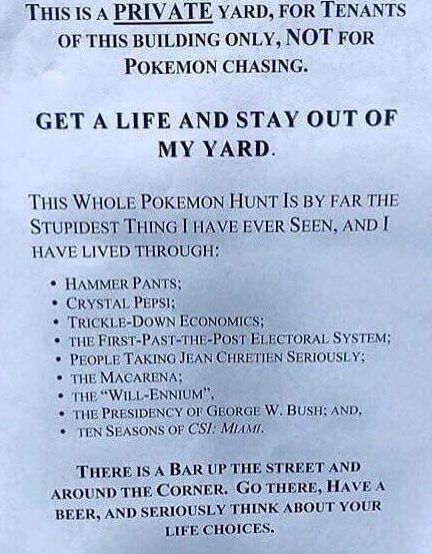 ---
THURSDAY JULY 14, 2016
---
Texas
[Huston Chron] Antione Cooper, 26, is on life support after being shot by a Waffle House customer in DeSoto.
According to the DeSoto Police Department, Cooper robbed several customers at the Waffle House on Thursday, July 7, 2016 at 2:30 a.m. in the morning.
A man with an AK-47 who robbed customers at a Waffle House in Texas is on life support after being shot by a customer with a licensed handgun.
According to the DeSoto Police Department, Antione Cooper, 26, entered the restaurant in the 1500 block of North Beckley Avenue at 2:30 a.m. Thursday. Patrons at the Waffle House told police Cooper robbed several customers before leaving the restaurant and entering the parking lot.
A handgun-licensed customer, whose wife was on her way to meet him at the restaurant, followed Cooper to the parking lot, fearing for his wife's safety, according to DeSoto police.
Police said the customer called to Cooper once they were outside. Cooper pointed the AK-47 in the customer's direction, prompting the customer to shoot Cooper several times, according to police in the southern Dallas suburb.
Cooper was then transported to a local hospital where he remained Wednesday on life support, police said.
The customer was not arrested. The investigation is ongoing.
DeSoto police were able to identify Cooper after circulating pictures of his tattoos. Cooper does not have an arrest photo yet as he is recovering in the hospital.
Darwin Thwarted
Muskegon River tubing trip turns into overnight nightmare for three women
[mlive] MUSKEGON COUNTY, MI – They left for what they thought would be an easy float down Muskegon River Tuesday afternoon – but ended up spending the night on the river bank, scared and yelling for help.

The trio of young women were rescued 20 hours later after a fisherman eventually heard their cries, said Muskegon Township Deputy Fire Chief Bob Grabinski.
The women, all in their 20s, had never been tubing before and decided it would be a fun thing to do, Grabinski said. So they bought some tubes and headed to the popular launch site at the Maple Island Road bridge, Grabinski said.
"They were informed by somebody at the bridge that the river goes in a circle and if they put in there they would come back to their car," he said. "Not knowing anything, they set off on their little adventure."
Fisherman on finding stranded Muskegon River tubers: 'They had scratches all over'
About six hours later, with darkness closing in and their car nowhere to be found, the trio decided to get out on the riverbank where they ended up spending the night, Grabinski said.
"They said they hugged a tree all night yelling for help," he said, adding that that stretch of river is very isolated.
About noon on Wednesday a fisherman floating the river heard their cries for help, investigated and then called 911. The women, one from Muskegon Heights and two from Muskegon, did not have a phone with them, Grabinski said.
Muskegon Township firefighters launched their 16-foot jet propulsion river rescue boat from the Holton Duck Lake Road launch ramp and found the women about a quarter-mile downriver, he said. Dalton Township firefighters also responded with their boat in case it was needed.
Other than a few bug bites and scratches, the women were fine, Grabinski said. He estimated they had traveled roughly 3 miles.
"In their words, they're never going tubing again," he said. "My words are know the river or take someone with you who knows it and have a plan."
No one reported the women missing, which brought Grabinski to a third piece of advice: Before heading out for an adventure, tell someone where you're going and what time you plan to return.
---
TUESDAY JULY 12, 2016
---
BIG ONES
[FOX] A busty mermaid sculpted from sand and placed outside a popular Cape Cod restaurant is raising eyebrows and triggering complaints.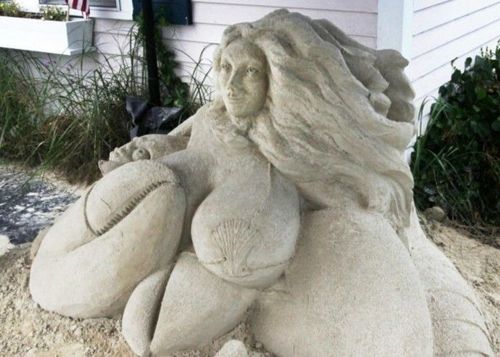 The town of Yarmouth, Massachusetts, and the local Chamber of Commerce say they fielded complaints from locals about the exaggerated proportions of the mermaid's chest. Yarmouth's police department took down photos of the sculpture from its Facebook page after residents said they found the work of art offensive.
The mermaid clad in a clamshell bikini is one of 41 sand sculptures placed around town as part of the annual Yarmouth Summer Celebration.
Salty's restaurant owner Raymond Roy tells the Cape Cod Times he's surprised at the fuss.
Roy says the mermaid isn't nude and shouldn't be censored


---
FRIDAY JULY 01, 2016
---
Selficide
[Fox News] Death by selfie: Man falls off a cliff at Machu Picchu while posing for a photo
A German tourist fell off a cliff and died Wednesday while posing for a photo in Machu Picchu, the Inca citadel in southern Peru.
Oliver Park, 51, had ventured into a restricted area of the tourist spot in the Andes, and despite signs warning people to stay away from the cliff's edge, he asked a fellow tourist to take his photo.
He then lost his balance and fell 130 feet to his death.
"He asked a man who was there to take a photo of him," Guillermo Mestas, a Peruvian tourist recounted to Canal N.
"The man came over to take the photo and in the moment he was handing him the camera, he lost his balance and fell."
A conflicting report from the BBC says the man was posing for the photo by leaping into the air and lost his footing.
Park's body was removed from the Peruvian mountainside, and carried by train to a morgue in the city of Cusco.
Death-by-selfie is not as uncommon as one would think.
Also this week, and also in Peru, a South Korean tourist fell to his death while taking a selfie in the Amazon rainforest — he falling 1,600 feet off the Gocta waterfall.
Last year, a Japanese tourist died after falling down stairs while taking a selfie at the Taj Mahal.
According to The Washington Post, in March a Washington man fatally shot himself in the face while taking a selfie with what he believed was an unloaded gun.
Believed to have been a royal estate or sacred religious site for Inca leaders, Machu Picchu was built by the Incas in the 15th century, and later abandoned by the Spanish conquistadors a century later.
The site is located 8,000 feet above sea level, and the ruins lie on a high ridge offering astounding views of the Sacred Valley, through which the Urubamba River flows 2,000 feet below. It was named a UNESCO World Heritage Site in 1983.
More than one million visitors made the journey to Machu Picchu in 2014 alone.
---
THURSDAY MAY 26, 2016
---
PIGish Fun
[Metro.uk] A teenager put a pair of glasses on the floor of a gallery and everyone thought it was art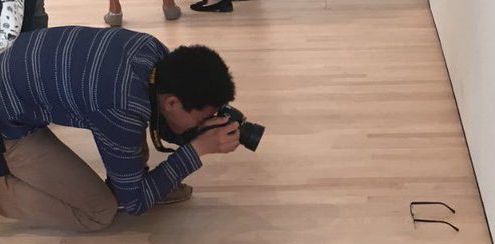 Ah, the classic 'put a random object in an art gallery and wait for people to lose their minds over its greater meaning' prank. It shouldn't work. But it does – every. damn. time.
And are we really surprised, considering there's currently an exhibition in London that's just a closed gallery you can't actually enter? And a massive pile of oranges currently sitting in the Tate?
One man proved once and for all that we are all truly lost, confused people wondering around galleries desperately pretending that we know what art is.
According to a Twitter moment from Tuesday night, a teenager named TJ Khayatan and his friends pranked a load of cultural types by leaving a pair of glasses on the floor of a museum.
People reacted pretty much the way you'd expect. They stared. They pondered. They took photos. It was magical.
But here's a question: through gaining a reaction, does a pair of glasses left on the floor become art? What is art, really?
Hmm.

---
THURSDAY MAY 19, 2016
---
Gym Acts Like Boobs
[Metro] An Ottawa woman says she was humiliated and "body shamed" when staff at an Orleans gym told her that her chest was "too large" for her tank top.
Jenna Vecchio, who moved to Ottawa in April from Halifax, said she was working out with her husband on Saturday morning at Movati when a female supervisor confronted her about her attire. She was told other clients at the gym had complained her top made them feel uncomfortable.
Vecchio says she was confused and seriously embarrassed, especially since other women wore similar tank tops. She and her husband left without finishing their workout.
"I said I can't help it that my chest may appear larger than some other women's here because of my small frame, but I can't do anything about it," Vecchio told Metro.
"I felt humiliated. I was made to feel uncomfortable. I felt degraded."
She said she was told she could finish her workout and come back to the gym – in a t-shirt.
But in absence of a detailed dress code, Vecchio simply feels she was singled out based on her looks.
She took to Facebook to explain the ordeal and to post photos of the disputed outfit. So far, the post has been shared more than 3,000 times.
Vecchio said she used to go to the gym about five times per week, but she has since cancelled her membership and signed up at GoodLife.
In an email statement, Movati spokesperson Sean Whittal said members are asked to wear "modest athletic attire" and Vecchio's top was seen as contrary to the gym's dress code.
Below is the full statement:
At Movati Athletic, we strive daily to create an atmosphere where all our members feel welcome, feel comfortable and feel healthy. We ask members to be respectful of each other when in the gym, to include wearing modest athletic attire and appropriate shoes, limiting cell phone usage and keeping the facility clean. It is important to us that all members have a positive experience at Movati, and we take their needs and feelings very seriously. As such, on Saturday when some members of our gym voiced complaints regarding Ms. Vecchio's attire as it made them feel uncomfortable and was seen as being contrary to our dress code policy our staff assessed the situation and spoke to Ms. Vecchio. While in no way did we intend to embarrass her, we did feel we had to address the issue. We are still looking into the matter, and would be happy to sit down and speak with Ms. Vecchio in more detail as we continue to investigate the incident.
– Sean Whittal, Area Director, Ottawa, Movati Athletic Group

---
THURSDAY APRIL 28, 2016
---
Precious Snowflakes Get An Earful
A Steven Crowder classic!
A must see: Crowder
Awesome!
Signs of the Times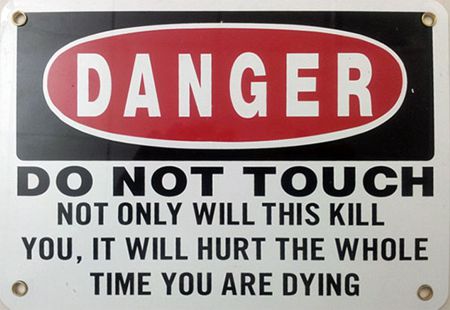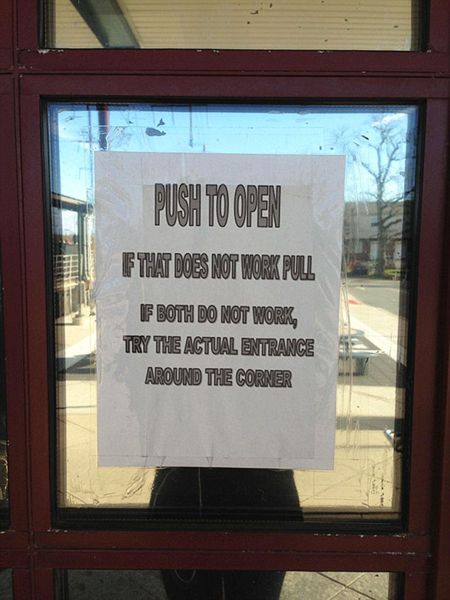 You'll find more: Here
---
MONDAY MARCH 28, 2016
---
'Transgender' Conditioning Is 'Child Abuse'
By J. Matt Barber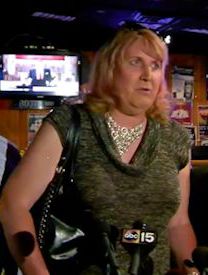 George Orwell famously wrote, "In a time of universal deceit, telling the truth is a revolutionary act."
For those tethered to biological reality, the self-evident truth that, prior to birth, people develop either "XY" or "XX" genetic markers and, as such, are objectively, and shall forever remain, either male or female, is as plain as blue is blue or pink is pink.
Indeed, notwithstanding the politically driven "LGBT" agenda that pretends otherwise, those who suffer with "gender dysphoria" disorder will stay, as born, either male or female, whether or not they play dress up, sterilize themselves and destroy healthy reproductive organs.
Hence, it's of little surprise that, tragically, of those who put themselves through this imaginary "transition," 41 percent will subsequently attempt suicide.
Still, this "progressive" socio-political scheme moves quickly from merely pitiable and delusional to ghastly and abusive when children are the targets – when selfish adults exploit sexually confused young people by feeding their "gender" delusion and pumping them full of dangerous hormones, or otherwise surgically mutilating and sterilizing them for life via so-called "gender reassignment surgery."
In order to address the growing momentum of this harmful, gender-bending, pseudo-scientific quackery, a number of America's leading medical experts on the subject have finally weighed in. "The American College of Pediatricians (ACPeds) urges educators and legislators to reject all policies that condition children to accept as normal a life of chemical and surgical impersonation of the opposite sex. Facts – not ideology – determine reality," they warn.
This child-health advocacy group has released a report that determines, among other things:
1. Human sexuality is an objective biological binary trait: "XY" and "XX" are genetic markers of health – not genetic markers of a disorder.
"The norm for human design is to be conceived either male or female. Human sexuality is binary by design with the obvious purpose being the reproduction and flourishing of our species," they observe. "This principle is self-evident. The exceedingly rare disorders of sexual differentiation (DSDs), including but not limited to testicular feminization and congenital adrenal hyperplasia, are all medically identifiable deviations from the sexual binary norm, and are rightly recognized as disorders of human design. Individuals with DSDs do not constitute a third sex."
2. No one is born with a gender. Everyone is born with a biological sex. Gender (an awareness and sense of oneself as male or female) is a sociological and psychological concept; not an objective biological one.
Let's take it a step further. The "gender" phenomenon is, in the larger sense, an artificial and anti-theist-tainted social construct. It's an overt act of fist-shaking rebellion against the laws of nature and nature's God.
And it's dangerous.
Johns Hopkins Hospital was the pioneer in "gender reassignment surgery." It now refuses to perform these discredited cosmetic procedures. Dr. Paul R. McHugh, the hospital's former psychiatrist-in-chief and current distinguished service professor of psychiatry, is among those who participated in the ACPeds report. He has noted in the past that, as even the left-leaning APA reluctantly acknowledges, transgenderism is a "mental disorder" and that the idea of a "sex change" is "biologically impossible." "People who identify as 'feeling like the opposite sex' or 'somewhere in between' do not comprise a third sex. They remain biological men or biological women," determines ACPeds.
3. A person's belief that he or she is something they are not is, at best, a sign of confused thinking.
"When an otherwise healthy biological boy believes he is a girl, or an otherwise healthy biological girl believes she is a boy, an objective psychological problem exists that lies in the mind not the body, and it should be treated as such," notes the report. "These children suffer from gender dysphoria. Gender dysphoria (GD), formerly listed as Gender Identity Disorder (GID), is a recognized mental disorder in the most recent edition of the Diagnostic and Statistical Manual of the American Psychiatric Association (DSM-V). The psychodynamic and social learning theories of GD/GID have never been disproved."
4. Puberty is not a disease, and puberty-blocking hormones can be dangerous.
"Reversible or not, puberty-blocking hormones induce a state of disease – the absence of puberty – and inhibit growth and fertility in a previously biologically healthy child," notes ACPeds.
5. According to the DSM-V, as many as 98 percent of gender confused boys and 88 percent of gender confused girls eventually accept their biological sex after naturally passing through puberty.
And so what do we call a physician or a parent who takes a gender-confused boy, with a 98 percent chance of full recovery, and severely and irrevocably harms that child with dangerous hormones or sterilization surgery?
We should be calling them what they are: criminals.
To its credit, the ACPeds report goes on to identify this so-called "gender ideology" for exactly what it is: "Child abuse."
6. Children who use puberty blockers to impersonate the opposite sex will require cross-sex hormones in late adolescence. Cross-sex hormones are associated with dangerous health risks including but not limited to high blood pressure, blood clots, stroke and cancer.
So much for the Hippocratic Oath: "Practice two things in your dealings with disease: either help or do not harm the patient."
Gender ideology is anathema to good medicine and sound science.
7. Rates of suicide are 20 times greater among adults who use cross-sex hormones and undergo sex reassignment surgery, even in Sweden which is among the most LGBQT–affirming countries.
"What compassionate and reasonable person would condemn young children to this fate knowing that after puberty as many as 88 percent of girls and 98 percent of boys will eventually accept reality and achieve a state of mental and physical health?" the report asks.
8. Conditioning children into believing a lifetime of chemical and surgical impersonation of the opposite sex is normal and healthful is child abuse.
"Endorsing gender discordance as normal via public education and legal policies will confuse children and parents, leading more children to present to 'gender clinics' where they will be given puberty-blocking drugs. This, in turn, virtually ensures that they will 'choose' a lifetime of carcinogenic and otherwise toxic cross-sex hormones, and likely consider unnecessary surgical mutilation of their healthy body parts as young adults."
There you have it. "Gender ideology" is child abuse – empirically and irrefutably. Isn't it high time, at least where minors are concerned and as a matter of public policy, that we begin treating it as such?
If such abuse were associated with anything other than the "LGBQT" political special interests, we already would have.
Matt Barber is founder and editor-in-chief of BarbWire.com. He is an author, columnist, cultural analyst and an attorney concentrating in constitutional law. Having retired as an undefeated heavyweight professional boxer, Matt has taken his fight from the ring to the culture war.
[CNSNEWS]
Hold My Beer?
A 32-year-old Georgia man lost his leg below the knee after trying to blow up his lawnmower by shooting at it, earning him a rebuke from local authorities, Online Athens reported.
"Yes, it is legal and no, we can't make people stop doing it," the Walton County Sheriff's Department said on its Facebook page. "But why folks, just why?"
Deputies were called to a rural area near David Thomas Presley's home in Monroe on Sunday after the incident. Presley was with a group of friends when he shot the lawnmower, which was packed with three pounds of an explosive sold under the name Tannerite.
"It is a patented combination of ammonium nitrate and aluminium powder that is supplied as two separate powders that are mixed and shaken to produce an explosive," local fire Battalion Chief Craig League told the Loganville Local News.
League said the substance is sold in outdoor stores around the area, and has become "extremely popular" in recent years.
"It has become quite common for us to run calls involving Tannerite," he explained. "Typically two to five calls per week."
In Presley's case, he lost his leg when a piece of shrapnel sheared it off. His friends put him in a vehicle and had gotten as far as a nearby driveway when they encountered an ambulance. He was subsequently airlifted to an Atlanta hospital. His current condition is unknown.
League said that the incident was the first of its type, despite the constant calls involving Tannerite.
"Please adhere to the warnings and use this dangerous material with caution or maybe consider other less dangerous hobbies," he advised.
[Raw Story]

---
THURSDAY MARCH 10, 2016
---
Inkorrectness On The Menue
The "American Diner" in Liverpool, N.Y., may be the most politically incorrect diner in the Empire State – and possibly the nation.
The "American Diner" is a gun-toting, beef-eating, Constitution-loving establishment owned by Michael Tassone.
Mr. Tassone is a no-nonsense God & Country fellow who takes pride in Old Glory and his signature "Animal Burger" – made from 24 ounces of "American Love."
"We talk religions and politics and we encourage people to carry their guns," Mr. Tassone told me. "The Second Amendment protects all the rest of them."
They also encourage folks to say Grace.
" If people don't like it – they can go to Denny's," he said.
And just so diners aren't caught off-guard, they post their talking points on the menu.
· We don't like political correctness or special interest
· If you really don't like America – LEAVE
· Actually, I did build MY business
· Everyone doesn't get the same size trophy
· Gov't and taxes are the problem
And these days Mr. Tassone is especially upset with the government.
On Dec. 31, 2015, the state of New York implemented a new minimum wage for tipped workers. Wages increased from $5 to $7.50 an hour.
"It's absolutely killing us," Mr. Tassone told me. "My payroll has gone up over $21,000. We have to find a way to pay for that."
It's a problem facing family-owned restaurants across New York, reports the Rochester Democrat and Chronicle. Many have been forced to pass along the additional costs to their customers.
"I had to lay off a worker and I have to work 103 hours a week," he said. "I just have to try to take on additional time and hours to make it work."
And he also decided to poke a bit of fun at New York Gov. Andrew Cuomo and President Obama by naming a new breakfast special in their honor.
It's called the "Dictator Obama/NYS Special (King Cuomo)".
The breakfast includes two eggs and a slice of toast for $3.59. The tax is $27.99.
"We took a good jab at them," he said.
As you might imagine, the Obama special isn't exactly selling like hot cakes.
"If they really want to pay that much for two eggs and a piece of toast, we'll sell it to them," he said.
Mr. Tassone illustrated how difficult it's becoming to run a business in America. There's only so much you can tax consumers.
On the other hand, a sandwich named after the first lady is one of the diner's hottest items.
It's called, "The Anti-Michelle Obama, Don't Tell Me What to Eat or Feed My Kids Burger."
It's a 16-ounce beef patty with bacon and cheese – along with a side of fries.
He might want to throw in a pack of Rolaids, too.

---
FRIDAY FEBRUARY 19, 2016
---
Out To Pasture
[Metro.uk] Blowup sex doll eases into retirement as a scarecrow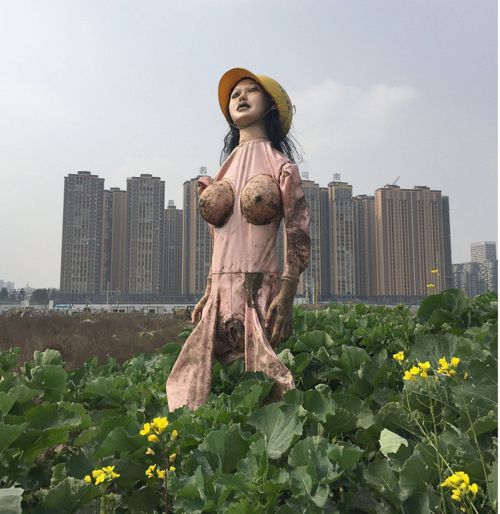 When it comes to guarding a field of rapeseed and keeping away pests what could be better than a scarecrow?
Well, now you come to mention it – a retired blowup sex doll, perhaps?
These bizarre pictures, which have gone viral in China, show an inflatable sex toy easing into her retirement.
The muddy sex doll also wears a yellow safety helmet and has reportedly been a real turn off for pesky birds – and people.
The naked (and rather stained) blow-up doll is thought to have belonged to a worker at a construction site near the field in Chengdu, capital of China's south-western Sichuan Province.
It was then found by a local rapeseed (Brassica napus, FYI) farmer, who stood it up in the patch of greenery in order to ward of crows and other unwanted pests.
The yellow helmet, which also belonged to the construction worker, was placed on the blow-up doll's head in order to cover its jet-black hair and to add more realism to the unorthodox scarecrow.
Rapeseed, which is consumed in China as a vegetable, is also used around the world to make cooking oil.
It is reportedly the fastest growing vegetable oil in the United Kingdom because of its nutty flavour, health benefits – and also because it is home-grown. And UK shoppers are now increasingly turning to the cheaper and healthier alternative to olive oil.

---
SUNDAY JANUARY 31, 2016
---
Dumb & Dumber
[The Guardian] US yachtsmen rescued nine times since July say they are 'totally capable guys'
Bob Weise and Steve Shapiro, both 71, who hope to sail across Atlantic, have repeatedly run into trouble since leaving Norway in July
The US sailors' latest mishap came when their 40ft vessel listed while tied up in Hayle harbour in Cornwall.
They insist they are perfectly adept and describe their plans to cross the Atlantic in their yacht, Nora, as "just a straight sail".But two 71-year-old American adventurers currently moored in Cornwall have been dubbed "captain calamities" after being rescued nine times before they have even left Europe.
Bob Weise and Steve Shapiro have repeatedly run into trouble since leaving Norway in July. Their latest mishap came when their 40ft vessel listed while tied up in Hayle harbour, Cornwall. It appears the pair had left a candle burning as they popped ashore to pick up groceries and it fell, setting clothes and cabinets on fire. Firefighters put out the blaze.
Shapiro said they were determined to carry on and hoped to be back at sea by the end of next week. "We are both fine. The boat fell over at low tide as it is a dry harbour. This caused a candle to fall over and started a fire on board that burnt some cabinets and my mate's clothes. We were not on board at the time – we were getting some supplies at the nearby grocery store.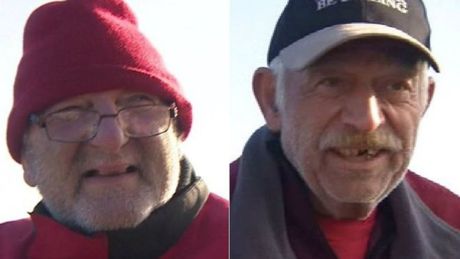 "Obviously we were not happy. It appears that a candle had not been blown out properly and a little spark relit itself."
Shapiro, a writer originally from California, said the accusations that their whole trip had been a disaster was unfair. "It is a long trip and was always going to be arduous but we have had some wonderful sailing days."
The pair have run into problems not just in the south-west of England but off the coasts of Norway, Scotland and Ireland. Problems have included a leak, groundings and engine failures. Shapiro said: "Nothing was dire or had anything to do with seamanship. We are totally capable guys. We're not stupid – just brave.
"We're learning about servicing the boat as we go. If your car gets a flat tyre and you call a mechanic does that make you incompetent? Is that a death-defying rescue? That's the analogy I would use to describe our situation.
"The best part of the trip has been meeting wonderful people along the way and the worst part has been the disappointment of these minor incidents. Hopefully Nora will be ready for the Atlantic trip. It's a long way but it's just a straight sail."
The pair aim to sail down to the Canary Islands and then across the Atlantic to the Caribbean before heading up the east coast of America to finish their journey in Maine in June.
Shapiro said he has become a donor to the lifeboat charity the RNLI. He said: "They are a great service and Britain is very lucky to have them. I have just made another donation."

---
MONDAY JANUARY 25, 2016
---
Awesome
[Fox] When a military wife's furnace broke down, a Pennsylvania repairman stepped in and fixed the malfunctioning unit at a huge discount.
He charged her $1.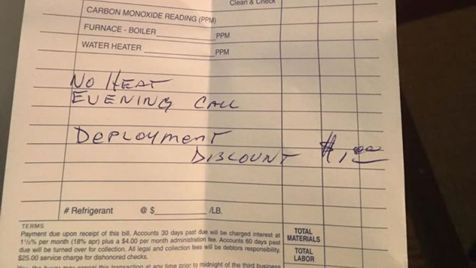 "He said that the $1 was a joke and to thank my husband for his service," Bridget Stevens wrote in a since-deleted Facebook post that has gone viral.
Paul Betlyn of Moon Township's Betlyn Heating and Cooling said the job normally would have cost about $150, but he gave Stevens, a mother of two, a "deployment discount."
"I'm not the hero here," Betlyn told ABC News. "The deployed, they're the heroes."
Her husband, Bobby, is deployed overseas with the National Guard. So when she arrived home to a cold house one evening earlier this month, she called Betlyn, expecting to get an answering machine.
"Ultimately, Paul, the owner, answered and was very patient as he walked me through different things to do to try to get it back on," Stevens wrote in the Facebook post.
But when none of Betlyn's suggestions fixed the issue, he drove to Stevens' house to look at the furnace himself.
"As he was working on the furnace, we got to talking about Bobby and the deployment," Stevens wrote. "I had mentioned in passing that I tried to figure it out with my husband, but since he's deployed and couldn't see it, he wouldn't know what to do."
Stevens said she was "apprehensive" about the cost. Then Betlyn handed her the bill.
"I was completely overwhelmed and in shock when Paul handed me the slip," Stevens told ABC News. "I didn't really know what to say, and I still have a hard time finding the words to truly express my appreciation."
Betlyn said he was just continuing a family tradition.
"My grandfather was a milkman during the Great Depression and many times he'd go to the door and the woman didn't have any money for milk. But the baby was crying in the background. So he'd put the milk on the table," Betlyn told ABC News. "And when I heard about Bridget with her husband being deployed…I put the milk on the table."
Betlyn has since started a "Military Deployment Kisses Fund" on gofundme.com. The aim is to raise money to send families overseas to meet with loved ones during lengthy deployments. He's raised nearly $1,500 in three days.
---
SUNDAY JANUARY 17, 2016
---
GOTCHA
[FOX] What to do with a misbehaving drone? Catch it with a net. Students at Michigan Tech University developed a drone that's able to shoot netting up to 40 feet to snag smaller drones and deliver them to waiting humans on the ground. This option might be more preferable if those doing the catching wish to confiscate the offending drone in one piece.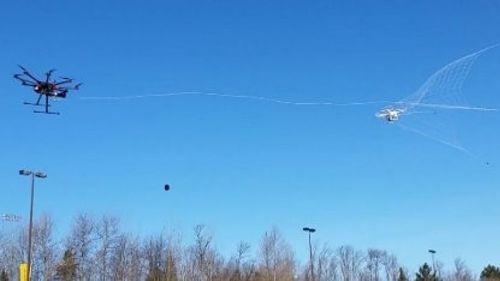 Michigan Tech's octocopter certainly isn't the first to employ nets in order to catch unmanned vehicles. Tokyo Police have their own to enforce no-fly zones around the city, and similar drones were built by the South Korean military to fend off drones sent by North Korea. In those cases, the net-wielding drones seem more intent on seek-and-destroy rather than capture-and-deliver.
Developers say the drone can either be flown autonomously or by up to two individuals, and the net is cast quick enough so that even the fastest and most nimble drones can't outrun it. Once the smaller drone is ensnared, gravity takes over and the net swings below the capturing one, allowing for retrieval.
Michigan Tech associate professor Mo Rastgaar and a team of three students developed the drone, and intend to file patents on their work. Rastgaar sees it as valuable to law enforcement, who may need to take more extreme measures to take down drones given that it now must be registered in order to fly. If criminal charges are to follow for flying an unlicensed drone, it's probably best that it's undamaged for proof.
"What makes this unique is that the net is attached to our catcher, so you can retrieve the rogue drone or drop it in a designated, secure area," he says. "It's like robotic falconry."
No word on when Rastgaar's capture drone will be available or its cost just yet, although it appears the capture drones are not intended for public use. Besides law enforcement, the capture drone is expected to find uses in anti-spying, anti-terrorism, and anti-smuggling operations.
---
FRIDAY JANUARY 15, 2016
---
He Beheading For Trouble
[MBatt] Folk Singer Plans to Pacify Islamic State With Song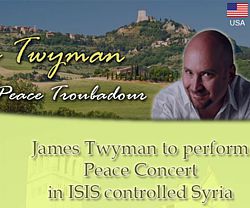 This may be a tasteless suggestion, but maybe what we need after all of the nightmarish horrors inflicted by ISIS is a little comic relief:
An Oregon folk singer plans to leave next week to serenade the Islamic State, and he intends to bring the black-clad barbarians a prayerful message of peace — despite a warning from the State Department that his life could be in danger.
James Twyman, of Portland, Ore., told FoxNews.com he feels a "calling" and believes he can soften the hearts of the Islamist army known for beheading Westerners, throwing gays off of buildings and summarily executing innocent women and children.
"It's going to be pretty powerful," Twyman said, referring to his plan to have those attending and others around the world sing and pray for peace at the same time. "When people come together and focus on something in a positive way…there's scientific evidence that it can change things for the better."
Well, if he has scientific evidence, I guess he must not be insane.
BTW, Mohammad didn't like music. That's why the Islamic State has banned it.
If this do-gooder neohippy moonbat makes it into ISIS territory, he will not return alive unless a ransom is paid.

---
SATURDAY JANUARY 02, 2016
---
Payback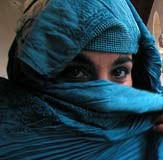 [DM] A Saudi shopping centre has reported 16 cases of sexual harassment of men by women, prompting outrage in the ultra-conservative kingdom.
The abuse reportedly took place in the largest shopping mall in Jeddah, the second biggest city in Saudi Arabia.
Men were catcalled and followed around the mall in a growing trend that is challenging gender roles in the Middle Eastern kingdom.
But although the incidents were reported to security staff in the shopping centre, none of the men filed official reports for fear of 'social stigma', according to the Saudi Gazette.
The mall's general manager Ryan Kaddouri said that CCTV footage backed up the claims of the harassed men, and the videos were handed to the police for an investigation.
The alleged harassment caused a stir among shoppers in the mall, many of whom told the Saudi Gazette that women should be more severely punished as a deterrent.
Most of the men interviewed said they would walk away from a woman if she harassed him, while one said he would inform the country's notorious religious police.
'Women harass men verbally for emotional enticement, especially if the man is handsome,' according to one male shopper.
One Saudi woman apparently told the paper that the women who harassed men were only hoping to attract attention for a wedding proposal.
But the sexual harassment of women and girls still vastly overshadows the harassment of men.
Over the past two years Riyadh's Justice Ministry recorded some 4,000 cases of sexual harassment, according to The New Arab, despite most cases going unreported.

---
FRIDAY JANUARY 01, 2016
---
University in Michigan Releases List of Banned Words
DETROIT (AP) — So a university has decided, without holding a presser, that about a dozen words and phrases are problematic and should be banned from everyday use — and there are no plans to walk it back even if the announcement breaks the Internet.
Still, everyone can be a stakeholder and join the conversation.
Northern Michigan's Lake Superior State University on Thursday released its 41st annual List of Words Banished from the Queen's English for Misuse, Overuse and General Uselessness.
The tongue-in-cheek wish-list of sorts includes starting an answer with the word "So," ''presser" instead of press conference, "problematic," ''walk it back" and "break the Internet." Others are "stakeholder," ''join the conversation," ''physicality," ''price point," ''manspreading," ''giving me life" and "vape," describing the act of "smoking" e-cigarettes.
There's no "secret sauce" — that rounds out this year's list — for inclusion: It's based on nominations submitted by stakeholders, er, members of the public to the Sault Ste. Marie school.
"(It's) usually used in a sentence explaining the 'secret' in excruciating public detail," John Beckett of Ann Arbor, Michigan, wrote in his nomination to ban "secret sauce." ''Is this a metaphor for business based on the fast-food industry?"
As for "So," it has the distinction of getting the most nominations and making the Banished Words list twice — but for different reasons. This year, people find starting a reply with it to be overused, meaningless and affected. In 1999, those nominating it griped about its incessant use as a modifier, as in, "I am so down with this list."
Some linguists and word watchers say starting an answer with "So" flowered in academia, particularly among those in the fields of science, technology and engineering. Facebook CEO Mark Zuckerberg has used it, giving it pop culture currency.
"Currently, it is being overused as the first word in the answer to ANY question," wrote Bob Forrest of Tempe, Arizona. "For instance, 'How did you learn to play the piano?' Answer: 'So my dad was in a classical music club.'"
University spokesman and list overseer Tom Pink said he and his colleagues were surprised by a lack of political terms, but they expect to see some in 2016, a presidential election year.
He noted that an increasing number of nominations come without explanations.
That, he said, could have something to do with the rapid-fire, abbreviated means by which we communicate in the digital age.
"Getting worse in recent years, probably bcuz people are typing from their phones!" Pink wrote in an email, which he sent from his phone.
Lest anybody get the wrong idea about Michigan schools only calling for word bans — even humorously — Detroit's Wayne State University offers an antidote: Its newer Word Warriors campaign boasts of "bringing back great words" that have fallen out of favor. Past words the university wants people to use more include "caterwaul," ''rapscallion" and "flapdoodle."

---
FRIDAY DECEMBER 11, 2015
---
SICK
[Mbatt] Middle-Aged Paul Wolscht Identifies as a 6-Year-Old Girl
If Bruce Jenner is a woman, Elizabeth Warren and Ward Churchill are Indians, Rachel Dolezal and Shaun King are black, and Jeb! Bush is Hispanic, then Paul Wolscht is not only female, he is 6 years old: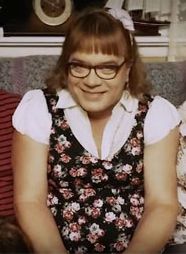 In an interview with the gay news site The Daily Xtra, Stefonknee (formerly Paul) Wolscht details his struggles with being a male-to-female transgender person.
The Daily Xtra video, however, glosses over a tiny bit of important information about Wolscht: he thinks he is actually a six year-old girl—not just a woman, but a six year-old girl—stuck in the body of a 50-something man.
At age 46, Wolscht deserted his wife and his seven children to live his "true" life.
Wolscht is all set up in the depraved, self-indulgent fantasy he has devoted his existence to wallowing in.
He explains, "Well, I have a mummy and a daddy. [An] adopted mummy and daddy who are totally comfortable with me being a little girl. And their children, and their grandchildren, are totally supportive. In fact, her youngest granddaughter… When I was eight. A year ago, I was eight, and she was seven. And she said to me, 'I want you to be the little sister, so I'll be nine.' I said, 'Well, I don't mind going to six.' So I've been six ever since."
The government retroactively alters weirdos' birth certificates to help foster their delusion that they can be a different gender than what they actually are. It is only right that Wolscht be issued a new driver's license indicating that he was born in 2009. Next year they will have to issue another one, since then he will have been born in 2010.
Insanity is the new national pastime.
---
MONDAY DECEMBER 07, 2015
---
Moron
LATROBE, Pa. (AP) — Police say a suspect had his first name stenciled on a sweat shirt he wore while breaking into a western Pennsylvania taxi company where he used to work.
That's why 26-year-old Joshua Jording, of Latrobe, faces a preliminary hearing on burglary, theft and related charges Dec. 14.
State police security video showed the suspect wearing a shirt with the name "Josh" on it. They searched Jording's home and found that shirt, as well as two guns and two smartphones taken during the burglary Dec. 2 at the Veterans Cab Co. in Unity Township.
Police also found marijuana and drug paraphernalia during the search.
Jording is free on bond. He didn't immediately respond to a Facebook message and The Associated Press could not immediately locate a listed phone number for him.
Hero
WOODLAND, Wash. — Officials in Cowlitz County say a southern Washington man managed to keep a pair of suspected burglars at bay until the cops showed up. Now, the local sheriff's office is applauding his efforts.
It happened earlier this week in a rural Woodland neighborhood the Lahti family calls "our hill." To get there you have to travel up Lahti Road and that is where you will find a man with the same last name. Bill Lahti has lived there most of his life. His great-grandparents moved there to the hill from Montana years ago and his grandparents lived there too.
"Yeah, I mean one day he said, 'Yeah, some of this will be yours.' Yeah, he kept his word," Lahti said, recalling a conversation with his grandfather.
So when someone first broke into his family's home last week, you can imagine he went on the offensive.
"I kept coming back periodically to check in. So, Monday night, I roll up and there's their truck backed up to the front door in the yard. (The) door was about -- probably -- four inches open. I could see the light through there. So, I came out there, jumped out of my truck, kicked the door open and there they were," Lahti told KATU News.
Lahti, gun in hand, told the two men to get on their knees. Not only did he detain them until deputies arrived, he says his phone was not working, so he had one of the men call 911 on themselves. A spokesperson for Cowlitz County Sheriff's Office says the citizens' arrest is an example of the benefits of someone arming themselves safely, legally and with proper training.
Cowlitz County sheriff's deputies have identified the alleged burglars as 21-year-old Jared Barker and 18-year-old Aaron Vigna.
And remember that truck Lahti found backed up to his front door?
Lahti remembers it read, "College Pro Painters" on the side. According to the State of Washington Business Licensing Service and the Washington State Department of Revenue, Barker owns a "College Pro Painters" franchise.
Lahti, the hero-homeowner, as some neighbors are calling him, worries the pair could have done this before.

---
THURSDAY NOVEMBER 19, 2015
---
Capitalists of the Week
[Fox] The U.K.'s Advertising Standards Authority ruled that the online advertisement from Australian-based Premier Estates Wine, which used the cropped image of the woman's crotch with a wine glass in front of it "served to reduce the woman to merely a sexual object" and that the reference to oral sex in the hashtag would be clearly understood, which was in breach of the advertising code.
The ruling comes after several complaints, including from organizations like Wine Australia, which said that it was sexist and degrading towards women and the U.K-based Alcohol Concern, a non-profit that fights alcohol misuse.
The ad features an elegantly dressed woman singing the praises of the wine for its taste and affordability. She then places the glass down on a table in front of her crotch and says: "Australia practically jumps out of the glass. In fact, some say you can almost taste the bush."
The woman then looks awkwardly askance before picking up the glass and walking away.
Budge Brands, which trades as Premier Estates Wine, said that the campaign was targeted at "a mature 35- to 45-year-old, wine-drinking, audience and was intended to be playful and tongue-in-cheek."
Heroine
Our heroine is a 33-year-old resident of North Charleston, SC, who put a world of hurt on 16-year-old Antoine Miller when he tried to rape her.
A local boob tube outlet explained how our heroine took a bite out of crime:
According to North Charleston police, officers were dispatched to Remount and North Murray avenues shortly after 7 a.m. to tend to the 33-year-old victim who fled her home after the attack.
The report notes that there was blood on the floor of the bedroom when the officers arrived.
According to the report, the woman told police she heard a knock at her door at 6:30 a.m. but when she answered it, no one was there. There was a second knock at her door, she told officers, and again no one was there. Then her doorbell rang and when she opened the door, a black man holding a knife was standing on her porch.
The woman told police she screamed and tried to run back in the house, but Miller forced his way inside her home, tackled her, and punched her several times, the report states.
"Stop fighting and I won't hurt you," Miller reportedly told the woman before carrying her over his shoulder to the bedroom, the report states.
Miller tried to remove the woman's shorts but she reportedly kicked him in the groin. Miller then forced himself on top of her and tried to kiss her, forcing his tongue in her mouth, the report states.
The victim retaliated, and "bit his tongue as hard as she could until she heard it snap," she told police. That led to Miller moving away, screaming, she added.
The woman said Miller's tongue was still in her mouth, so she ran from her home and threw it on the kitchen floor. She made it to her car and drove until she found an open store so that she could call police.
As you'd expect a punk with a missing tongue wasn't very hard to find.
Nicely done darlin.
---
SUNDAY OCTOBER 25, 2015
---
Hero of the Week
A 75 year old Army vet, James Vernon, was all that stood between 16 terrified kids - ages 7 to 13 - and disaster, when a knife wielding teen - Dustin Brown, 19 - barged into an Illinois public library hellbent on murder. While our hero distracted Dustin, he moved ever so slowly, until he was between Dustin and the door into the meeting room. That's when James signaled the members of the chess club to get out, which they did in record time.
After all the children fled, the knife-fight training Vernon learned in the Army five decades ago kicked in. Brown slashed from the right towards Vernon, who blocked the blade with his left hand.
"I should have hit his wrist. That's how you're trained, but it's been half a century," Vernon recalled. "First rule of combat: Be fast and vigorous," said Vernon, who never served in combat.
The veteran's medium build was enough to overcome Brown. "I grabbed him and threw... Somehow he wound up on a table" with the knife in his left hand pinned under his body, Vernon said. "I hit him on the (right) collarbone with my closed hand" until Brown dropped that knife.
Vernon said he was "bleeding pretty good," but managed to hold Brown until a library employee removed the knives and helped to keep Brown pinned until police and paramedics arrived.

You make us proud, James.
Doomsday
If you haven't started working on your Christmas shopping, yet, I have a suggestion: don't buy anything before December 3rd. Why? We're on Doomsday Watch. Yes, again.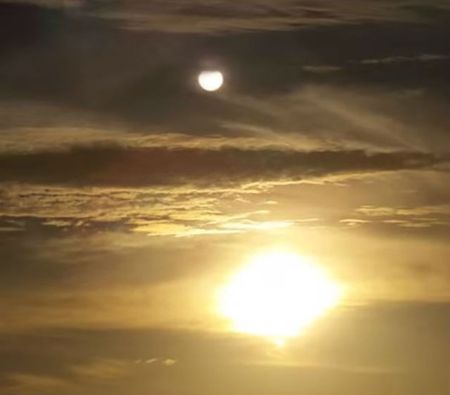 [Metro.uk] Ask conspiracy theorists how the world will end, and a large proportion of them will tell you that we'll meet our makers when we collide with Nibiru – a large planetary object responsible for our eventual oblivion.
And now, those conspiracy theorists believe that the end could be here pretty soon – after one woman posted supposed footage of the fabled planet online.
In a video posted on YouTube, user Melissa Huffman captures a mysterious planet like object that is seen hovering just above the sun.
'Just look at that planet beaming and shining right now, somebody tells me what it is', she pleas in a southern American drawl.
Commenting on the video (and our supposed imminent doom), one user wrote: 'It's definitely Nibiru. It's time to freak out the makers are coming.'
Another comprehensively said: 'Me and many folk with me have been waiting for this to show up for years. Ancient records state that once The Destroyer is "visible to the world", we have 40 days to prepare.
'Nemesis, Wormwood, Nibiru [or the Nibiru system], Planet X, whatever you wanna call it, it's clearly out there and it certainly looks like whatever wiped our ancestors out 13,000 years ago is coming around again.'
Uh oh.
Offering a more rational explanation, one user claimed that the mysterious sphere was the product of lens flare.
Another user reasoned: 'It's a tropospheric reflection created by ice crystals(a solar mirage). The planet you think you see is the Sun…that super bright area below it is the sunlight being scattered by ice crystals in the clouds. There is not a planet there. This is a known atmospheric phenomenon – though it is quite rare.'
Still, this doomsday vault should come in pretty handy if it turns out that the conspiracy theorists were right after all.
December 3rd still gives you 3 weeks to shop, if it's another false alarm. I'm just saying...
---
THURSDAY OCTOBER 08, 2015
---
Disguise of the Week
[HufPo] 'Maxi Pad Bandit' Arrested Despite Fiendishly Clever Disguise
Who was that "maxied" man?
A man accused of robbing an auto parts store in Apple Valley, California, has been arrested despite disguising his face by strategically putting a maxi pad over his eyes.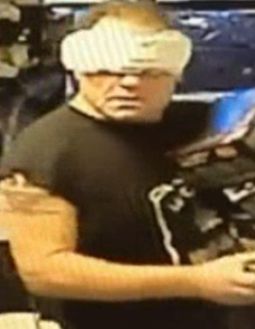 Surveillance video, taken around 6:40 p.m. on Sept. 28, shows a man with a feminine hygiene taped on his head, using a piece of wood to break the glass front door of a Battery Mart and slip inside the store, according to Victor Valley News.
The suspect stole several battery chargers and flashlights before fleeing the scene in a white 1992 Dodge Dynasty.
When Battery Mart owner Mark Wedell saw the video, he immediately noticed something about the burglar.
"Right away everybody started saying we should call this guy the maxi pad bandit," Wedell told NBC Los Angeles. "We had a pretty good picture of his face 'cause he came to the store the first time and looked in the window without his maxi pad on."
"But when he came back and he had the maxi pad over his eyes, I guess he thought it was going to take care of everything."
Investigators for the San Bernardino Sheriff's Dept. had no problem seeing through the fiendishly clever disguise and quickly arrested their sanitary suspect, 51-year-old Gary Victor.
"It wasn't surprising, but yes, that is, in fact, that's what he was trying to conceal his identity with, and he didn't do a very good job," police spokeswoman Trish Hill said, according to UPI.
Victor was arrested and taken into custody on suspicion of burglary and possessing stolen property. The stolen items were returned to Battery Mart, according to the Victorville Daily Press.
The maxi pad was recovered and taken into evidence, Hill told HuffPost.
Victor is a convicted felon with an extensive history of run-ins with the law, according to the Victor Valley News.

---
THURSDAY OCTOBER 01, 2015
---
WTF
Have you ever wondered would happen if someone mistook builder's foam for hair mousse.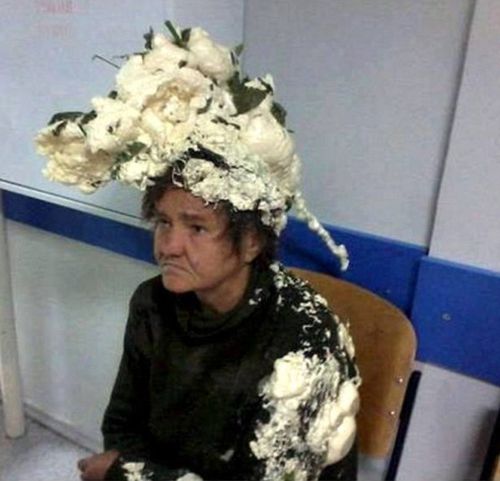 Now you know.
---
SUNDAY SEPTEMBER 20, 2015
---
Did I Do That
Inmate 1 is a murder suspect. Inmate 2 is the primary witness against inmate 1 at a forthcoming legal proceeding.
Obviously inmate 1 would love to get his hands on inmate 2. Thanks to off the scale jail keeper ineptitude, inmate 1 got his wish.
LIMA, Ohio (AP) — A jailed murder suspect and another inmate who was about to testify against him got into a fight in a holding cell after a guard mistakenly put the two together, officials said.
The men weren't handcuffed when the guard put them in a cell during a break in the trial this week, and an investigation will be conducted on how it happened, Allen County Sheriff Sam Crish told The Lima News. He said authorities broke up the altercation within two minutes, and the men suffered only minor injuries.
The holding cell was out of public view, but the fight was recorded on video that the judge allowed the jury in the suspect's trial to see Thursday after denying a defense request for a mistrial because of the fight.
WLIO-TV says the video shows defendant Markelus Carter punch the other inmate, who is then seen putting Carter in a headlock and throwing some punches before Carter bites him on the arm and guards break up the fight. [Yahoo News]
"Oops" won't suffice, this time.

---
SUNDAY SEPTEMBER 13, 2015
---
You Can't Make This Up
[Metro.uk] World's most stupid bank robber asks cashier to put money in to his own bank account
This has to be one of the stupidest bank robbers ever.
Paul Neaverson, 61, walked in to a branch of NatWest in Rainham, Kent and held a knife to the cashier's neck.
However he was caught out when he asked the clerk to transfer the money in to his own bank account.
And why did he do it? Because he needed money to book a flight to Corfu for a job interview as a golf coach. Of course.
Maidstone Crown Court heard that during the terrifying raid the cashier managed to hit the panic button.
Neaverson fled, but undeterred, he only went as far as the HSBC just 400ft away where tried to hold up that bank too.
Danny Moore, defending, told the court that his client has been in trouble before and described his attempt to rob the banks as 'ridiculous'.
He said: 'It was ridiculous. It only had one ending – and here it is. He has led a law-abiding life and now finds himself staring down the barrel of a very long sentence indeed.'
Neaverson, of Rainham, Kent, pleaded guilty to two attempted robberies and possession of a blade. He has now been jailed for two years.
---
MONDAY AUGUST 31, 2015
---
VIDEO FUN
Should Math be taught in schools? Lets ask the Miss USA pageant contestants.
Professional Soccer Player Dressed as an Old Man
---
SUNDAY AUGUST 23, 2015
---
Something Serious
Admiral (Ret) James Lyons on Islam as a threat doctrine
Something Silly
Even if you are not a "golfer" you will enjoy watching this one:
---
SUNDAY AUGUST 16, 2015
---
What A Dick!
[Metro] A man previously dubbed the 'world's most annoying husband' has been kicked out by his long-suffering wife after he tattooed a gigantic penis on his own leg.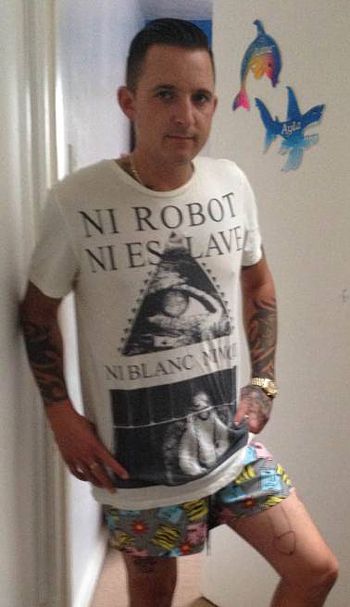 Stuart Valentino, 34, inked the six-and-a-half inch phallus on his left thigh – so the end pokes out of his boxer shorts.
But the questionable tattoo is the latest in a long series of pranks that wife Samantha has endured – and she has now given him the boot from their family home in Southsea.
The father-of-four said: 'My wife hates it. In retrospect, I'm not surprised, it really is the stupidest thing I've ever done.
'After I did it, my wife woke up in the morning screaming, because there was this massive penis poking out of the duvet. And the tattoo on my leg.
'It caused no end of rows and she's now kicked me out of home. I deserve it, I suppose.'
The tattoo gun that Stuart used for the questionable inking was given to him as a Christmas present by his wife.
She has now banned her husband from taking his daughter swimming and the family was forced to postpone plans for a holiday – because the inking stands out when Stuart wears shorts.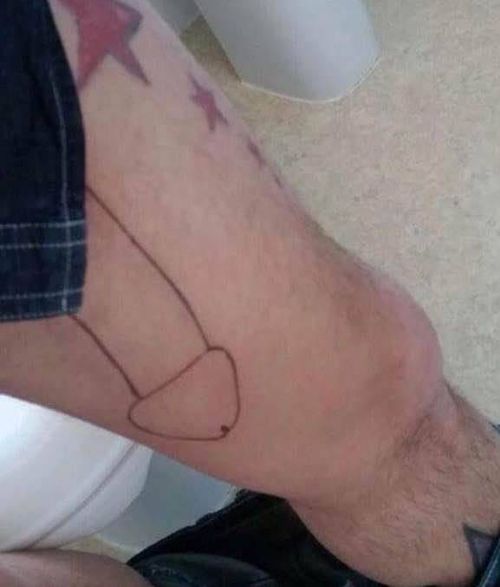 Describing the effects of the crude inking on his family life, Stuart added: 'We argued non-stop. It would cost nearly £1,000 to remove, something that could have been spent on a family holiday.
'Finally last month, Samantha announced she couldn't take it any longer, and left me.
'I had no idea that a joke could ruin my life. I'm devastated I've lost my family, and frustrated with myself. I can't blame anyone else.
'I have a constant reminder poking out of my shorts every day of how stupid I've been.'
Parting shot:
Considering this:
Stuart was previously dubbed the 'world's most annoying husband' – after posting a series of pranks on YouTube, which see him spend the whole weekend slapping his family with a fish, making his wife vomit after pretending to eat cat poo, and drawing a monkey face on his sleeping wife's bottom.
Why the hell would she give this jerk a tattoo gun?
---
TUESDAY AUGUST 11, 2015
---
D'Oh!
[Chicago Trib] Round Lake Beach police call Zion 25-year-old an 'Unlucky thief'
A Zion man was arrested Tuesday and charged with retail theft after his would-be getaway car was repossessed while he was allegedly trying to steal electronics in a Wal-Mart store, according to Round Lake Beach police.
According to Michael Scott, deputy chief of Round Lake Beach police, officers responded at about 3 p.m. Tuesday to a report of a retail theft at the Wal-Mart store located at 2680 N. Route 83.
Upon arrival, Scott said, officers were informed that a man was observed loading electronics into a shopping basket and leaving the store. After employees confronted the suspect, he dropped the items and fled on foot, police said.
Hearn was later located walking by the side of the road, according to police. When asked why he was walking, he responded that his car had been repossessed while he was at the Wal-Mart, police said.
Investigators determined that the repossession company had followed Hearn to Wal-Mart, police said. The car was towed away when he entered the store, giving Hearn the only option of fleeing the scene on foot, police said.
Scott said Hearn, who was called an "Unlucky thief" in a police press release, was released from custody on a recognizance bond after being charged with retail theft.

---
THURSDAY, AUGUST 06, 2015
---
Plain Truth
[Metro.co.UK] Groom sees his wife without make up for the first time and sues her for fraud
Gentlemen, we hate the break it to you, but women occasionally look different when they are wearing make up.
One groom was seemingly unaware of this well known secret, which is why he is suing his new wife after seeing her without make up on for the first time.
The morning after their recent wedding in Algeria the man reportedly awoke and was shocked to see his wife's natural face.
At first he didn't even think the woman lying next to him was his wife, accusing her of being a thief, before finally admitting she was in fact the same woman he had married the day before.
How much do you need to make an hour to rent near these London landmarks?
However he is now reportedly suing her for fraud and 'psychological suffering'.
Emirates 247 reported that the man is looking for $20,000 (£13,000) in damages.
'He said she looked very beautiful and attractive before marriage, but when he woke up in the morning and found that she had washed the make-up off her face, he was frightened as he thought she was a thief,' a source told local media.
And people wonder why women say men are pigs?

Who Knew?
[Metro.co.UK] Corn flakes were invented to stop people w*nking
There's nothing quite as refreshing as a bowl of corn flakes smacking around your chops in the morning.
But the original purpose of Kellogg's Corn Flakes is far from that of maintaining a balanced diet.
It turns out that corn flakes were invented to stamp out sex and masturbation.
Yep, take that and drizzle it over your Snap, Crackle and Pop.
Did you know?
Dr Kellogg was a seventh-day Adventist, a Protestant Christian denomination.
Despite inventing the corn flake, it wasn't actually Dr Kellogg who founded Kellogg's – that was his brother Will.
John Harvey Kellogg was a staunch believer in the benefits of celibacy, believing that sex was unhealthy for the body, mind and soul. Masturbation, meanwhile, he considered even worse.
'Self-pollution is a crime doubly abominable,' he is quoted as once saying, while in his book Plain Facts for Old and Young: Embracing the Natural History and Hygiene of Organic Life he said masturbation caused epilepsy, bad posture, stiff joints, fickleness and palpitations.
Dr Kellogg, who died aged 91 in 1943, never consummated his marriage and rather than have sex to procreate, he chose to adopt several children and foster 42. His wife slept in a separate bedroom.
So where do cornflakes come into this?
Dr Kellogg's believed meat and rich or flavoured foods increased sexual desire – and plain foods suppressed it.
This led to him creating a range of breakfast products, while a physician at Battle Creek Sanitarium in Michigan, that he believed would stop people pleasuring themselves.
His first invention was 'granola' before moving on to inventing an enema machine and stuffing half a pint of yoghurt up his anus as a 'cleanse'. The other half pint would be consumed by mouth.
His final invention was plain cereal – including corn flakes – which he marketed on a mass scale with his brother Will. The brothers fell out after Will, who also died aged 91 in 1951, added sugar to the recipe and formed the Kellogg company on his own.
Metro.co.uk has approached Kellogg's Corn Flakes for comment.
So there you go.
Oh, and there is no evidence that eating cornflakes leads to less sex

---
SATURDAY JULY 25, 2015
---
Road Rage
[Metro.uk] Wife runs over her husband because he was having an affair with an 18-year-old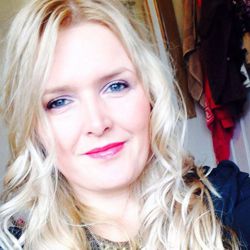 Maria Addis drove her at her husband (Picture: Wales News Service)
The mum-of-two shouted 'She's only 18-years-old' before driving at her teacher husband, court heard.
Charity worker Maria Addis, 34, knocked down her husband, Mark, 37, after learning of his relationship with the teenager.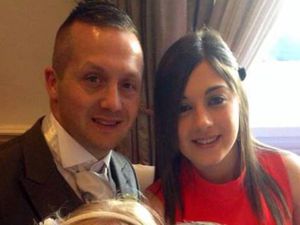 Ms Addis, of Pontypidd, South Wales, confronted her spouse of 15 years over the affair with Lucy Gill.
She was due to stand trial for dangerous driving, but changed her plea at the last moment to avoid 'airing her dirty laundry in public'.
Speaking in Merthyr Tydfil Crown Court, Jeremy Jenkins on defence said: 'Things got out of hand against a backdrop where Addis was seeking the truth from her husband about an extra marital affair with a former pupil. It was a misjudgement to move the car forward in the direction of her former husband.'

---
FRIDAY JULY 17, 2015
---
Stepping Up

WINCHESTER, Va. -
[MyFoxDC] The horrific murder of four Marines in Chattanooga showed the vulnerability of military recruitment centers. They are in public locations, and by law, they are "gun free zones" -- meaning the military that are there are not allowed to carry their weapons.
As the country realized the Marines that were killed were unarmed at the recruiting center, people have started showing up to provide security.
At 8 a.m. Friday morning, one man decided to spend his day off standing guard outside of a military recruitment center in Winchester, Virginia.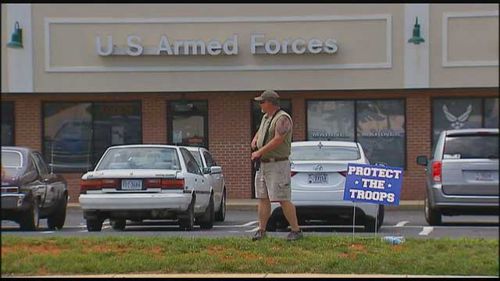 He is not worried about another attack like Chattanooga here. But he is making a statement.
"People need to call their congressman, they need to call their senators and they need to change these laws that are on the books so these guys can protect themselves so a regular old citizen doesn't have to go out and do it," he told us.
The man asked to remain unidentified, but he said when he heard about the four Marines killed by a terrorist in Tennessee, he thought, "Here we go again."
"It's fundamental Muslim extremism," he said. "They declared war on us and we seem to not put it in perspective and realizing that the war is here."
The military has been grateful for the symbolic support.
"I went into each office, the ones that were open, and I was received with handshakes and thank yous," he said. "They constantly came by, and not only them, but their wives came by in tears thanking me for just being out here. They baked cookies for me and brought lunch by."
You don't need a permit to openly carry guns in Virginia.
"The police already came by and checked me out, cleared my guns, doing their duty," said the man. "It was all good."
Hambo sez: This man is part of the America that Obama hates.
---
FRIDAY JULY 10, 2015
---
Cell Idiocy in Minnesota
What Am I?
A bird? Nope
A plane? Nope
Superman? Nope
A firearm? Nope
A political firestorm in Minnesota? Bingo.
Minnesota lawmakers are worried about cell phone cases designed to look like handguns.
State Reps. Joe Atkins and Dan Schoen announced legislation Friday that would ban the manufacture, sale and possession of the gun-shaped cases. Minnesota's Legislature won't reconvene until March.
In the meantime, the Democratic lawmakers are urging retailers not to sell the cases and asking Minnesotans not to buy them. Atkins says they're dangerous and "a disaster waiting to happen."
The new products are marketed as a novelty. But they've raised concerns nationwide about police officers confusing them for real firearms. [AP]

---
MONDAY JUNE 22, 2015
---
PIGish Promotion Axed
[SALT LAKE TRIB] Utah rookie baseball team cancels 'Caucasian Heritage Night,' communication director resigns
By Vincent Peña The Salt Lake Tribune
Updated Saturday story: Former Orem Owlz communication director raised concerns with 'Caucasian Heritage Night' before resignation
"Caucasian Heritage Night" in Orem came and went in the span of a couple of hours Friday, apparently taking the director of communications for Orem Owlz with it.
The Owlz, a Pioneer League affiliate of the Los Angeles Angels, had scheduled Caucasian Heritage Night for Aug. 10 as part of the season's promotions. But on Friday, after news outlets took interest and Caucasian Heritage Night was trending nationally on Twitter, the rookie-league team canceled the event.
In a statement released Friday afternoon, the team said the promotion was intended to be a lighthearted event.
"Minor League Baseball and the Orem Owlz is about baseball, togetherness and family fun for all fans of all races, religions and orientations. Our goal in this promotion, like any of our promotions, is to have fun and make fun of everyday normalcies," the Owlz said. "Our night was to include Wonder Bread on burgers with mayonnaise, clips from shows like 'Friends' and 'Seinfeld' and trying to solve the vertical leaping challenge."
Joey Zanaboni, who was hired by the Owlz as the director of media and communications and play-by-play radio announcer before the season, quit before Friday's game in Ogden against the Ogden Raptors. Zanaboni is the sports information director at Coahoma Community College, in Clarksdale, Miss.
According to the college's website, Coahoma in 1950 became the first institution for African-Americans to be included into Mississippi's system of public junior colleges. Zanaboni is white.
The Tribune could not reach Zanaboni for comment.
Ogden Raptors owner Dave Baggott, who is also the Lindquist Field announcer, said that he witnessed Zanaboni resign.
"He said, 'Could you please make sure the Orem Owlz get this equipment because I'm no longer a broadcaster,' " Baggott said.
Owlz general manager Justo Vazquez and assistant G.M. Julie Hatch did not return messages seeking comment.
Owlz majority owner Jeff Katofsky was out of the office and unavailable for comment.
"There were so many mistakes at so many different levels here," said Keith Strudler, director of the Marist College Center for Sports Communication, in Poughkeepsie, N.Y.
"We celebrate all sorts of different groups to recognize the diversity of this country, and some of the struggles that people have gone through," he said. "And when you celebrate privileged populations that have always been privileged, it marginalizes and mocks those that lack that power."
People sometimes ask, he said, why it's important to have diversity in the office. "This is why. If there had been a more diverse set of leadership in that office, I'm guessing, I hope, someone would have said, 'Hold on, that's offensive to me.' "
The announcement of Caucasian Heritage Night came two days after nine people were shot and killed at a historic black church in Charleston, S.C. A white suspect is in custody, and the Department of Justice plans to investigate the shooting as a hate crime.
"We understand in light of recent tragic events that our intentions have been misconstrued," the Owlz's statement said. "For that, we sincerely apologize."
Even the Owlz's response, Strudler said, "shows a lack of professionalism. No matter how you feel, that's just not the way you apologize. There are a thousand textbooks that tell you how to deal with crisis management."

---
SUNDAY JUNE 21, 2015
---
Terrors of Technology
[Metro UK] Why you shouldn't text and walk...
Texting while walking can lead to very dangerous situations like being hit by a car, but it can severely damage your dignity, as this girl recently found out.
While she wasn't badly harmed, her ego probably took quite a beating after she fell into this storm drain and became stuck.
The unnamed girl admitted she was walking and texting a friend when the mishap occurred in Mianyang City, in southwest China's Sichuan Province.
Several people came to her aid (or to take photos) however no one could free the girl.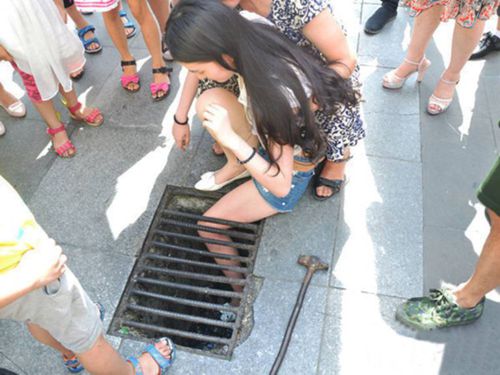 Pic shows: This Chinese teenager got stuck in drain. A pencil thin Chinese teenager was left stuck after her entire leg got wedged in a storm drain. The girl who was not named but is apparently a teenager had been walking down the street in Mianyang City, in south-west China's Sichuan Province while using her mobile phone to text a friend. She had not been properly looking where she was going, and when she stepped on a drain her thin legs went straight through the grille leaving her foot wedged tight. Other pedestrians tried to help her free her leg, but after realising that she was completely stuck, called the fire brigade who arrived and freed her after a 45 minute ordeal. Fire brigade spokesman Ming Lai said: "We managed to remove the bars and quickly freed her once we arrived at the scene. Her leg was a bit scratched and bruised and numb from being squeezed through the bars, but she quickly recovered and not need hospital treatment." Eyewitness Jun Niu who posted snaps of her ordeal said: "she was more embarrassed than anything else, she had covered her face up with her hands when people were gathered around and it's clear she didn't want to be there. "She was incredibly thin though, I reckon normally nobody would be able to lose a foot down there but the bars were a bit bent so I guess that was why it happened." (ends)
(Picture: CEN)
Eventually the fire brigade were called who managed to get the girl's leg out in one piece after 45 minutes.
If she was a little bit larger her leg might not have fallen so far – so remember that next time you need an excuse to skip the gym.
Fire brigade spokesman Ming Lai said: 'We managed to remove the bars and quickly freed her once we arrived at the scene.
'Her leg was a bit scratched and bruised and numb from being squeezed through the bars, but she quickly recovered and not need hospital treatment.'
It is unknown whether or not she lost her phone during the ordeal.
AWKWARD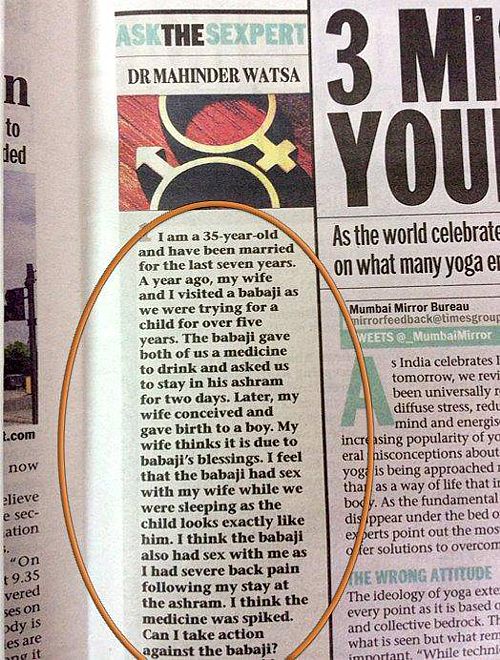 ---
THURSDAY JUNE 18, 2015
---
HALFSIES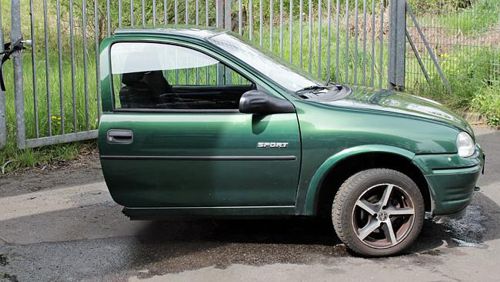 [news.com.au] REVENGE is a dish best served cold, but it's not easy when you've only got half a plate.
German eBay user "der.juli" has apparently literally cut his possessions in half, in a bid to spite his former partner. She reportedly received her share in the post, while he's listed his halves on eBay.
The cut items include chairs, a teddy bear, a REM record, a sofa and even a mailbox. Some are genuinely valuable — a Samsung TV set, an iPhone 5, an Apple Macbook Pro and even an Opel car.
You will find more cool images HERE
---
TUESDAY JUNE 16, 2015
---
Terrors of Technology
[Fox News] People's apparent eagerness to stay connected at all times means we're seeing more and more folk walking the streets lost in their phones. Well, we would see them if we weren't staring at our own handsets, right?
The thing is, this growing distraction means many smartphone addicts are risking life and limb as they go about their day, with near misses and collisions occurring at an increasing rate.
In an effort to put phone users on the right track and ease the stress of the disgruntled pedestrians that have to dodge them, a city in Belgium has created several "text walking lanes."
Following in the footsteps of Washington, DC, and Chongqing in China, the special lanes have been painted onto a number of Antwerp's busiest shopping streets. While the measure is, in reality, a marketing stunt by local mobile firm Mlab, it's likely that many in the area wouldn't mind keeping the markings.
'Everyone text-walks'
An Mlab spokesperson told Yahoo News, "Everyone text-walks. You probably walk through the streets while texting or sending WhatsApp messages to your friends and don't really pay attention to your surroundings -- only to whatever is happening on your screen.
'This causes collisions with poles or other pedestrians. You could, unknowingly, even be endangering your own life while you text-walk when you cross the street without looking up."
Indeed, there have been all manner of stories in recent years of phone addicts walking off piers or into canals.
Related: As if we needed proof, video shows perils of using smartphone behind wheel
Research firm Pew said recently that according to U.S. ER data, pedestrian injuries due to handset distraction has risen by 35 percent in the last five years.
Its report points out that in an effort to reduce the number of accidents linked to distracted walking, states such as Utah and New Jersey have experimented with fines for wandering texters who put themselves in hazardous situations. In addition, speed limits were reduced last year in parts of New York City for safety reasons. The move should mean that if a smartphone user does wander into the street without realizing, the driver may be able to take avoiding action instead of mowing them down.
Hambo Sez: File this under thwarting Darwinian Deselection. If left unaddressed, this 'problem' is one is a self-resolving one. Morons who don't pay attention will be unceremoniously evicted from the human gene pool. Sounds like a plan, so don't f**k with it.
Determination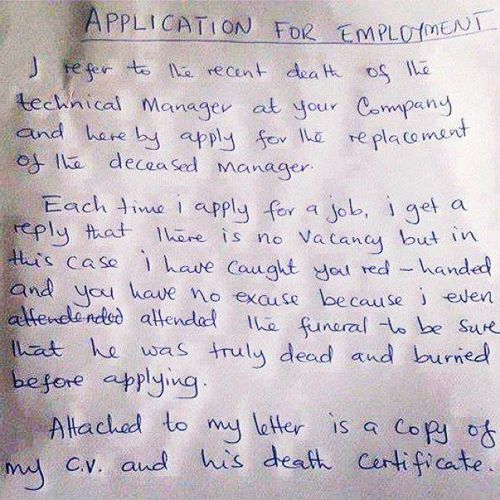 ---
FRIDAY JUNE 12, 2015
---
Ouch!
If the following is an example of this dude's critical thinking, I'm surprised that he made it to the ripe old age of 30. I wouldn't bet the proverbial agriculture endeavor that he'll make it to 40.
[HuffPo] Some guys shoot themselves in the foot metaphorically. but only Adam Hirtle knows if it's worse to do it literally. And he did it not once, but twice.
Hirtle, 30, of Colorado Springs, Colorado, told investigators he purposely shot himself in the foot Wednesday night because he was curious how it would feel, the Denver Post reported.
Investigators went to a hospital around 7 p.m. after getting a call about an accidental gun discharge.
Hirtle was quick to correct them that his wounds were anything but accidental.
He told officers he intentionally pointed a .22 caliber, semi-automatic handgun at his foot and pulled the trigger , according to Fox News.
Police said Hirtle told them he was in the garage and decided to take off his boot and shoot his foot. Then he put the boot back on and took another shot, according to KDVR.com.
Hirtle did not sustain life-threatening injuries from his self-inflicted wounds, according to 9News.com.
What Hirtle will do with his newfound knowledge is anyone's guess. However, he will be getting an education in the legal system, according to Westword.
Hirtle has been arrested on suspicion of a prohibited use of weapons, reckless endangerment and child abuse, because one or more kids may have been in the vicinity when he fired the gun.
"Shoot yourself in the foot is a metaphor, dude. So is 'set your hair on fire', in case you want to kick it up a notch.
---
SATURDAY JUNE 6, 2015
---
Celebrating Freedom
[Metro UK] Syrian women pull off their burkas to show they are free from ISIS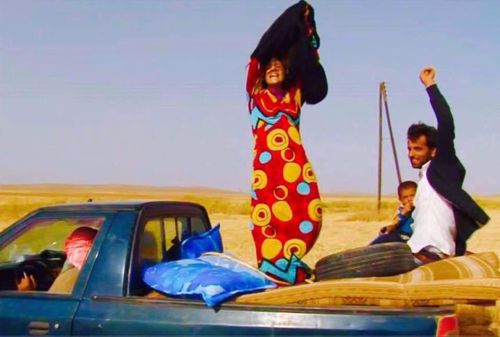 A woman takes off her burqa as she enters Rojava (pic: Jack Shahine /Shervan Derwish)
This picture, taken by the border between Syria and Turkey, shows the amazing moment women take off their black burqas to celebrate being out of ISIS-held territory.
The snaps were captured by cameraman Shervan Derwish, as the car drove into the autonomous region of Rojava, which is held by the Kurdish YPG.
Under the Islamic State so-called caliphate, women have to wear the black shapeless burqas, whether they want it or not.
Jack Shahine, the journalist who was working alongside Derwish when he captured the footage, told MailOnline:
'These women, children and men are fleeing ISIS controlled area and as soon as reaching Kurdish YPG (People's Protection Units) controlled areas they remove the black Burkas obliged by ISIS, breathing freedom again…[They] started to remove blackness, feeling cheerful and joyful for being finally free.'

---
WEDNESDAY JUNE 03, 2015
---
Whine!
[Mbatt] Muslim Woman Oppressed With a Can of Diet Coke
For 1,400 years, Muslims have wished in vain for a weapon that could be used to reduce Western Civilization to whimpering submission. At last they have it: political correctness. All they have to do to in order to assert their dominance over us is constantly find some phony reason to be aggrieved:
Tahera Ahmad said that when she ordered a Diet Coke on the plane, the flight attendant brought her an opened can. Ahmed said she asked for an unopened one because of hygiene concerns but the attendant explained that airline policy prohibits them from serving unopened drinks because they can be used as a weapon.
ISLAMOPHOBE!!!
"I told her that she was clearly discriminating against me because she gave the man next to me an unopened can of beer. She looked at his can, quickly grabbed it and opened it and said, 'It's so you don't use it as a weapon,'" Ahmad explains in a Facebook post. "Appalled at her behavior I asked people around me if they witnessed this discriminatory and disgusting behavior…."
In case that wasn't enough to raise righteous ire among Muslims and their moonbat allies, Ahmad has further allegations, most likely heavily embellished if not totally fabricated:
At that moment, Ahmad said another passenger stood up and yelled at her to be quiet and "leaned over from his seat, looked me straight in the eyes and said, 'Yes you know you would use it as a WEAPON so shut the f*** up.' I felt the hate in his voice and his raging eyes."
Tell you what, Tahera. If you don't want people associating you with terrorist violence, why don't you stop associating yourself with it? Reject Islam. But I'm forgetting: it is only a coincidence that over 26,000 lethal terror attacks happen to have been committed in the name of Islam since 9/11. Mohammad's bloodthirsty behavior aside, Islam is the Religion of Peace.
A United spokesman told CNN that a flight attendant had tried several times to accommodates Ahmad's beverage request but that there was a, quote, "misunderstanding."
Speaking of Cans
Soda cans are featured prominently in this gem, too.
CANS!
---
MONDAY JUNE 01, 2015
---
Hall of Fame Excuse
[Metro.UK] Prisoner escaped 'to test the security of prison'
A violent criminal who escaped from prison said he 'wanted to test out the security' as he was tracked down in Spain.
Haroon Ahmed, 26, has been on the run since fleeing from HMP Dovegate, near Marchington, Staffordshire, on Wednesday afternoon.
Police have launched a manhunt for the violent robber but the Sunday Mirror said he had fled to Marbella on the Costa del Sol.
An undated handout photograph made available by the British Staffordshire Police on 31 May 2015 showing 26-year-old Haroon Ahmed who is from the Derby area of central England. Staffordshire police have appealed for information after Haroon escaped from Her Majesty's Prison (HMP) Dovegate, near Marchington, Staffordshire, central England, on 27 May 2015, where he is serving a sentence for robbery. Reports on 31 May 2015 state that Haroon Ahmed has allegedly fled to Spain.
Ahmed told the newspaper: 'In my own mind I wanted to test out the security. I thought I'll give it a go – and walked out of the door. That's how easy it was. I just kept on walking.'
He added that he was worried for his safety if he returns to the UK and claimed his family was being harassed because of his escape.
The Sunday Mirror said it had informed police of Ahmed's whereabouts and the information had been handed to investigating officers.
Staffordshire Police had previously said they were 'investigating all lines of inquiry' amid reports he fled abroad.
A force spokeswoman said: 'We are actively investigating all lines of inquiry at the moment. We cannot confirm or deny that he has fled to Spain.'
Ahmed, who is from the Derby area, is described as Asian, 6ft tall with a thin build and short black hair in a crew cut.
He was wearing jeans and a grey t-shirt but police say it is likely he has changed his clothing.
He has been missing since around 4.15pm on Wednesday, Staffordshire Police said.
Due to his violent conviction police advise members of the public not to approach him and instead ring 999.
Officers involved in the search arrested his brother, Majeed Ahmed, 25, of Clarence Road, Derby, on Thursday, and have charged him with assisting a prisoner in escaping from prison.
He has been released on bail to appear before magistrates in Burton on June 25.
And a black Volkswagen Golf has been subjected to a detailed forensic examination as part of the investigation.

---
SATURDAY MAY 30, 2015
---
Pennsylvania school's dress code letter criticized as 'degrading'
[MSN] A Pennsylvania high school that warned graduating seniors to wear appropriate dress to an awards ceremony is being accused of imposing a double standard on female students and using language that some found degrading.
Biglerville High School, just north of Gettysburg, caused an uproar when it issued a letter advising female students to "choose modest attire" and keep "the girls" - a euphemism for breasts - covered and supported.
"Please remember as you select an outfit for the awards assembly that we don't want to be looking at sausage rolls," the letter said. "As you get dressed, remember that you can't put 10 pounds of mud in a five-pound sack."
While the school, which has about 500 students, warned female students against tight clothing, it only advised boys to wear nice clothes and avoid low-hanging pants.
Brianna Burtop, a senior who posted the school's letter to Facebook, told WHTM ABC 27 in Harrisburg that she was bothered by the language.
"You're supposed to feel safe and comfortable here. For a letter like that to come from the administration is really appalling," she said.
Her mother, Jessica Burtop, told the station the letter was "just totally wrong. It's totally degrading."
Wesley Doll, superintendent of Upper Adams School District, did not respond to a request for comment but his assistant emailed a statement Thursday in which the school backed away from the letter.
"While we regret that the document contained some unfortunate word choices, we do respect all students and hope this does not detract from the dignity of the graduation ceremony and the accomplishments of our graduating class," the statement read.
High schools around the country, including in Snellville, Georgia, and Declo, Idaho, have faced similar controversy this month, often over the issue of whether female students could wear slacks at graduation.
The Idaho ACLU sent a letter to all public high schools in the state urging them to avoid gender stereotyping in their graduation dress codes.

---
THURSDAY MAY 28, 2015
---
You Moo-ve Me
[Metro.UK] Slaughterhouse cow makes daring bid for freedom, gets shot near McDonald's
A cow that made a daring bid for freedom when it escaped from a slaughterhouse was tracked down and shot near a McDonald's.
Perhaps in the hope of earning the kind of fame afforded to this pair of llamas, the cow and two others fled Tri State Beef Co. in Cincinnati at around 11am yesterday.
Two were quickly rounded up, but one briefly shook off Tri State Beef Co. employees and headed west along a main road, to the bewilderment of drivers.
Slaughterhouse employees headed after the cow, and it eventually stopped near the McDonald's on Harrison Avenue. It rushed one of the employees, who shot it twice with his rifle, witnesses said.
'The man who put the cow down, it was so close it actually fell on his leg and he seemed to be limping but he refused medical at the time,' Sergeant Stephen Meyer of Cincinnati Police Department, told WLWT.
In a bizarre coincidence, a pig on the other side of the city escaped a farm and was found wandering through the streets.
Officer Byron Wilber said the pig and one of his colleagues had 'a short scuffle' before it was subdued.
Parting shot: McDonald's admires the bovine's enthusiasm, but the company doesn't take walk-in volunteers.

---
MONDAY MAY 25, 2015
---
Some Compelling Video
#1 Egyptians Weigh In on Obama's Characterization of "Climate Change" as Primary Military Threat
Video is subtitled: Egyptians
#2 Watch this very entertaining 2015 Commencement speech by Lou Holtz at the Franciscan University (which necessitates just a little preaching).
The speech (notice, no notes!) - very inspirational and educational, and seventeen minutes full of wise thoughts.
Lou Holtz Speech

#3 Grey Poupon The Lost Footage
---
THURSDAY MAY 21, 2015
---
Randy Quaid released on bond after Montreal arrest
[CBC] Randy Quaid and his Canadian wife kept a low profile while living in what appears to be an above-garage apartment on a secluded Montreal street, says next-door neighbour Ivan Mulkeen.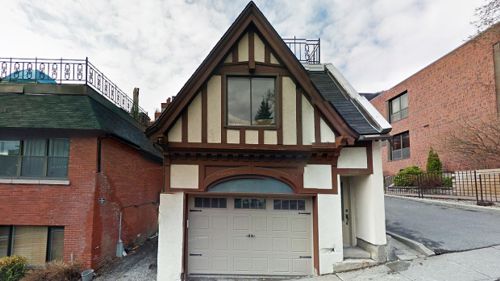 "I was as surprised as anyone, I think," said Mulkeen, who lives near the corner of Simpson and Doctor-Penfield avenues.
He said he'd been casually following Quaid's escapades after the actor disappeared a few years ago.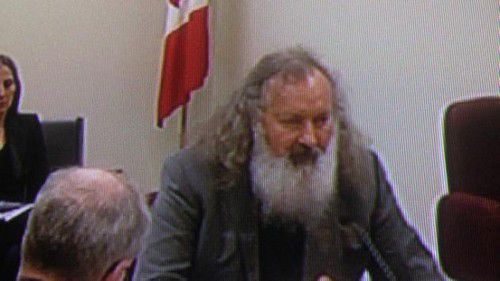 Actor Randy Quaid appeared before a member of the Immigration and Refugee Board on Tuesday, at the Guy-Favreau Complexe in downtown Montreal. (Steve Rukavina/CBC News)
Quaid and his Canadian wife Evi applied for refugee status in Canada in 2010, claiming they were being persecuted in the U.S. and were possible targets of so-called "Hollywood star-whackers" who were bent on killing actors.
Until last Thursday, the government had no idea where Quaid had been living after he failed to show up for an Immigration and Refugee Board interview in 2013.
"He was living in a small sort of building that's right behind our garage, it turns out," Mulkeen said.
"Our garage has a finished suite above it and i think he was living in a sort of equivalent one."
Mulkeen was home while the police arrested Quaid, but didn't even notice until his partner's mother told them about it.
"There were a lot of cops here, yeah — that's what tipped us off to something going on, but I was fairly oblivious to what was happening," Mulkeen said.
Randy Quaid: A Gift That Keeps On Giving

---
SATURDAY MAY 16, 2015
---
Mural, Mural On The Wall

RICHMOND, Va. – Some viewers contacted WTVR CBS 6 News when they spotted a mural being painted on the side of an adult bookstore in Richmond.
The vibrant, cartoonish work depicts a female feeding a purple beaver an apple. But some fear the colorful creation may attract children.
Jason Sears has nothing but praise for the mural, but questions where it was installed.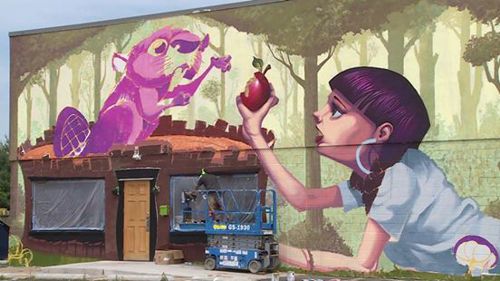 "It's beautiful… It's just scary that a kid might come in and expect to see a children's book store," Sears said.
The Taboo location on Midlothian Turnpike is one of three high-end adult stores owned by Alison Barber.
"It was certainly not intended to be attractive to children specifically or to attract children at all," Barber said.
Artists Jesse Smith and Miguel Del Cuadro have used 20 gallons of paint and 75 cans of spray-paint since they began work on the project last Friday.
"We wanted something — honestly, ironically — something that was not going to cause a stir or a fuss at all," Barber said. "I wanted something bright and friendly and happy. I definitely did not want to go overtly sexual — I didn't want it to look like a seedy adult store."
Not everyone thinks that the mural will attract children or pedophiles. In fact, Dennis Czerwinski said he does not think the work would attract or pedophiles.
Alicia Miles agreed and said that she does not believe the art installation will attract kids.
"To me I don't see that as a little girl, that's more of a woman, to me from my view," Miles said.
But others passing by have concerns.
"Some kids will try their hand at trying to go in there," Antonio Dillard said.
For the owner, the week-long project is a work of art for adults.
"I don't think kids are going to want to go stare at this mural," Barber said.
The mural is expected to be completed over the next few days.

---
WEDNESDAY MAY 13, 3015
---
22 Very Inconvenient Climate Truths
[Liberated From WUWT BLOG]
Here are 22 good reasons not to believe the statements made by the Intergovernmental Panel on Climate Change (IPCC)
According to the official statements of the IPCC "Science is clear" and non-believers cannot be trusted.
Quick action is needed! For more than 30 years we have been told that we must act quickly and that after the next three or five years it will be too late (or even after the next 500 days according to the French Minister of foreign affairs speaking in 2014) and the Planet will be beyond salvation and become a frying pan -on fire- if we do not drastically reduce our emissions of CO2, at any cost, even at the cost of economic decline, ruin and misery.
But anyone with some scientific background who takes pains to study the topics at hand is quickly led to conclude that the arguments of the IPCC are inaccurate, for many reasons of which here is a non-exhaustive list.
The 22 Inconvenient Truths
1. The Mean Global Temperature has been stable since 1997, despite a continuous increase of the CO2 content of the air: how could one say that the increase of the CO2 content of the air is the cause of the increase of the temperature? (discussion: p. 4)
2. 57% of the cumulative anthropic emissions since the beginning of the Industrial revolution have been emitted since 1997, but the temperature has been stable. How to uphold that anthropic CO2 emissions (or anthropic cumulative emissions) cause an increase of the Mean Global Temperature?
[Note 1: since 1880 the only one period where Global Mean Temperature and CO2 content of the air increased simultaneously has been 1978-1997. From 1910 to 1940, the Global Mean Temperature increased at about the same rate as over 1978-1997, while CO2 anthropic emissions were almost negligible. Over 1950-1978 while CO2 anthropic emissions increased rapidly the Global Mean Temperature dropped. From Vostok and other ice cores we know that it's the increase of the temperature that drives the subsequent increase of the CO2 content of the air, thanks to ocean out-gassing, and not the opposite. The same process is still at work nowadays] (discussion: p. 7)
3. The amount of CO2 of the air from anthropic emissions is today no more than 6% of the total CO2 in the air (as shown by the isotopic ratios 13C/12C) instead of the 25% to 30% said by IPCC. (discussion: p. 9)
4. The lifetime of CO2 molecules in the atmosphere is about 5 years instead of the 100 years said by IPCC. (discussion: p. 10)
5. The changes of the Mean Global Temperature are more or less sinusoidal with a well defined 60 year period. We are at a maximum of the sinusoid(s) and hence the next years should be cooler as has been observed after 1950. (discussion: p. 12)
6. The absorption of the radiation from the surface by the CO2 of the air is nearly saturated. Measuring with a spectrometer what is left from the radiation of a broadband infrared source (say a black body heated at 1000°C) after crossing the equivalent of some tens or hundreds of meters of the air, shows that the main CO2 bands (4.3 µm and 15 µm) have been replaced by the emission spectrum of the CO2 which is radiated at the temperature of the trace-gas. (discussion: p. 14)
7. In some geological periods the CO2 content of the air has been up to 20 times today's content, and there has been no runaway temperature increase! Why would our CO2 emissions have a cataclysmic impact? The laws of Nature are the same whatever the place and the time. (discussion: p. 17)
8. The sea level is increasing by about 1.3 mm/year according to the data of the tide-gauges (after correction of the emergence or subsidence of the rock to which the tide gauge is attached, nowadays precisely known thanks to high precision GPS instrumentation); no acceleration has been observed during the last decades; the raw measurements at Brest since 1846 and at Marseille since the 1880s are slightly less than 1.3 mm/year. (discussion: p. 18)
9. The "hot spot" in the inter-tropical high troposphere is, according to all "models" and to the IPCC reports, the indubitable proof of the water vapour feedback amplification of the warming: it has not been observed and does not exist. (discussion: p. 20)
10. The water vapour content of the air has been roughly constant since more than 50 years but the humidity of the upper layers of the troposphere has been decreasing: the IPCC foretold the opposite to assert its "positive water vapour feedback" with increasing CO2. The observed "feedback" is negative. (discussion: p.22)
11. The maximum surface of the Antarctic ice-pack has been increasing every year since we have satellite observations. (discussion: p. 24)
12. The sum of the surfaces of the Arctic and Antarctic icepacks is about constant, their trends are phase-opposite; hence their total albedo is about constant. (discussion: p. 25)
13. The measurements from the 3000 oceanic ARGO buoys since 2003 may suggest a slight decrease of the oceanic heat content between the surface and a depth 700 m with very significant regional differences. (discussion: p. 27)
14. The observed outgoing longwave emission (or thermal infrared) of the globe is increasing, contrary to what models say on a would-be "radiative imbalance"; the "blanket" effect of CO2 or CH4 "greenhouse gases" is not seen. (discussion:p. 29)
15. The Stefan Boltzmann formula does not apply to gases, as they are neither black bodies, nor grey bodies: why does the IPCC community use it for gases ? (discussion: p. 30)
16. The trace gases absorb the radiation of the surface and radiate at the temperature of the air which is, at some height, most of the time slightly lower that of the surface. The trace-gases cannot "heat the surface", according to the second principle of thermodynamics which prohibits heat transfer from a cooler body to a warmer body. (discussion: p. 32)
17. The temperatures have always driven the CO2 content of the air, never the reverse. Nowadays the net increment of the CO2 content of the air follows very closely the inter-tropical temperature anomaly. (discussion: p. 33)
18. The CLOUD project at the European Center for Nuclear Research is probing the Svensmark-Shaviv hypothesis on the role of cosmic rays modulated by the solar magnetic field on the low cloud coverage; the first and encouraging results have been published in Nature. (discussion: p. 36)
19. Numerical "Climate models" are not consistent regarding cloud coverage which is the main driver of the surface temperatures. Project Earthshine (Earthshine is the ghostly glow of the dark side of the Moon) has been measuring changes of the terrestrial albedo in relation to cloud coverage data; according to cloud coverage data available since 1983, the albedo of the Earth has decreased from 1984 to 1998, then increased up to 2004 in sync with the Mean Global Temperature. (discussion: p. 37)
20. The forecasts of the "climate models" are diverging more and more from the observations. A model is not a scientific proof of a fact and if proven false by observations (or falsified) it must be discarded, or audited and corrected. We are still waiting for the IPCC models to be discarded or revised; but alas IPCC uses the models financed by the taxpayers both to "prove" attributions to greenhouse gas and to support forecasts of doom. (discussion: p. 40)
21. As said by IPCC in its TAR (2001) "we are dealing with a coupled non-linear chaotic system, and therefore the long-term prediction of future climate states is not possible." Has this state of affairs changed since 2001? Surely not for scientific reasons. (discussion: p. 43)
22. Last but not least the IPCC is neither a scientific organization nor an independent organization: the summary for policy makers, the only part of the report read by international organizations, politicians and media is written under the very close supervision of the representative of the countries and of the non-governmental pressure groups.
The governing body of the IPCC is made of a minority of scientists almost all of them promoters of the environmentalist ideology, and a majority of state representatives and of non-governmental green organizations. (discussion: p. 46)
Appendix
Jean Poitou and François-Marie Bréon are distinguished members of the climate establishment and redactors of parts of the IPCC fifth assessment report report (AR5).
Jean Poitou is a physicist and climatologist, graduated from Ecole Supérieure de Physique et Chimie (Physics and Chemistry engineering college) and is climatologist at the Laboratory of the climate and environment sciences at IPSL, a joint research lab from CEA, CNRS, and UVSQ (*). He has written a book on the Climate for the teachers of secondary schools
François-Marie Bréon at CEA since 1993, has published 85 articles, is Directeur de recherche at CNRS, and author of the IPCC report 2013; he has been scientific manager of the ICARE group (CNES, CNRS, University of Lille), and of the POLDER and MicroCarb Space missions
---
MONDAY MAY 11, 2015
---
Dogged
[NYDN] A Montana man was arrested on bestiality charges and ordered to seek a mental health evaluation after he was caught getting "humped" by a husky dog, police said.
Kenneth Dwayne Kellmer was allegedly having sex with his girlfriend's family pooch at her Missoula County home on Feb. 21 when she walked in, Missoulian reported.
She claims she caught him getting intimate with the 3-year-old dog. Kellmer was down on his hands and knees and had his pants down, she added.
Cops were called and an investigation was launched, NBC Montana reported.
Kellmer was arrested on Sunday and charged with one felony count of deviate sexual conduct.
He appeared before Missoula County Justice of the Peace Marie Andersen on Monday, where he was banned from contacting the husky's owners.
Kellmer is forbidden also from having contact with any dogs or cats, including his own six pets.
He was released on his recognizance and is set to reappear in court.
If convicted, Kellmer faces 10 years in prison and a $50,000 fine, KULR reported.
Parting Shot: If he wants to be someone's bitch, a Graybar stretch will git 'er done.

---
WEDNESDAY MAY 06, 2015
---
Why?
[Telegraph UK] A council has been ridiculed after it painted double yellow lines measuring just 39in on a residential road.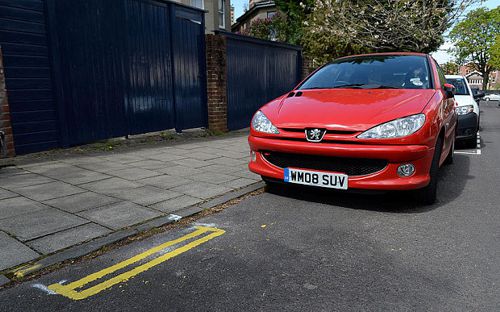 Residents have mocked the bungling council after it painted the pointless tiny double yellow between two drives.
The lines were painted in Clifton, Bristol, an area that is currently having a controversial Residents' Parking Zone put in place.
Bristol City Council claim they are there to maximise the parking capacity in the road and allow for easier access to drives.
Mike Owen tweeted to say: "Leigh Road Clifton - does it have the smallest set of double yellows in Bristol West?"
In one tweet, he even took a miniature Stig to the scene and placed it next to the lines, saying: "The Stig won the Clifton RPZ parking challenge in Bristol West."
RealBristolNews added: "[Mayor] @GeorgeFergusonx, The whole country is laughing at Bristol, and YOU made this happen."
And Paul Wiltshire said: "Are these the smallest yellow lines ever? Model village-style parking rules."
A Bristol City Council spokesman said the small sections of double yellow lines were installed to ensure residents had enough room to get in and out of their driveways.

---
SUNDAY MAY 03, 2015
---
Seeker
BOSTON (AP) — A Tennessee woman who ran the Boston Marathon is looking for the man she kissed on a dare.
Barbara Tatge says her daughter, Paige, dared her to kiss a random, good-looking man and take a photo of it as she ran her first Boston Marathon on April 20.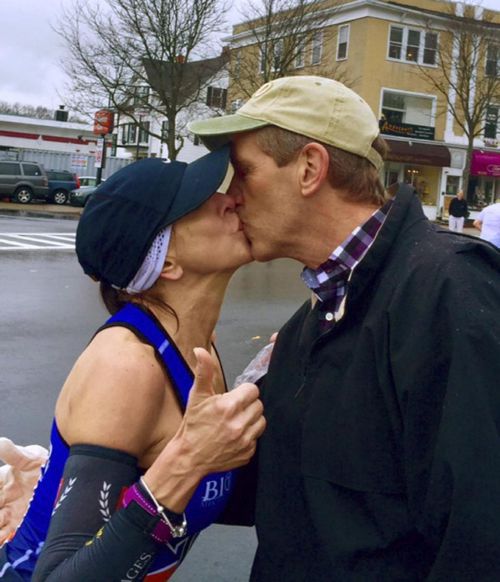 So, about halfway into the race, that's what the single 55-year-old from Lakeland did. "That little kiss gave me wings on my shoes for the rest of the race," Tatge said Friday by phone.
Now Paige Tatge, a graduate student at Arizona State University, is determined to find the mystery man, who clearly left an impression on her mom. This week, she's taken to social media and made outright appeals to Boston-area media. Paige Tatge says it's a birthday present to her mom.
"The response has been great so far," she said by email. "I can't believe the responses from random people wanting my mom to find this man. It's been great."
Barbara Tatge says she's a little embarrassed by the attention.
"I don't want it to seem like I'm this desperate woman that's seeking this man," she said. "But my daughters are so sweet, and they're always looking out for my best interests."
Tatge also doesn't want to put her mystery man in an awkward position if he's in a relationship or married. "I would want his wife to know I was definitely the aggressor," she says. "I mean, I approached him, you know?"
Tatge admits she's curious to see where this dare — a twist on the traditional kisses offered to runners by the women of Wellesley College — leads. She also regrets not taking the moment to get his phone number after he yelled out for her to call him as she resumed the race.
"I'd like to find out who he is, regardless of how this all turns out," Tatge says. "Am I kicking myself? Maybe just a little."
Paige says she's not surprised her mom took her up on the challenge.
"My mom is the definition of a risk-taker! I was more surprised that the man was so handsome," she wrote. "I dared my mom to kiss a Wellesley man because my mom truly wanted to have a good time at the Boston Marathon. The race wasn't about time to her. It was about having a great experience. I wanted to help her have some fun along the run!"

---
THURSDAY MAY 01, 2015
---
Terrors of Technology
[WSJ] It's not just consumer demand that's constraining supplies of Apple Watch. The Wall Street Journal is reporting that Apple has discovered a major defect with the watch's taptic engine, which is what causes the device to vibrate or "tap" users whenever they receive notifications and alerts. Only two suppliers are producing the critical component, and one of them has rolled faulty hardware off the assembly line.
Taptic engines from AAC Technologies Holdings, which operates in Shenzhen, China, have been found to "break down over time." According to the Journal, this led Apple to scrap some Apple Watches that had otherwise completed the production phase, a decision that has almost certainly affected the smartwatch's availability — but also prevented consumers from receiving malfunctioning devices.
"Only two suppliers are producing the taptic engine, and one of them messed up"
However, it's possible some faulty watches made it out into the world; in his review of the Apple Watch, Daring Fireball's John Gruber reported that he initially received a unit with a taptic engine that didn't function properly. At this time, Apple Watch shipping estimates are pushed back to June for all models and configurations.
Only yesterday, the company signaled that it plans to launch the smartwatch in other countries beginning in "late June." The Journal's report indicates that Apple has shifted most taptic engine manufacturing to its other supplier, Japan's Nidec Corp. Foxconn may also be tapped to help increase production of the Watch itself, though this wouldn't happen until later in 2015. The takeaway seems to be this: Apple Watch will remain hard to come by for the foreseeable future.

---
MONDAY APRIL 27, 2015
---
Inspiring Idea
[NDJ] A professional artist and surveyor has highlighted potholes by drawing a penis around them.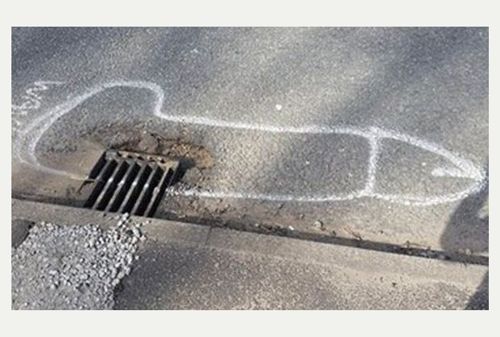 The pothole prankster has styled himself as "*anksy".
And his unconventional approach is not only winning fans - but is also getting results, with many potholes around Ramsbottom in Greater Manchester being filled in within 48 hours.
The unnamed artist, whose works are all completed in non-permanent paint, told the Sunday Express: "The roads are in an appalling state, especially around Bury. I have cyclist friends who have been hospitalised.
"They damage vehicles. Sometimes it's hard to know which pothole caused the damage as there are so many.
"When I've finished in Ramsbottom, I'll move on to the rest of Manchester."
A Bury council spokesman slammed the "stupid" and "insulting" actions.
He added: "The actions of this individual are not only stupid but incredibly insulting to local residents.
"Has this person, for just one second, considered how families with young children must feel when they are confronted with these obscene symbols as they walk to school?
"Not only is this vandalism, but it's also counter-productive.
"Every penny that we have to spend cleaning off this graffiti is a penny less that we have to spend on actually repairing the potholes."
---
THURSDAY APRIL 23, 2015
---
Obscene? Nope
[METRO UK]Farmer ordered to take down 'offensive' hay bale sculpture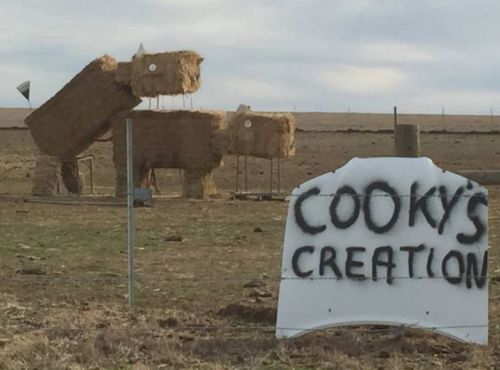 A farmer who built a hay bale sculpture of a bull having sex with a cow has refused to take it down after police told him he could be charged with 'publishing pornographic images'.
Bruce Cook, who owns Kactus Point Charolais near Kerang, Australia, built the sculpture on Good Friday as 'a bit of fun' but was ordered by police to take it down after someone complained that they found it offensive.
Mr. Cook flatly refused the order, however, telling the police officer to 'p*** off' and saying he will now light up the sculpture at night so passers-by can see it for longer and more clearly. He is also considering adding calves to the sculpture.
'I couldn't believe it,' he told NT News.
'How could anyone be offended by something that happens out in the paddocks for real every day of the week?
'They have picked on the wrong person. I don't care what they threaten me with. The sculpture stays.'
Mr. Cook insists he is not angry that someone complained about his sculpture, just baffled that anyone could find it offensive.
'It's just a stack of hay bales,' he said.

---
TUESDAY APRIL 21, 2015
---
Game Time
[METRO.UK] Japanese game show where men get hand job while they sing karaoke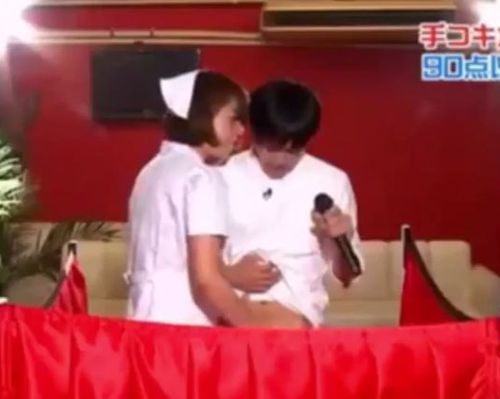 Oh, Japan, when will the craziness end?
Apparently there's a game show in which contestants have to sing karaoke while getting a hand shandy.
The object of Sing What Happens is fairly simple: Sing a song without a wavering tone and finish it before blowing your load.
Yes, people actually ejaculate. Some too early: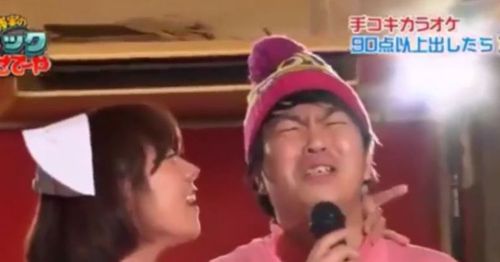 There are no words.
---
MONDAY APRIL 20, 2015
---
Heroic Grandfather
[METRO] A 67-year-old man shot three burglars, killing one, after they broke in to his home and tried to rape his granddaughter.
Three masked men stormed the man's home in Lumberton, North Carolina and forced the grandad to open his safe at gunpoint before attempting to sexually assault his 19-year-old granddaughter.
The grandfather managed to snatch a gun from one of the men and blasted it at them- killing Jamie Lee Faison, 20, and injuring two other suspected accomplices who have been named by police as Brandon Carver Stephens and Jamar Hawkins.
However the grandad was also injured in the shoot-out and is currently in a critical condition in hospital.
Maj Anthony Thompson, from the Robeson County Sheriff's Office, told WBTW News that the incident started when masked men knocked at the house where the grandad lives with his wife and 19-year-old granddaughter.
The men, who were wearing black clothes, balaclavas and gloves, stormed the house and demanded cash.
They bundled the granddad and his wife in to a room in the back of the house and ordered them to open up the safe at gunpoint.
The men then tried to rape the couple's granddaughter.
The brave granddad managed to grab a gun and shoot all three suspects.
They fired back and the granddad was hit several times.
The three wounded burglars fled in their victims' gold Cadillac.
Police were called after two men turned up at McLeod Hospital in Dillon.
Officers were given information which led them to Singletary Church Road near Lumberton where they found Mr Faison, age 20, dead inside the stolen Cadillac.
He had gunshot wounds.
The grandfather was taken to a hospital and was later airlifted to another hospital following the incident.
A relative of the grandfather, Sherri Bridgeman, wrote on Facebook: "He is out of surgery but is still critical in ICU.
"Thanks everyone for all your prayers just keep them coming.
"But the intruders have been caught."
The two other wounded suspects, named by The Robesonian newspaper as Brandon Carver Stephens and Jamar Hawkins, were airlifted to other hospitals for emergency surgery.

---
THURSDAY APRIL 16, 2015
---
Sexpert Has Head Up His Ass
[DM] An Iranian cleric is teaching his followers that thinking about another woman while having sex with your wife will make your children gay.
Ayatollah Hossein Dehnavi, a celebrity preacher in Iran, made the speech to a packed auditorium of men and women in his home country.
It is the latest controversial teaching put forward by Dehnavi, who also warned that if women did not wear the hijab - the veil covering the hair and chest - properly, they could inadvertently cause some men to become homosexual.
On past occasions He has preached that women must provide sex to their husbands at all times - and said women who are better educated or are financially independent 'harm men's authority'.
'One of the other duties of women in regard to their men is to take care of their men's instinctive needs [sexual drive]', the cleric said in a report by The Clarion Project, an organisation against extremism.
'Do not break their pride and [you must] be more sensitive toward them'
During another speech, the ayatollah explain that it is not a sin for a man to think about another woman while he is having sex with his partner, but if she becomes pregnant as a result the child will be gay.
The statements, thought to have been made in 2012 and 2013, came to light after being shared by Gay Star News this week.
Homosexual acts are punishable by death in Iran, with gay and lesbian people forced to hide their sexuality.
A man involved in the 'dominant' role in sodomy faces being flogged up to 100 times if he is unmarried and the sex is consensual, while the man playing the 'passive' can still be put to death regardless of his marriage status, according to a report in The Guardian.
Lesbians faced being whipped 100 times, but sex between two women can also lead to the death penalty if the act is committed four times.
Dehavni is a celebrated cleric in Iran, whose speeches on family life and marital affairs are shown on state TV and who people queue up for tickets to see him speak live, according to Iran Wire.
The 53-year-old grandfather has himself been married for 30 years
In other speeches he warns Iranian couples not to have too much sex: '.. only once or twice a week, not every day. Otherwise the wan will become saturated.'
He also suggests paler women wear black underwear and show off the most attractive parts of their bodies - their armpits and chest - to entice their husbands.
By perfecting the art of lovemaking, he suggests, couples will have bigger families with strong Muslim values which will ultimately lead to peace on earth.

---
TUESDAY APRIL 14, 2015
---
Insane
[Maybe we gave up on Mexifornia too soon. It's possible there may still be intelligent life there.
I found this on Moonbattery, today.]
Manager of South San Joaquin Irrigation District Refuses to Follow Lunatic Orders to Waste Precious Water
Any Californians enraged over the tyrannical water restrictions Governor Moonbeam imposed in response to the drought conditions he and his fellow Democrats were instrumental in creating had better take a deep breath before reading this:
In the heart of California's drought-parched Central Valley, fruit and vegetable supplier to the nation, a water district is defying a federal order to give some endangered trout a 3.9 billion gallon water ride out to sea. And it could be the first skirmish in a much wider conflict.
The Endangered Species Act protects steelhead trout, a small population of which are attempting a recovery in the Stanislaus River, which flows out of the Sierra Nevada Mountains into Modesto, in the San Joaquin Valley. So earlier this week a federal fisheries agency—it's unclear which one, and there are several—told the California branch of the Bureau of Reclamation (another water agency) that the fish needed more water to get out to the Pacific. The bureau in turn passed the order to the South San Joaquin Irrigation District, telling them to let a pulse of water through the dam on the Stanislaus.
But upon receipt, Jeff Shields, the manager of SSJID went rogue: "Whose water will be released down the Stanislaus River to satisfy the second pulse flow?" Not his, in other words.
It was the second such order in the past three weeks. The SSJID complied with the first. According to the Manteca Bulletin, a local paper that has been covering the standoff, this flushed out 15,000 acre feet of water and 23 steelhead trout. But this latest order, which would reportedly use another 12,000 acre feet to save only six fish, was too much for Shields.
Major kudos to Shields for refusing to waste the precious water for the sake of the antihuman envirofascist ideology of our overlords in Washington. If enough people simply refuse to follow malevolent orders, we will get through Hope & Change without another civil war.

---
SUNDAY APRIL 12, 2015
---
Untold Story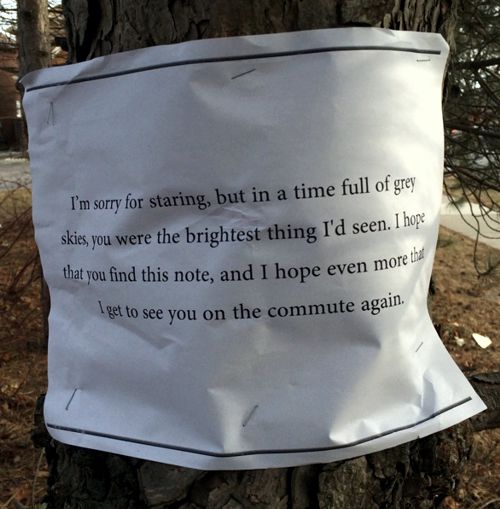 A beginning? Or, a chance encounter?
---
WEDNESDAY APRIL 08, 2015
---
A Sign of the Times
These are popping up all over Tinsel Town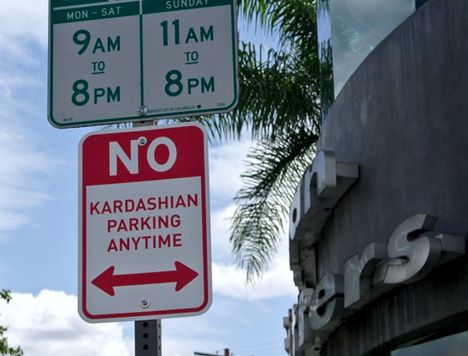 You've got to love it.
---
MONDAY APRIL 06, 2015
---
Petty Tyranny
[This epic demonstrates why you'll find a notion which reads 'see also code enforcement officer' when you look up 'asshole' in your dictionary.]
[Mbatt] Cardboard Fort Rebellion
The petty tyrants who micromanage the details of our lives do not take kindly to those who think outside the box:
You have to give the Trentelmans an "A" for creativity.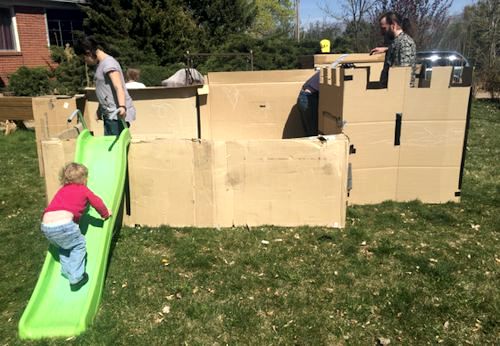 The Utah family of four — Jeremy and wife Dee, along with their toddlers Max, 3, and Story, 2 — and some friends turned a pile of cardboard boxes last week into a front-yard fort complete with towers, trap doors, and tunnels. …
But after just one day in existence, the makeshift fort attracted the City of Ogden's attention — specifically code enforcement.
The notice left on the Trentelmans' door indicated the fort violates city code related to "waste materials or junk" and have 15 days to get rid of it or get socked with a $125 fine.
Nice work, bureauweenies. You have kindled a rebellion:
Before the notice came, Jeremy Trentelman said they were planning on leaving up the fort for just a few days — but the notice got him pretty steamed. …
"They gave us 15 days in the notification, so I'll be damned it's gonna stay up for 14 days," he told KUTV.
In the meantime, the cardboard fort has attracted quite a bit of support — there's even a Facebook page called "Support Jeremy Trentelman! Cardboard Fort Campaign in Ogden."
The 13-day event is dedicated to organizing citizens to "stand in solidarity with Jeremy Trentelman by building cardboard forts in all the front yards throughout the entire city of Ogden." …
He's even open to passing the contraption along to another family. "It'd be great if it continues to live in another home," he added. "Just because of the stupidity of the situation."
That's the spirit. Sure it is just a matter of cardboard forts in people's yards. But tyranny is tyranny. Rebellion is rebellion.

---
SATURDAY APRIL 04, 2015
---
Memories Pizza
[Memories Pizza co-owner Crystal O'Connor was minding her own business, when a News Bitch with an agenda transformed her from Jane Q. Public into the Korrectnic version of Public Enemy Number One.
It appears that Crystal O'Connor is getting the last laugh, an $842,000 laugh.]
[South Bend Tribune] WALKERTON — A crowdfunding campaign for Memories Pizza has topped $842,000 with no signs of slowing.
The pizza shop on Walkerton's main drag became a target of liberal criticism Tuesday evening after the owners told WBND-TV (ABC57) that, though they would never deny service to a gay customer, they would decline to cater a same-sex wedding because such unions conflict with their Christian moral beliefs.
Memories Pizza's owners Crystal and Kevin O'Connor have never actually been asked to cater any type of wedding, and they didn't seek out the spotlight. They were offering their opinion on the hypothetical situation in response to a television reporter's question about the statewide debate over Indiana's recently passed Religious Freedom Restoration Act.
The comments led people from across the nation and even in other countries to post critical messages, lewd photos and negative reviews about Memories Pizza on the shop's Facebook page and restaurant-rating websites such as Yelp. A Concord High School coach was suspended Wednesday for allegedly tweeting that the pizzeria should be burned.
The O'Connors have not reopened Memories Pizza since the furor erupted, but they have gained support from conservatives who think the shop owners have been bullied for their religious views and didn't realize what they were getting themselves into when they spoke on television about the religious-freedom legislation. Ironically, some of those same supporters have heaped scorn upon WBND-TV and threatened station employees for airing the story that started the drama.
News organizations across the United States have covered the Memories Pizza uproar, and partisan pundits have weighed in as well, but Walkerton's downtown was quiet Friday afternoon. There were no picketers or protesters demonstrating outside the closed shop.
TheBlaze, a news and entertainment network founded by Glenn Beck, started a fundraising campaign on the website GoFundMe to help the O'Connors recoup revenue they're losing while Memories Pizza is closed. As of 10 a.m. Saturday, the campaign had attracted $842,592 from 29,166 people. The original goal was $25,000.
The O'Connors gave an interview to TheBlaze on Thursday. Kevin O'Connor told program host Dana Loesch that they planned to reopen Memories Pizza, but he didn't say when they will do that.
Regarding the money raised, he said, "That's so greatly appreciated, but even without the money — that's a secondary thing — just the kind words is what really built me back up. You gotta have money to live, but it's not important. We would have gotten by."
PIGish Last Word: Only in America? You better believe it.
---
WEDNESDAY APRIL 01, 2015
---
April Fools Day Twofer
I found both of these on the Metro UK site. Neither is billed as "April Fool" material, so I'll simply state that I can't swear either is real.
Doctor's Excuse
[Metro UK]What should you do when you have a cold?
Going in to work feels like hell and will make your colleagues hate you, staying home would get you in trouble, and going to get a sick note feels like a waste of time, given than you know what's happening to your body anyway.
So what's the solution? This doctor may have found it.
When a Pizza Hut employee in Alberta, Canada, told him of his woes, he sent him this letter to give to his workplace.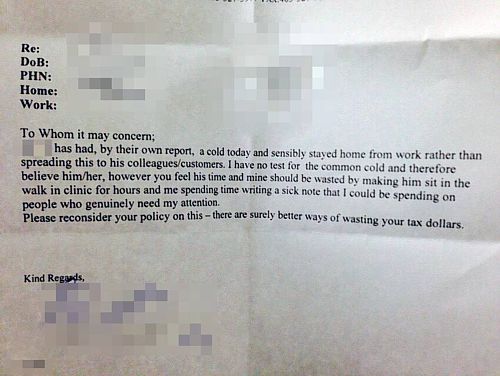 April Fool Hoax? Maybe.
Rejecting Rejection
[Metro UK] This student has a lesson in how to deal with a rejection letter
Complete with mirroring the bland statements found in all rejection letters, her response to Duke University said that 'I regret to inform you that I am unable to accept your refusal' and told them that she will be attending the 2015 Freshmen class regardless.
She wrote: 'With a pool of letters so diverse and accomplished I was unable to accept rejection letters I would have been able to several years ago.
'Despite Duke's outstanding success in rejecting previous applicants, you simply did not meet my qualifications.
'Therefore, I will be attending Duke University's 2015 freshmen class.'
Siobhan Reece Siobhan O'Dell University Admissions email college rejection letter. After Duke University denied her admission, the 17-year-old took to her Tumblr to respond. Instead of complaining about the school and criticizing its decision, she rejected her rejection letter.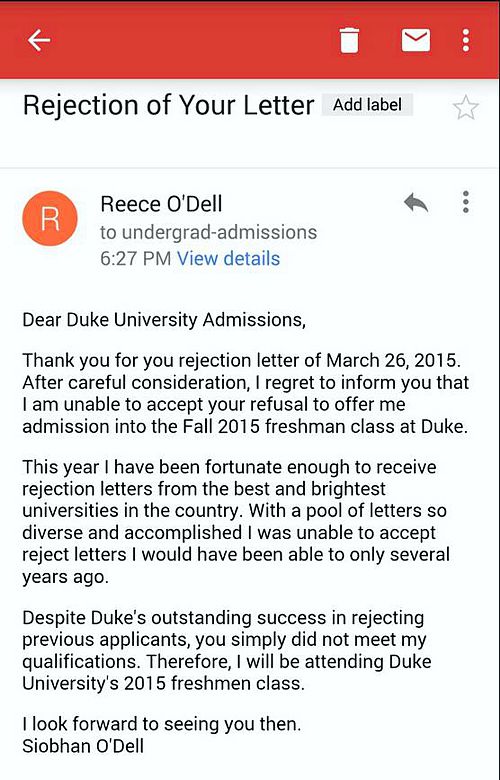 Siobhan O'Dell, 17, uploaded this response onto social media and due to it going viral, it will now be published in the Duke University's own newspaper.
While the North Carolina teen has not had her application decision overturned, her way of dealing with with these mass email rejections may just have given may other failed applicants a few chuckles.
In case you were wondering, according to her Tumblr page, she was accepted to University of Southern California and is due to attend classes there this autumn.

April Fool Hoax? Probably.
---
MONDAY MARCH 30, 2015
---
Making An Impression
[METRO UK]It was a bar mitzvah to remember.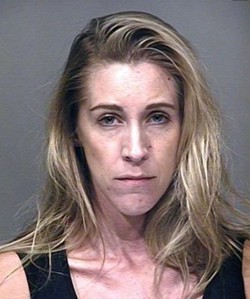 Yoga instructor Lindsey Radomski, 32, got completely trashed at the ceremony in Scottsdale, US, let a bunch of kids touch her boobs and gave one boy a blowjob, it has been alleged.
The Arizona woman faces abuse and sexual misconduct charges.
She reportedly flashed adult guests at the bar mitzvah before walking over to a pool and talking with boys aged 11 to 15.
Many of the guests had gone home or fallen asleep when Radomski allegedly got the boys to play with her breasts.
Sergeant Ben Hoster said: 'It's definitely an odd case. We've never seen a case like this before. You have an adult, and you have so many juveniles – we're just concerned for the kids.'

---
FRIDAY MARCH 27, 2015
---
Birthday Bashing
[CBS NEWS] A federal judge in California may decide within the next few weeks whether to throw out the decades-old copyright for "Happy Birthday to You." The judge could also order millions of dollars to be refunded to people who have licensed the song in recent years from its current owner Warner/Chappel Music, the music publishing arm of Warner Music Group.
A California musician, a film producer and two New York music producers filed suit against the company last year after they paid fees ranging from a few hundred dollars to a few thousand to license the song. Occasionally, Warner/Chappel receives six-figure license fees when "Happy Birthday" is used for high-profile projects such as a major motion picture.
As the National Journal noted earlier this week, Judge George King of the Central District of California listened to arguments from both sides in the case for motions for summary judgment. He has three potential ways to rule.
He could issue a judgment for the plaintiffs that would put the song in the public domain, meaning that it wasn't subject to royalties. He could find Warner/Chappel's copyright to be valid. Or he could argue that he doesn't have enough information to make a ruling and schedule a trial. Damages would be awarded at a later date if he decides in the plaintiff's favor.
People who sing "Happy Birthday" at birthday parties at home aren't required to get a license because that's not a considered a public performance.
Today's Faces In The News
Moving On - Amanda Knox Not Guilty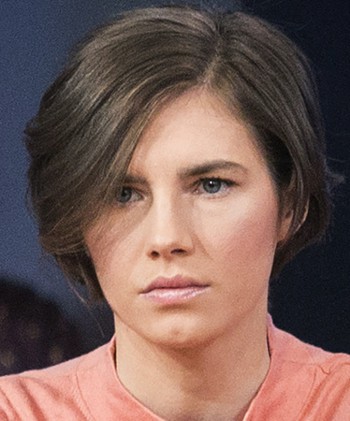 Moving Out - Harry Reid Retiring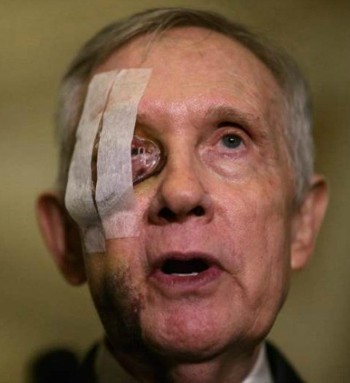 Moving Up - UpChuck Schumer Wants Reid's Leadership Post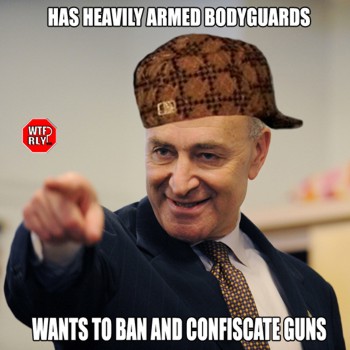 ---
THURSDAY MARCH 26, 2015
---
Don't Even Think It
[Calling themselves HRC Super Volunteers, some certifiable Shrillary sluts fired a shot across the MSM's bow, so sayeth the Daily Caller: ]
When it comes to reporting on Hillary Clinton, George Carlin's "Seven Words You Can Never Say on Television" have turned into "Twelve Words You Can Never Say About a Powerful Politician."
"We will be watching, reading, listening and protesting coded sexism," the pro-Hillary group HRC Super Volunteers warned The New York Times' Amy Chozick Wednesday.
HRC Super Volunteers have been laying in wait for Clinton to announce her candidacy, with one organizer of the independent group boasting to colleagues that "our supervols tended to be more loyal to HRC than hired staff who worried about getting a job after the campaign. I think back to the staff party in Denver when me, Ahmed, and another top vol were the only ones with Hillary buttons."
Here are the words that you can't use to describe Clinton:
polarizing
Yup. Nothing polarizing about this.
calculating
I usually pair this with the term "cold." As in, "Cold War." Or, "cold, loveless marriage."
disingenuous
Like when chicks say "I'm not looking for anything serious." Or, you know, "I'm on the pill."
Or when, you know, Bill pretended he was crying about the death of Ron Brown when actually he was laughing.
insincere
What about "insecure"? Isn't that more of a sexist term? I know a lot of women who are insecure. Some might say I have a radar for finding it.
ambitious
Women are lazy. Everybody knows that. How come most of them don't even work, like Ann Romney. Pfft. Bunch of sexists.
inevitable
It's inevitable that this adjective would be considered sexist at some point.
entitled
"I drive these brothers crazy, I do it on the daily, They treat me really nicely, They buy me all these ices. Dolce & Gabbana, Fendi and that Donna Karan, they be sharin' All their money got me wearin' fly…
"Brother I ain't askin, They say they love my ass 'n, Seven Jeans, True Religion's, I say no, but they keep givin' So I keep on takin' And no I ain't taken We can keep on datin' I keep on demonstrating."
Hillary's not like that. She was practically poor after the White House, remember?
over confident
Don't say this about Hillary, but it applies to Beyonce. Because Beyonce is a confident black woman. Beyonce is a CONFIDENT black woman. Okay? Beyonce is not a weak black woman. Beyonce is a CONFIDENT black woman.
Secretive
Did they tack this one on after the secretive-email scandal?
"will do anything to win"
This one time, I was rapping to a broad, but this other girl also liked me, and the other girl was kind of hotter, and she was all like "I'ma do anything to win" against the other chick. And I was all, "Game on, ladies." They competed about who was the best at grinding up on me. Best $180 I ever spent.
"represents the past"
Hahahaha. Oh my God. The Hillary campaign might as well release a strategy memo entitled, "Our Weaknesses: A Study on American Sexism."
"out of touch"
They didn't put "old" on here for some reason. They didn't put in "elderly" or "ancient" or "Grandma Moses" or "go put in your dentures, Oldie Oldie Oldenheim." Weird. Those would have been my contributions to the list.
So, y'all have been warned. Don't use any of those words to describe Hillary Clinton or else the "Super Volunteers" are going to get ya. They're watching…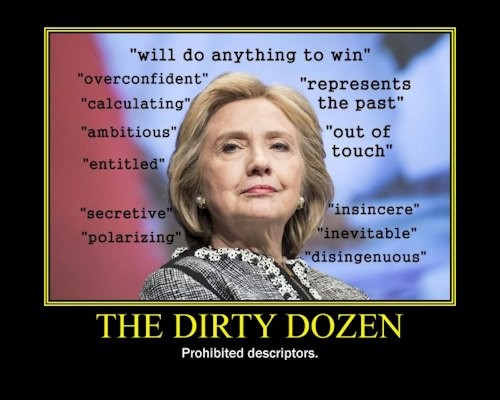 ---
TUESDAY MARCH 24, 2015
---
Gender Bending Swedes
[Metro UK] Sweden has added a gender-neutral pronoun to the dictionary
The official dictionary of the Swedish language will confirm the introduction of a gender-neutral pronoun when it is released in April.
The word 'hen' – a combination of 'han' (he) and 'hon' (she) – was coined in the 1960s when use of the word 'he' to denote an individual was deemed politically incorrect.
The word never took hold, however – until now. Sweden's transgender community appropriated the word around 2000 and its use has slowly graduated to the vernacular.
'For those who use the pronoun, it's obviously a strength that it is now in the dictionary,' said Sture Berg, one of the editors of the Swedish Academy's SAOL, where the word is one of 13,000 new additions.
'Hen' can be used to hide the gender of a person or because it is unknown. It can also be used to describe transgender people.
The Guardian reports that the word is now found in text books, court rulings and official documents.
In English, the pronouns 'they' and 'them' can be used to denote both genders, though there have been calls for alternatives such as 'zhe'
PIGish aside: We already have a gender neutral word: IT.
Goose-Stepping Dorm Thuggery
I agree with College Insurrection who said this about Appalachian State University:
This sounds like something straight out of Chairman Mao's Little Red Book.
Unreal.
Kaitlyn Schallhorn of Campus Reform reports.
App State dorm bulletin board shames 'privileged' students
A bulletin board hung by a resident assistant in a primarily freshmen and sophomore dorm shames those who are have white, male, Christian, able-bodied, heterosexual, or cisgendered "privilege."
"Why can't I hold all this male privilege," reads one meme on the bulletin board hanging at Appalachian State University.
"'I don't see color' which also means I deny having white privilege," reads another flier on the red board adorned with colorful puzzle pieces.
The fliers are products of the "Check Your Privilege" campaign started by three University of San Francisco professors, as previously reported by Campus Reform.
"If you can expect time off from work to celebrate your religious holidays, you have Christian privilege," one flier reads.
According to Laurel Littler, a junior commercial photography major at Appalachian State, the bulletin board was approved and put up by the hall's RA.
"A residential hall is the last place to push an agenda," Littler told Campus Reform. "When I come home, I want to feel accepted, not outcasted for something I can't help. I can't help that I'm Caucasian. Will they be happy if I change the color of my skin so I don't have my 'white privilege' anymore? I want to be comfortable in my own skin. You can't preach equality if you aren't willing to let a people group feel accepted as they are."
Littler said that since college is supposed to be a "marketplace of ideas," college students should not only have the freedom to state opinions but also the freedom to challenge the ideas of others.
"A person has to use common sense and sensitivity to a person's background when addressing issues," she said.

---
SATURDAY MARCH 21, 2015
---
PIGish Bookstore Fun
[You can only have this kind of fun in a REAL - brick and mortar - bookstore. Kudos to the imaginative Brit.]
Metro.uk reports
Remember the bloke who decided to liven up his local bookshop by adding some new imaginative sections?
He's now returned to the shop, and it seems that this time, he's taken it upon himself to address the lack of self-help books on offer, by creating his own titles.
In reality, they're actually just mock titles placed on old books, but they deal with some extremely important issues (kind of).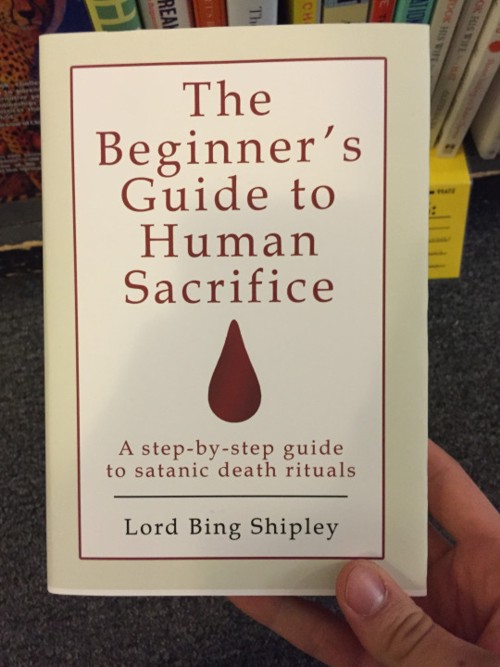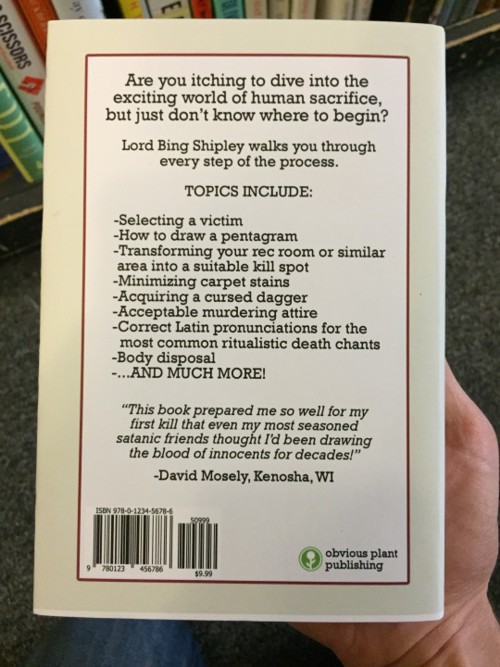 ---
WEDNESDAY MARCH 18, 2015
---
Tough Love
[BBC] Indian man takes daughter to school roped to motorcycle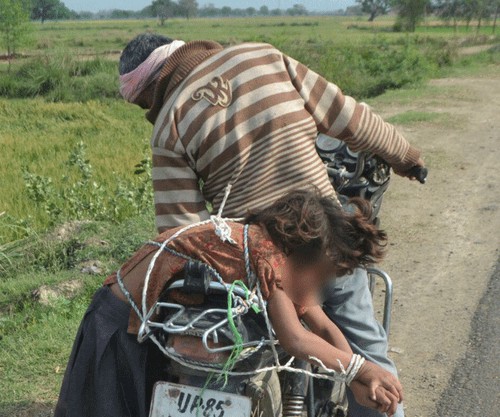 The girl tied to the bike The man was arrested after being photographed by passers-by
Police in India have charged a man who took his eight-year-old daughter to school roped to his motorcycle.
The 40-year-old was arrested after local newspapers in Uttar Pradesh state published photos taken by passers-by. He has now been freed on bail.
Onlookers accuse the man of cruelty - he says his daughter had an exam and was reluctant to go to school.
The incident comes at a time when the prime minister has launched a huge campaign to educate girls in India.
It took place in a village in the district of Mathura on Friday.
The man, a father of two sons and three daughters, works as a security guard at a private school
Police say he tried to persuade the girl, his youngest child, to go to school, particularly since she had a test to write.
The child was promised sweets and gifts, but when she refused to relent, her angry father tied her to the back of his bike with ropes and took her to school.
He has been charged with breach of peace, Mathura superintendent of police Shailesh Pandey told the BBC.
The man spent a day in the cells but still believes he did the right thing.
"My daughter will not die if I take her to school. But she will surely die if she does not study," he told the Times of India.
India has a female literacy rate of 64%, compared with 81% for men. Prime Minister Narendra Modi recently launched a campaign asking parents to educate their girls.
Campaigners say going to school is still a distant dream for many girls, especially in rural India, and that many parents think it is not necessary to educate their daughters.

---
SATURDAY MARCH 14, 2015
---
Where's Putin?
[Vladimir Putin has disappeared and that has unleashed a tidal wave of satire and conspiracy theories. Here's how the Moscow Times covered the fun.]
A wave of savage mockery broke over Russian President Vladimir Putin across the Internet on Friday, sparked by days of absence from public view, despite official insistence it was business as usual in the Kremlin.
State television footage of Putin working at his residence failed to quell the tide of fantastical theories circulating online that the 62-year-old Kremlin leader had died, been deposed, or travelled to Switzerland to watch his girlfriend give birth.
Ukrainian children produced a cartoon showing Putin abducted from the Kremlin by aliens.
The hashtag #putinumer (putin died) began trending on Twitter, and a website, putinumer.com, offered readers advice on how to gauge whether the rumors were true.
"Look out the window," it advised. "Are people rejoicing, dancing, and letting off fireworks? No? That means he hasn't died yet."
Putin is normally ubiquitous in state media, but his silence in the past week has fed rumors of a threat to his grip on power. While hard facts are scarce, there has been speculation of a split between rival Kremlin camps since the killing of opposition politician Boris Nemtsov near Red Square on Feb. 27.
"Putin has died on purpose to distract attention from the murder of Nemtsov", tweeted Putin#Vor (Putin#Thief).
A Ukrainian website carried a cartoon of Putin lying alongside Soviet state founder Vladimir Lenin in his Red Square mausoleum, and mocked-up pictures of Putin on his deathbed or lying in an open coffin.
Kremlin Not Amused
While Putin is a target of satire, he remains by far Russia's most popular politician and has enjoyed a surge in patriotic support since annexing Crimea from Ukraine last year.
The head of pro-Kremlin pollster VTSIOM said Friday that his approval rating had hit an all-time high of 88 percent.
Asked to confirm that the president was in good health, Putin's spokesman Dmitry Peskov said: "Yes. We've already said this a hundred times. This isn't funny any more."
RIA news agency separately quoted Peskov as denying that Putin had become a father again — a response to a flurry of speculation that former Olympic gymnast Alina Kabayeva had given birth in Switzerland. The Kremlin has regularly denied speculation of a romantic relationship between Kabayeva and Putin, who formally divorced his wife Lyudmila in 2014.
"Putin really does have a packed timetable: yesterday he died, today he gave birth," suggested one Twitter user.
In a country where the president dominates state media, demonstrations are tightly controlled and Kremlin opponents risk arrest, fines, prosecution or, in Nemtsov's case, death, the Internet has become the most effective outlet for dissent.
In a surreal YouTube video which had been watched more than 93,000 times by Friday evening, two men in camouflage uniform are shown walking through a rubble-strewn landscape past Putin's gravestone, carrying a TV screen showing wild Cossack dancing.
"Unbelievable things happen in the world," they sing. "You would think the people will mourn/But the earthlings celebrate/All the continents conduct parades/America is happy, Europe is happy."
Theories sprang up to explain why the president this week postponed a meeting with the leader of Kazakhstan – one suggested he was meeting Muammar Gaddafi and Hugo Chavez, the deceased Libyan and Venezuelan leaders.
A spokesman for President Barack Obama was asked aboard Air Force One whether the U.S. government had any information on Putin's whereabouts or whether Obama had been briefed.
"I have enough trouble keeping track of the whereabouts of one world leader," White House spokesman Eric Schultz told reporters. "I would refer you to the Russians for questions on theirs. I'm sure they'll be very responsive."

---
THURSDAY MARCH 12, 2015
---
Utterly Italian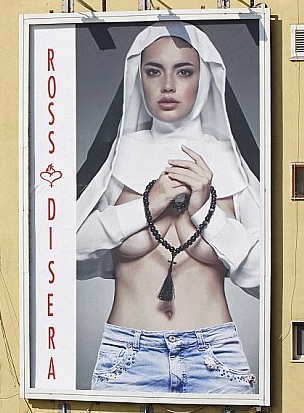 NAPLES, Italy, March 11 (UPI) -- An Italian company said no blasphemy was intended by erecting a Naples billboard featuring a topless model dressed as a nun ahead of a planned papal visit.
Clothing company Rosso di Sera came under fire from Naples natives when it erected a billboard recently featuring a topless model wearing a nun's habit and holding a rosary. The model's breasts are covered by her arms.
Some have accused the company of blasphemy ahead of a planned March 21 visit to Naples by Pope Francis.
The company released a statement saying the billboard had been planned long before the pope's visit was announced.
"We recognize that we have made a strong marketing choice but there was no intent to blaspheme," the statement said. "Trivializing the act of prayer was not the intention in any way."
The statement said the company "strongly regrets being accused of things extremely far from our values and our culture."

---
TUESDAY MARCH 10, 2015
---
Teasers
ATF Shelves Proposed Ban On AR-15 Ammunition After Public Outcry…
Bitter clingers +1
Via The Hill:
The Bureau of Alcohol, Tobacco, Firearms, and Explosives (ATF) is pulling back a controversial proposal to ban a form of armor-piercing ammunition commonly used in AR-15 hunting rifles.
ISIS jihadis like to relax by 'watching everything from Teletubbies to Game Of Thrones' says former hostage... who also reveals his captors struggled to justify their murderous acts
Former ISIS captive Nicolas Henin said jihaidi captors watched TV to relax
This included shows ranging from Game of Thrones to the Teletubbies
He also said many jihadis were 'fragile' and struggled to justify their acts
A former ISIS captive has described how the extremists enjoyed watching Teletubbies and Game of Thrones to relax and sometimes struggled to justify their barbaric acts.
French former captive Nicolas Henin has said they watched 'everything' on TV, and also claimed they were 'fragile people' who could not turn back after initially committing violent crimes.
---
SUNDAY MARCH 08, 2015
---
Seriously?
If you need proof that Progtards have WAY too much time on their hands, this will do it.
[NY1] BUFFALO, N.Y. -- An online petition demanding that the City of Buffalo change its "offensive and racist" name swept the Internet on Friday and sparked a lot of conversation.
"It sounded like some fake Facebook thing. You know how you get those Huffington Posts or whatever," Mark VanDusen said.
Turns out the petition asking Buffalo officials to change the city's name was very real.
"Modern society, I can see how they might want to challenge that sort of thing and maybe there's still some resentment and bitterness from the history of Native Americans and how they've been treated in this country," said Dan Reeves, Buffalo resident.
The petition was started by a man named Mark Beasley who said he's a member of the Navajo Nation. He claimed the term Buffalo is offensive because the animal was driven almost to extinction in order to "annihilate" his ancestors.
"If you think of the history of Buffalo, it's very rooted in Native American (history). The region in general and I know the history of the origin of Buffalo is from the Buffalo Creek, which kind of arrived from Native Americans in the first place," Reeves said.
"To me, Redskins would sound more offensive than Buffalo, so no, I don't think it's the same thing," said Amanda Caruso of Buffalo.
Michael Martin, the executive director of Native American Community Services for Erie and Niagara Counties, said the petition and the controversy over the Lancaster School District nickname are clearly connected.
"It's been supported by supporters of keeping the name in Lancaster, and they're trying to make a mockery and belittle the real issue of what's going on, which is just another way of hurting us," he said.
Martin said the two names are not the same thing.
"We're talking about Buffalo, and if Buffalo were offended, I guess the animal buffalo were offended and we were somehow portraying Buffalo in a hurtful way, I'd be behind it, too," he said.
Martin said he's sure no local Native Americans are taking part in the petition.
Parting shot: Is this the same precious critter that Siberian-Americans hunted by stampeding entire herds over a cliff?
---
FRIDAY MARCH 06, 2015
---
Inkorrectness on Steroids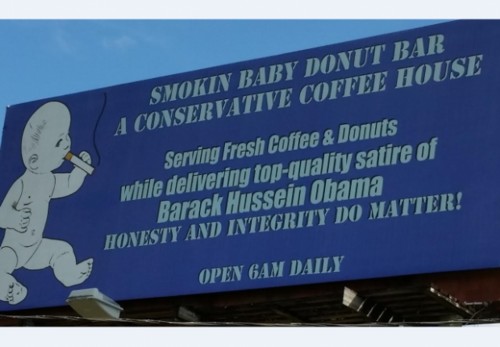 ---
THURSDAY MARCH 05, 2015
---
HELL No!
[When she road tested her new hubby's uh anaconda, the bride decided it was entirely too much of a good thing. I'll let the Daily Mail expose the turgid truth.]
Nigerian woman files for divorce because her husband's penis is 'too big'
A Nigerian woman filed for divorce from her husband because his penis was too big, according to media reports.
Aisha Dannupawa, a housewife and mother-of-three, asked for her marriage to husband Ali Maizinari to be dissolved due to his large manhood.
Their divorce was granted after just one week of marriage in a Islamic Sharia court in Nigeria's Zamfara State.
She told the court she had married Maizinari after her first marriage failed.
As part of the local tradition, before settling into her husband's home the bride was invited to move into his parents' house.
But it was only when the couple first had sex she claimed that the trauma began.
'When he came, we had sex but the experience was a nightmare. Instead of enjoying the sex, it turned out to be something else, because his penis was too big,' she told the court, according to Nigeria's Tribune.
After their first unsuccessful attempt at making love, she took medication given to her by her mother.
'I told my mother the experience but she told me to endure and that with time, I will be able to cope. She then gave me some drugs,' she said to Nigerian media.
According to Dannupawa, the couple had sex again but it was 'too much to bear' and the couple concluded that no drug could help their sex life or their marriage.
Maizinari did not deny the accusation and told the court he was willing to dissolve the union if his dowry and money spent during the courtship was paid back.

---
TUESDAY MARCH 03, 2015
---
Guess What...
[From PIG's 'things that go bump in the night news desk, I offer this gem from my pals at Metro.uk. You'll want your tinfoil headgear for this one.]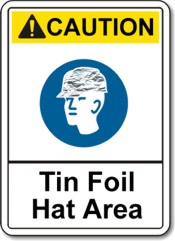 America has always prided itself on being the land of the free and the home of the brave.
But the government of the most powerful country on Earth is actually run by an evil band of German Nazi aliens, if an Iranian news agency is to be believed.
The sensational report by Fars, Iran's semi-official news agency, claims that that the shadowy alien overlords have ruled America since 1945, and it's exactly what whistle-blower Edward Snowden was threatening to uncover.
Snowden even provided Russian intelligence officials with 'incontrovertible proof' about the true identity of Barack Obama and co, and Russia considers it to be 'accurate'.
The other-worldly overlords apparently first arrived in Nevada in a submarine (even though it's landlocked), after losing the war in 1945.
The truth may (or may not), be out there.
Nigel Watson, author of the UFO Investigations Manual says, 'Supporters of the idea that the flying saucers are of Nazi origin claim that in 1945, the German rocket scientist Werner von Braun surrendered to Major Clay Shaw who was working as an agent for Project Paperclip. This project was designed to secure advanced Nazi knowledge, technology and personnel and bring it back to the US before the Soviets got hold of it. Bavarian Intelligence and their sympathizers like Shaw, infiltrated this CIA project, thereby allowing Werner von Braun and other top Nazi scientists to successfully bring into reality the Apollo moon landing project under the auspices of NASA.
'Some like, publisher and ex-crime investigator Anthony Kimery thought the 'flying saucers' seen in the USA were the outcome of Project Paperclip; and that this conspiracy went on to engineer the death of JFK, fake moon landings and create bogus aliens. For good measure Shaw was said to have died in suspicious circumstances in 1974.
'On a similar line of thought some think the Nazis established an underground base at Antarctica after World War II. Mattern-Friedrich in his book UFOs, Nazi Secret Weapon (Samisdat, 1975) even stated that Hitler faked his own death and escaped there to continue the war in secret. With or without Hitler, they continued to develop, with the help of the aliens, flying saucers and associated advanced technology.
'From here it has been suggested that this alliance has worked with the CIA and the US 'military-industrial complex' to create vast underground bases at Dulce (New Mexico); Area 51 (Nevada); Camp Hero (Long Island); and Denver International Airport. Similar bases are reputed to exist in Australia and Europe.
'Such ideas have gained ground in recent years and have even been the subject of fictional feature films like Iron Sky, which shows the Nazis living on a secret base on the Moon. These concepts represent the darkest fears of conspiracy theorists or act as an inspiration for those with extreme right-wing views. Either way I think the concept is based on lots of speculation and a few odd facts.
---
SATURDAY FEBRUARY 28, 2015
---
Mark Levin At CPAC
A must see.
Something Fun
Hubby has fun with his wife after she rewired the bathroom.
---
THURSDAY FEBRUARY 26, 2015
---
Snip, Snip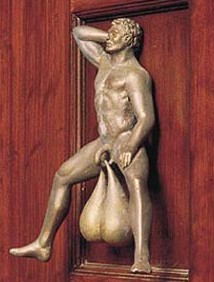 Since this 'allegedly' happened in Russia, I can't swear it's true. True or not, it's fun, so that makes it okey dokey for our Headliners page. It's your call.
According to the Mirror, a Ruskie TV personality hooked up with a fetching blonde stranger, then took her to a sauna. When he regained consciousness, our hero discovered that the blonde was gone and so were two other items.
Here's how the Mirror reported it:
Russian police believe Dmitry Nikolaev was targeted by a criminal gang selling organs on the black market
A married TV presenter who took a mystery blonde stranger to a sauna then kissed her - passed out and woke up without his testicles.
Dmitry Nikolaev, 30, from Moscow, was out drinking at his local bar when an attractive woman approached him and struck up a conversation.
Shortly afterwards they hailed a taxi and went to a nearby sauna, where he helped himself to a beer and they smooched, according to LifeNews.Ru.
The next thing he remembers is waking up, feeling an acute pain below the waist and noticing blood on his pants.
Life News Russian TV Actor Dmitry Nikolaev was drugged in a bar, and woke up to find that his testicles had been stolen
He said: "I met a girl at the bar and then we went to the sauna for a taxi. I remember that I had a beer, and do not remember any more."
It was only when he arrived at hospital that doctors told him he'd been drugged and his testicles were removed by someone who was an expert in castration.
Russian police believe Dmitry was targeted by a criminal gang selling organs on the black market.
He added: "I thought it was just a cut but doctors told me my testicles had been removed."
He spent hours in intensive care where doctors underwent a second operation to close the wound, according to Russian media.
The skin was originally cauterised and it was a clean cut, so surgeons believe the culprit may have been a doctor or even a vet.
Our hero tried told his wife wife he was forced to undergo emergency surgery on his genitals because of a sudden serious illness. Nice try dude, but if it's in the news, she knows all about it, now.
Read more: HERE
Alphabet Soup
Jealous of PIG's GLAAD BAAGs, some humor challenged Korrectniks unleashed LGBTTQQFAGPBDSM. What the hell is THAT? I'll let National Review do the heavy lifting.
"Lesbian, gay, bisexual, transgender, transsexual, queer, questioning, flexual, asexual..." Weslyan University in Connecticut is now offering "LGBTTQQFAGPBDSM" housing, because apparently "LGBT" — or even "LGBTTQQ" — wouldn't have been inclusive enough.
For the culturally ignorant among us, "LGBTTQQFAGPBDSM" stands for "lesbian, gay, bisexual, transgender, transsexual, queer, questioning, flexual, asexual, genderf**k, polyamorous, bondage/discipline, dominance/submission, sadism/masochism."
The name of this super-inclusive, social-justice-hero of a dorm is "Open House," and it is meant to be a "safe space" for self-identified LGBTTQQFAGPBDSM students, according to the university's official website.
Of course, some students may feel their sexual orientation or gender identity is so unique that it could never fit into one of the 15 categories represented by those letters. So, in order to make sure no one ever feels discriminated against, ever, the webpage also clarifies that Open House is "for people of sexually or gender dissident communities" in general.
"The goals of Open House include generating interest in a celebration of queer life from the social to the political to the academic," the web page states. "Open House works to create a Wesleyan community that appreciates the variety and vivacity of gender, sex and sexuality."

---
WEDNESDAY FEBRUARY 25, 2015
---
TOO TRUE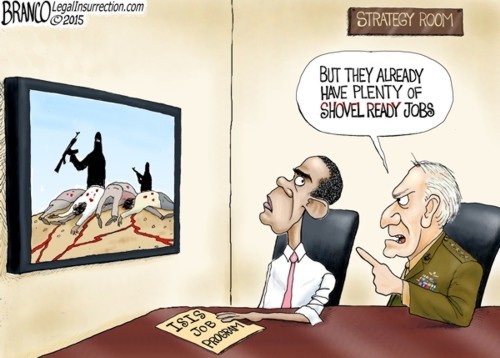 Source: Legal Insurrection
---
SUNDAY FEBRUARY 22, 2015
---
Bird Brains I
How Korrectnik is Sweden? According to The Local, VERY:
Sweden's Ornithological Society has banned several names for birds following concerns that they sound racist, after completing the first official guide to bird names in Swedish.
Four different bird species which include the word "neger" ("negro") have been renamed using "svart" ("black") instead.

Other feathered creatures known as "swifts" in English will no longer be called "kaffer" in Swedish. This word, which can also be spelt "caffer" and "kaffir" is a racist term that has been used by white South Africans towards black South Africans.

So white-rumped swifts will now be known as "vitgumpseglare" in Swedish.
The dabbling duck formerly known as "Hottentott Teal". Photo: Peet van Schalkyrk/Flickr

"Hottentott", a species of dabbling duck is also being renamed because the word "Hottentot" is a derogatory term for a group of indigenous people called the "Khoikhoi" living in South Africa. The term is thought to refer to their language, which includes clicking sounds.

"Zigenarfågel" which translates as "gypsy bird" will take the name "hoatzin", the English word already used to describe a type of tropical pheasant found in swamps and forests.

"We haven't had an official list of what all the birds in the world are called in Swedish until now, we just had an unofficial list put together about ten years ago," Anders Wirdheim Information Officer at Sweden's Ornothological Society told The Local.

"We kept getting more and more questions from translators of Swedish TV programmes and books wanting to know what exactly different bird names were or meant, so we decided to compile a list and while we were doing that we decided to change the names of any birds that could have stirred up a debate," he added.

The full list of Swedish bird names was completed three weeks ago after several years of research and includes translations for 10,709 different species.
And we think birds are stupid.
Bird Brains II
CNN continues to be geographically challenged. In this screenshot, they have relocated Queensland from the Northeast part of Australia to an island [formerly known as Tasmania] off Australia's Southeastern coast.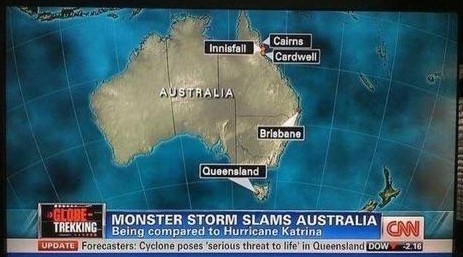 CNN might be interested in this REAL map of Australia.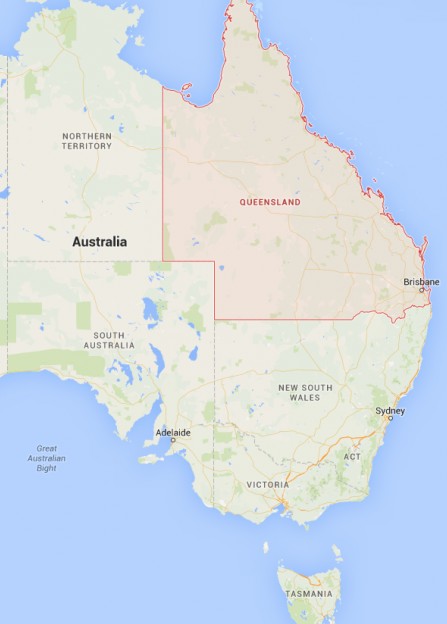 ---
FRIDAY FEBRUARY 20, 2015
---
D'Oh
[MSN] A UK branch of Krispy Kreme has been forced to drop its promotion for "KKK Wednesdays" – Krispy Kreme Klub Wednesdays – after a series of complaints.
The Hull branch of the doughnut chain had posted an advertisement for the event on its Facebook page.
KKK Wednesdays was to be part of the doughnut shop's half-term activities – a series of planned events for children during a week-long break from school.
The Facebook post had been removed by Tuesday afternoon.
"Krispy Kreme apologises unreservedly for the inappropriate name of a customer promotion at one of our stores," a spokeswoman for Krispy Kreme told the Guardian.
"This promotion was never intended to cause offence. All material has been withdrawn and an internal investigation is currently underway."
The Hull Daily Mail quoted a spokeswoman from the Hull branch of Krispy Kreme who said KKK Wednesdays would go ahead, but under a different name.
"This was sent from head office so it has been advertised at all the outlets," the spokeswoman said.
The Southern Poverty Law Center civil rights organisation regards the Ku Klux Klan as the "most infamous" of American hate groups.
"Although black Americans have typically been the Klan's primary target, it also has attacked Jews, immigrants, gays and lesbians and, until recently, Catholics," the SPLC said.
The KKK started as a vigilante group to intimidate African Americans and perpetrated a litany of violent attacks through the late 1800s and early to mid-1900s. As late as the 1960s the KKK was committing bombings and murders in the US south.
Other planned activities at the Hull Krispy Kreme this week include Colouring Tuesday and Face Painting Thursday.
---
WEDNESDAY FEBRUARY 18, 2015
---
Kicking Pervert Ass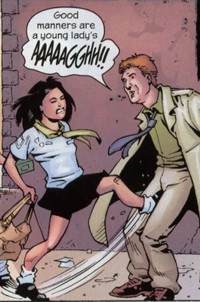 This wenchlet refused to be a victim. When trouble came calling, she kicked him in the balls. Ham High [Dot Co] reports it this way:
A brave 12-year-old schoolgirl fought off a man who attacked her by kneeing him in the groin - using combat techniques developed by Mosad agents and the Israeli army
The youngster was walking home at around 6pm on her way back from a Krav Maga combat class in Frognal when she was attacked by a man who grabbed hold of her.
Her mother said: "With her year plus of Krav Maga training, she reacted quickly elbowing the perpetrator and then kneeing them in the groin before taking off at a clip to safety before calling me,"
She has added: "She did not see what the person looked like or was wearing as her only concern was to react and get out of there. She did say when the hand grabbed her, it felt large like a man."
The parent added: "I know there have been a spate of confrontations between men and local area school girls (she had changed back into her school uniform after Krav Maga) so I wanted to make you aware that someone remains at large and they are still "targeting" school aged girls."
"She is home safely for which we are grateful."
Krav Maga, meaning contact combat in Hebrew, is a self-defence technique developed for the Israeli military and also used by the Israeli secret service Mosad.
It combines techniques sourced from Boxing, Muay Thai, Judo, Jujutsu and Wrestling along with realistic fight training.

---
MONDAY FEBRUARY 16, 2015
---
Giving Back
According to Boston's mayor, if you clear the snow off a parking spot, it's yours for 48 hours, after the snow stops. After the 48 hours, it's fair game. Our hero spent a long time clearing a spot. When he left, he put out a bookshelf as a space saver. Boston [Dot Com] picks up the story from that point.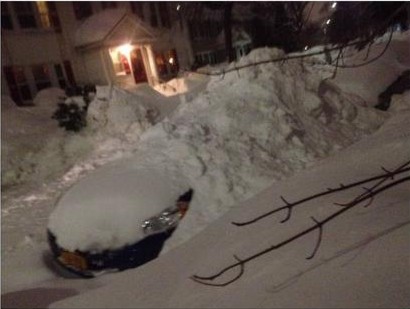 Warning to anyone tempted to snag a spot marked by a space saver.
Last week, a Craigslist post told the story of one Boston resident, who felt his rights were violated when someone removed his space saver and took 'his spot.'
"So I put all the snow back," the now deleted post read.
The poster, who insisted on remaining anonymous for fear of retribution, told Boston.com he spent a significant amount of time shoveling the space, and placed an "old bookshelf" in it when he left February 8 to work an evening shift driving for Uber.
He returned home "pretty late" Sunday night to find a car "with New York plates" parked in the spot.
"I've lived in Boston for years and I'm from New England," he said. "This was just not a cool move. I'm getting home at midnight and I had nowhere to park."
He spent Monday considering his options. Then, on Monday night, he shoveled all the snow back into the spot.
Is this what "it's better to give than receive" means?

---
SUNDAY FEBRUARY 15, 2015
---
Udderly Fascinating
If, like me, your taste in music is blend of Red Neck plus Rock & Roll, Motzart's "Eine kleine Nachtmusik" probably isn't included in your iTunes library. So be it.
That will probably change, after you watch this utterly stimulating performance.
Prepare to be thrilled when you click this link: Click me Sparky
Now That's Funny
I found this on College Insurrection, where this headline cracked me up:
Global Warming Protest Cancelled at Yale Due to Cold Weather and Snow
Here's the rest of the story from CI:
This report from Donald R. May at Lobbock Online is rich with irony.
A Global Warming protest was cancelled at Yale University because of the cold weather and snow. Such cancellations seem to be rather frequent, as the weather just does not seem to cooperate with the Global Warming promoters.
A small group of students with possibly too much time their on hands has been pushing Yale University to sell its investments in fossil fuel producing corporations. Other universities have encountered the same protests from small numbers of their students. It is still unclear how these students think harming the finances of their alma mater would be of any use in making the climate of Earth any more to their liking.
It is unclear why the students fear warmer weather. Humans have always done better when the climate switched to warmer ambient temperatures. During the Medieval Climate Optimum the Vikings were able to farm areas of Greenland that are now locked in permafrost. Europe experienced improved crops due to the warmer weather, which ushered in the Renaissance and later the Industrial Revolution.
Russian scientists are now predicting that a major Ice Age of several hundred years duration has now begun. Colder winters and later springs seem to support their prediction.

---
FRIDAY FEBRUARY 13, 2015
---
HELL NO
We've all been rejected by a prospective employer. Many will cushion the blow, while others will just say 'no' without elaborating. I doubt that any of you have been eviscerated like the Brit dude featured in this story from the Plymouth Herald:
A JOBSEEKER says his confidence has been shattered after receiving a "personal attack" following a meeting with an employer - describing him as an "an old, aesthetically challenged guy with no teeth".
James Allen, aged 48, was left upset and angry after receiving an email from a director at Plympton-based Right Price PVCu who claimed he was "one of the most irritating, rude, obnoxious and arrogant people" she had ever had the "misfortune" to meet.
Sarah Haseler, of Right Price PVCu, claims she vented her feelings in an email and then wrote Mr Allen a second email but sent him the first one in error, which she never intended him to see.
The email Mr Allen received from Ms Haseler after he met her to discuss the possibility of working for the company contained three expletives.
[If you want to read the email it's here: Click to view email ]
The former serviceman, who lives in Princetown, said he thought their meeting had gone well and that Ms Haseler had agreed to get in touch later that day.
He said when he heard nothing back he sent her an email saying: "Just a quick email to say that you promised to phone me today.
"You did not, I rang your mobile but you did not answer, I sent a text you did not answer. When you promise something you carry it through."
In her reply, Ms Haseler described Mr Allen as "an old, aesthetically challenged guy with no teeth".
Her email said: "I only wish I'd have seen your CV beforehand, to save us both the time, as I would have probably noticed your main job role as 'professional p****'."
Mr Allen, who is still looking for work, said he was left "really upset" and unable to sleep after receiving the email.
"There's no way as a professional, and especially as a director of a company, that you would treat somebody that way. I really didn't expect something as nasty as that," he said.
"I was in the army for four years and you would sort it out face to face; you wouldn't do it like this.
"Nobody's ever given me a personal attack on the way I look – I was wearing a shirt and tie and wasn't wearing jeans or anything."
Mr Allen said that his confidence had been knocked by the experience. "I'm a confident person normally but she has brought into question my face and my age," he said.
"It's knocked my confidence. Just because I'm a man and I'm 48 doesn't mean that I can't get upset."
In a statement to The Herald, Ms Haseler said: "This was not an official interview for employment; we were looking for a self-employed labourer to help out, as and when, doing basic labouring, such as carrying materials and digging holes.
"James was so unbelievably rude, inappropriate and insulting, towards me personally and also the company, I actually thought it was a joke, and I was waiting for the hidden camera crew to jump out and say 'ha, got ya'.
"I was genuinely shocked, hurt and angered by his behaviour and attitude, and the things he said.
"We have worked very hard to build this family business up and when someone is insulting the business it does feel like they are hurting a member of your family.
"He was derogatory, belittling and offensive and I felt extremely uncomfortable the entire time he was there.
"When he left I politely said 'Thanks, I'll give you a ring to let you know'.
"That evening, a few hours later on the same day he came in, he sent an email, which was also rude, insulting and harassing.
"James had therefore rejected the self-employed role in this email, so he was not looking for feedback. He said he was not interested.
"Ironically I had read something that day which said if you are angry or upset you should write it down and get it all out to move on.
"So that evening at home I did this, I then wrote another email reply to James.
"Unfortunately, I now realise that it was in fact the other email which was sent in error, which was never supposed to be seen by him, it was just what I was thinking (and yes, considering all that I have stated above that was what I was thinking). I must stress this was my personal opinion, and not the opinion of the company, and the email written, although sent in error, was in retaliation to a person insulting me."

---
WEDNESDAY FEBRUARY 11, 2015
---
Second Amendment Township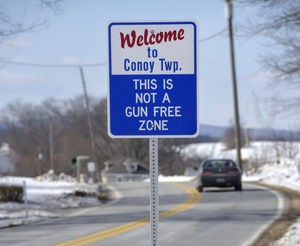 Located in Southeastern Pennsylvania, Conoy Township is a charmingly rural piece of America which seems an unlikely place to grab our PIGish attention. I think the photo will solve that mystery.
If not, this story from Lancaster Online will git 'er done:
Conoy Township has a message for criminals who might be thinking about preying on its residents: This is not a gun-free zone.
And that's exactly what visitors will see once all the signs are securely in place along every road leading into the township.
Four of the signs have been posted. Twelve more are scheduled to go up over the next few weeks.
Stephen Mohr, a Conoy Township supervisor and lifetime member of the National Rifle Association, said the signs cost about $500 for all 16.
Mohr said the feedback so far has been positive.
"You have to realize that to most people in this township God, guns, family and friends are the four most important things," he said.
But he acknowledges there will probably be critics.
Deb Garber and April Ellis are two of them.
The women, who were dining Thursday afternoon at Little Italy Italian Restaurant in Bainbridge, said the signs are not a good idea.
"I think it gives the area a feeling that I'm not sure the people want to convey," said Garber of West Donegal Township, who often hikes the Northwest Lancaster County Trail through the township. "Knowing guns are around doesn't make me feel any safer."
"It's fine with me if people have guns but I don't think it needs to be advertised," added Ellis of East Donegal Township.
Mohr said he came up with the idea and township supervisors unanimously approved the decision to create and post the signs last fall.
"Over the last six months we've seen more and more home invasions and petty crime, so we thought these signs would show people we take pride in what we own," he said.
READ MORE: HERE
Piling On
I couldn' t resist taking one last shot at Brian Williams.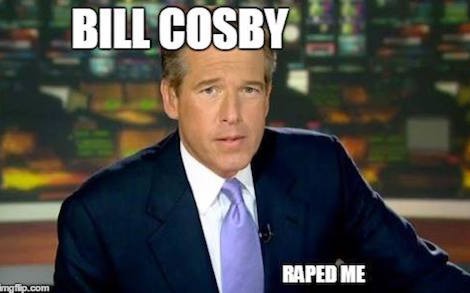 ---
---
MONDAY FEBRUARY 09, 2015
---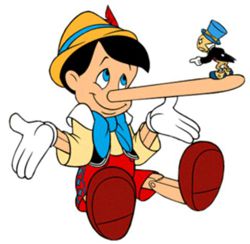 Brian Williams Twofer
Item 1: Satire from Duffle Blog
I Lost My Head
NEW YORK – NBC news anchor Brian Williams has publicly dropped his claim that he was personally beheaded by al Qaeda in Iraq, saying he had misremembered the event.
Williams, known as 'The Most Trusted NBC Nightly News Anchor in America' has admitted, "I was never captured by al Qaeda in Iraq in May 2004, nor murdered by AQI leader Abu Musab al Zarqawi" in a notorious propaganda video.
Though Williams had been making the claim for over a decade, it had not received any scrutiny until a recent comment he made on the execution of Jordanian pilot Lt. Muath al-Kaseasbeh.
During an evening broadcast last week, Williams said, "I can image what [Kaseasbeh] went through, because I remember when I had my head sawn off in Fallujah by al Qaeda [in Iraq], and how horrible that was."
Critics have charged Williams with appropriating the story of former hostage Nick Berg, pointing out that Williams was nowhere near Iraq on that date, and was in Washington DC accepting an honorary degree from Catholic University. His defenders have claimed the two events probably felt the same.
Meanwhile, critics are examining other past statements of Williams, such as his claim last year to have been killed on 9/11.
"Looking at this now historic footage of the twisted remains of downtown Manhattan, it's hard to remember all our fellow citizens who suffered through this ordeal twelve years ago. It's even hard for me, and I remember being crushed to death by tons of concrete in the South Tower," Williams said in a 9/11 anniversary broadcast.
NBC has already announced plans to conduct an internal investigation of Williams, and has already begun quietly pulling other suspect claims, like Williams' tearful confession in 2012 that he was having affairs with both Paula Broadwell and David Petraeus.
Some members of the U.S. military have condemned Williams' statements. Wassef Ali Hassoun, a former Marine Corporal who lied about being taken hostage in Iraq, said Williams had unjustly drawn attention away from his own false claims, which should take precedence.
Williams, a longtime supporter of the U.S. military, read out a public apology on the air Thursday evening.
"This was part of a bungled attempt by me to thank our nation's veterans, who put their lives on the line for us every single day. It makes me feel even worse than the time ISIS locked me in a cage and burned me alive."
Read more: Here
Item 2: A Real NY Post Page Six Story About Another Willliams Tall Tale
Truth or Fiction
Another tall tale? Brian Williams' alleged encounter with Christmas bandit
Long before Brian Williams was caught lying about his chopper coming under fire in Iraq, he claimed he'd stared down the barrel of a bandit's gun as a teenager in sleepy Red Bank, NJ.
In a 2005 interview with Esquire magazine, Williams said a thief drew on him in the 1970s — leaving him "looking up at a thug's snub-nosed .38 while selling Christmas trees out of the back of a truck."
He told the tough-to-believe story at least four times, claiming he was trying to help a local church when the thief snatched his money on West Front Street and Riverside Avenue.
"That wasn't a bad job, until a guy came up and stuck a .38-caliber pistol in my face and made me hand over all the money. Merry Christmas, right? Of course, I suddenly appreciated the other jobs I thought I hated," he told New Jersey Monthly in 2008.
But longtime Red Bank residents think it's a tall tale.
"I would highly doubt he's telling the truth," said Danny Murphy, who in the '70s ran Danny's restaurant , which was a few blocks from the alleged crime scene. "I find it hard to believe anyone was held up in this area in the '70s. It was very safe."
Les Carbone, 85, felt much the same way.
"Don't listen to Brian Williams," he said. "He's going to tell you a lot of things. I doubt he was robbed at gunpoint. I was born in Red Bank, there were no crimes like that. Tell Brian Williams to stop lying."
It was so safe, kids walked around alone at night back then, other residents said.
"It was never dangerous here," said Yolanda DeMaria, 93. "It was a very peaceful town, a lovely town. It was a small town with a dress shop and a five-and-dime. No one locked their cars."
Read More:Here
She's The Bomb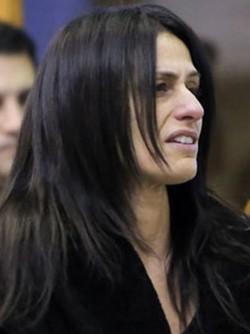 Many rational adults whine that too many parents aren't sufficiently involved in their kids education. The mom featured in this SILive story took involved to a whole new level:
STATEN ISLAND, N.Y. -- The New Springville mom who allegedly threatened to bomb her daughter's high school pleaded not guilty when she appeared in Stapleton Criminal Court on Friday.
Karen Shearon, 48, dressed in a black fur coat with tall high-heel boots, was released on a $1,000 bail after she was charged with misdemeanor aggravated harassment in the second degree.
"I never made such a phone call," said Ms. Shearon to reporters after her arraignment. "If I was so dangerous and I said such a threat like that, wouldn't you evacuate the school?"
Ms. Shearon said she was confused as to why officials came to her home hours after the alleged threat.
"They harassed my children and that's not correct," she said. "And they waited 12 hours because it happened at 8:54 [in the morning], but they came at eight o'clock at night."
Ms. Shearon said that a representative from the school called her numerous times that day when she was at work.
She expressed that she would like to take legal action against the school.
Ms. Shearon has three children ages seven, 15 and 17. The two teenagers both attend Susan Wagner High School.
Ms. Shearon is accused of threatening the guidance counselor at Susan Wagner High School after the school administrator called the defendant to inform her that her daughter had failed the regents exam, according to a law enforcement source.
She was arrested Thursday morning.
According to a Department of Education official, the school immediately notified the NYPD, and cops investigated and addressed the issue.
"Safety and security of students and school staff is always [a] top priority," the official said.
Ms. Shearon is due back at court on March 30.

---
SUNDAY FEBRUARY 08, 2015
---
About That Prayer Breakfast Swipe At Christians
I was honored to have Hambo's email come to my inbox this past week, asking me what I thought of "Barry's prayer breakfast attack on Christians." As the PIGazette's Professor of Piety, (a position I am proud to have, mind you!) I appreciate his asking my thoughts. This one's a tough issue, really. The usual suspects on both sides, Right AND Left, are getting their panties in a bunch about the comments and the resulting fallout, but in this case I believe that all the bloviating misses the mark.
The Right is up in arms because he's bashing Christians (or bashing them AGAIN, depending on where you fall and who you listen to). The Left is up in arms because they feel Christians are overreacting, and, like the POTUS, point to the atrocities committed "in the name of Christ" as a justification for why we shouldn't say a harsh word against Islamic terrorism, no matter the source. (This, mind you, conveniently ignores the fact that this is the same broad brush painting of Christians that is screamed about when denying that all Muslims are terrorists; Crusades/Inquisition = all Christians bad; Terror = a few deranged people, but Islam good)
Wherever you fall in that spectrum, and on whichever side you fall on that battle, I believe that Max Boot, at Commentary Magazine, hit the target dead on when he made the following statement; a statement which sums up my take on this whole mess perfectly:
"When we see ISIS beheading and burning hostages, and 'selling, crucifying, burying children alive,' I'd say we have every right to get on our 'high horse' about that–even if Christians in centuries past committed their share of atrocities. In fact we have an obligation to get on our "high horse"–to make clear that ISIS's conduct violates every norm of civilized behavior and will not be tolerated. To shrug our shoulders and say 'everybody does it' is untrue and immoral."
The real evil here; the more insidious, vile evil that came out of the remarks made by the POTUS is the same evil spread by anyone who refuses to take a stand: the refrain of the coward who closes his eyes, plugs his ears and sings "everyone does it" or "you're just as bad/have been just as bad." They call that moral relativism, in case you may have missed that one in school. It's the belief best expressed by Obi-Wan Kenobi in Star Wars when he said "Luke, you're going to find that many of the truths we cling to depend greatly on our own point of view." It relegates 'evil' to an abstract; a concept; not a real, tangible enemy to be fought and stood up against, but instead something that we need to try and understand, or examine from the other person's viewpoint. It's all relative.
My take on what the President said? Had I been there and been able to speak, I very probably would have stood and said, "Mr. President, I have one question to ask you. SO WHAT?"
Christians have committed atrocities in the name of God, and done acts that God surely did not approve of, nor condone. So what? How does that affect the real, tangible evil being committed against innocent people right now?
Children are being buried alive, people are being burned, tortured and killed while we sit by and fold our hands and speak about what people have done 1000 years ago. What does that have to do with the real, tangible evil we're seeing right now?

If we took that view of all of history, consider the following:
Would we have fought World War II? (The Germans were just looking for territorial expansions to make up for what was taken from them in World War I; they deserve reparations. We can't judge them, morally)
Would we have fought to abolish slavery? (Blacks in Africa sold their own people into slavery; they brought it on themselves so we have no right to judge them or condemn their actions as immoral)
Would we have done anything throughout history to help people maintain their freedom, or just shrugged and said "Oh well, that's how history has always gone/that's how it goes, and we have no right to say anything."
Think about it. The real evil here isn't the POTUS or his infantile attempts to try and score points with the Islamic world. It's not his ability to talk out of both sides of his mouth and knock us down, as a country, every chance he gets. It's his subscription to the idea that if we just wait and play nice, Islam will grow up and stop doing the horrors that it is doing. Even worse, it's his belief that there is no moral prerogative to STOP these atrocities because, you know, we need to remember the bad things we've done in the past, too.
I'm sure glad Britain didn't feel that way when they stood up to Hitler, aren't you? We all might be speaking German.
Oh and in the meantime, those people that are dying? The children that are having their lives cut brutally short? The women being killed, mutilated, people being crucified and tortured, burned alive? Well, you know – that's how history goes. There's nothing bad about it because it's all relative, after all.
Who are we to judge?
PIGster J, Professor of Piety

---
FRIDAY, FEBRUARY 06, 2015
---
THE END OF CIVILIZATION
(This is one that is a 'must see' in full screen.)
Cell Idiot Myopia
Wake the f**k up, moron!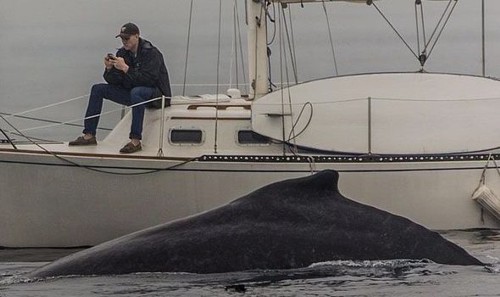 A once in a lifetime event and he missed it.
"I was roughly 50 feet from the whale and her calf when they resurfaced next to the sailboat," Eric Smith told ABC Eyewitness News. "The guy never looked up from his phone throughout the entire breach." [NYP]
This is why it's called cell IDIOCY.
The HELL You Say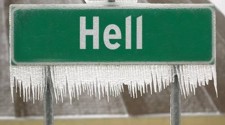 Once again, the Hadron Collider is going to make life thrilling, for everybody.
As usual, my muses at Metro are all over it:
The Large Hadron Collider is to switch on its beams at an even higher power this March – and it's main goal is to open a gateway into Hell, according to internet maniacs.
The Dark One himself, Lucifer, may even step through and bring 'catastrophe' to our world, YouTuber Freedom Fighter 2127 warns.
The reason for this unusual visit from the Lord of Lies?
CERN officially marked the 'Year of Light,' this week, and inadvertently fanned the bonfire of internet conspiracy – light equals Lucifer, you see.
YourNewsWire reports, 'Is CERN the most dangerous thing in the cosmos that could lead to the ultimate destruction of the Earth and the entire universe?'
Spoiler: no it isn't.
It's all preposterous rubbish, of course – based on misreading press releases, and misquoting ancient statements from scientists such as Stephen Hawking — but it's an interesting insight into how conspiracy theories start.
Freedom Fighter 2127 says, ' They have officially marked this year as the year of light… which means the year of Lucifer. So we need to understand just how demonic this year is going to be.'
It's part of a long tradition of fear of CERN – which believers claim has a logo mirroring the form of the Indian god of destruction, Shiva.
Nigel Watson, author of the UFO Investigations Manual, says, ''CERN is linked with all manner of conspiratorial and apocalyptic fears. Clyde Lewis writing in 2012 on the Ground Zero website notes:
'Is it just a coincidence that CERN is short for the horned God Cernunnos? Is it also a coincidence that CERN has to go deep underground to do their "god" harnessing experiments? Cernunnos was the god of the underworld.'
Going on to state:
'The authorities at CERN have done their ritualistic experiments in the underworld and has used unlimited power to turn against the earth. This power has shown that it is causing an increase in earthquake activity and some even claim that it may be the reason for an increase of UFO activity as well.'
'Now with the CERN experiments starting up again, the fear that they are set on destroying our planet or at least opening portals to other dimensions unleashing terrors of Biblical proportions are being rekindled on the Internet.
If you love this stuff, you'll find more HERE
Parting Shot: I thought the gates of Hell had already opened and ISIS is what it pooped out.
---
WEDNESDAY, FEBRUARY 04, 2015
---
A Gift That Keeps On Giving
Before I unleash the latest chapter of the Randy Quaid Saga I need to bring you up to speed.
In the 2010, year ending Golden Oinks Awards, you'll find this gem: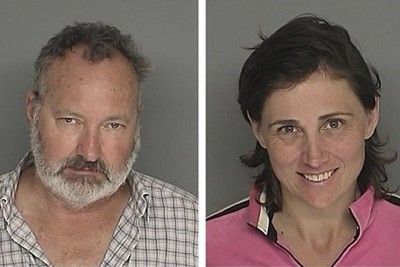 Loveable Lunatics of the Year: When it comes to bizarre behavior, Randy and Evi Quaid are in a class all by themselves. Initially, the Quaids registered on PIG's radar, when they were arrested in Santa Barbara for breaking into the guest house of an estate that they sold, YEARS ago. Untroubled by that pesky 'we don't own it anymore, they set up housekeeping, without the rightful owner's permission. While 'homesteading' the home they once owned, the Quaids trashed the place so majorly that the proper authorities charged them with felony vandalism charges. Big, big, fun.
After the Quaids blew off the court hearing on the aforementioned charges, the relevant justice system officials issued a warrant for the Quaids. That warrant came back to bite Randy and Evi on the butt, when Canadian officials bagged, tagged, and dragged the Quaids to a Vancouver graybar. Game, set, match? Maybe, but the Quaids had another trick up their sleeve: they want political asylum. Why? You're going to be thrilled.
The couple told the immigration adjudicator they are being persecuted in the United States.

Evi Quaid begged a Canadian immigration adjudicator not to force them to return, saying on Friday that friends, such as actors David Carradine and Heath Ledger, have been "murdered" under mysterious circumstances and she worried something would happen to her husband next.

"We feel our lives are in danger," she said. "Randy has known eight close friends murdered in odd, strange manners ... We feel that we're next."

During a break in the proceedings, the Quaids' lawyer, Brian Tsuji approached the media to read a single-sentence statement from the Quaids. "We are requesting asylum from Hollywood star whackers," he read, declining further comment on the mental state of his clients. (Fox)
The Hollywood star whackers? Even if I give the Quaids the benefit of considerable doubt - 'star' seems like a stretch, in this case - this is NUTS! Attention Quaids! Please report to the Twilight Zone to pick up your Tinfoil Headgear.
UPDATE: This week, Canada took a giant step toward putting the Quaids out of their misery:
(NY Post) TORONTO — Canadian immigration officials have denied U.S. actor Randy Quaid's request for permanent resident status in Canada.

A Canadian government official confirmed late Saturday his request for permanent status has been denied. The official spoke on condition of anonymity because they were not authorized to speak publicly. Quaid can appeal the decision to the federal court.

US officials last year refused to seek extradition of the actor and his wife from Canada to face felony vandalism charges in Santa Barbara, California, but authorities in the coastal town say they'll still have the couple arrested if they return to the states.

Quaid has sought to stay in Canada, claiming he was being hunted by "Hollywood star-whackers" who had killed his friends David Carradine and Heath Ledger.
Canada doesn't want to keep him and Uncle Sam doesn't want him back? Randy Quaid is a gift who keeps on giving.
Fast Forward to 2015
Have you got all that? Good, because you're ready for this:Quaid tricks Rupert
Stay tuned for our next installment of 'he so crazy'.
---
TUESDAY, FEBRUARY 03, 2015
---
Properly PIGish Fliers
I found this gem on Metro.co.uk
Some people have far too much time on their hands. Just saying.
Dear kids of the 90s – once upon a time, before the internet ruled the world, people relied on flyers and community spirit to help them find their lost pets and generally spread the word about cool s*** going down.
Nowadays however, public announcement posters are just basically a vehicle for people's excess sarcasm.
Not that we're complaining, because let's be honest, life's tough, and who are we to turn down a free lol.
So, here are 22 totally pointless posters of absolute joy

---
MONDAY, FEBRUARY 02, 2015
---
Some Reassembly Required
Have you ever wanted to buy one of these: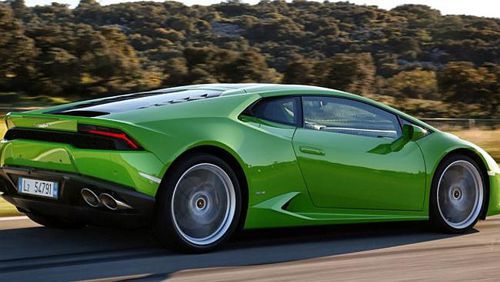 Yes, it's a A Lamborghini Huracan and it costs $360,000 in Aussie dollars (about $280,000 in dead presidents). If you can't afford that, I have thrilling news for you.
An Aussie dude is selling his for a paltry $8,000 Aussie dollars ($6,230 USD). What's the catch?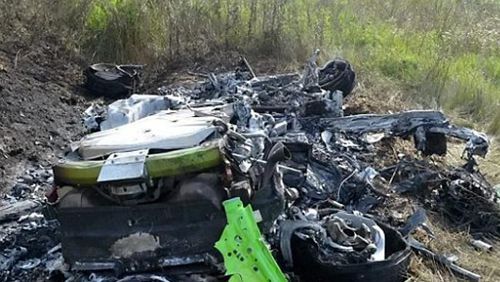 As you can see, it's a...fixer upper.
Read all about it HERE

Common Sense Is Dead
When 15-year-old Gabi Finlayson arrived at Lone Peak High School (Utah) for the dance, the prudes enforcing the Draconian dress code black flagged her gown. Why?
Were her naughty bits showing? Nope.
Plunging neckline? Nope.
Too tight? Nope and it wasn't too short, either.
So why was this gown black flagged? We'll discuss it after you examine her 'indecent' getup.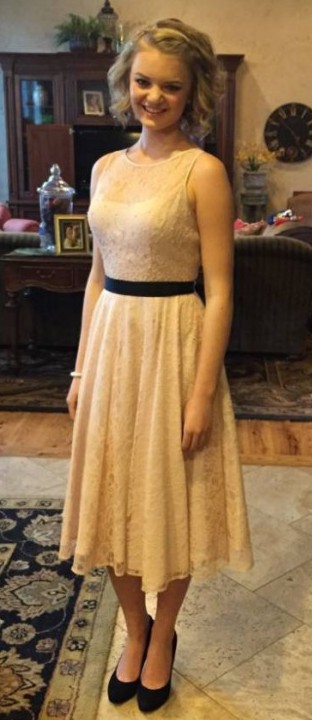 Her crime? Her shoulders are too exposed.

Metro shared these tidbits:

The teen had been looking forward to the girls' choice dance for months, and was delighted when she found what she and her mother thought was the perfect dress during a family trip to Paris.

Aware of her school's strict dress code, Gabi even took the precaution of having the bodice of the dress heightened, to make sure she was suitably covered up.

But when she arrived at the dance, a staff member decided that her shoulders were too exposed and ordered her to cover up with her winter coat.

<SNIP>

Gabi's school, Lone Peak High School, Utah, has the following dress code, which Gabi and her mum were both aware of…

Formals, backless dresses and/or tops may not extend beyond the bottom of the shoulder blades. Girls' dresses and tops must have a 2? minimum strap on each shoulder. Shawls, boleros and other shrugs are acceptable if worn over the dress at all times. Cleavage covered.

Gabi however insists that the straps of her dress adhered to the 2? minimum criteria, and also pointed out that there were a number of girls in shorter, tighter dresses, who weren't made to cover up.

Lone Peak's principal, Rhonda Bromley, told KUTV2: 'The dress code has been reviewed and approved by both the PTSA and the school community council. The dress code is based on the community standard.'

What's next? Burkas?
---
SUNDAY, FEBRUARY 01, 2015
---
Something Fun
They say payback is a bitch. So is a wife, who is fed up with your nagging.
Paper is 'dead'? Yeah, about that...
Maybe 'dead' was the wrong word.
Big Oinking Deal
Father, son bag charging 700-pound boar in North Carolina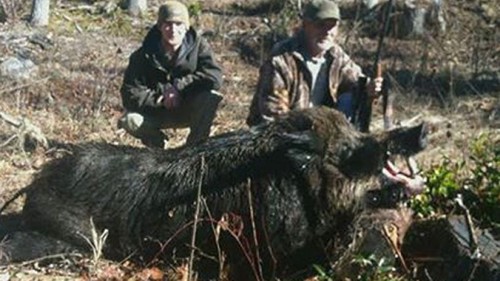 Bruce Florence and his son, Jonathan Florence, bagged this enormous wild boar in North Carolina earlier this month.
You might have to go to Washington to find this much pork.
A father-and-son hunting team killed a 707.5-pound wild hog earlier this month deep in the mountains of North Carolina with a single shot. The North Carolina Sportsman reported that Bruce Florence and his son, Jonathan, were on the side of a mountain on Jan. 16 in Transylvania County when the two split up. Bruce sat down while Jonathan investigated a rustling in the brush.
His son managed to flush out three small hogs and just when he was just about to emerge from the thicket, he recalled, "the big boy blasted out."
"He headed straight for my Dad," Jonathan told the magazine.
Hmmm. BIg Pig? Or ISIS' Worse Nightmare?
E.T. Hitches A Ride?
An asteroid which passed Earth earlier this week was being orbited by an alien spacecraft, according to UFO experts.
NASA has said that images of asteroid 2004 BL86 obtained by the agency's Deep Space Network revealed that it had its own moon, but added that this was a common occurrence.
Explaining the sighting, NASA said: 'In the near-Earth population, about 16 percent of asteroids that are about 655 feet or larger are a binary (the primary asteroid with a smaller asteroid moon orbiting it) or even triple systems (two moons).'
However, conspiracy website UFO Sightings Daily was quick to rubbish NASA's rational explanation.
They wrote: 'This asteroid has a UFO flying in orbit around it. We can see from the detailed photo that the craft is diamond shaped and flat.
'NASA of course goes on to say that this flat object which does not flip over end is a moon. Wrong!
'Any moon this thin would be tumbling end over end. This object is keeping itself steady, flying like a ship would in space'.
---
© Copyright 1993-2022 PIG - The Politically Incorrect Gazette
---
---