Oppression is a thankless job. We the PIGs think it's time to change that.


An oppressor's work is never done. It's a 7 days a week, 24 hour a day job that does not offer sick days or vacation time. The long and the short of it is this: wherever he is, whatever he's doing, and oppressor is always on duty. Given all that, why do it? First of all, it's a lot like the military draft in times of war. If you have the qualifications - unhyphenated, straight, white, male [white and male aren't etched in stone] - you're designated an oppressor by the Victimhood Vigilantes. Like the military draft, declining the 'honor' is not an option.
To put this all in perspective, we need to give you a quick refresher course on Victimhood.
Like most oppressors, I harbored the notion that entrance into the cult of victimhood was as simple as having the proper immutable characteristic. "Melanin rules!", I assumed, without overlooking gender, sexual orientation and non-racial ethnicity. This assessment isn't what Regis would call 'the final answer'. Biology alone doesn't guarantee your acceptance by the properly-hyphenated. It only designates your assigned group. To become a member in good standing of your assigned group, you must worship at the alter of your oppression. The mantra used by each proud new inductee is: "I am a victim. I am oppressed because I'm (insert group identity here)." Obviously, the key to admission into the properly-hyphenated legion is embracing your oppression.
Oppression is the foundation of a victim's new identity, but biology still plays an important role. It is the key element used to focus their hypersensitivity. All flavors of the properly-hyphenated share the common foundation of victimhood...the conviction that they are subjected to unrelenting oppression. However, a no-nad will have a much different set of sensitivities than someone from the taco clan or lotus clan. Only a no-nad will be able to identify the dread 'male look', for instance. For a taco or lotus clan dude, the male look wouldn't register on their oppression radar. This would seem to indicate the presence of fault lines along the boundaries of each victim group. Appearances, in this instance, are deceiving. Solidarity between the various flavors of proper-hyphenation is achieved by the notion that any act of oppression, no matter who is the specified target, is an act of oppression against all self-defined victims, regardless of the targeted victim's group affiliation. This means a taco or lotus clan dude could share a no-nad sister's outrage over the male look, despite the fact that it has no direct oppressive impact on them.
Another factor that binds the flavors of victimhood together is the relationship between oppressed and oppressor. This is a source of much confusion among unenlightened oppressors who assume that the removal of all oppression is the ultimate goal of the victim. Nothing could be further from the truth. The victim's self image is constructed on the bedrock of their oppression, meaning that the continuing presence of an oppressor is essential. Without regular infusions of oppression, the victim's very identity is threatened. Like a parasite, the victim's existence requires a viable host, in this case an oppressor...an active oppressor.
I know what you're thinking and it doesn't work. You can't escape your oppressor fate; they've set the bar much too high for that. The first line of defense, when oppressors stop being overtly oppressive, is to trick you into an overt oppressor reaction. One of the most successful victim-deployed trip-wires comes from the no-nads. It's as simple as trot out some hottie and wait for men to act like men. Another successful trip-wire is the Martin Luther King holiday/Black History Month double whammy. Fail to show what the melanin-enriched consider the proper respect for these twin trip-wires and voila, you're oppressing them. A very successful trip-wire, one that invariably produces a tidal wave of oppression, is the Gay Pride Celebration. The harder oppressors try to ignore the pink triangle crowd's freak-show antics, the more outrageous the behavior gets during these butt monkey, show and yell frolics.
The ultimate in oppression security involves the twin pillars of perceived oppression: institutional and unconscious oppression. Institutional oppression can be as simple as demographics. Should a given element of society have fewer members of one or more victim groups than their percentage of the total population, institutional racism. Should, on merit alone, one of the properly-hyphenated be passed over - the Academy Awards has been cited, numerous times - institutional racism. Should someone in a position of authority fail to appease the properly-hyphenated to the degree they desire...institutional racism. Since the rules are subjective, and dictated by notoriously fickle victim sensitivities, this one is nearly impossible to beat.
Unconscious oppression, a concept I like to call the 'holy grail' of oppression, is the most powerful weapon in the properly-hyphenated arsenal. This stems from the fact that unconscious racism is whatever the victim says it is. Any gesture, expression, utterance, or (perceived) thought can qualify, and there's nothing the designated oppressor can do to escape it. The notion at work here is that an oppressor, instinctively, outs himself, through some seemingly innocuous reaction or non-reaction. Unconscious oppression allows the properly-hyphenated to interpret virtually anything as 'racist', 'sexist', or 'homophobic'. "He didn't say anything objectionable, and his attitude seemed respectful, but I sensed the racism [substitute sexism or homophobia here, as needed] in his body language." Since objective standards or measurements are impossible, this kind of oppression is irrefutable. It exists wherever a victim perceives it. Eat your heart out, Catch-22! [Micro aggression, which is all the rage at Ivory Towers from sea to shining sea, is, in reality, just the unconscious oppression flavor of the month.]
Now that we're all on the same page, we can get down to business. Here, the Free State of PIG, we proudly, forthrightly, embrace our assigned oppressor role. Our cyberspace speed bump proves, to the most casual reader, how diligent we are when it comes to oppressing the chronically needy victims. We don't ask for anything in return, but we could. Here are a couple examples:
Siberian-Americans (Indians): We've all heard how the big, bad European settlers "stole their land." For the sake of conceding that debatable argument, let's say the Euro's did just roll up in their fancy ships and have a free-for-all with the Indians in the form of taking their land and stripping them of their tribal ancestry, etc.
We could call this one even [or we could demand reparations] because the Indians introduced the evil weed, tobacco, to the settlers, thus making the Indians peddlers and exporters of deadly tobacco products and even the dreaded "Second Hand Smoke" farce.
Added bonus for oppressors: the next time he lights up and a Smoke Nazi bellows about how second hand smoke kills, too, just blame it on a Redskin, because this time, it ain't our fault, right?
Border Jumping Scumbag Invaders [Illegals]: You lost the Mexican-American War and with it a sizeable chunk of what is now the American Southwest with the signing of the Treat of Guadalupe Hidalgo. To this day, groups like Aztlan, Mecha, and La Raza still cry foul over Mexico's loss and claim that areas lost in the war are currently "occupied" and want it back, reclaimed or reconquered. Since that won't be happening (not in our lifetimes) Mexico wants to reclaim their loss one illegal invader at a time.
Gringo has been more than accommodating by rolling out the red carpet in the form of FREE entry, medical, education, (bi-lingual, too) fancy prison digs, tax breaks and bonuses, etc. All of these perks and freebies are courtesy of Gringo, so instead of whining about perceived "entitlements" they ought to thank us on their way back to the end of the LEGAL immigration line.
WTF do we get? Nothing. Nada, unless you want to count cheap labor for so-called jobs "Americans won't do" along with attitudes of ingratitude. At minimum, we're entitled to a refund, but we'll hold off on that, for now. Why don't we call it a day and keep the land they sold to us and they agree to learn English, pay taxes and STFU or get the hell out.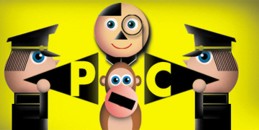 Ivory Tower Eggheads: In 2015, an America college campus is the world's most hostile learning environment. It's a Marxist morass where every vile form of leftism is promulgated. Despite that, many heroic oppressors venture into that hellish realm to perform their duty on chronically needy victims in training. By rights an oppressor should demand hazardous duty pay, but he won't because he knows Moonbats only spend money stolen from someone else.
When an oppressor forces himself to objectify a hottie...when he reminds a Tranny that in biology, gender is more than skin deep...when he performs any assigned task, he doesn't want, or need, compensation. BUT, it would be nice if at least one of these pitiful pinheads said "Thank you." It's the least we deserve, for performing this public service.
Before I wrap this up, I'll admit that being an oppressor is the most fun you'll ever have with your pants on. Why? Why indeed.
All an oppressor needs to do to accomplish this mission is to exist. These "victims" are the ones who insist on interpreting your every word, action or thought (they're empowered by their hyphenation to read your mind) into blatant oppression. No matter how harmless, irrational or bonkers your prose or behavior might be, they will find a way to ferret out your hidden (even when it's "hidden" from you) intent. Anything you do is automatically racist, sexist or homophobic because they say so. In other words, they're determined to make themselves miserable without your help, just because you exist.
As fun as this effortless "because he's there" oppression is, I can Emerilize it - kick it up several notches - with "the stare". I discovered "the stare" by accident one day while I was in a shopping mall waiting for my lovely bride to return. As usual, I was "zoned out" into scribbler land and more or less unaware of my surroundings. I returned from scribbler land abruptly when I oppressed a passing hottie with an appreciative stare. That's when I noticed two melanin-enriched womyn glaring at me. When they departed, I heard one say, "Did you see the way he was staring at me. I just know he's in the KKK." Truth be told, I never even noticed them, but I did gloat over the fact that I had a new weapon in my effortless oppression arsenal. The downside to "the stare" is the fact that I can't summon the writer's trance when I really need it.
Another weapon that comes in very handy when you're confronted by a hostile "victim" is staying calm. When you remain cool, calm and collected while they bloviate, it will launch them into orbit. Best of all, if you can combine cool calm and collected with a grin, the effects are highly entertaining. As usual, you're having all this fun with little or no effort on your part, and the "victim" is providing you with a highly entertaining story to share with your friends and family.
The important factoid about the oppressor game is that anyone can play. If you're only a one star oppressor, "heterosexual" or "white" for example, that shouldn't stop you from having some relentless oppressor fun messing with some properly-hyphenated pinhead's mind. In fact, rational adults who are, by accident of birth, melanin-enriched or melanin-advantaged, have certain effortless oppression opportunities that makes a lowly three-star oppressor green with envy. It can be as simple as putting an Elephant Clan bumper sticker on your ride or letting yourself be seen reading Thomas Sowell or Walter Williams. If you're a female PIGster, then packing a Tammy Bruce book gives you unique, effortless oppression opportunities.
The properly-hyphenated pinheads - all self-defined "victims" - are determined to be miserable, so why not have some fun with it, without breaking a sweat. Don't just sit there Sparky, get into the game. On your mark. Get set. OPPRESS!